Parents, don't let that 'Covid hangover' ruin your 2020 vibe. Try this list of fun family activities to make this month a tropical Bali breeze!
Mums & dads, we get it. When it comes to keeping the kids busy each month in Bali, the bog-standard just won't do. You need the hottest kids hotels and luxe family villas, the on-the-pulse family friendly restaurants to chomp on awesome wholesome fare, and all the brand new fabby dabby things to do, 'hood by 'hood (Canggu for the weekend, kids?). Well, look no further, 'cos resident expat and mum-in-the-know, Rebecca Foreman, has got you covered with this November 2020 kids guide…
If you and the kids are twiddling thumbs and need some super cool ideas and inspo on things to do this month in Bali, then bookmark this page, because here are all the hottest family happenings for November 2020. From special stay deals, shopping discounts and new restaurants that let you bring your fur-kids along too, here's what you and the fam will want to tick off this month in Bali.
Things to do in Bali with kids: November 2020
TREK & STAYCATION
Awesome monthly deals in Pemuteran
Need to break away from the boring old routine? Then round up the tribe and head North friends, and make the most of all the awesome monthly deals happening right now at Sumberkima Hill in stunning Pemuteran. Kids (and parents) will not be bored with plenty of room to roam and a number of accommodation options to choose from, including one- to five-bed villas. There's even a dreamy yoga shala, restaurants and an open on-site spa at your disposal. Get packing!
Kids stay for free at Padma Ubud
Grab el tribe and head for Padma Ubud where two kids under 12 years can stay for free in a Premier Twin Room, available until the end of March 2021. Make the most of Padma's family activities, like archery, bike tours, a petting zoo, and even fishing with five-star treatment. Mum and Dad can enjoy the current spa discounts, or simply chillax on a sun lounger near the uber cool infinity pool, allowing for stunning jungle views.
Keep active in the mountains at Handara Golf & Resort
November is the time to head for the hills and make the most of the special promotions at Handara Golf & Resort for crater lake views and a dramatic rainforest backdrop. Let the kids try golfing, bike-riding, monkeying around on the wooden playground, feeding the bunnies, or simply strolling around the stunning grounds. November is the perfect month to escape the tropical heat of the south and snuggle up at night roasting smores around a crackling fire pit for Thanksgiving.
Insta-worthy adventures
Whilst in the mountains, venture to the nearby insta-hotspot and restaurant glasshouse Rumah Gemuk for a spot of high tea with the family. Spread out on a picnic rug and cushions or grab a table upstairs which allows for stunning views of Lake Bratan and the UNESCO protected Hindu temple, Pura Ulun Danu Beratan. While you're visiting Bali's heartlands, why not take a trip further north to Aling Aling waterfalls which comprises numerous opportunities to cliff jump or rope swing into cool refreshing pools of sacred Balinese water. In fact, there are so many amazing waterfalls near here that you'll want to chase, so check out our roundup of Bali's best waterfalls while you're at it!
Family Fundays at COMO!
Look out Sundays, the weekend is starting to look a whole lot better thanks to COMO Canggu Family Sunday! The vibe on Sunday is all about a relaxed family atmosphere with daybeds by the pool ready and waiting for mums and dads to take a load off and watch the world go by between swims in the pool and overlooking Canggu beach. For the youngsters, have them sign up to Play by COMO – the resort's dedicated space for children offering educational toys, games and activities. Don't forget kids, you can enjoy complimentary ice cream with a choice of toppings too, if you are under 12 years old!
Spend a family beach day at Melia Bali
Grab the fam bam and enjoy a relaxing Melia Day Pass that allows for pool use, cabana hire, towels, paddle surfing and bike rental all included. The food menu never disappoints at Melia, with its sumptuous Indonesian and western classics. Simply check the Melia Highlights on Instagram for all the latest offerings, including the baby turtle release at the Sateria Beachside Restaurant or the Paint & Joy Thanksgiving x Bartega Studio, including painting kit, welcome drink, beach and pool access. The kids can splash away in the pool and hang out at the beachside Kids Club, or simply play by Melia's insta-worthy white sandy beach, complete with the famous Bali sea-swing. It's the perfect way to spend a family beach day.
Hang out at Hotel Komune
If the beach is calling, then check out all the great domestic travel deals at Hotel Komune and Beach Club, overlooking the famous Keramas surf break on Bali's East Coast. Book direct with Komune for amazing November prices on beachfront pool accommodations including the best free-range kids club in town, including tramps, a playground, kids yoga, slides and plenty of green space for when they're tired of splashing poolside. Top Tip: If you'd like to explore Keramas in style, then hire the professional services of Keramas Activity for a family fun ATV adventure exploring rice paddies and beaches. Bookings in advance recommended.
Submerge in Amed
Perhaps you fancy a weekend of yoga and underwater exploration? Round up the fam bam, grab your besties, swimming cossies and explore the charms of Amed at Life in Amed Boutique Hotel. Make the most of all the amazing low-season deals right now, and hang out in the quaintest beach cottages perched right in front of a simply stunning beach. Snorkelling will certainly not disappoint and neither will hiking up to the five holy springs in Bangli Village if you fancy a day of mountain views. Sign us up!
Adventure awaits at this Family Camping Event
Get stuck into nature and explore all the best jungle trails, on a Bali Camping Community Family Camping Event. The next expedition is November 13th – 15th, so round up the kids (and parents) and immerse into lush green surrounds where you can all enjoy adventure hikes, campfire action, river excursions, water ceremonies, monkey fun and so much more. Spaces are limited, so sign up quick for the next available spot.
Go green with Green Camp Bali
Inspired by nature and located at Green School Bali, you and the kiddos (and teenagers) can explore and immerse yourselves in a range of holistic nature experiences with Green Camp Bali. Everything from family camps, kids and youth camps, even school camps are on offer here. Make the most of all the special discounts for November. Spaces are limited and filling up fast, so sign up quick!
CHECK OUT BALI'S TOP ATTRACTIONS
Spot wildlife at Bali Safari Park
Get ready for a renewed safari experience at Bali Safari Park, the only place to venture when it comes to seeing all your favourite Indonesian, African and Indian safari animals. Sit in the comfort and safety of the safari truck for the ultimate safari experience, while you and the kids tour the park, jumping off at your leisure to watch the daily scheduled shows throughout the day. Lunch at the Tsavo Lion restaurant is especially splendid as you enjoy the very rare opportunity to sit and watch the lions, hippos and meerkats go about their day right alongside you (behind strong glass windows of course!). Take your swimmers 'cos the Water Play Zone is now also open for you to enjoy. Take advantage of the super online deals happening right now for local residents and KITAS holders. Remember that the facility is wheelchair friendly and kids under three can enter for free. And if you don't want to leave? Check out all the special offers at Mara River Safari Lodge which includes free entry to Bali Safari park and breakfast with the lions.
Bird stars on tour at Park Life
While you're in the mood for animalia, grab the littlies and check out the Bird Stars on Tour at Park Life this November 12th at 3pm. The programme includes a meet and greet with two majestic birds from Bali Bird Park, introducing the Green-Winged Macaw and the Black Palm Cockatoo. Stay around afterwards for the screening of the classic RIO movie at 630pm. Refreshments available from the onsite cafe.
GET CRAFTY, CREATIVE & MUSICAL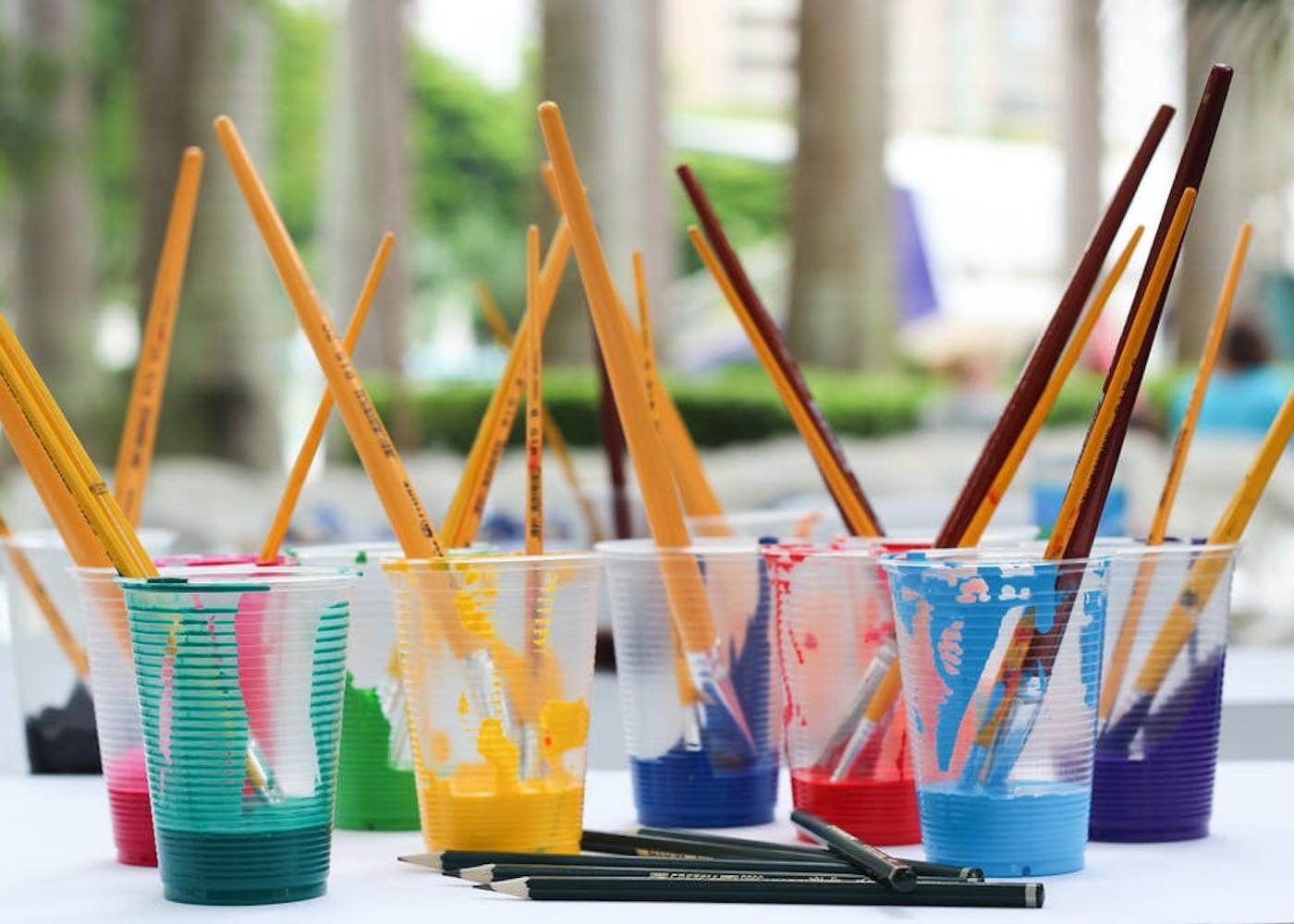 Potter away at Rusters in Ubud
For those interested in introducing the kiddos to the wonders of a clay creation, then check out a Rusters Workshop in Ubud. Just for the kids, aged between 3-14 years, let them create their own clay masterpiece under guided supervision while the folks chill in the restaurant for a healthy Rusters brekkie and awesome coffee. Kids can also bring their creations home for a small fee to paint and kiln, and there are also workshops for adults.
Artsy fartsy at Berawa Art House
There simply is no denying the high standard of artwork produced by kiddos who attend Berawa Art House classes. Under the watchful guidance of Singaporean artist JoJo, your kids' imagination will soar while learning the fundamentals of drawing and painting across a variety of mediums. Have them attend a one-off workshop, or weekly classes. Note that classes are tailored to no more than 8 people and private sessions are available upon request.
Creativity & curiosity at Joshua District
Every Thursday from 3pm, grab the kiddos (3 years and above) and make a bee-line to the creative space at the Joshua District set among the stunning rice paddies of Tabanan. This is a free event and everyone is welcome to join and get involved in the ever-changing activities on offer. Rest assured, it will stimulate your littlies curiosity – like painting the walls and the floors! Grab a wholesome feed in the open onsite restaurant while you're there, and enjoy the music and breezy vibes while you watch the sun go down over Tabanan.
Workshops in the jungle at Kid X Craft
For art in the Ubud jungle, check out Kid X Craft. For a small fee, all kids (aged 3-14 years) are welcome to come and join creative Sunday classes at Kampung Ubud Bungalow. Every experience level is welcomed and prices include a two-hour long guided workshop using safe materials, healthy snacks and water.
Arts and activities at Titi Batu
Freshly launched in November is the brand new Kids Club at jungle wellness hub Titi Batu. Here, kids aged between 5 – 12 years can drop in and enjoy scheduled activities every Saturday from 12 pm – 7pm. Let the littlies indulge in a full afternoon of activities including art and crafts, sports, fun pool time, skateboarding and a scrummy wholesome meal included in the price.
Paint works of art at New Arts Club
For those interested in introducing the kiddos to the wonders of producing their very own canvas creations, then check out Friday afternoon kids arts class with New Arts Club Bali. Let the kids discover specialist art classes in the lush villa surrounds of Canggu and Ubud. Book in for a workshop, or just let the kids create to their heart's content. They will no doubt bring home a masterpiece worthy of the mantle. Bookings essential.
Make mini Mozarts at Ensiklomusika Music School, Ubud
For musical kiddos, Ensiklomusika Music School has swung open the doors at its new Ubud address. Here, kids can learn how to play piano, guitar and ukulele and there's also a Mini Melody Group Class for ages 1.5 to 3.5 year-olds. For kids based in the Canggu area, then check out the Tamora Gallery studio for any number of music classes, like piano, guitar, violin, and vocal lessons with a trained music teacher. The weekly one-on-one music classes can be done in the studio or at your villa/hotel for a small house call cost. There's even classes for adults if a rocking family band is on the agenda. What's more, if your child is already a mastered musician, this school can help them sit the internationally-recognised ABRSM (Associated Board of the Royal Schools of Music) exam.
COOK, EAT, REPEAT
Cook up a storm at Asmiera Spice
This November, make sure you check out what's cooking at Saturday cooking school at Asmiera Spice in Umalas. Offering kids aged 5 – 12 the chance to explore a new dish every week, they'll master the fundamentals of cooking in a custom-built school kitchen plus enjoy activities. And best of all, bring yummies home for the whole family to enjoy.
Pub grub galore at Shotgun Social
If you love wide open spaces and plenty of turf for the kiddos to kick a ball while you enjoy awesome pub food, then check out Shotgun Social – Sanur's hottest new restaurant. With its mighty range of craft beers on tap, fabby dabby New York-inspired pizzas, burgers, fish 'n chips, and mini kid's sliders, everyone is well looked after here. You won't regret Shotgun Social's scrummy yummy desserts either: burnt cheesecake or churros anyone? Psst… Dogs on leash are also welcome and even have their own special Doggy Menu to choose from – minced beef bowls, no less! The new wooden treehouse playground is open too, so let the kiddos climb to their heart's content while you sit back and enjoy the delights of Sanur's pub grub and liquid refreshments.
Kids eat free at Fucina
Hands up, who loves a freebie? We do! Head to Fucina in Canggu and let the kids eat for free every Thursday and Friday from the Kids Menu. There's also buy 1 get 1 free pizzas on Sunday for dine-in only. Hurrah!
Shop, sip & brunch at Neon Palms
Island lovers and stayers, check out the 50% super dining savings on all menu items ALL day at Neon Palms. Brunch o-clock with the kids has never been so colourful than at Neon Palms with a menu that includes fluffy banana pancakes, all day eggs, and heaps of healthy fare (avo on toast with halloumi, anyone?) plus super smoothies that look like rainbows. Mamasitas, take note, there's super savings on brunch cocktails, and even more deals downstairs at fashion icon, Bali Boat Shed!
Rise & Shine at Corner House
Need a new breakfast pit stop with the kids before you can get on with the day? Head to Corner House in Seminyak for an unbeatable 49k brekkie deal. Choose from 10 incredible dishes, meaning there's bound to be something for even fussy eaters to get the day off to a wholesome start. Folks, coffee on tap is Revolver coffee and there's even 60k Orange Juice Mimosas for those looking for a little heart starter! Serving breakfast daily from 7am – 11am.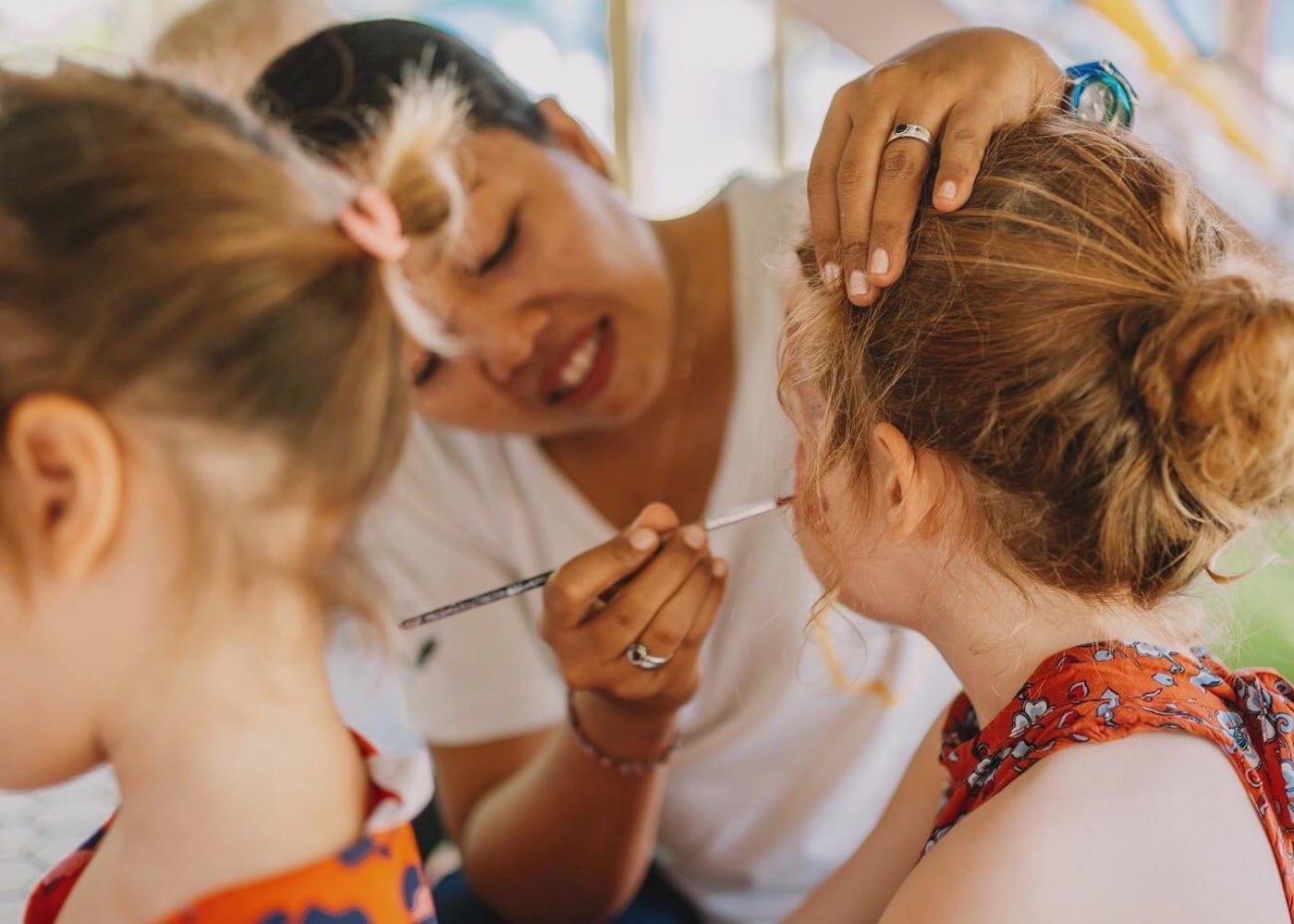 Coffee combos at Milk & Madu
While the kids frolic and play on the onsite cubby-house and are entertained with arts and crafts activities, folks can grab the special promo on bacon & egg rolls or hot dawgs and a cold brew coffee combo! And don't forget, you can now nab cinnamon cream cheese sticky buns and select Dreamwave vegan donuts at Milk & Madu too!
Gelato Secrets ya'll
Who doesn't love artisanal Italian gelato that uses only 100% natural ingredients? Gelato Secrets anyone? Check out all the unreal promos currently running across Bali, like buy 3, get 6 medium tubs of all your favourite flavours. Or how about buy 1, get 1 free Party Pack deals (500ml). Yes please!
Sunday funday at Prego
The Westin is Nusa Dua is celebrating Prego's 7th Anniversary every Sunday in November. They're offering an array of Italian delicacies, fun activities, complimentary access to the resort's pools and beach. plus free usage of sun loungers and bikes to explore and roam. Every Sunday from 1130am to 330pm, mums and dads can also receive 20% off food and the kids can eat free at Prego. Bookings recommended.
GET ACTIVE
Feel fun-tastic at Finns & JSA
One of our all-time fave hangs for all things kid-tastic in Canggu: Finns Recreation Club! Now open and facilitating JSA activities, join in on girls and boys football classes along with boxing, dance, swimming, tennis and rugby. Sign up till the end of the year and receive a free voucher to Bounce or Strike. Enjoy facilities such as the lap pool, fully equipped gym and fitness classes, multi-function hall, grassed sporting field, and don't forget Bistro C for the best post-workout coffee-with-a-view.
Bounce to your own beat
Make the most of the October promotions at Bounce – if you and the kiddos are KTP or KITAS holders, you'll get a whopping 50% off the normal published price, or pay for 15 bounce sessions and receive 15 free. Double the fun, half the price! The school holidays have never looked so energetic…
Strike it lucky
Open due to popular demand, Strike ten-pin bowling is now open every Friday, Saturday and Sunday from 12 – 8pm. There really is no better place to escape a super hot day or the tropical rains than a family bowling session at Strike Bali, where you can let the good times roll.
Monkey around at Jungle Play
No doubt about it, there's no end to the amount of energy kiddos need to burn, and for littlies that love to climb and run and swing hard, then head to Jungle Play in Jimbaran. A fab family Recreation Park with a natural playground, tree house and jungle gym (flying fox, too!), there's also a wooden playhouse and mini maze for hours of wholesome kiddy entertainment. It's open every Saturday and Sunday, and also available for private birthday group bookings. Pssst, don't forget to feed the rabbits before you leave!
Baby likes to dance
Just Dance Bali has recently launched baby Jazz classes for kids starting at 4 years of age. So if your little one loves to groove, he or she might be ready to join their first jazz class, every Friday from 2:45pm-3:30pm. Bookings are highly recommended as spots are limited. Don't forget there's loads of other kids classes to choose from, like a dedicated yoga class, along with weekly ballet, hip hop, jazz and Balinese dance classes.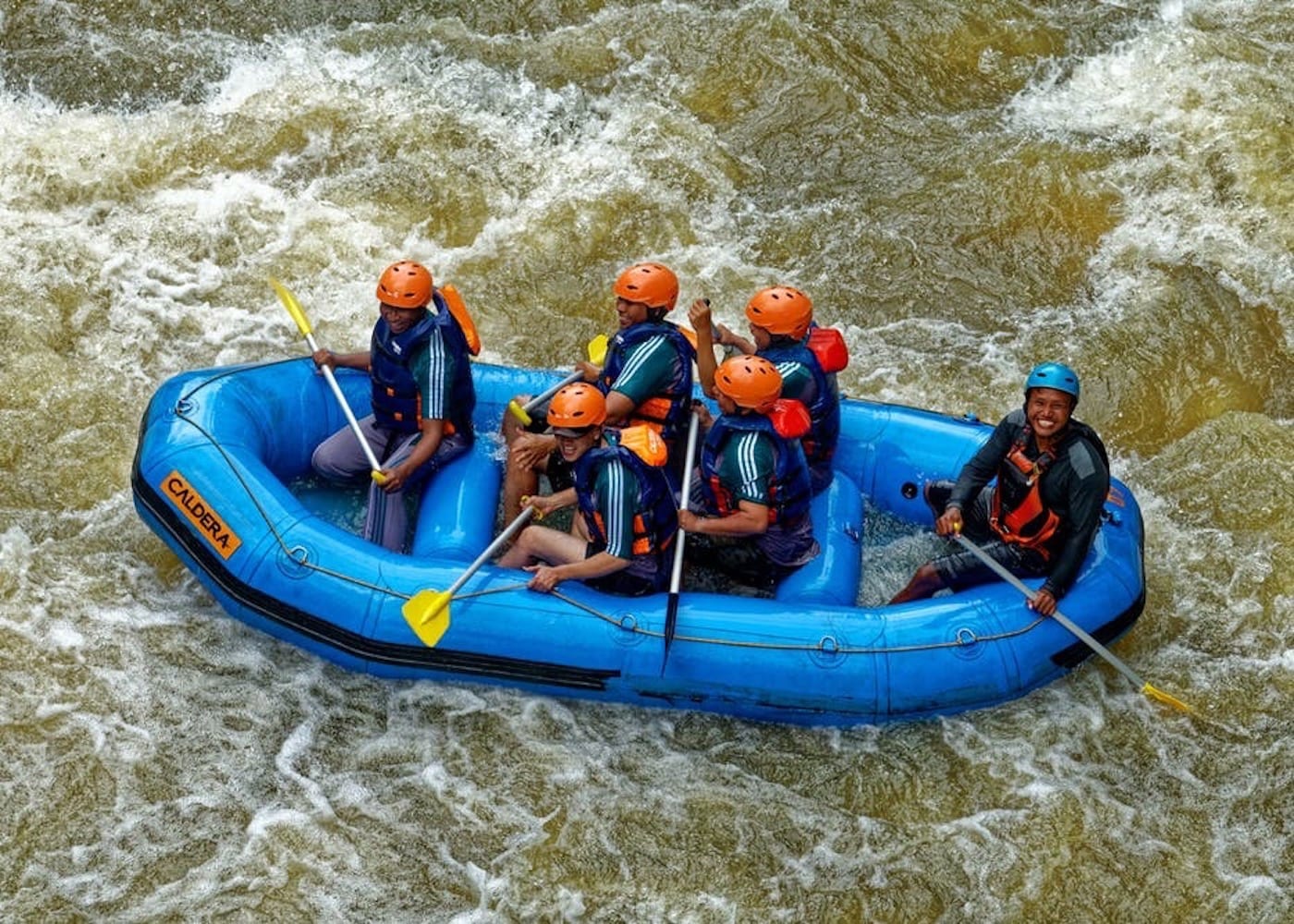 Gather your crew and go rafting with Bali Sobek
If your kiddo is having a birthday party and you need party inspo, or perhaps you're having a weekend staycation in Ubud, then check out the amazing rafting deals for domestic guests and KITAS holders at Bali Sobek. The special price includes a 2 hour rafting tour that includes all equipment, instructor, shower facilities, set lunch menu, drinking water and insurance. Bring your own towels and get ready for a rafting experience on the Ayung river that you will never forget!
Keep on rollin' at Race Amplitude Skatepark
For those that like to ride the skateboard variety, check out Skate Pagi this November, every Monday to Thursday at Race Amplitude Skatepark. For a cool 25k entry fee, you can skate and receive a traditional or American breakfast. Nothing beats that price in skateland!
Go fat biking
Ever wanted to try out e-biking or fat biking? Well, now is the time to make the most of all the special promo deals at Bali Fat Bike Cycling Tours. Grab the fam bam (height restrictions apply) and take a tour through rice paddies, near Tanah Lot Temple, on the beach, or perhaps a heritage tour is more your vibe. Even lunch is included in the promo price! There's so much to choose from and a custom-made tour can be ready and waiting at just 24 hours notice. Enjoy the special deals while they last!
Ready, aim, arch!
What could be more fun than learning the traditional art of Indonesian archery (indoor or outdoor) at the Ubud Archery Club? Kids Archery programs are curated for ages 4-15 years at the Njana Tilem Museum, and opening days are Tuesday to Sunday. Make the most of KITAS holder specials right now, or special barter deals in exchange for classes… A 100kg bag of rice can be exchanged for 10 classes!
Zoom laps at Go Karting Bali
Go Karting Bali is the one and only go-karting open-air track on the island, based in Jimbaran. Grab your tribe and hit this purpose-built 400 meter go-carting track complete with bridge and tunnel, and see who can do the fastest lap in the 9HP Honda engine carts. These speedy carts can propel up to 70kph, so great for adults who like to race and appropriate for kids 10 years plus. Grab your helmets and make the most of the special promo deals while you can.
TAKE THEM SHOPPING
The good life at a great price
There's always fun to be had shopping for new threads, and right now, there are plenty of summer sales to be taken advantage of at Mal Bali Galeria, Beachwalk Shopping Centre, Trans Studio Mall or Level 21 Mall Denpasar where you'll find discounts at all your favourite shops and eating joints. Or, if bespoke or locally-made threads are more your style, check out our list of Bali's best boutiques for kids.
Keep calm and cool at Timezone
When you've tired of all that shopping but still have time to kill, some good ol' fashioned arcade gaming might rock your boat at Timezone. Take advantage of the Family Deals currently on offer. Located at Mall Bali Galeria, Level 21 and Samasta Lifestyle Village, load up the kids Timezone credit cards and watch them hit the interactive gaming machines to accrue those precious tickets, which can later be exchanged for cool toys to take home!
Kids galore at Tamora Gallery
Tamora Gallery is the first family orientated lifestyle shopping village located in Canggu where education meets recreation, cool eateries (we see you Missibu, INK & Shmurger Burger) and there's even a co-working hub. Grab the kids and let them roam free on the playground or carve up the skate bowl while you shop and eat to your heart's content.
GET WET & WILD
Fly high at Bali Wake Park
A day spent at Bali Wake Park & Aqualand is always a great idea, and making the most of the special November all-day Aqualand and wake-boarding deal is an even greater idea! Not only can they climb and slip'n'slide the inflatable adventure course under the watchful eye of an onsite swimming guard, but there's also a Wednesday Ladies Only Wakeboarding sesh that will ensure an awesome workout for Bali's Mamasitas looking for a new way to keep fit and fabulous. Make sure you take advantage of the wholesome lunch at the onsite restaurant, serving up fresh and fabby-dabby Aussie and Indo staples. Open 11am – 5pm with strict guidelines.
Thumbs Up Dudes
Is it time to book the kids into a regular weekly surf lesson? Look no further than Thumbs Up Surf where local surfing legend Cody, Mr Man and his loyal reliable crew will take awesome care of your little groms. Whether the kiddos are new to the game or well versed in surf etiquette, rest assured that Thumbs Up Surf will only seek out the safest waves for your kids to enjoy the best of what Bali has to offer. #cowabungakids.
BLISS OUT AT A SPA-AHH
Relax, renew and refresh at Aliya Spa
For the month of November, Aliya Spa in Umalas continues to offer parents and kiddos 25% off special Mummy and Me (or daddy and me) massages, cream-baths, manis, pedis and facial treatments for your next family spa day. Top tip: keep Aliya Spa on speed dial for its in-house specialist kiddy lice treatment. As we all know, nits rock the boat for our chillaxed Bali vibes…
Create your own natural skincare range at Republic of Soap
If natural is the only way when it comes to your skincare products, then have your kiddo create their very own custom-made skin care range at Republic of Soap. Grab your kids and hit the fun DIY Station where kids can choose their favourite scents and make their own body care range. We're talking body wash, bubble bath, lotion, sunscreen, dry body oil, scented roll-ons, diffusers, even their own room spray. There's also a refill station where kids can bring their own bottles and learn about the eco friendliness of reusing containers and re-filling them with their own creations.
Retreat to Body Temple Spa
To enjoy up to 50% discounts on selected treatments, treat the family to a spa sesh at Body Temple Spa located at Finns Recreation Club in Canggu. Mummy and littlie can have a matching mani-pedi, or why not try a facial, while Dad and little one can choose from a range of spa options too. Bookings essential.
Looking for more awesome things to do with kids this month? Check out our ultimate guide to kids activities in Bali!

Words by Rebecca Foreman
Currently living the island life in Bali with her family, Rebecca fills her days with travelling, writing and reviewing, often with the kids in tow. Follow her bountiful island adventures on her Instagram page.