Fancy an escape to the Great Outdoors? These are the very best open-air destinations in Bali that bring you face-to-face with Mother Nature
As much as we love browsing Bali's best boutiques and rubbing shoulders at the island's finest sunset bars, sometimes we need an escape to nature, to breathe in the fresh ocean air or cool mountain climate. Luckily, Bali is abundant with al fresco adventures in the Great Outdoors, home to plenty of idyllic, open-air paradises that await.
So, to guide you on your own outdoor adventure, here we've rounded up the very best experiences on the island that let you come face-to-face with nature. We're talking off-the-beaten-path escapades, trips to natural landscapes, encounters with breathtaking wildlife and treks to epic scenery and Bali's most beautiful destinations. Mother Nature, here we come!
THE BEST OUTDOOR ACTIVITIES IN BALI
1. Sun-soak on Bali's best beaches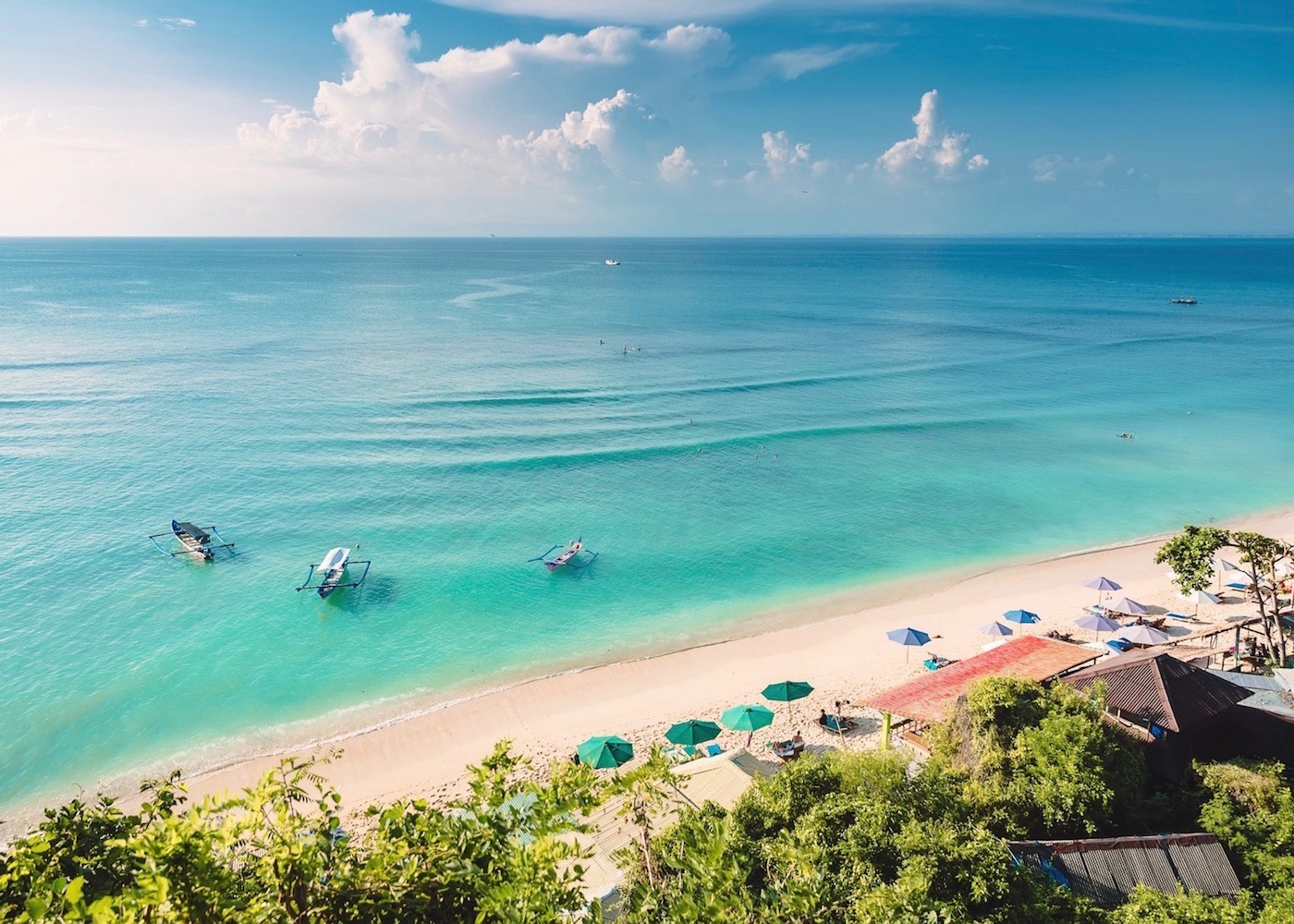 Almost every Bali visitor ticks a sun-soaked beach day off their island bucket list. But which beach is best, we hear you cry? Well, that's up to you. Choose from black sand beaches in the west or white sands in the south; hidden coves in Uluwatu or never-ending coastlines in Seminyak. Or, if you're looking for an off-the-beaten-path beach, head north to Pemuteran for untouched shorelines in every direction. And if you still can't decide? Check out our list of Bali's best beaches here.
2. Trek through nature-hugged trails
Other than leisurely strolls through villages and rice fields, walking trails are few and far between in Bali. But for adventurous souls, there are plenty of hikes that take island roaming to another level – literally. Trek to the top of a volcano (Mount Agung is the tallest, FYI), scale the lush mountainside of Bali's heartlands, meander your way through dense jungle or stroll the central walkway of Ubud's valleys on the famous Campuhan Ridge Walk.
3. Go chasing waterfalls
Nothing says outdoor island adventure quite like hunting for Bali's hidden waterfalls. Many of these natural wonders are off-the-beaten-track and unbeknownst to the tourist crowds, so don't be surprised if you find yourself walking through dense jungle, clambering over rocks and ducking under lush green canopies to find them. Check out our list of Bali's best waterfalls here, and don't forget to take your swimmers!
4. Visit a sacred temple
With their grand architecture, towering shrines and spacious pavilions, Bali's most sacred temples are almost always set amongst spectacular scenery and natural surroundings. There are temples surrounded by ocean, templed in the centre of a lake, and even temples that are so elevated, they almost touch the clouds. Here are some of our fave temples in Bali.
5. Take to the waves
The surf in Bali is world-class, so catching at least one wave is a must on any outdoor adventure. No matter what level of shredder you are, there's a wave for everyone, from gentle white-wash in Kuta for beginners, to pumping barrels in Uluwatu for the pros. Surf's up!
6. Go golfing
Whether you're a beginner or a pro, golfing in Bali is the ultimate outdoor activity. The island is home to a handful of award-winning golf courses that come with incredible scenery to boot – think clifftop courses in Uluwatu, and mountain ranges dotted with iconic Balinese temples. Our faves? Try the international-standard Bali National Golf Club in Nusa Dua, or Handara Golf & Resort in the mountains of Bedugul.
7. Find Nemo
For divers and snorkelers alike, Bali is an underwater paradise, home to some of Indonesia's most stunning aquatic scenery and marine life. From sunken warships in Tulamben (North Bali) to lively reefs full of fish and sea turtles off the coast of Nusa Penida, we highly recommend renting a snorkel, mask or scuba tank to find Nemo!
8. Go white water rafting
Ubud is renowned as a mecca of all things calm (yoga studios and jungle retreats, anyone?), but head to the island's central rivers and you'll find wild rapids with twists, turns and hair-raising drops – all the better for rafting. The most popular river to raft down is the sacred Ayung River, famous for its wide banks and challenging rapids right through the heart of Ubud. Or for a longer ride, try the Telaga Waja river in Sideman Valley for 14km of rafting!
9. Bootcamp on the beach
For fitness addicts wanting some fresh air away from the gym, why not take your workout to the Great Outdoors with a morning bootcamp on the beach? The weekly sessions with 2befit Bali mix functional training with cardio, weight-lifting and even boxing right on Bali's beautiful beaches. The workout even includes short runs that take you past fishing boats and Hindu temples. Fitness and adventure? Yes puhlease!
10. Go glamping
If living in nature sounds like your kind of Bali vacay, then you'll want to add camping to your island itinerary. Head up north to the peaceful lakes, and you'll find campsites aplenty. Set up your own tent and mingle with other happy campers, and bask amidst the fresh air, chirping birds and mystical fog. Or, if you love camping but don't fancy sleeping in a tent, then put some glam to camping and check out all the best places for glamping in Bali. Our fave? The luxurious glamping resort that is Capella Ubud, or glamping by the beach in Menjangan.
Happy adventuring, Honeys!