There's a lot of new things to try, visit and love in Bali - like this one at the Four Seasons Ubud
Here's our latest and greatest things to do in Bali list, straight from the Editors who know: new yoga, beach clubs, restaurants, sailing boats and special tours, it's all there to be loved
There's no shortage of ah-mazing, fun, fabulous or interesting things to do in Bali, so here's the low-down on some newbie experiences and places to know about across the island.  From Canggu's new yoga address The Practice or paring your downward dog to the DJ beats at WOO SKY, from hot new restaurants, beds or places, you can't help but love experiencing all that Bali has to offer!
And don't forget, Bali was just voted Asia's Best Island in the 2016 TripAdvisor Travelers' Choice Awards.
New Beach Clubs
SUNDAYS AT ULUWATU
Times, they are a-changing. Or names are, addresses aren't.  The Uluwatu beach club that most of us have visited countless times [as Finns] has a new name to be shouted about town, Sundays Beach Club.  But fear not, as all else to do with this pimping playground of fun-in-the-sun-and-sand remains the same – that ocean is heavenly and it's the best option around for a gorgeous day out!  Nothing beats that crystal clear water by day and beach bonfires by night. We [Always] Love!
Sundays Beach Club at the Ungasan Clifftop Resort, Jalan Pantai Selatan Gau, Banjar Wijaya Kusuma, Ungasan, p. + 62 (0)361 848 2111.
CANGGU
Is it true!? Yes, it is! Old Man's and Echo Beach now have firm competition just down the beach at Berawa. The popular, Uluwatu beach club Finn's has moved to Canggu. Restaurant, bar, infinity pool and prime beachfront position, it's got the lot. Eager eyes have been counting down the days until doors open and all day sessions can turn into a new sundowner meeting place.
Finns Beach Club, Jalan Pantai Berawa Beach, Canggu.
LEGIAN
Fifty Shades of Blue?  With its spectacular beachfront location overlooking the Indian Ocean, AZUL Beach Club offers three levels of fun fun fun across dining, cocktail culture and that fantastic Bali beach club situation. AZUL Beach Club is a great mix of sophisticated and casual, with highly interactive chefs, cool service, charismatic talent and a chill-out DJ music stylist enhancing the moods from sundowner timings into the evenings. The interior is primarily blue in colour, a tribute to the Indian Ocean and their name meaning 'a shade of blue'.
Azul Beach Club, The Beachfront, Padma Beach, Jalan Padma, Legian, p. +62 361 765759.
New Sail:  Alila Purnama, Cruise Away!
See gorgeous Indonesia by sea, in style!  Step on board the stunning Alila Purnama, a luxurious ship with spa, library and three magnificent decks, and set sail on a water adventure you will love. Sail across the ocean, stop for lunch in a secluded bay, jump off the sun deck for a refreshing dip, before enjoying a dose on the sun lounger as the sea breeze tickles your face on way to the next destination – this is up there on our Bali bucket list for sure!
This forty-six foot luxurious, wooden ship has been designed in the traditional style of a Phinisi ship, as used by the Bugis seafarers from south Sulawesi in Indonesia. Built by hand and using locally sourced materials, it provides an ultra-modern and relaxing accommodation for you and [up to nine] other guests. With three decks, four suites, a master suite, a sun deck, library, lounge, bar, and dining room – plus spa therapist on board – be prepare to be pampered!
Alila Purnama, p. +62 (0) 81 999 060 857, e. [email protected] From IDR 4,050,000++ per person.
New Play:  Four Seasons Architecture Tour, Ubud
The architecture of Four Seasons Resort Bali at Sayan, Ubud is world-renowned. And stunning.  Now you can discover the original inspiration behind John Heah's iconic design with their new on-site Rice Bowl Architecture Journey.
The Rice Bowl Architecture Journey starts by crossing a wooden bridge suspended high above the Sayan Valley in Bali's central highlands – over a river that is part of the UNESCO-listed 'subak' sustainable irrigation system – leading to an elliptical rooftop lotus pond. The resort's guides share the design story as you descend through the curved futuristic-style main building surrounded by two acres of rice fields and through groves of fruit trees, vegetable and herb gardens. Another bridge takes the tour to the other side of the river to visit a holy spring and explore the surrounding environment. The Rice Bowl walk is followed by a heavenly Rice Spice spa treatment, and a 60-minute full body massage. A typical farmer's lunch of Nasi Campur (steamed rice served with a variety of dishes) at the treetop Ayung Terrace completes this impressive experience.
Four Seasons Resort Bali at Sayan, Jalan Raya Sayan, Ubud, Bali 80571, p. +62 361 977 577. The half-day Rice Bowl Architecture Journey is priced at Rp1,500,000++ per person, e. [email protected]. 
New Yoga: Seminyak & Canggu
Move over Desa Seni, there's more hip new yogi kids on the block in Seminyak and Canggu.  The Practice, just off Batu Bolong, is one of the most anticipated openings for a while in the hip surfer Canggu hood.  Bringing back the authentic teachings of yoga back to yoga, both on and off the mat, The Practice is a lovely physical and virtual place for conscious communities to practice the art, science and philosophy of authentic yoga.
The Practice, Jalan Pantai Batu Bolong No.94, Canggu, p.+62 (0) 812 3670 2160. 
Then in Seminyak you can choose new beach-facing yoga options at the W Retreat & Spa Bali.  WOO SKY is hosting sunrise and sunset yoga on weekends – complete special tunes for the sunset session of course.  It's cool, fun and done in that fabulous W way we love.
New Spa:  Alila Seminyak
Everyone knows we – and Bali – loves to Spa.  Ooooh yes.  So when one of our favourite new hotels Alila Seminyak opened the doors to Spa Alila, we were first in line to trial out every little thing – the ambience, design, treatments, staff.. the works.  And it all rocks.  It's classy and sophisticated and high-quality, just like the gorgeous Alila brand itself.  Happy, happy days to be spent here.
Spa Alila at Alila Seminyak, Jalan Taman Ganesha No. 9, Petitenget, Seminyak, p. +62 (0)361 3021 888.
New Stays: Katamama Hotel, Seminyak
Winning! Now you can chill or party all day Potato Head, and then walk approximately 20 steps to rest your weary heads at the brand new Katamama Hotel, the first hotel from the Potato Head group. And, just as Potato Head changed the beach club scene in Bali, this new hotel does things differently. Firstly, there is the styley Akademi bar downstairs where you'd expect a lobby – infused-arak cocktails, anyone? Plus, there is Movida with delish Spanish fare. Katamama showcases 'handcrafted hospitality', with every part of the hotel having been personally designed and created by Indonesia's finest craftsmen, utilising the rare arts and artisan practices that connect guests to Indonesia's culture and heritage.  We Love.
Katamama Hotel, Jalan Petitenget, S
New Table:  Ling-Lings Restaurant
Asian Fusion Meets Cool Bali Style.  This hot new Seminyak table is already a big big fave of locals and visitors alike.  So much to love, so much to try!  Ling-Lings has got so many yum tastes nailed, as well as mixing the entertainment stakes up with the PNNY Collective – which means cool tunes every Wednesday, Friday and Saturday nights.
Ling-Lings Bali, Jalan Petitenget 43x, Petitenget, p. +62 819 1641 7867.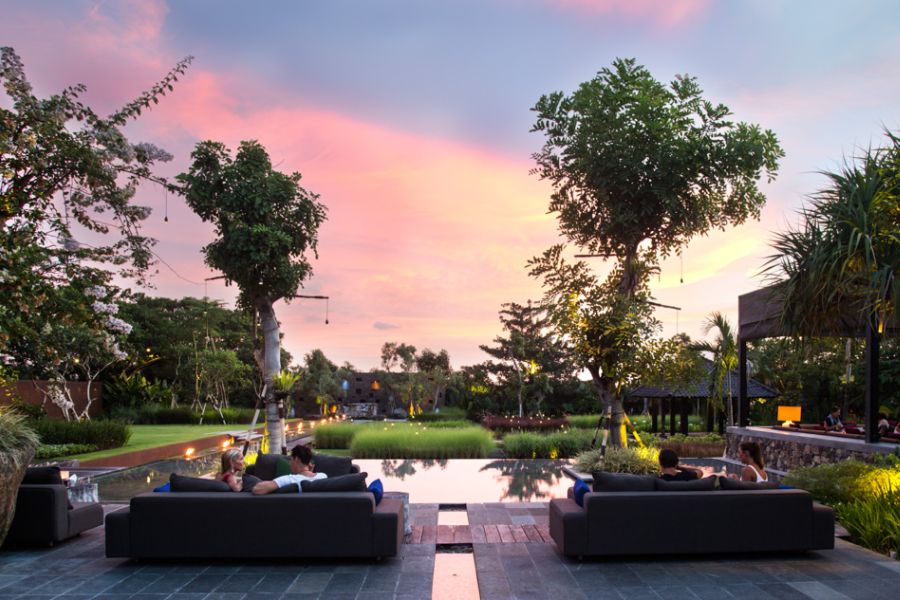 New Wednesday Love:  Metis High Tea
We all love Metis for – amongst many things – their Friday night happy hour sessions.  Now, there's mid-week love.  Every Wednesday 4.30-7.30pm is Jazzy High Tea at Le Jardin.  To the accompaniment of jazz music in scenic tropical gardens, enjoy Alamanda High Tea [IDR 210k++ for 2 persons] to go all sweet or Melati High Tea [IDR 325k++ for 2 persons]… if you couldn't resist the temptation of both sweet and savoury.
Metis, p. +62 361 4737 888 or e. [email protected].