A glorious mishmash of good food, great cocktails, a killer bill of music and beachside vibes aplenty, SugarSand is bringing it all to Seminyak this September
Ahhh Seminyak – Bali's buzzing neighbourhood of unadulterated hedonism. There are beach bars and restaurants, cool clubs and late night haunts, and don't even get us started on the designs and décor. But if you ask us, there aren't many venues that have a healthy dose of it all. the kind of place that's a little bit beachy, a little bit boozy, big on the music and even bigger on the food. Well, that's where SugarSand is about to step in. 
Opening in early September, SugarSand is gearing up to carve a whole new all-day experience into Seminyak's "lifestyle destination" scene. Not a beach club, not just a bar, and sooo much more than "just" a restaurant by the coast – SugarSand is the perfect mishmash of everything we love: superb food, expert cocktails, a killer bill of live music, and plenty of nods to local art, design and culture.
Set across two-levels with unobstructed ocean views, SugarSand is a sight to be seen and celebrated. It's kitted out with poolside daybeds for lazing the sunshiney days away, fronted by a toes-in-the-sand beach bar and seaside terrace serving coastal bites and cocktails. Then, on the top floor is an open-air rooftop lounge that just begs for nightly sundowners beneath candy-coloured skies…
But as breathtaking as the design is (it resembled a "jukung" fishing boat, one that's been jazzed up with Japanese elements) the focus here is very much on the food, cocktails, music and art – plus plenty of awesome island vibes to enjoy beside the seaside…
Step inside this striking new destination and you'll find fabulous food aplenty. SugarSand's Japanese Nikkei-inspired menu is the work of Australian-born chef Nic Philips, and he's put together only the very best locally sourced ingredients from both land and sea to create a fresh new feasting experience that you'll LOVE – trust us, we got a sneak peek feast!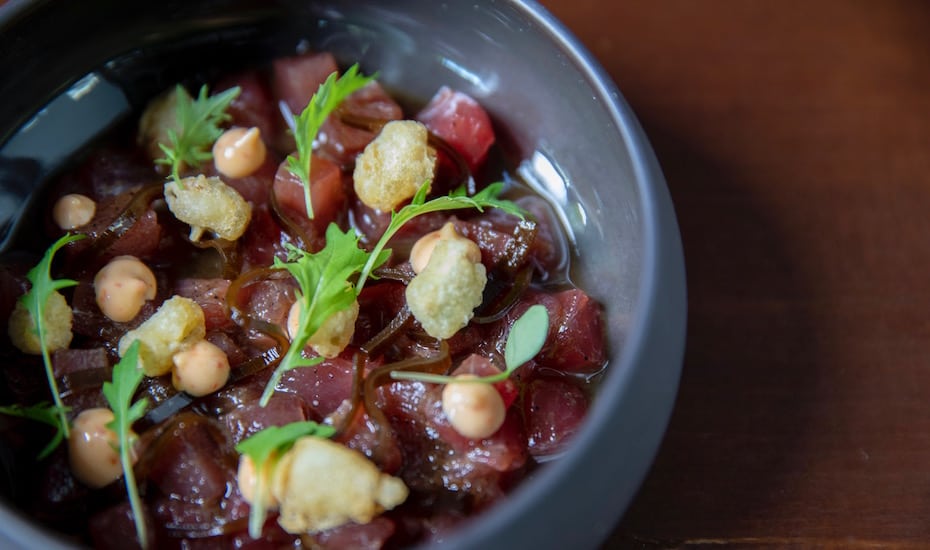 Expect zesty ceviche and tiraditos, ocean-fresh tuna, king prawns and whole fish, plus plenty of treats cooked up on the robata grill, alongside some hearty comfort food for good measure. The menu's motto is 'food where excellence is always in season', so no matter what you choose, you can expect the best of the best, year-round.
As for the cocktails, SugarSand hasn't missed a beat here either. The drinks program is spearheaded by Singaporean mixology maestro, Sufian Mahmoud, and he's put together a modern re-imagination of cocktail history and culture using novel ingredients to create visionary concoctions. Think tropical twists on Japanese sake and sochu, and slow-cooked G&Ts. YUM.
Music is another big focus at SugarSand, so resident music lover and vibes creator, LADY FLiC, is leading the musical charge. Every day, top island selectors will bring a warm and colourful tapestry of sound from around the globe and through the ages to Seminyak's beachfront. Timeless, soulful music will flow from ambient to jazz, from rare groove to soulful techno, hip-hop and disco – no genre is off limits, and it's bound to rock your socks off.
Talking of which, SugarSand will also be home to Gang 8 (Gang Delapan) – a boutique featuring local and international designers with timeless and cutting-edge style. There'll also be a gallery-style space exhibiting continuously changing art from Indonesian visual artists on two TV screens, giving local talent an ever-evolving space to install their pieces – a nice community touch that gets two thumbs up from us…
SugarSand is due to open on September 1st, so keep your calendars free because it's 15% off everything on Saturday 1st & Sunday 2nd September to celebrate the opening weekend. Bring your bikini and a big appetite, because Seminyak is about to get even more beachy, boozy, creative and cultural – all in one spot!
See you by the sand, Honeys!
SugarSand, Jl Double Six, Seminyak, Open daily 10am – 1am from early September 2018.
Like this story? Here's four more we think you'll enjoy!
Hip Seminyak Guide: All you need to know
50 awesome things to tick off your Bali bucket list
Sun, sand & sea: It's Bali's best beaches!
30 best sunset bars for a golden hour that glows