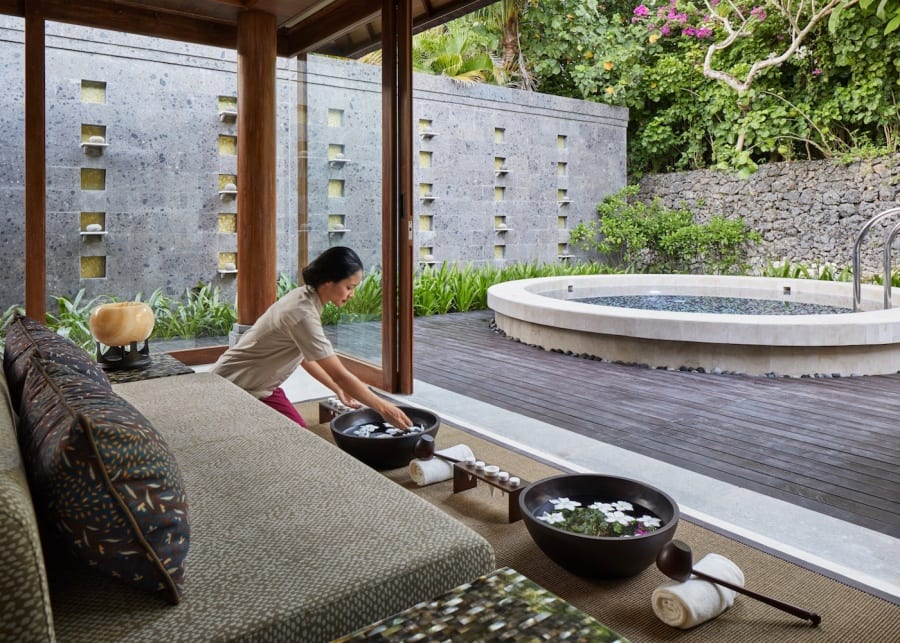 A holistic spa, fitness centre, outdoor yoga studio and juice bar under one glamorous roof – you'll want to bliss out at Shankha Spa in Sanur.
After the re-opening of Sanur's most legendary beachfront resort, Hyatt Regency Bali is more fabulous than ever before. Not only is this five-star destination home to the breezy Pizzaria, the ever-indulgent Omang Omang restaurant and its collection of stunning resort facilities across nine hectares of lush tropical grounds, this Sanur icon is also where you'll find Shankha Spa – the resort's world-class and holistic wellness destination that's unique in both concept and architecture.
A game-changer for Sanur's wellness scene, Shankha Spa is an all-embracing and comprehensive wellness experience under one glamorous roof – and it's open to everyone. Think spa treatments par excellence, a state-of-the-art fitness centre, an outdoor yoga studio and countless pools for your dipping pleasure, from the plunges and soaking tubs, to the jacuzzi and serene lap pool that's reserved exclusively for you, the lucky spa guest.
Sound super glamorous? It is. Yet this Sanur spa hasn't forgotten its Balinese roots. Shankha Spa takes its name from the traditional conch shell that's used in Hindu rituals – a shell that's praised in scriptures as a giver of fame, longevity and prosperity, and is also said to be a cleanser of sin. Well, this sacred shell is the essence of Shankha Spa, bringing Bali's ancient philosophies and herbo-mineral healing to the spa suite. And what stunning spa suites they are…
The Shankha Spa suites
Spread over 22 acres of tranquility, Shankha's 10 free-standing spa suites look more like five-star villas, built around their very own lily ponds with private treatment spaces, dressing rooms, en-suite bathrooms, private vanities and relaxation areas, like private gardens with outdoor lounges, soaking tubs and showers.
It's here that you'll come face-to-face with some seriously breathtaking architecture – a sanctuary of wellbeing that blends both traditional and modern design elements. Settle in to one of the cosy sofas and choose from Shankha Spa's sensational rituals. Think individual holistic wellness treatments and traditional Balinese therapies, or opt for the multi-hour Wellness Passage that includes a series of treatments ranging from 2 to 4 hours, designed to nourish, energise and balance through a combination of relaxation and movement.
Stretch and sweat at Shankha Spa's fitness facilities
As much as we love the thought of just laying back and blissing out with Shankha Spa's traditional healing spa treatments, any visit to this comprehensive wellness complex simply must include a yoga sesh, gym workout or wellbeing activity too. Choose from all sorts of different exercises that range in both tempo and style: swim laps in the 15.5 meter outdoor pool surrounded by exotic gardens, or raise your heart rate in the Fitness Pavilion with a full regime of reps in the state-of-the-art Precor gym, overlooking the pond, gardens, and pool with plenty of natural light streaming in.
If a slow, mindful and tranquil yoga session in the open air shala is more your speed, yoga classes are available on request every morning and afternoon with advanced bookings, topped off by an adjoining juice bar that serves kombucha, herbal drinks and Indonesian jamu. All of this comes with access to the steam room, sauna, and hot and cold plunge baths for total hydrotherapy rejuvenation, and there's even separate lockers for both ladies and gents.
Yup, when we said this is Sanur's most comprehensive and world-class facility of wellness and exercise all under one roof, we meant it. And the best bit is, it's all conveniently accessible in a five-star resort, available to everyone – not just in-house guests. You can book into the spa at any time, and there's even affordable gym memberships too, meaning there's no excuse not to work out and bliss out in Sanur.
Psst! In-house guests can enjoy a fitness membership for just IDR 1,600,000 ++, which includes access to the fitness centre, 10% off all spa treatments, and 10% off at Omang Omang and Pizzaria restaurant. too!
Shankha Spa at Hyatt Regency Bali, Jl Danau Tamblingan 89, Sanur, p. +62 361 281234, e. [email protected]