From brunch and lunch to date night must-dos, these are the best restaurants, cafes and coffee spots in the hip 'hood of Seminyak.
One of our all-time favourite neighbourhoods in Bali, Seminyak is positively spilling with uber-cool cafes, hip restaurants, cool beach clubs and late night haunts. From Petitenget and Oberoi to Kayu Aya and beyond, this hedonistic 'hood deserves a good gourmet gander during your Bali holiday.
You'll want to devote at least an entire day (or week!) eating your way through the best restaurants in Seminyak, so we've put together this list of must-trys to help you on your tasting tour. From the very best Seminyak cafes to the hottest date night destinations, here's where to eat in stylish Seminyak for breakfast, lunch, dinner and later… Happy munching, Honeys!
THE BEST RESTAURANTS & CAFES IN SEMINYAK FOR BREAKFAST & LUNCH
1. KYND Community
SO much more than just a vegan café, KYND is a community of earth-conscious foodies serving up plant-based creations that will knock your sandy socks off. Veggies and vegans will love their inventive menu that's full of both sweet and savoury knockouts, while carnivores will get some serious education on just how good plant-based food can be. For brekkie and brunch, it's all about big bowls, gourmet toasts and some of the best smoothies and waffles in town, while for lunch and dinner, it's "chicken" schnitzels, Balinese Big Macs and the most colourful cocktails around – finished off with a vegan ice-cream from the technicolored creamery next door. Now, who says vegan food is boring….?
KYND Community, Jl Raya Petitenget No. 12x, p. +62 859 3112 0209, e. [email protected] Open daily 8am – 10pm.
2. Coffee Cartel
Coffee Cartel is Seminyak's boutique cafe and coffee house that means serious business. These top dogs have dominated Petitenget's feasting scene, with a mean cafe menu of poke bowls, burgers and even vegan smak hotcakes that come with candy floss, mixed berries and pink strawberry coco over custard (yes, you read that right!). Their signature pink hues and cute potted cacti can be seen on almos t every Instagram feed, laid out alongside top quality cappuccinos, subtle Mexican aesthetics and adorbs golden cutlery. In fact, Coffee Cartel has become such a cult cafe, they have a second location in Legian…
Coffee Cartel, Jl Lebak Sari No. 8 Petitenget, p. +62 812 4601 0515. Open daily 7.30am – 6pm.
3. Queen's Tandoor
Craving Indian food in Seminyak pre- or post-shopping spree? Direct your dosa cravings to Queen's Tandoor, where you can refuel on paneer cheese curries, butter chicken, Rogan Josh and all the buttery naan. Sitting in prime position on Seminyak's main street, this Indian icon couldn't be better positioned for a Seminyak pitstop. We love sitting on the open-air terrace, watching the world go by as we feast our way through the menu of authentic Indian classics. Vegetarians, you'll want to try the Navratan Jalfrazi which features nine garden vegetables in a saffron sauce, or the Malai Kofta vegetable balls in a creamy sauce. As for the meatier options, you can't go past the Koyle ka Kamaal; chicken, fish or lamb served hot from the tandoor in cauldron-shaped clay pots. Yum!
Queen's Tandoor, Jl Raya Seminyak No, 73, Seminyak, p. +62 816 942 942, e. [email protected]; Open daily 12pm – 10pm.
4. Sisterfields
A stone cold hit since day one, Sisterfields has to be one of the most popular restaurants in Seminyak. With lines out the door every single day for brekkie, lunch and dinner, it's fair to say that this Melbourne-inspired cafe is doing something right. Fear not though, the service at Sisterfields is always faultless, so it's never long before the ever-smiling staff have you settled in, sipping and snacking away on the incredible, Instagrammable dishes – pulled pork charcoal rolls, steak and polenta frites and Acai berry bowls, no less.
Sisterfields, Jl Kayu Cendana No. 7, Seminyak, p. +62 361 905 0507, e. [email protected]; Open daily 8am – 8pm.
5. Sea Circus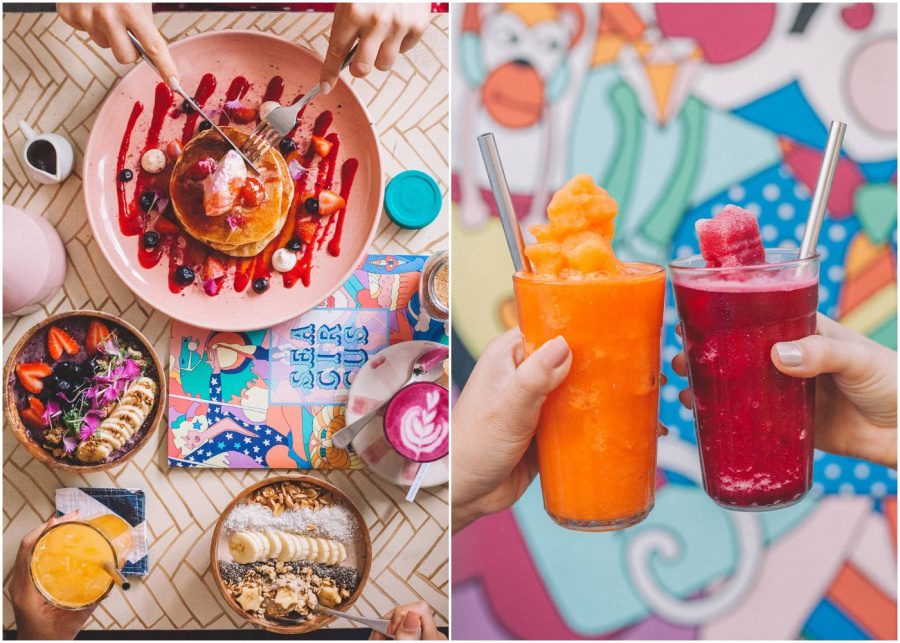 Sea Circus is Seminyak's brightly-coloured cafe institution that's decked out in jazzy hues of sea green and neon pink, with staff fitted out in cool Bali Boat Shed garbs. And because life is all about balance, the Sea Circus menu has got you covered on all counts. Feeling fresh and healthy? Make it a nourish bowl with frozen fruit margaritas on the side. Curing the hangover from hell? Make it a tasty pulled pork taco, with a classic Margarita.
Sea Circus, Jl Kayu Aya No. 22, Seminyak, p. +62 361 738667, e. [email protected]; Open daily 7.30am – 9pm.
6. Cafe Organic
Cafe Organic is one of Seminyak's original tropi-cool cafes, and with its fresh white walls, indoor palm trees and pineapples on every table, this place is a 'grammer's dream. The brekkie/brunchie-style menu is full of fabulous vegetarian fare that's beautifully presented and super health-conscious, from big salad bowls and veggie burgers, to loaded toasts and buffalo cauliflower wings. Drinks-wise, it's all about healthy smoothies, juices, top-notch coffee and happy kombuchas for a truly guilt-free tea break.
Café Organic, Jl Petitenget 99x Seminyak, p. +62 878 5522 3426, e. [email protected]; Open daily 8am – 4pm.
7. Neon Palms
Sitting directly above Bali Boat Shed (Seminyak's ever-famous technicolour beach shacks), Neon Palms is a jungly hideaway decked out in wildlife murals, hand-tiled terrazzo flooring, and of course, an exceptional menu from the same Aussie chefs who gave us Sea Circus. The all-day menu is all about brunch-style bites, as well as tacos and tapas inspired by both Asian and modern Australian cuisine. Try the spiced barramundi with roasted cauliflower and coconut shellfish laksa; the grilled prawn sushi bowl with soy mirin dressing; and sample your way through the sugar-free brunch cocktails, healthy potions and drool-worthy thickshakes. And did we mention, these guys have an epic selection of vegan creations too?
Neon Palms, Jl Kayu Aya No.22 (above Bali Boat Shed) p. +62 817 6687 878, e. [email protected]; Open daily 8am – 9pm
8. Kilo Kitchen
Asian-European fusion is the name of the delicious game at Kilo, where a spectacularly innovative menu is served up in an architecturally-designed space, beautifully tucked away from the buzz of Seminyak's main strip. Going against the norms of traditional cuisine, expect fusion signatures like beef tongue tacos, cream of ebiko noodles, and even truffled yuzu sushi rolls (this one's a must-try!). For the full experience, we recommend taking things up a notch with Kilos' tasting menu that comes with two starters, two mains and one sweet to share. We've tried pretty much everything on the menu, and we loved it all (cocktails included!).
Kilo Kitchen, Jl. Drupadi No.22, Seminyak, p. +62 812-4616-7618, e. [email protected]; Open daily 7am – 10pm.
9. Biku
You're in for a magical afternoon at this charming restaurant housed within a traditional Javanese joglo. Select from several high teas like the traditional English one (slather that sticky jam on the homemade, fluffy scones), Asian high tea and a fab kid's version for your lil bubs. Their range of salads, juices and meals are to-die-for. For an even more entertaining experience, Biku is famous for its tarot clairvoyant, in residence most afternoons, but you'll need to book weeks in advance.
Biku, Jl Petitenget No.888, Seminyak, p. +62 851 0057 0888, e. [email protected]; Open daily 8am – 11pm.
10. The Forge
Officially the most popular pub on the Petitenget block, The Forge Gastropub takes us right back to our days in the UK, feasting on British pub favourites done right. It goes without saying that the craft beers here are top notch (as they should be), but it's the rustic and authentic pub food that gets our attention. The clams in a white wine sauce, the steak & Guinness pie, the big beef burgers, and of course, the British Sunday roast – they're all here, and they're as traditional as they come.
The Forge, Jl Petitenget No. 43C, p. +62 819 099 88885, e. [email protected]; Open daily 8am – late.
11. Monsieur Spoon
If you thought Bali life couldn't get any sweeter, settle in for brunch or lunch at Monsieur Spoon – the island's favourite artisanal French bakery-cum-restaurant that does food a la Francaise oh-so well. Two of six locations on the island (also in Canggu, Umalas, Pererenan and Ubud) you'll want to try its oh-so creamy eclairs, shatteringly crisp croissants, velvety salted caramels and freshly baked breads that sit under buttery smashed avocado, gooey eggs or juicy bacon – and FYI, the coffee is great here too.
Monsieur Spoon, Jl Kayu Cendana Oberoi No. 2B, p. +62 878 5096 7795. Open daily 7am – 7pm. Or Jl Petitenget No. 112A Kerobokan, p. +62 877 6155 6575. Open daily 7am – 9pm. 
12. "Timo" Bottega Italiana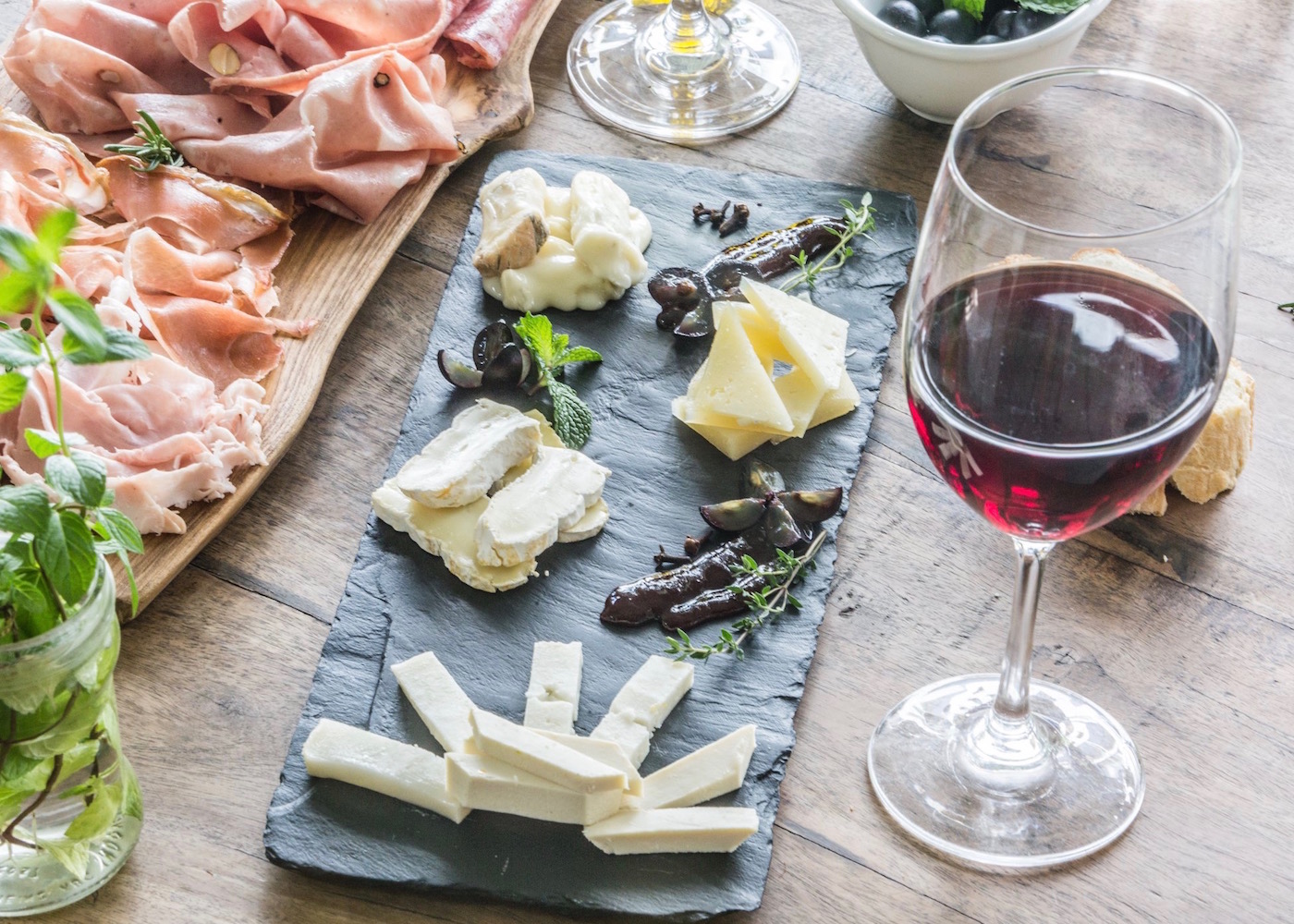 If you've ever wondered where the island's Italians get their fix of just-like-nonna's nosh, this is the place. Bottega Italiana is a fast-casual Italian eatery (and the sister brand to Zibiru Restaurant) bringing a back-to-basics philosophy of cooking to Petitenget. It showcases the best of what Italy has to offer with its all-homemade and premium, organic ingredients. And if that wasn't enough, it's also a boutique gourmet marketplace with take-home homemade products, like fresh pasta, sauces and herb-infused olive oils. Delizioso!
Bottega Italiana Bali, Jl Petitenget No.777, Seminyak, p. ‭+62 821 4689 2342‬. Open daily 9am – 9pm.
THE BEST RESTAURANTS & CAFES IN SEMINYAK FOR COFFEE
13. EXPAT. Roasters
EXPAT. Roasters is one of Seminyak's coolest coffee shops, brought to us by International award-winning Barista, Shae Macnamara. Taking its caffeine-sipping clientele on an exploratory 'from-the-ground-up' journey, EXPAT. Roasters takes coffee-drinking very seriously, pouring its very own blend of complex beans alongside amazing homemade cakes and their freshly baked banana bread. Unsurprisingly so, this urban and funky little spot is making waves on the island as the place for a top-quality brew.
Expat. Roasters, Jl Petitenget No. 1A, Seminyak, p. +62 812 4614 0493. Open daily 7am – 7pm.
14. Pison Coffee
A firm fave on the main Petitenget strip, Pison is all about good coffee in gorgeous, rustic-style surroundings (we LOVE the antique tiled floors!). For the food, a full cache of café style brekkie, lunch and dinner options with both Asian and Western faves are the order of the day. After dark, keep an eye out for nightly live music sessions here, which always draw in a happening crowd.
Pison Coffee, Jl Petitenget No. 19, Seminyak, p. +62 82 144 560 066; Open daily 7am – 12am.
15. Revolver Espresso
Seriously. Good. Coffee. Revolver Espresso arguably kickstarted the island's caffeine obsession. What started out as one teeny tiny boutique coffee house tucked away down a little laneway in downtown Seminyak, has become one of Bali's best known boutique coffee brands, with its top-notch beans from the best farmers, roasted and blended locally in Bali. Revolver now has two Seminyak locations, and a long-time following that flocks to this island icon for sensational brekkies, beef brisket sliders, and of course, insanely good cuppas. Exuding inner-city cool, you could easily forget you're in Bali in this city-warehouse-style coffee nook.
Revolver Espresso, Jl Kayu Aya Gang 51 Oberoi, p. +62 812 3842 8343. Open daily 7am – late. Or Jl Petitenget No. 101, p. +62 851 0244 4468. Open daily 6.30am – 2pm. 
16. Corner House
Tucked away at the top of Oberoi is Corner House; a cosy and stylishly decked-out treasure trove of Antipodean tastes and European flavours. Coffees, cakes, juices and meals for brekkie to dinner are all good here, and you'll love absorbing just that little bit of French bistrot charm whilst sipping your morning cup of coffee. If you're bringing the young ones out to eat, a kids' menu is available with crumbed chicken tenders with chips and all you can eat soft ice cream – otherwise, there's a great cocktail list, too…
Corner House, Jl Kayu Aya No.10, Kerobokan, p. +62 813 3960 9258, e. [email protected]; Open daily 7am – 12am.
17. Djournal
Brought to us by Indonesia's unstoppable ISMAYA Group (the brains behind Manarai Beach House in Nusa Dua) Djournal Coffee comes to Bali from Jakarta, Bandung and Singaraja. Just like its predecessors, this Seminyak hotspot is all about bringing you the best cup of coffee using Indonesian-origin beans, with a wide-range of artisan brews ranging from espresso based coffees, to pour over, syphon and even cold drip. Not into caffeine? Try the cold-as-ice Nutella Blast, or the Green Tea Freeze, best paired with Djournal's Beef Pastrami Sandwich or Crispy Pork belly Bowl. All of this, overlooking one of Seminyak's last remaining emerald rice paddies…
Djournal Coffee, Jl Petitenget No.19, Seminyak, p. +62 361 934 6363, e. [email protected]; Open daily 10am – 8pm.
THE BEST RESTAURANTS IN SEMINYAK FOR DINNER & DATE NIGHT
18. Si Jin
A modern steakhouse with a Korean twist? Count us in. This cosy, sophisticated steakhouse had us at premium cuts, like the 30 day aged Sumatran rib eye and the signature black striploin. Trust us when we say you'll also want to try the Koran namul, made with roasted sesame, crispy garlic rayu, silken tofu, wagyu butter with meyer lemon rosemary, and Katsuo (yum!). Did we mention it serves epic cocktails too? Try the tipsy Jamaican and the Ticket to Seoul.
Si Jin, Jl. Lebak Sari no. 18 Petitenget, Kerobokan, p.+62 812-3871-3964; Open daily 5pm – 9pm
19. Mama San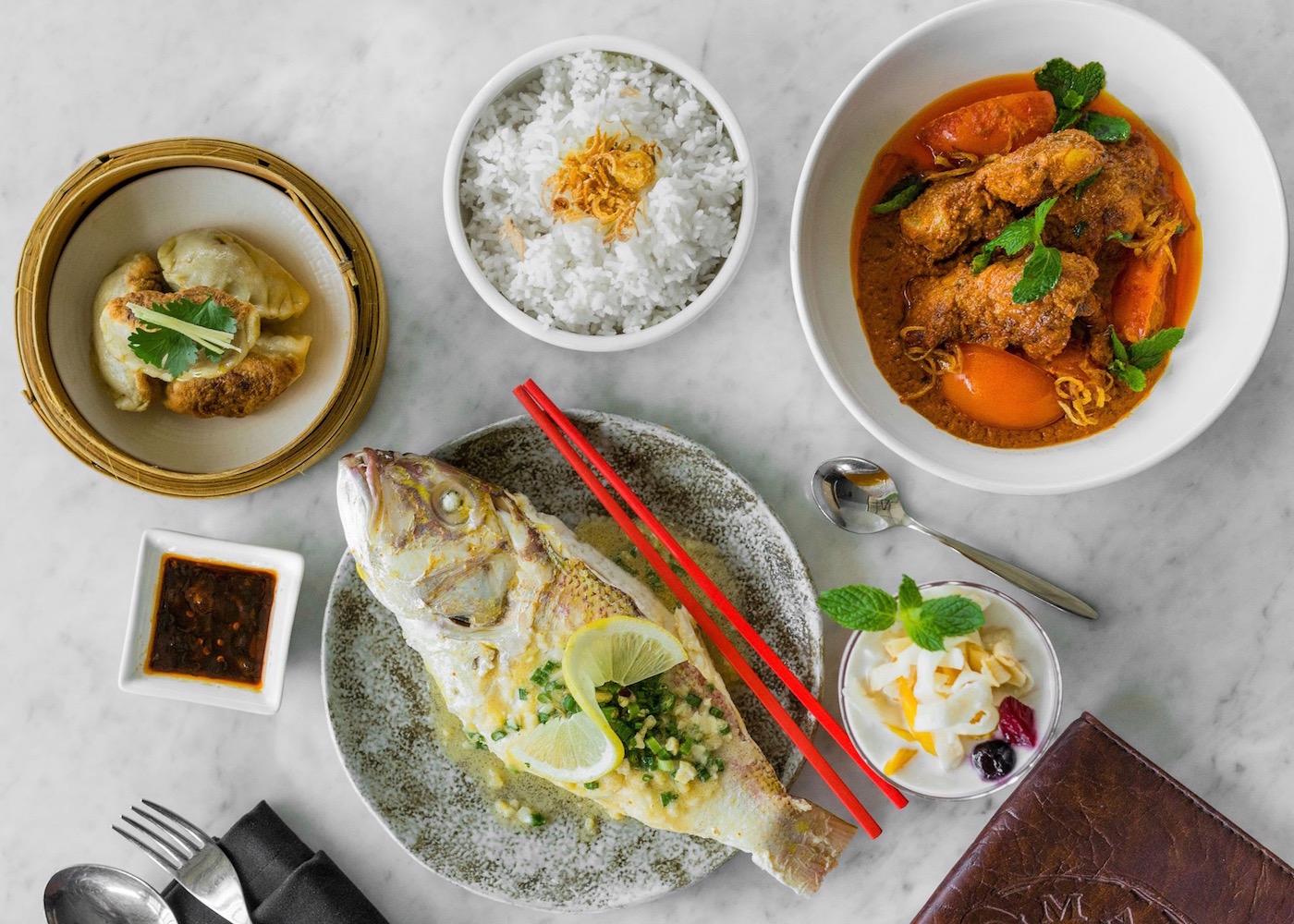 Anyone who's anyone absolutely must make time for a meal at Mama San, not only for the delicious pan-Asian cuisine, but for the buzzing cocktail scene, too. The trendy restaurant from celeb "Street Food Chef" Will Meyrick serves up an impressive and vast menu of modern Asian bites done right. The ingredients used are all tip-top quality, sourced from around the country to recreate the continents' best gourmet bits. Couple that with the upscale interior and you've got yourself a resto you'll never want to leave…
Mama San, Jl Raya Kerobokan No. 135, Banjartaman, Seminyak, p. +62 818 0612 6700; Open daily 12–3pm, 6–10pm
20. Da Maria
A taste of the Capri coast right here in Bali, Da Maria is the ultra hip Italian restaurant on the Seminyak strip that knows just how to feed our pizza lust. The brainchild of Aussie restaurateur Maurice Terzini, this eye-catching lunch and dinner spot boasts amazing pizzas and some of the coolest cocktail creations in the 'hood – not to mention one of the hottest Sunday parties around.
Da Maria, Jl Petitenget No.170, Seminyak, p. +62 361 934 8523 / +62 811 3859 666; Open Wed to Sun 12pm – late.
21. Motel Mexicola
Motel Mexicola is without doubt the hottest hombre on the Seminyak block. Everybody loves the 1960s Acupulco retro vibes at this Mexican-inspired party pad of bright neon and tasty delights – the wall murals are divine and the food is muy delicioso. Chef Steven Skelly is the real deal and he serves up some tasty traditional Mexican food designed to share with your crew. You'll think you've gone to tequila heaven when you check out the bar (uno, dos, tres… VAMOS!) But us, we especially love the tunes and getting our groove on after dinner – margarita in hand, gracias!
Motel Mexicola, Jl Kayu Jati No. 9x, Petitenget, Seminyak, p. + 62 361 736688; Open daily 6pm – midnight.
22. Barbacoa
Food-savvy crowds flock to Barbacoa for good reason – gourmet Latin American grub that's literally smokin', served with cocktails and gorgeous interiors in a sleek warehouse space. The award-winning food here is the work of Exec chef Nic Philip, fuelled by fire, burning embers, charcoal and smoke, cooked over an Asado pit, wood-fired oven. The result? Papuan pacific oysters, wood-fired with tiger prawn mornay. Or 12 hour slow-cooked lamb shoulder with red chimichurri, best enjoyed with the charred carrots in a brown butter yogurt. Start with snacks, raw plates and veggie sides, then move onto the meaty mains and desserts – everything is designed to share, and you'll want to try it all.
Barbacoa, Jl Petitenget 14, Seminyak, Bali, Indonesia, p. +62 821 4577 1619, e. [email protected]
23. Ling-Ling's
Toting Asian-style sharing tapas with a quirky Harajuku vibe, Ling-Lings has proved a hit with those in the know. Think Korean chicken, kimchi chips, sushi plates and mahi mahi, all washed down with a scrumptious (and super well priced) cocktail or three – often served up in fresh fruit… Just because.
Ling-Ling's, Jl Petitenget No. 43B, Petitenget, p. +62 81 916 417 867, e. [email protected]; Open daily 11am – late.
24. Manina
If you love brunching at Sisterfields, feasting on burgers at Boss Man and sipping cocktails at Bikini, you'll want to check out Manina – the latest creation from 8 Degree Projects and the first speakeasy of its kind in Seminyak. To find Manina, you'll need to speak to the meatball hawker out front who'll offer a clue and reveal the red door entrance. Step inside from this inconspicuous frontage, and you'll find minimalist interior, dim lighting, an intriguing ambience and the Manina charm – AKA craft cocktails and all your favourite morsels from the Bikini menu. Sip on a Kintamani Coffee Negroni alongside a Mongolian Beef Taco, or the signature Gulf of Mexico with a babi guling croquette. All ingredients are sourced directly from the root of Bali, and all cocktails are shaken and stirred by the one-and-only Arey Baker.
Manina, Jl Kayu Cendana, Seminyak, p. +62 8133 850 5054; Open Thurs – Sat from 4pm.
25. Chai'ba
Chai'ba is one of our very fave Indian restaurants in the whole of Bali, which takes us straight to Southern and Northern India with every delicious bite. Our top picks include the lamb shank masala, the chicken malai kebab, the Chai'ba thalis and even the green grain bowl if you're looking for low cals. And yes, you'll want to try the cocktails too, like the Coco Loco and the classic Negroni. Cheers to Chai'ba!
Chai'ba, Jl Raya Basangkasa No.47, Seminyak, p. +62 811 407 866, e. [email protected]; Open daily 12.30pm – 9pm.
26. Chandi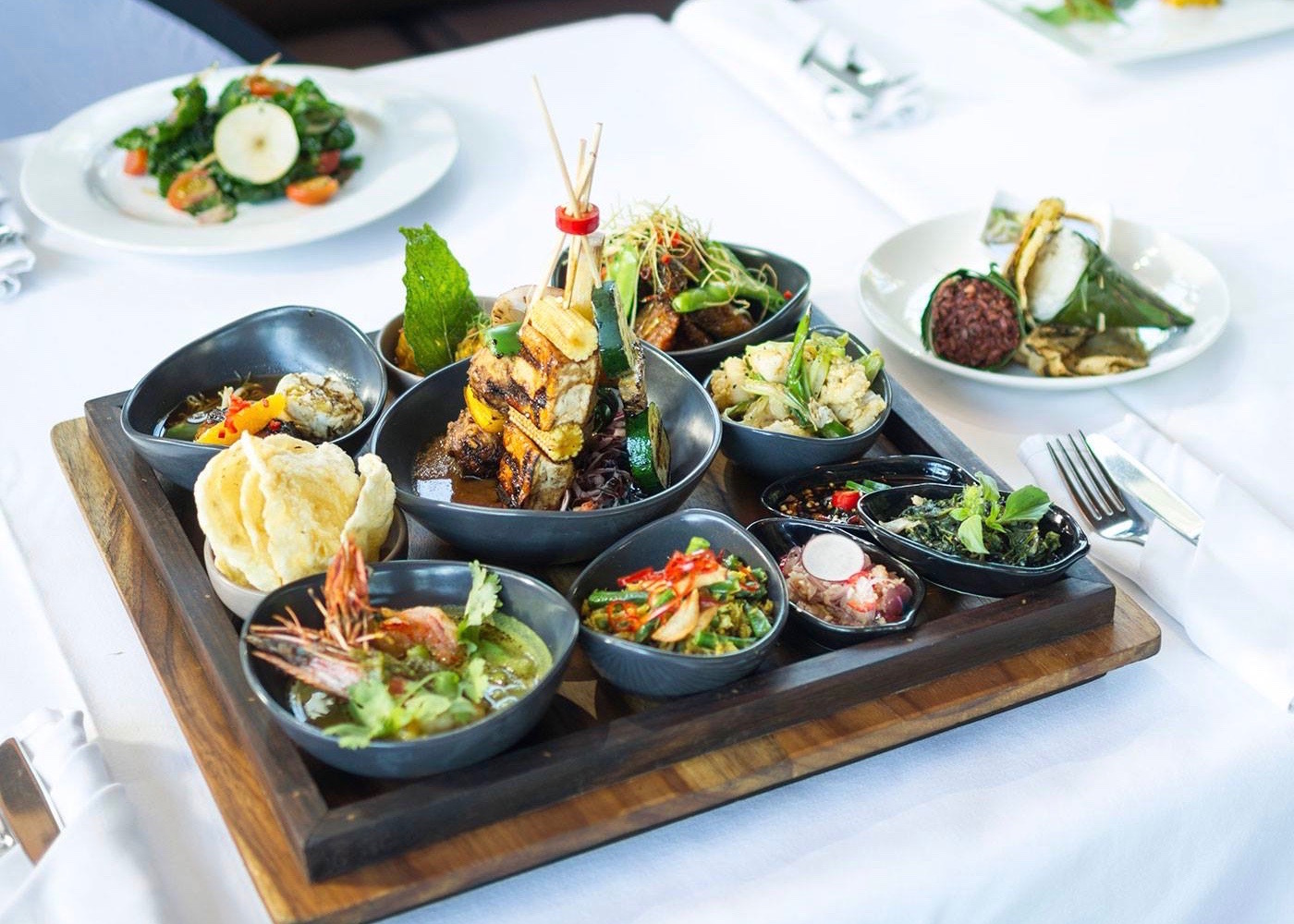 Haute Indonesian-inspired cuisine is the name of the game at Chandi, a stunning restaurant that's committed to only using organically grown greens and spices from Balinese farmers. Munch away on the highly recommend satays – choose from beef, duck, scallop, prawn, fish (the list goes on…) or try out the Appetiser Plate for two, with little munchies like Seared Scallops with Tamarind Dressing or Mini Beef Rendang Envelopes. It's a big thumbs up from us.
Chandi, Jl Kayu Aya No. 72, Seminyak, p. +62 361 477 1155 / +62 812 3666 4450, e. [email protected]; Open daily 8am – 10pm.
27. La Favela
Think that La Favela is only wild parties and late-night DJ sessions? Think again. La Favela is also home to Rocinha – a restaurant concept that brings Spanish fusion flavours to this Seminyak icon. The tapas menu has been curated by the one-and-only Jethro Vincent (the man behind the Sisterfields menu) so you know you're getting a feast par excellence here. Try the tacos and tostados (the baja battered fish tacos were our fave) then graze your way through the meats, seafood, breads and sides – best enjoyed with La Favela's famous cocktail list. And psst – those hopping nightlife vibes are still ever-present, with a DJ on the decks from daytime til late.
La Favela, Jl Laksamana Oboroi No.177X, p.+62 818 021 00010; Open daily from 7pm – late.
28. ShiShi
Another one for the party animals. If you've already sampled your way through the Espresso Martinis at ShiShi – Seminyak's late-night lounge and club – you'll want to turn up before things get wild to feast on fine Lombok oysters, Pork & Prawn Shumai, build-your own Temaki (served atop smokey dry ice, no less) and even an insta-worthy sushi tree for sharing and grazing with your party pals. An Asian inspired bistro by dusk, and a wild party destination by night? Welcome to Seminyak….
ShiShi, Jl Petitenget No. 208x, Seminyak, p. +62 819 1888 8059, e. [email protected]; Open daily from 6pm – late.
THE BEST RESTAURANTS IN SEMINYAK WITH POOL & BEACH VIEWS
29. Seasalt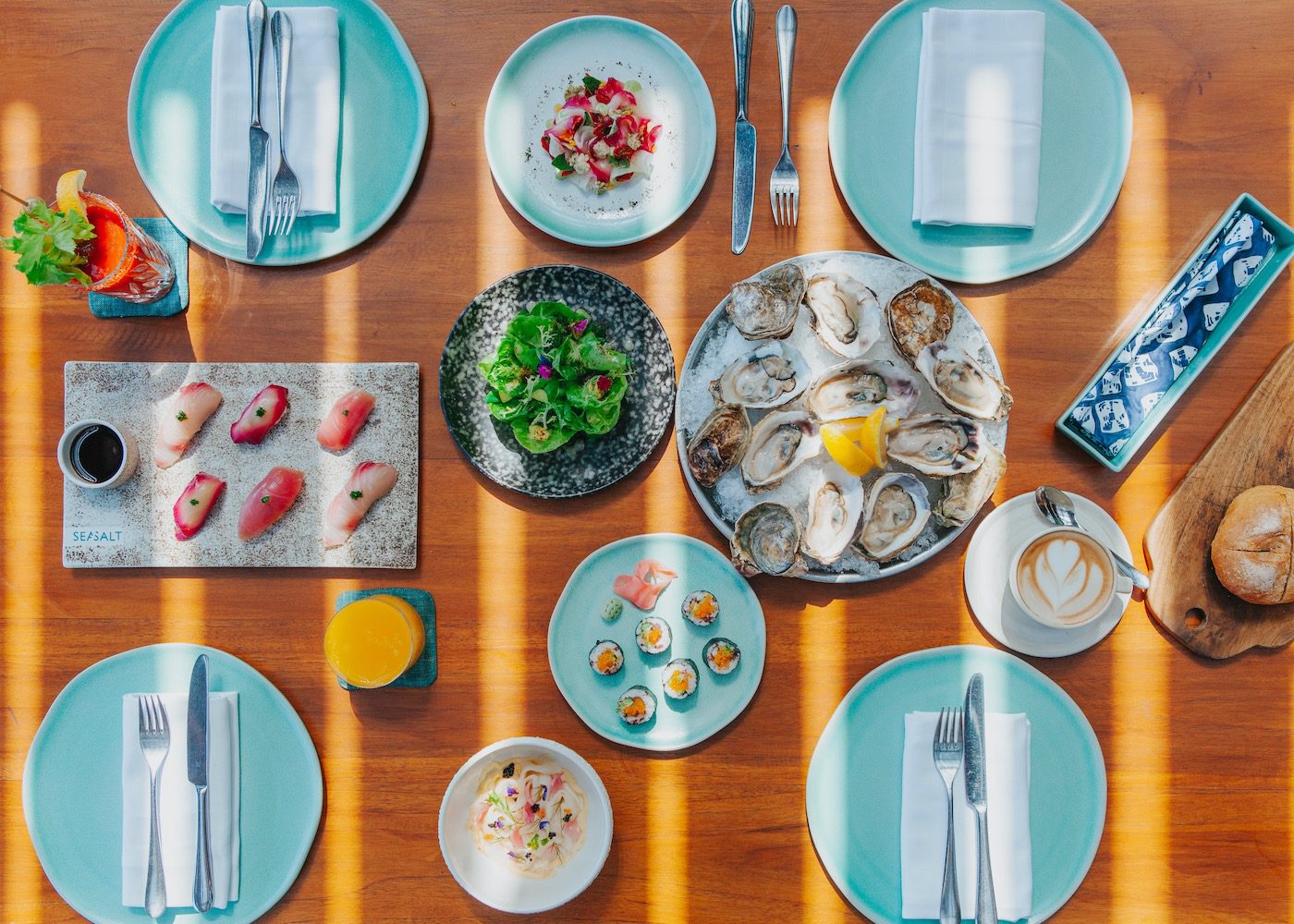 Seasalt is Seminyak's ocean and salt-inspired restaurant that we've fallen head over flip flops for. It's located right on the beachfront at Alila Seminyak, with endless ocean views and an ever-present sea breeze as company. Beachy, chic and also home to one of our fave Sunday brunches in Bali, this fabulously fresh seaside restaurant is a must-try, with sublime Japanese-infused dishes. It goes without saying that sundowners here are unparalleled, with exceptional designer cocktails that follow a strict zero-waste concept. Cheers to that!
Seasalt at Alila Seminyak, Jl Taman Ganesha No. 9, Petitenget, Seminyak, p. +62 361 3021 889 / +62 811 3867 544, e. [email protected]; 7am – 10pm
30. La Lucciola
Seminyak's original, simplest and possibly most-loved beachfront institution, La Lucciola on the Seminyak coastline is a little bit of 'old-Bali' in the best way possible – before high-tech and high-stylin' took over. It's potentially Seminyak's only place with no Wi-Fi, just like Bali used to be, and you'll regularly spot the island's long-time expats here, tucking into the Mediterranean fare and huge selection of wine. It's impossible not to love "La Looch", with its always amazing service, legendary food and those excellent beach views.
La Lucciola, Pantai Petitenget (next to Petitenget Temple), Seminyak, p. +62 361 730 838.
31. Starfish Bloo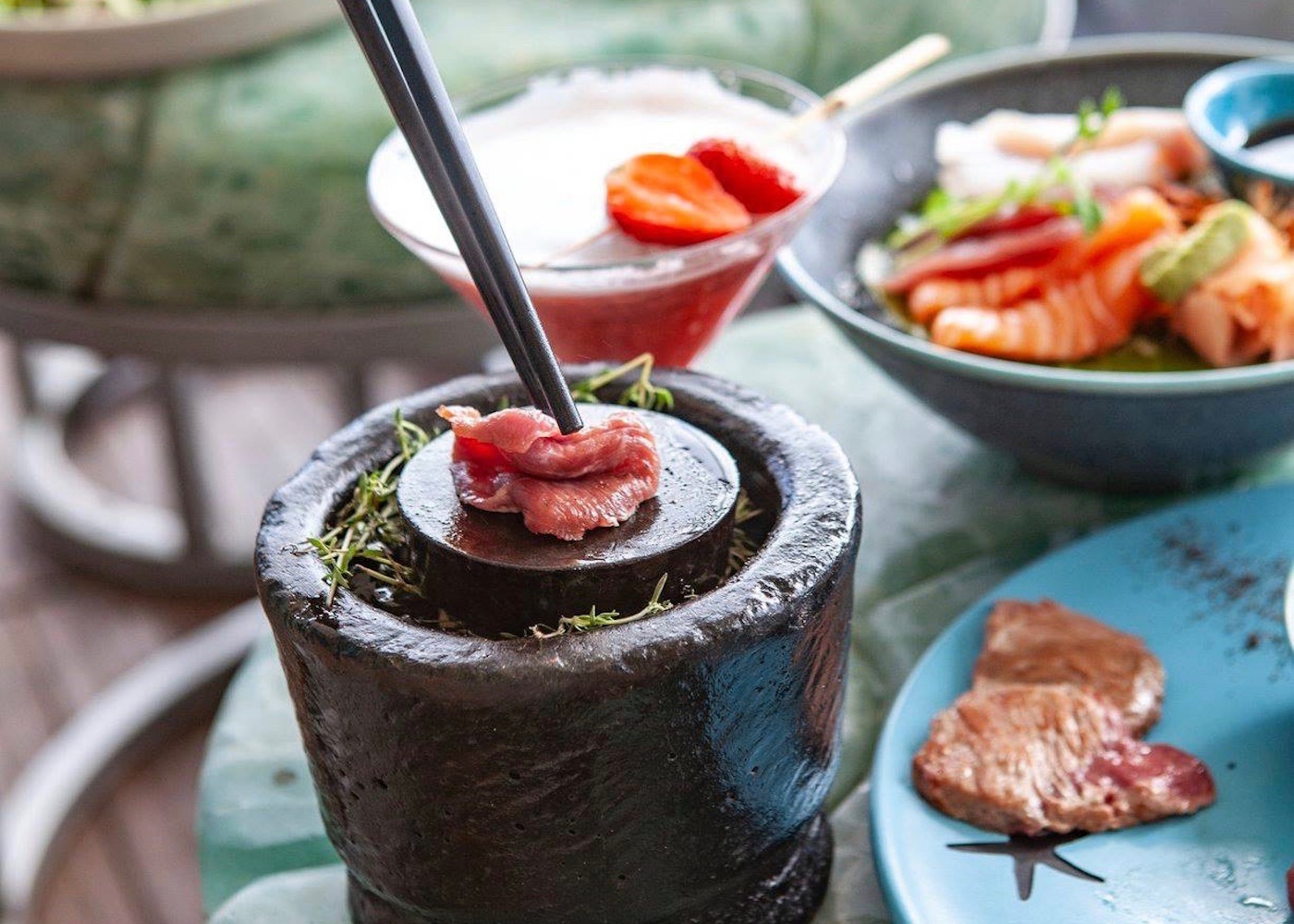 Starfish Bloo is the glamorous yet casual, open-air beachfront spot at W Bali – Seminyak, and without doubt one of Bali's very best restaurants for a foodie sesh beside the seaside. As you sit overlooking the ocean and the designer pool areas of one of Seminyak's swankiest resorts, you're beyond spoilt for choice at this five-star address. As you'd expect, the quality here is unparalleled, featuring Pan Asian flavours with Western essences, from sizzling seafood to regionally-inspired recipes. Sample your way though the chef-curated tasting menus and la carte sharing platters, or drop in for their Seafood Market (temporarily closed) on Friday evenings, and the legendary brunch by the beach every Sunday.
Starfish Bloo at W Bali – Seminyak, Jl Petitenget, Seminyak Bali, p. +62 361 3000 106, e. [email protected]; Open daily 7am – 11pm
32. Mrs Sippy Bali
Mrs Sippy is Bali's hip pool bar that brings in Seminyak's cool crowds with its delish bites, the biggest saltwater pool we've ever seen, and happy hours galore beneath the tropical Bali sun. Originally from one of Sydney's hottest suburb, it's everything the Sydney spot has become known for, and more. Think seaside LA with a party Miami vibe, cool Grecian touches and some of Seminyak's best bites. Try the poke bowls (all of them) and graze your way through the Mediterranean poolside menu of olives, dips, breads, tacos, charcuterie boards and salted calamari. Yum, yum, yum (and splash!).
Mrs Sippy, Jl Taman Ganesha Gang Gagak 8, Seminyak, p. +62 821 4500 1007; Open daily 10am – 9pm.
33. Ijen
Set inside Bali's most progressive beach club, Ijen at Potato Head is Indonesia's first ever restaurant that follows a zero-waste philosophy. But that's not all. Their ocean-fresh seafood is simply sublime, caught locally using a hand-reeling process and classically grilled over an open fire. The menus here are all printed on sustainably harvested paper and recycled truck tyres, the furniture is made from foam offcuts and recycled wood, and the floor is poured from a mix of broken plates, glasses and cement. It's a remarkable space, with equally exceptional dishes, like Rillette, prawns and squid tartare served alongside a range of creative veggie dishes and some of the best local sambals we've ever tasted. This is guilt-free feasting at its best.
Ijen at Potato Head Beach Club, Jl Petitenget No. 51B, p. +62 361 4737979. e. [email protected]; Open Thu to Sun 4pm – 10pm.
34. SugarSand
Beachy, boozy and best enjoyed with friends, SugarSand is Seminyak's all-day sunshine destination that's brought sublime gourmet dining to the easy-breezy seaside. Serving up Nikkei-inspired, avante-garde cuisine, you could easily spend many sunshine-soaked days here, lapping up the live music, the next-level cocktails, and of course, the sublime food. Taking centre stage at SugarSand is locally-sourced produce from both land and sea, plus plenty of other Japanese-inspired delicacies for good measure. Try the roasted octopus, crispy calamary and pan roasted market fish. Trust us when we say you need to try them all…
SugarSand, Jl Camplung Tanduk No. 10, Seminyak, p. +62 361 209 9999; Open daily 3pm – 11pm.
THE BEST RESTAURANTS IN SEMINYAK FOR FINE DINING
35. Mauri
A sleek Seminyak icon, Mauri is a stunning and contemporary space serving up modern-Italian creations from award-winning Chef Maurizio Bombini. Open for dinner only, top-shelf local ingredients (mostly homegrown within Mauri's own rooftop hydroponic garden) are served up in their purest form, like fine parmigiano ravioli or tuna in caprione. Choose from the a la carte or seasonal tasting menus, or prop up at the 5-seat chef's counter for a truly intimate and private experience. Arrive early and meander up to the mezzanine bar and lounge for some small bites and pre-dinner cocktails served "Aperitivo Style".
Mauri, Jl Petitenget No 100, Seminyak, p. +62 817 776 177, e. [email protected]; Open daily, 6.30pm – 11pm, Fri to Sat 12pm – 3pm, Sun 11.30am – 3pm.
36. Sarong
Sarong is Seminyak's ultimate date night destination that pleases the most sophisticated of gourmands, every damn time. Celeb chef Will Meyrick (the Street Food Chef who also gave us Mama San, Hujan Locale and Som Chai) has shaped Sarong into a melting-pot of eastern cuisines, actively using traditional Asian cooking techniques (like Indian tandoors and Balinese coconut grills) to create his flavourful, elaborate dishes. The Sumatran crispy duck is iconic, and the butter chicken is the best around. Top tip: be sure to book well in advance, or you'll be very disappointed.
Sarong, Jl Petitenget No. 19X, Kerobokan, p. +62 812 3765 5009; Open Wed – Sun 6.30pm – 11.30pm.
37. The Restaurant
This multi-award-winning dining destination is located on the oceanfront of The Legian Bali, meaning you're guaranteed a truly sublime date night. With its ultra-fine-dining cuisine from Michelin-starred chef Stephane Gortina, served up with seamless service and the most gorgeous brasserie-style designs we've ever seen (all overlooking the infinity pool and Indian Ocean, no less) The Restaurant is a real showstopper. The menu is all about Asian influences and the finest quality local ingredients, all given a European twist thanks to an infusion of French cooking techniques. Seasonal dishes mean the menu is ever-changing too, perfectly paired with specially chosen wines from the in-house Sommelier. All of this is then backdropped by a postcard-worthy seascape of Seminyak Beach. A simply breathtaking date night destination.
The Restaurant at The Legian Bali, Jl Kayu Aya, Seminyak Beach, p. +62 361 730 622 / +62 811 3941 9063, e. [email protected]; Open daily 7am – 10pm.
38. The Plantation Grill
A long-time foodie favourite, The Plantation Grill is the opulent culinary hotspot at Seminyak's Double-Six Luxury Hotel. Flaunting 1920s-style colonial glamour and a dazzling menu to match, this is a date night must-do. Look out for gourmet goodies like T-Bone steaks, jumbo Tiger prawns, pork croquette, and with your very own Sommelier on hand to help you match the right Pinot to your plate of exclusively sourced meat or line-caught seafood, you can't go wrong.  After dinner, head up to the stylish Sling Bar for a nightcap, mixed up by one of the expert bartenders. Date night perfection!
The Plantation Grill, Double-Six Luxury Hotel, Fourth Floor, No. 66, Double Six Beach, p. +62 819 9989 5111; Open daily 6pm – 11pm.
39. KAUM
Part of the epic Potato Head empire, KAUM is all about exotic Indonesian dishes served up in a fine dining setting. Its beautiful interior is a scrumptious love letter to this incredible archipelago with elements from all over the country, so saddle up for a culinary journey you won't forget any time soon at this chic Seminyak hotspot.
KAUM, Jl Petitenget No. 51B, Seminyak, p. +62 361 300 7990; Open daily 12pm – 12am.
Happy munching, Honeys!
CURRENTLY CLOSED RESTAURANTS IN SEMINYAK
Lacalaca Cantina Mexicana (TEMPORARILY CLOSED)
Like the salt to your tequila or the beans to your burrito, Lacalaca is the heart and soul of Seminyak's Mexican scene. Arguably the original Mexican cantina that kickstarted the island's love of loaded tacos and mega margaritas, Lacalaca is a buzzing joint that comes with kick-ass and unpretentious vibes, dishing up modern Mexican food with a twist. Think generous servings of locally sourced fresh ingredients, traditional spices direct from Mexico and home-mad tortillas. The kicker? Awesome and friendly staff who'll get your Mexican juices flowing. Yup, Lacalaca is where it's at for a true Mexican feast.
Lacalaca Cantina Mexicana, Jl Drupadi No.1, Seminyak, p. +62 822 4731 2218.
Mejekawi (TEMPORARILY CLOSED)
Stroll upstairs at Ku De Ta and you'll find yourself in one of the most cutting-edge restaurants around. The culinary team of chefs here are constantly evolving the fine dining, degustation menu, served up tasting plate-style in the relaxed yet chic dining room with views out over Seminyak Beach. It's foodie heaven right here, and perfect for an extraordinary date night.
Mejekawi, Jl Kayu Aya No. 9 Seminyak, p. +62 361 736 969, e. [email protected] .
Bikini (CLOSED)
Miami beach meets New York urban chic at Bikini – the hottest hot pink restaurant in town. This eye-catching, playful dining spot is for those who love cutting edge food and super chic drinks (after all, it's from the same peeps who gave us Sisterfields and Boss Man). The menu is billed as a journey of texture, contrasts and flavour, so expect the unexpected – just remember to not actually turn up in a bikini.
Bikini, Jl Kayu Cendana No.6 Seminyak, p. +62 813 533 82346, e. [email protected] 
Shelter Cafe (TEMPORARILY CLOSED)
Escape the busy streets of the 'Yak and check out this hip upstairs hangout for a super chilled and tropical dining spot at any time of the day. A fave hub for the creative crew, Shelter is an eclectic yet comfy space that's perfect for digital nomads, morning meetings or just munching amongst greenery in between shopping sorties. They even host party nights and pop-up stores – even more reason to see what all the fuss is about at this rooftop garden resto.
Shelter Café, Jl Drupadi 1 No.2, p. +62 813 3770 6471, e. [email protected] 
Tropicola (CLOSED)
Palm trees, piña coladas, flamingo-print shirts and shellfish sizzling on an open fire – it doesn't get more island-tropical than this. Yup, Tropicola is Seminyak's utopian invention from the unstoppable squad that gave us Motel Mexicola. It sits on a whopping 7000 square-metre expanse of beachfront hedonism, with three bars across multiple levels, two giant pools and a wood-fired open kitchen slinging some of the best beachy bites around – all on Seminyak's seemingly endless stretch of golden sand. Try the grilled king prawns with pickled vegetables, the tuna poke bowls, and whatever you do, don't miss the piña coladas.
Tropicola Beach Club, Jl Pantai Batu Belig No.5, Seminyak, e. [email protected]
Hank's Pizza & Liquor (CLOSED)
One for the rockers, Hank's boasts perfect pizzas and awesome cocktails that are always the talk of the town. Each one is named after a famous muso, meaning you can munch on a Dylan or Hendrix while listening to a rockin' soundtrack or regular roster of live bands who always blow the doors off.
Hank's Pizza & Liquor, Jl Kayu Aya No.27x, Seminyak, p. +62 361 474 1096. 
Earth Cafe (CLOSED)
Eat clean and green at Earth Café – Seminyak's uber-funky macrobiotic, vegan resto, healthfood store, and general wellness mecca. Feast on a wheatberry sprout salad, a Mediterranean platter extraordinaire, or one of the bone-building and protein-enhancing shakes. Save space for dessert and try the raw chocolate mousse cupcakes, or choose a power ball made from superfoods like raw cacao and goji berries. YUM.
Earth Café, Jl Lasmana #99, Oberoi, Seminyak, p. +62 361 736645. 
Sardine (CLOSED)
Step away from the pacy, urban feel of your average Seminyak restaurant and instead direct your dinner plans toward a laid-back, sumptuous feast at Sardine, overlooking perfectly manicured rice paddies. With fresh fish and sophisticated seafood direct from the Indian Ocean (plus organic vegetables from Sardine's own farm) it's best to clear a whole afternoon and evening to truly soak up the splendour of Sardine.
Sardine, Jl Petitenget No. 21, Seminyak, p. +62 811 3978 333. 
The Bistrot (TEMPORARILY CLOSED)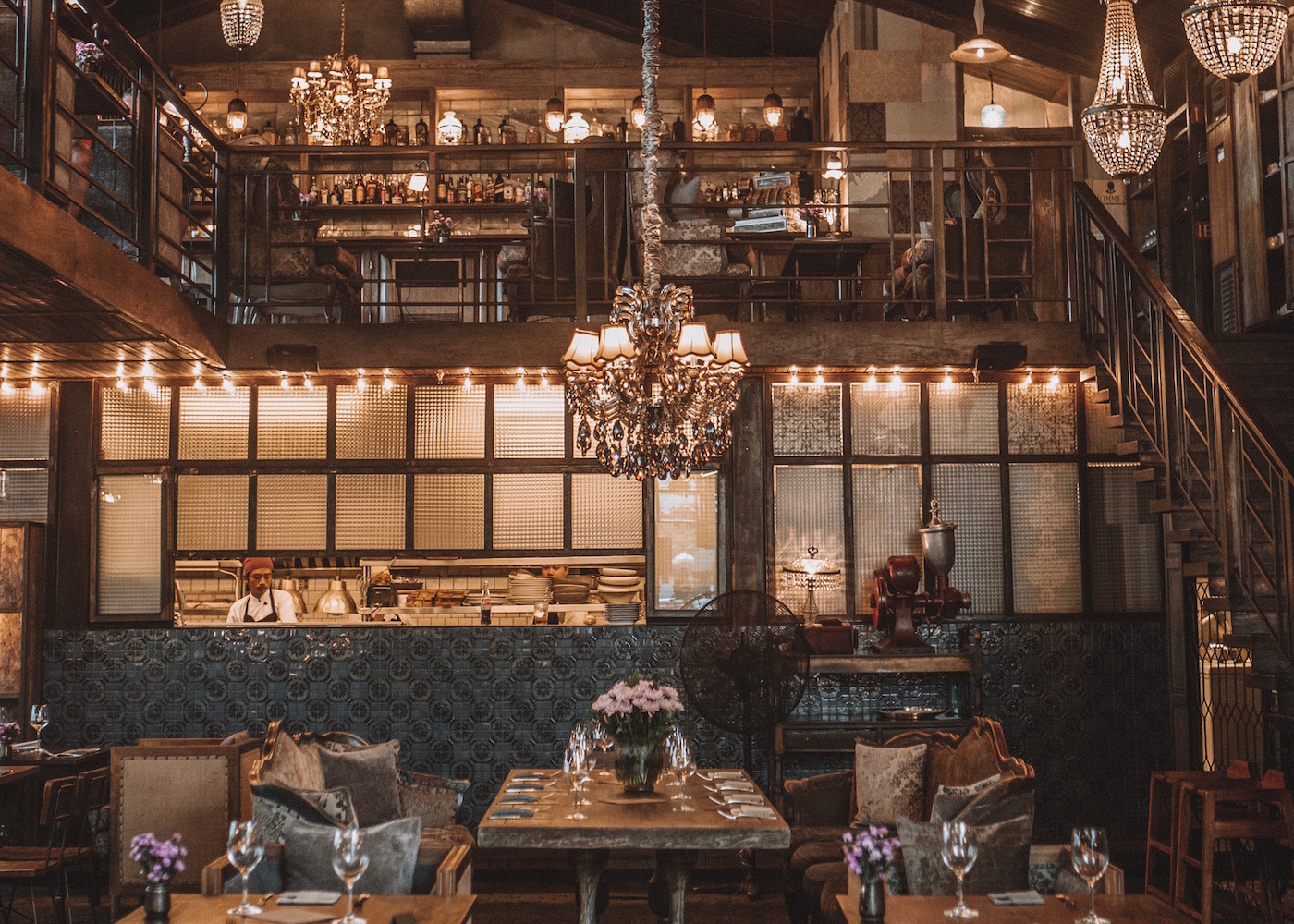 While many restaurants have come and gone in this hip and happening 'hood, The Bistrot has remained a Seminyak fave thanks to its totally unique dining experience that merges Asian-fusion food with an oh-so romantic vibe. Established by the always-impressive A'iesha Group, The Bistrot is home to delicious a mix of international cuisine, as well as creative cocktails and its vintage-chic interiors that make this restaurant so iconic. A work of art in itself, The Bistrot transports you to a bygone era, where you can fall in love with French glamour and lose yourself in the pure romance of this unique Bali destination – topped off with delish dishes like Filet Mignon and beef tartare.
The Bistrot, Jl Kayu Aya No.117, Seminyak, p.+62 361 738308, e. [email protected] 
Teatro (TEMPORARILY CLOSED)
Teatro is Seminyak's super stylish boutique fine dining spot, helmed by celebrated Indonesian chef Mandif Warokka. Classical French-style cuisine is given an Asian spin here – best demonstrated by the sensational carnivorous and vegetarian degustation menus. The drinks are also out of this world, as are the cutting edge design-orientated interiors. This is one for a very special occasion.
Teatro, Jl Kayu Aya Blok C No.1-2, Seminyak, p. +62 85 101 700 078. 
Merah Putih (CLOSED)
Is it the stunning architecture (think cathedral-like ceilings and rain-catching pillars), or the sublime twist on Indonesian food that has made this grand dining destination more popular than a Nasi Goreng? Doesn't matter. This wfabulous Seminyak destination has delivered en-masse since its opening, serving up Indonesian staples to luxe, gourmet standards. This is one grand design you won't want to miss.
Merah Putih, Jl Petitenget 100x, Seminyak, p. + 62 361 8465950. 
Metis Restaurant & Gallery (CLOSED)
One of the original fine dining joints in Seminyak, Metis has been surprising and delighting foodies for years with its classic French cuisine and magical ambiance overlooking the rice terraces of Petitenget. Get on your glad rags and enjoy the flawless service, sophisticated vibe and endless collection of wines.
Metis Restaurant & Gallery, Jl Petitenget No.6 Kerobokan, p. +62 361 4737 888 / +62 361 4730 777, e. [email protected]