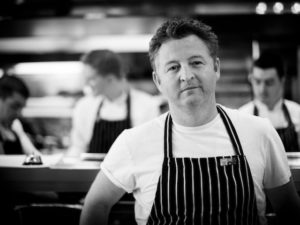 We talk Salt tapas at Sentosa Seminyak
The list of Luke's ventures reads like a Dr. Seuss book.  You can find him on a plane (Virgin Australia), you can find him on a boat (P&O cruise liners), you can find him way up high (Singapore) not to mention Sydney, Tokyo, Jakarta and now, Bali. We were lucky enough to meet up exclusively with Luke Mangan the day after he launched his latest venture, Salt tapas, Bali. 
Thank you so much for meeting us the day after launching Salt tapas at Sentosa Seminyak. It was a great launch party. Bali is fast becoming a foodie destination with lots of great restaurants and bars; a magnet for Aussie chefs. Have you been wanting to open a restaurant in Bali for a while now?
Forever! I've been coming to Bali for about 20 years now. It was just a matter finding the right location. We searched but couldn't quite get one on the beach, which in the end actually wasn't a problem. If you look at the successful restaurants, say, Metis and Sarong, they're not all beachfront.
You already have Salt grill in Jakarta, Indonesia and Salt tapas & bar and, Salt grill & Sky bar in Singapore. What has the response been there and how different do you feel the Jakarta & Singapore markets are from Bali?
We're all a bit more relaxed here in Bali but the food style is similar to Jakarta and Singapore. We are very conscious of the ingredients we can get here. The fresh seafood is amazing and we can use some local stuff but it can be tricky to get Australian meat and lamb.
Modern tapas bar with an Australian twist… in Bali! Tells us what sort of food you'll be serving?
The whole idea is that it's not traditional tapas. It's basically all my dishes shrunk into small plates which gives you a chance to try everything. Instead of coming for one big main course you can try lots of little dishes.
What are your two standout dishes?
Salmon sashimi, ginger & shallot, labneh  and the Liquorice parfait, lime syrup.
Where are you sourcing your produce?
The seafood comes in fresh every day and there are some great local fruit that you don't see anywhere else.
You'll be changing your menu every six months. Where do you find your inspiration?
We may even change more regularly once we work out what's popular or not. I travel a lot through Asia with my restaurants as well as the US and I pick up on new trends.
Tell us about those delicious drinks you offer at Salt tapas.
We have a great guy, Michael Callahan, from Singapore. He's a really cool mixologist and does lots of different drinks. I have tried too many! He's very strict on the produce that he uses, all the fruit that goes into the purees is local and sustainable.
We also have Australian, Spanish and Italian wines but we're working on getting more in.
You work with a great team of chefs and Angus Harrison will be manning the stoves at Salt tapas when you're not in town. What's he like?
Angus is a ball of energy. He's very passionate and knows the local ingredients and suppliers really well.
What have been some unique moments for you while opening here in Bali?
I drove to Ubud on the motorbike the other day and I had a guy show me through his farm where they have rambutans and vanilla beans growing wild. As a chef, seeing vanilla beans growing naturally is very cool.
We use those beans in our restaurants now.
Inside information if you please! What are your favourite bars and restaurants in Bali?
I love The Legian where Dorin Schuster cooks, as well as Metis, Sarong, and Mozaic Beachclub and Restaurant.  I also like sitting out the front at Ku De Ta.
Thanks for Airasia for flying Eliza back to Bali for this interview, and thanks to Luke for meeting with us, and best of luck with your Salt family, Luke.