So much more than "just" a luxury liveaboard, Rascal is Indonesia's five-star Phinisi that took us on a Komodo cruise like no other...
Full disclaimer: Before we were lucky enough to sail for four dazzling days throughout Komodo National Park on Rascal, we were already smitten with this wave-making Phinisi. We'd had our eyes on this aquatic beauty before we even stepped barefoot on her polished wooden deck and pinstriped bow, and before our tousled tresses had the chance to become sun-kissed and salty from the warm sea air. 
You see, this wasn't our first rodeo around Komodo (it's just a one-hour flight from Bali, after all). We've been lucky enough to sail the Flores seas more than once, and we've swooned over plenty of white-gloss superyachts that cruise stylishly across the crystalline waters, and we've crushed on countless traditional Phinisi boats that tango with a sea breeze, courtesy of their towering two-mast sails.
But Rascal is in a whole other league. She doesn't fit into these cruising categories – she's a new breed of nautical Nirvana that's captured the best of both worlds, merging the six-star luxuries of a superyacht with the charm and artisanal expertise of a traditional handcrafted Phinisi. And the result is breathtaking.
A true marine masterpiece, Rascal's 100-feet of magnificence (spread across two fabulous decks) promises a paradisal adventure of laid-back Champagne sunsets, carefree cruising through uncharted island territories, and unpretentious hours of lounging in luxury, with your feet up on squishy beanbags and a Rascal-branded rum cocktail in hand. Forget the sailor's life, it's the Rascal life for us….
But this picture-perfect idyll really only scratches the surface of the Rascal experience. Whether she navigates you through the spectacular expanse of Komodo National Park, or guides you to a far-off island in Raja Ampat, a voyage with Rascal is so much more than "just" a luxury liveaboard. Here are six reasons why you too should sail the seas with Rascal – we promise you won't regret it.
Reason One: The Hamptons-esque interiors
If it weren't for the glittering expanse of azure ocean out yonder, you'd never guess you were aboard a boat when gliding across Rascal's polished ironwood floors. More akin to a six-star villa than an ocean cruiser, Rascal is decked out in design-savvy decor that screams New York Hamptons-chic, with plenty of island-style touches to keep things tropical.
This dreamy design aesthetic is perfectly complemented by the ever-present views of paradise out yonder, because Rascal is Indonesia's first Phinisi to have all five cabins above deck. This wholly above-board style of living means that as you lay back on your king-sized bed, surrounded by high ceilings and resort-like amenities (we're talking wide-screen TVs, enormous wardrobes, fully-stocked mini-bars and gorgeous en-suite bathrooms with teak interiors) it's an ever-changing vista of paradise outside…
Beyond these palatial en-suite cabins, you'll also find boutique lounging areas for every occasion (hello gourmet dining, sun-soaking and cocktail-sipping), including a 1280 square-foot infinity roof deck with plenty of perches to get your daily dose of Vitamins D and Sea, plus a long-table dining room with its very own bar. Now that's nautical design done right.
Reason Two: The delish food (and cocktails)
It wouldn't be an unforgettable ocean adventure without scrumptious munch to help fuel our dives down to meet a Manta Ray, so Rascal's menus have been exclusively created by Bali's "cool kids of culinary" – the guys behind everyone's fave Bali cafes, Watercress and Milk & Madu.
Breakfasts are a colourful feast of fresh fruits, gooey eggs and granola; lunch spreads see a bountiful banquet of fresh seafood, grilled vegetables, potatoes and zesty salads; and by nightfall, warming soups, hearty roasts and grilled fish grace the outdoor dining table, warmed by the glow of a candy-coloured sunset.
And to toast to these magical skies each evening, the cocktail menu has been crafted by the mixologists behind Singapore's award-winning Proof & Company, so you can expect the best of the best libations on board too. Our faves were the rum-based cocktails (naturally) not only to spark our inner pirates, but to get a taste of Rascal's very own house-branded rum. Yo ho ho!
Reason Three: The Rascal touch
Now, this might be one of the most breathtaking cruise experiences we've ever had, but Rascal isn't here to wow you with white tablecloth dining tables and silver service. Instead, Rascal is all about offering a chilled out and carefree cruise – one that's unpretentious in its luxuries, yet totally on point when it comes to world-class hospitality.
That's because Rascal is the mastermind of an enigmatic lineup of Asia-based, boundary-pushing pace setters, and they're not doing things by the book. The design alone is a far cry from any other boat we've seen here, and when it comes to the service (the signature Rascal touch) that's when things get really spesh…
Cold drinks and oven-fresh nibbles arrive a beat before the desire strikes; cute rattan baskets full of soft fluffy towels never seem to deplete; and whenever one of Rascal's insanely-awesome team catches your eye, you can guarantee a smile as wide as the ocean all around. Like a crew of long-lived sailors, Rascal makes you feel like family (emotional goodbyes included).  
Reason Four: If coconuts don't grow there, she won't go there
Ok, so we've waxed lyrical about what's onboard Rascal (and rightly so) but Mother Nature deserves a mention here too. Hence, Rascal lives by only one rule: "If coconuts don't grow there, she won't go there" (a life mantra that we like to live by too…). Part of the Rascal experience is getting up close and adventurous with coconut-covered islands and untouched nature, surrounded by pristine waters that house some of the world's most bio-diverse reefs. We're talking world-class diving in and around Raja Ampat, home to 1,200 species of fish, 550 species of coral, and six of the world's seven species of sea turtle. In one spot alone, a record breaking 284 species of fish can be found on one single dive!
Meanwhile in Komodo, it's all about dragon spotting, diving with Manta Rays, exploring Pink Sand beaches and hiking to the top of the highest peaks, plus plenty of Rascal-added luxuries to help you along the way, like on-board kayaks, stand-up paddleboards and premium scuba diving equipment. With Rascal, the ocean really is your oyster!
Reason Five: The fully tailored experiences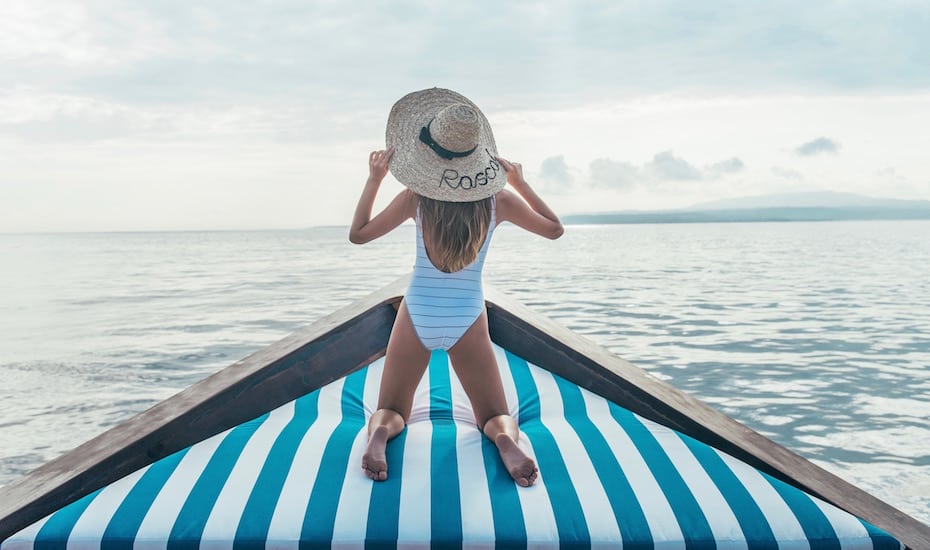 Unlike most cookie-cutter cruises where the itineraries are set in stone, Rascal offers complete control over your bespoke adventure. From exploring Indonesia's off-radar island destinations (Raja Ampat, Ambon, Sumba and beyond), to under-the-surface marine life immersions, no two charters are the same and each Rascal voyage dares to defeat her last – all with casual, barefoot freedom and fun.
Fancy an on-deck degustation dinner followed by a spot of rooftop stargazing at midnight? No problem. Or how about brekkie on the beach before kayaking to a hidden bay? Easy peasy! Heck, you can even take your cruise to the most sought-after surf spots in Indonesia, for multiple days of world-class swells that are incomparable to anywhere else in Southeast Asia.
Reason Six: The scientific discoveries
When the Rascal team aren't guiding us to the top of the tallest mountain, or serving up a five-star feast under a starry night's sky, they're busy making their way into the history books. As a way of giving back to Rascal's paradise home, the team have partnered with Conservation International to embark on high-tech scientific expeditions throughout the archipelago to explore some of the planet's most threatened species.
On their maiden exploration in Raja Ampat, they discovered a new cleaning station for Manta Rays, two new species of fish, and they even spotted seven species of reef fish not previously known to inhabit the area. With this new knowledge and advanced study of the surrounding environment, Rascal and the marine biologists are working towards more ways to conserve and sustain their ocean home. Now that's a cause worth cruising for…
You in? Check out Rascal's full offerings here, or to book your own ocean escape, email [email protected].
All aboard, Honeys!
Like this story? Here's four more we think you'll enjoy:
10 things to see & do in Komodo National Park
Sun, sand & sea – It's Bali's best beaches!
Add these 5 UNESCO world Heritage Sites to your travel list
Don't go chasing waterfalls – find them all right here!