The heavenly combo of sun, sea and sand is just the beginning of a day at Sundays Beach Club
VIP treatment, a brand new summer menu & post-sunset specials? If you weren't already smitten with Sundays, prepare to swoon. Big time.  
Honestly, we really didn't think life could get any sweeter at Sundays Beach Club. This little piece of paradise hidden in a private bay on the Bukit peninsula really has it all, from the aquamarine waters and "lost in paradise" vibes, to the iconic architecture and picture-perfect sunsets. 
But this exclusive beach club doesn't only rely on the sheer beauty of its natural backdrop to wow us away. Oh no siree. Sundays Beach Club knows exactly what we need when we're sunning at such a breathtaking destination (world-class cocktails, gourmet treats galore and that island-chic kinda vibe) and they sure know how to top it.
Giving us even more cherry-topping treats to keep us coming back time and time again, the goodies just keep on comin' at Sundays Beach Club. Here are 3 more swoon-worthy reasons why Sundays Beach Club is forever at the top of our beach club list.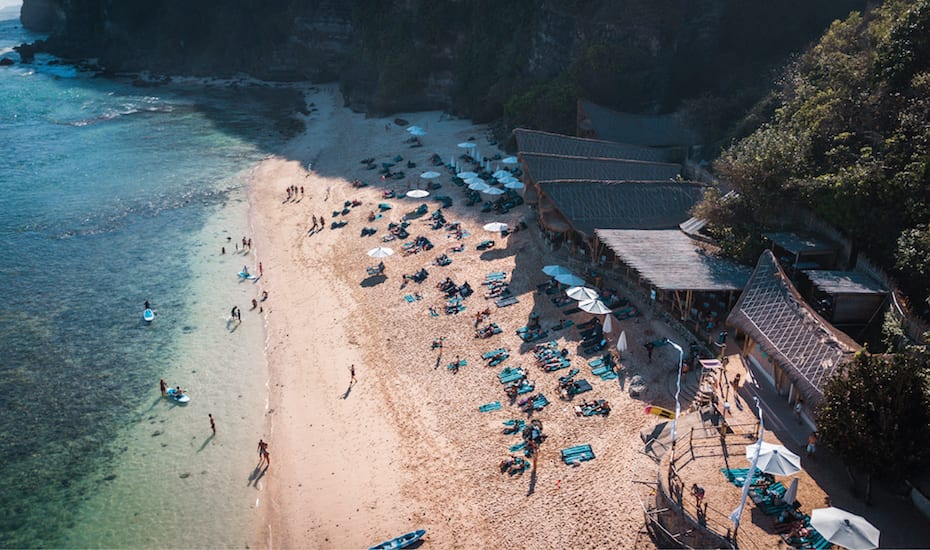 Reason One:
A front-row sunbed with your name on it
When it comes to luxe island living, we know what we like – and that goes for our fave sunning spot at Sundays Beach Club too (it's the soft squishy beanbag beneath the tallest palm, closest to the ocean in case you were wondering…). So, you can imagine our sun-kissed smiles when we found out that Sundays Beach Club now lets you and your crew reserve your favourite cocktail-sipping, sun-worshipping spot, whether it's a front-row sunbed overlooking the sea, or one of the sand-in-your-toes beanbags right on the shorefront. And did we mention a reservation comes with the added VIP benefit of skipping the entry queue too?!

Reason Two:
A brand new summer menu
Last year, the island's foodies went wild for the expertly curated menu crafted by acclaimed chef James Viles (the brains behind two-hatted Biota Dining in Australia). Well, Sundays Beach Club has gone and done it again this year with a brand new summer-inspired Viles revamp.
All of your fave Sundays staples are still on the menu in a big way (like the Tuna-Tuna Poke, The GO-TO Aussie beef burger and the Jimbaran Caught Snapper) they've just been joined by even more scrumptious dishes like the Lamb Shish, the Cooked Chilled Seafood Basket and the BBQ Corn with Spiced Yoghurt Salad. Can we get a resounding "YUM"?!
Reason Three:
Post-sunset specials beneath the stars
If you think that a day out at Sundays ends when the sun goes down, think again. Not only does golden hour mean time for a beachfront bonfire and some sundowner specials, it now marks a time for gourmet deals and scrumptious seafood feasts! Every Friday and Saturday evening, a new made-to-share Seafood Feast will be laid out for family and friends to tempt you down after dark, which means even more hours to enjoy even more scrumptiousness, and of course, more cocktails! Cheers. To. THAT.
Happy sunning Honeys!
Sundays Beach Club, Jl Pantai Selatan Gau, Banjar Wijaya Kusuma, Ungasan, p. + 62 361 848 2111, e. [email protected]