The Lawn has everything you could want for the perfect chill!
There is oodles of new restaurants in Canggu to enjoy your ice-cold Bintang, new eatery's to get your taste buds going, and cool cafes to catch up with friends with a yum coffee, so head to the 'Gu and check out what's new!
It's fair to say that with the already endless choice of new restaurants in Canggu – let alone bars, cafes, and the gorgeous new retail gems to have popped up – that Canggu is the hippest place to be in Bali at the moment!  This surfing & no-longer-sleepy postcode is constantly changing, and here's our latest picks of the best, new places to eat and drink and be seen [or is that, scene?], in the 'Gu.
Peloton
This vegan hotspot has fast become a firm favourite amongst the Canggu community in the last few months!  Owned by partners in life [and business], Thomas Edwards and Madison Setiaman, they've created their dream place as be a cool-combo of vegan café, an artisan cycling store and an open minded event space – where like-minded people can come and share their ideas, vision and love for healthy and nevertheless tasty food.  The menu was created in collaboration with Indonesian/Australian Lauren Camilleri, a Vegan and Foodie, and together they've nailed the menu. Never did vegan food taste so good!  Our favourite dish has to be the vegan lasagna – how does the creamy 'cheese' topping taste so good when its not even cheese?!
Peloton, Jalan Raya Pantai Berawa, No. 46, Canggu, p. +62 (0)859 5413 1451
The Lawn
Hurrah!  Finally, you don't have to travel to Gili T to get a photo on the swings for your Insta page… Just head to Canggu's new & ultra chilled hangout, The Lawn!  This place is the ultimate place to unwind for the day with friends or the fam.  Think picnic blankets, hammocks, swings, family-sized blanket and pillows, popcorn, Bintangs, fresh juices and coconuts. Oh and don't forget the coconut mojitos! You've probably already see us there watching the surf from the swings every sunset this year!  There's currently no food available but a bonus: there's no entrance fee.
The Lawn, Batu Bolong on the right hand side, just in front of Hotel Tugu.
MaCan Cafe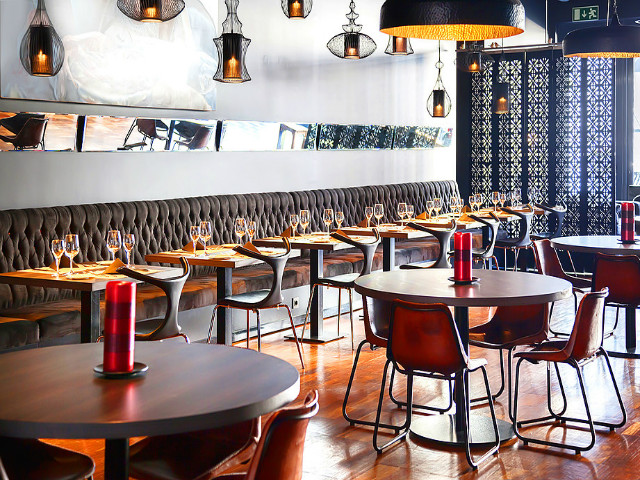 This spacious, beautiful restaurant is the perfect place to hang out all morning and let your taste buds get the treat they deserve!  Their menu covers all day eating, but it's the breakfast that reeled us in and has us coming back, time and time again.  For anyone who loves eggs you can choose from Omelettes, Benedict, Florentine, and [our fave] the Norwegian: runny poached eggs, delicate brioche, smoked salmon, hollandaise sauce, plus a side of creamy avocado mash!  You'll be wanting breakfast for lunch and dinner as well!
MaCan Cafe, Jalan Pantai Berawa, Canggu, p. +62 (0)812 3800 9970
Pomelo Cafe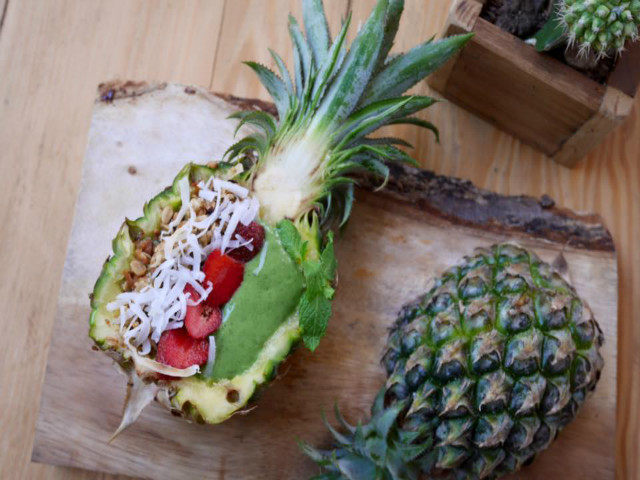 The new Pomelo Cafe looks like a small coffee shop from the street but when you walk in you will be pleasantly surprised!  It has the feel of a villa with a cozy courtyard and a pool, which you are more than welcome to take a dip in!  Enjoy a smoothie bowl [if you are feeling healthy] or a tasty burger [if you want a bit of  culinary treat] whilst your kids splash in the pool with the various toys on offer for customers!
Pomelo Cafe, Pantai Berawa 7, Canggu, p. +62 (0)878 6198 1945.
Sugarcane Bali
Less a hangout, more a healthy burst of goodness, Sugarcane Bali is located right next to the money collecting guy at the entrance of Echo Beach and offers delicious thirst-quenching juices that are packed full of vitamins.  If you've been living in or visiting Bali for a while, the term 'Bali Belly' won't be new to you. If you've been struggling with digestive problems, then the Alkaline Detox juices, packed with cold pressed healthy elixir, are the perfect remedy.  Visit Sugarcane Bali and get an instant boost!
Sugarcane Bali, Echo Beach, Canggu.
La Vista
With more restaurants and bars popping up every few months, Echo Beach is giving Batu Bolong and Old Man's some stiff competition, and La Vista is sure to rival it even further!  This beautiful tapas bar on the right of the beach has a stunning treetop deck overlooking the ocean, perfect for watching the amazing sunsets. As the sister restaurant to the La Plancha, La Favella, and La Laguna family, there are lots of cool seating spaces, including swinging sofas, where you can enjoy the delicious Spanish themed tapas bites. We love the mellow tunes that give this place an ultra chilled vibe – perfect for an ice cold bevvy at the end of the day!
La Vista, Echo Beach, to the right of Echo Beach House.
CangguCave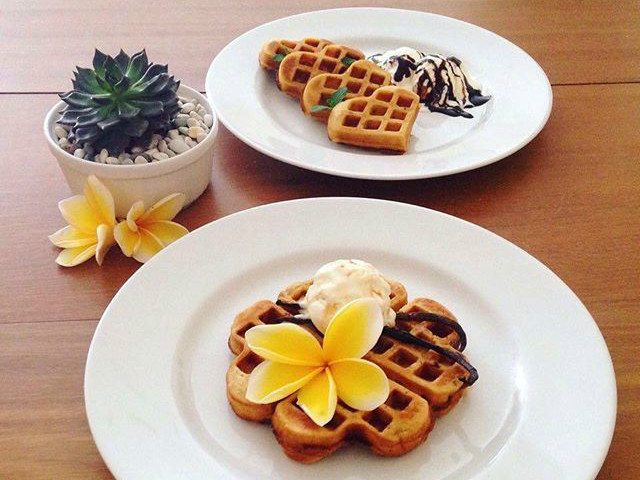 CangguCave is a brand new tiny spot next door to The Garage_Est 1937 [best grill in Canggu – who doesn't know Paul and Joe?] on Raya Samat.  We like the minimalist design – funky black art adorning the simple white walls, with shelves stacked with rad single fins, funky skulls and home-made jam to peruse and purchase over your coffee.  For a naughty breakfast treat [maybe you hit Old Man's a little to hard last night!], try their scrumptious Belgian waffles with vanilla ice-cream, and a hearty drizzling of chocolate sauce. Funny how your mouth can suddenly fill with saliva, isn't it!
CangguCave, Jalan Raya Semat, 50 meters before shortcut road, near Warung Garage.
Nalu Bowls @ Milk and Madu
The famous, and ultra delicious, Nalu Bowls have teamed up with the 'Gu's ultimate, favourite hotspot, Milk and Madu, which means there are now TWO places to get your breakfast fix at in Canggu!  Hoooooooray!  If you haven't tried a Nalu bowl yet, where have you been hiding?!  These bowls infuse the tastes of local ingredients in Bali [dragon fruit, fresh coconut flesh, mango, papaya, spinach, & banana to name a few] leaving you with the most healthy and delicious pre and post surf meal! Ma-halo!  If you are unsure, check out their Insta page for some serious food porn that'll will have you whizzing down on your scooter in no time!
Nalu Bowls @ Milk and Madu, Jalan Pantai Berawa #52, p. +62 (0)851 0278 1872
Top image: The Lawn