In this month's edition of Hot New Tables: Mauri, Coffee & Coconuts, I Am Vegan Babe, El Nacional & more!
If you're into Italian fine dining, boundary-pushing vegan cafes and buttery-soft avo on toast all the way from Amsterdam, then Christmas has officially come early for you this month. 
December's lineup of Hot New Tables is upping the eating-out stakes, with award-winning chefs, artisanal farm-to-table produce and BLTs with I-can't-believe-it's-not-bacon fake-on. So, tuck into the gift of good food, and get ready to bring out the stretchy pants.
Happy feasting Honeys!
Mauri
If you've ever wondered what happens when you fuse culture, tradition and an abiding passion for fine food, it's Mauri. This new Seminyak icon is the impeccable work of award-winning Chef Maurizio Bombini (previously at Bvlgari & Ritz Carlton Mandapa) and this culinary veteran is now dishing up his very own contemporary Italian dining experience that's already ranking as Bali's very best new restaurant. Open for dinner only, top shelf local ingredients (mostly homegrown within Mauri's own rooftop hydroponic garden) are served in their purest form on an a la carte and seasonal tasting menu, delicately plated on fine GAYA ceramics from within a glass-enclosed show kitchen. Prop up at the 5-seat chef's counter for an intimate and private tasting, or meander up to the mezzanine bar and lounge where small bites and cocktails are served "Aperitivo Style". Get dressed in your best, and add this tour de force to your must-try list.
Mauri, Jl Petitenget No 100, Seminyak, p. +62 817 776 177, e. [email protected] Open Tues – Sun, 6.30pm – 10.30pm.
Coffee & Coconuts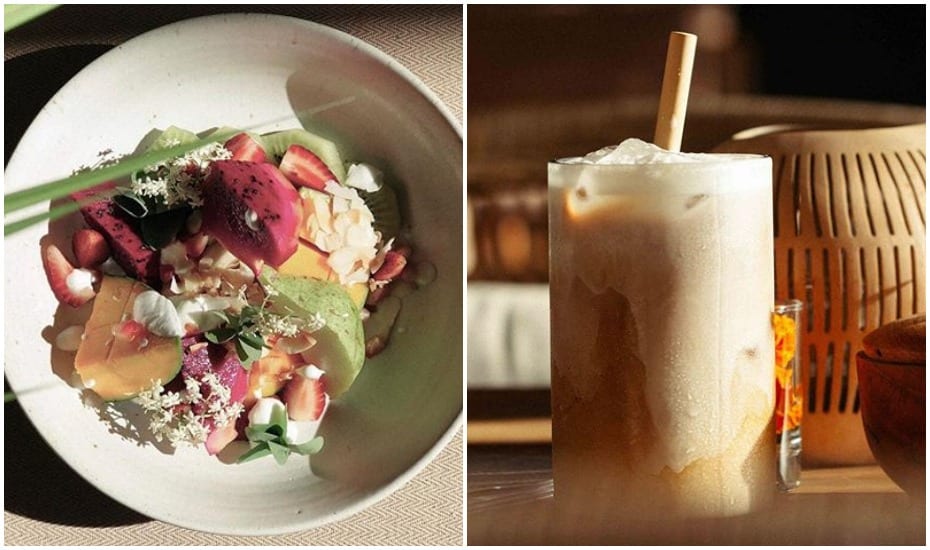 Freshly opened on the quiet beachside streets of Nelayan in Canggu, Coffee & Coconuts caught our attention when we heard they serve the best buttery-soft avocado on toast in town. Well, the rumours are true, and this breezy, tropical spot (laced in palm, bamboo and swathes of sunlight) comes to Bali direct from Amsterdam, home of the brand's flagship cafe. As for the rest of the menu? 99% of the ingredients are locally-sourced and make use of the island's artisanal producers. Expect farm-to-table creations like babi guling Scotch eggs, sloppy fries with a goat rendang ragu, spiced pumpkin tacos and bountiful salad bowls packed full of veggies, dressings and even soft shell crab – because you don't win friends with boring salads. Coffee & Coconuts, you've officially upped the Canggu cafe stakes.
Coffee & Coconuts, Jl Nelayan, Canggu, p. +62 821-4506-9378, e. [email protected] Open daily, 6.30am – 11pm.
I Am Vegan Babe
No, this isn't just another vegan cafe that knows how to make a good tofu scramble. I Am Vegan Babe is so much more. A boundary-pushing, plant-based game-changer, think BLTs stuffed with vegan fried eggs, creamy vegannaise and you-won't-believe-it's-not-bacon fake-on. There are chunky sandwiches that are impossibly cheesy (the kind that sticks to the roof of your mouth and melts into a delicious gooiness) and burgers that are so big, so juicy and so gluttonous, you could almost call them beefy. The tuna wrap, the shrimp poke bowl and the enormous Hawaiian burger are our top picks – not to mention the glass-cabinet of vegan cakes, taking centre stage within the cafes tropi-chic interiors. If vegan heaven is a place on earth, this is it.
I Am Vegan Babe, Jl Tanah Barak No. 49, Canggu. Open daily, 7am – 5pm.
El Nacional
From the same peeps who gave us 40Thieves, Mad Sparrow and Mad Ronin, El Nacional is the latest venue from Bali's food and party professionals – this time with a concept that's less about late night debauchery, and more about post-dinner tipples that take you through the night. A cosy cocktail bar with a Cuban flavour (cigars and Havana happy hours come as standard) El Nacional is also home to the largest collection of rum bottles in Indonesia, topping the list at an ever-growing number of up to 250 rums from all over the world. Expect smooth Cuban jazz, Afro-chunes and laid-back vibes – and if things happen to ramp up a notch after one too many Havana Joes, then 40Thieves is just a short stumble away…
El Nacional, Jl Petitenget No. 114, p. +62 878 6226 7657, e. [email protected]. Open Tues – Sun, 6pm – midnight (2am on weekends)
Cafe Folie
Breaking outta the 'Gu to the hustle and bustle of Kuta's Beachwalk shopping mall, Folie Kitchen has recently opened its second location on the island. Loved in Canggu for its fusion of Asian flavours with a French-spin (courtesy of chef Stephane Simond) all of the bistro-style favourites can be found at the new address, including the black truffle fried rice, Wagyu strogonoff and the ever-Instagrammable three-tiered afternoon tea.
Cafe Folie, Beachwalk Shopping Center, Level 1, Jl Pantai Kuta, Kuta, p. Open daily 8am – 11pm.
Sista Canggu
Sista Canggu, you had us at chicken wontons. This brand new modern Chinese restaurant brings a fresh take on Shanghai cuisine to the 'Gu , wrapped up in tropical-contemporary interiors and a breezy backyard terrace to boot (overlooking Canggu's iconic rice fields, of course). Dumpling lovers, you'll be pleased to hear that it's 2 for 1 at lunch and dinnertime, served up alongside Chinese classics given a clean and fresh new taste.
Sista Canggu, Jl Raya Semat No.7, Canggu, p. +62 812 3645 011. Open daily.
Shooters Carnivale
Roll up, roll up! Shooters is the wild and wacky destination on Petitenget that's managed to merge an American sports bar with a retro fairground. How, we hear you cry? For starters, you won't find any games on TV here. Instead, you get on the field and participate yourself, with an outlandish mini-golf course, basketball hoops and lawn bowls set around park-style seating in a flush of red, white and blue. Add to that the nostalgic pub-style tipples and snacks (think hotdogs, mac n' cheese, chicken poppers and gelato) and it's pretty safe to say there's nothing quite like this anywhere else on the island.
Shooters Carnivale, Jl Petitenget 43D, Seminyak, p. +62 361 9342035, e. [email protected] Open Tues – Sun, 5pm – midnight.
Like this story? Here's four more we think you'll enjoy!
Bali's Brunch Bunch – 20 spots for a Sunday session
The very best restaurants in Bali for serious foodies
Ubud's 50 best restaurants for all budgets
The Bukit List: Where to eat in Uluwatu