Once a sleepy residential area, the modern day Canggu neighbourhood is booming with new coffee shops, bakeries, weekend markets and bars popping up every month. Here are 5 fresh spots that are hot right now.
Ruko
The latest addition to the easy-going 'all day breakfast' establishments in the hood, this cool coffee shop has a frosty urban vibe – which gives those expats who've been in Bali for years the precious feeling of being in the big city, that all of them crave from time to time. Here you'll find the signature blend of finest Indo beans, walls lined with Bali street art, handmade cappuccino cups and cool tunes.
RUKO, Jl.Pantai Berawa 99, Canggu Bali, Indonesia 80361, p. 852-0556-9033. Open daily 7.30am – 5pm. 
Le Pirate
Tucked away from the busy seafood restaurant strip of Echo beach, Le Pirate is a gem, waiting to be discovered. White and turquoise colours match the waves and the sky, young coconuts are as cold as snow somewhere in the real world, and white snapper ceviche with mango salsa makes the ultimate tropical lunch. Check their page for the latest party updates!
Le Pirate Eat Club & Bar, Jl. Pantai Batu Mejan, Echo Beach, Canggu Bali, Indonesia 08583, p. 361-7984-290. Open daily 8am – 11pm.
Samadi
A piece of Ubud's signature New Age hype in down-to-earth, surf-oriented Canggu. Contemporary designed yoga pavilion, sense deprivation chamber and a vegan cafe serving power smoothies and salads packed with seeds and sprouts. There is a farmers' market happening every Wednesday and Sunday with organic poultry, fruit and greens on offer, a weekly movie night and occasional themed open-table dinners. And a little family of two geese and guinea pigs makes Samadi a favourite for the little ones.
Samadi Bali, Jl. Jalan Padang Linjong 39, Echo Beach, Canggu Bali, Indonesia, p. 812-3831-2505. Open daily 7.30am – 3pm. 
Kartel
Boutique bakeries are the new big thing in Canggu. Kartel might be tiny but has all the local Aussie expats sorted with vegemite scrolls, cinnamon rolls and custard buns. And the meat pies go like…um, hot cakes.
The Bakery Kartel, Jl.Batu Bolong 73, Canggu Bali, Indonesia p. 878-6228-1060. Open daily 8am – 5pm.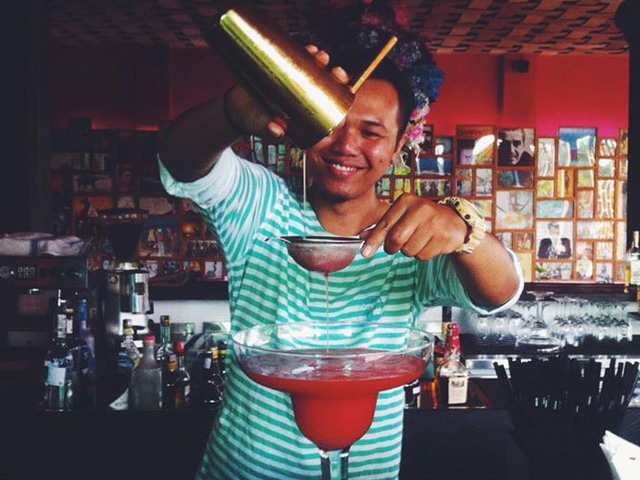 Lacalita
Neon colours? Tick. Giant margaritas, big enough for 6 people? Tick. Homemade devilish jalapeño sauce? Yes, please! The younger sister of Seminyak's Laca Laca opened its doors on the funkiest Canggu street, Batu Bolong, just recently and rapidly became a destination for after-sunset drinks and gourmet Mexican fare. They can even make your burrito gluten-free by using a lettuce 'cup' instead of wheat tortilla. Just don't ask for chili-free food or alcohol-free drinks or you'll miss all the fun.
Lacalita, Jl.Batu Bolong 68, Canggu Bali, Indonesia 8036, p.361-711-1027. Open daily 3.30pm – 11.30pm.
This article was contributed by the wonderful Masha Mozolevskaya, travel and lifestyle journalist, and founder of the Canggu Chronicles blog