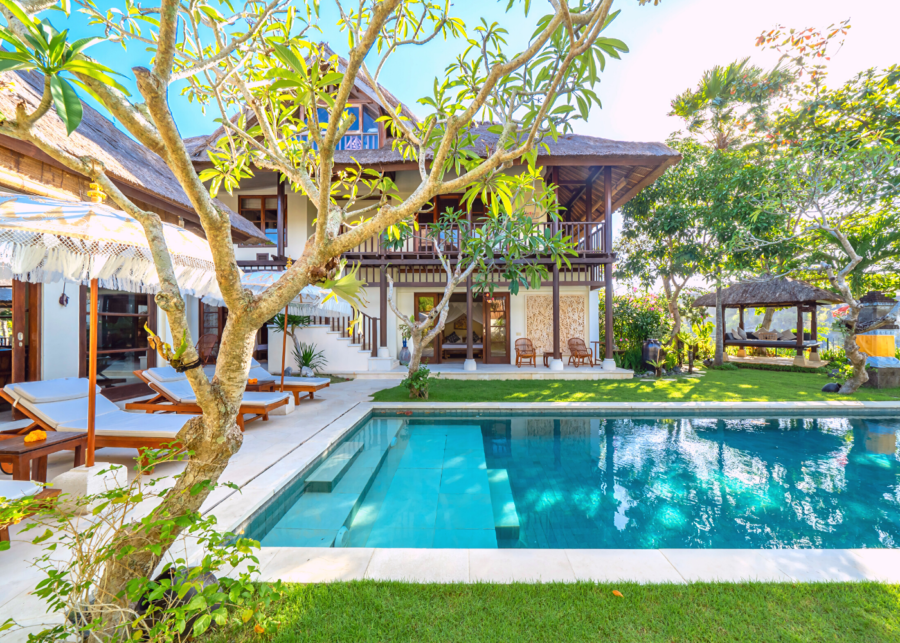 Photography: Villa Yasmine
All at sea when it comes to finding the best family villa each time you're plotting a Bali escape? Nakula has your stay (and even activities) covered.
The island: Bali. The dress code: Flip flops and tees. The stay: Undecided? Let Nakula streamline a list of the best picks for you. If a family vacay is on the agenda, we'd recommend the luxury villas that are within walking distance from Jimbaran beach – the ideal destination for some breezy, tropical fun that'll be a hit with all ages. And with Nakula's stellar service, you can rest easy knowing that the whole family will be assured a pampering experience whichever holiday sanctuary you choose.
You'll love it because… Nakula has your stays sorted for any occasion, no matter if you're taking your tots on a quick weekend getaway or organising a much-anticipated reunion vacay for the extended fam. We're talking about incredible service, gorgeous gardens for the little ones to play freely while adults get a spot of me-time, proximity to must-see attractions and sublime tropical views. The best part? You don't have to worry about breaking the bank; these stunning picks are seriously value-for-money (prices begin at less than USD50 per person)!
You'll want to try the… butler service and specially curated activities. For an easy holiday that's actually relaxing (especially when you're planning for the entire family), leave your to-do list with the butlers and your itinerary in the hands of the hotel managers – they'll be happy to arrange cooking classes, tours and other activities of your choice to soak up the local vibes. No more tearing your hair out trying to keep the kiddos entertained! With your itinerary laid out, all you have to do is wake up to the warm sunshine, tuck into a glorious breakfast spread with the fam and head off on the day's pre-planned journey.
Come back for the… amazing variety of luxury villa options and (almost) endless Balinese sights. Will we ever finish exploring all the surprises that this much-loved Indonesian island has to offer? Maybe not, but we'd like to try. And in the meantime, Nakula has the perfect family-friendly abodes for you to enjoy your Bali sojourns with your loved ones. Want in? Hop on over to Nakula to pick your villa, so you can spend less time fretting over your lodging and more time getting excited for the sun, sand and sea.
Nakula, p. +62361 738999 or +62813 3728 3718 (WhatsApp), e. [email protected]
This post is in partnership with Nakula.