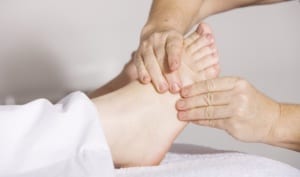 Desperate for a foot massage? Ease those city aches and pains away with a detoxifying reflexology session at our favourite studios in town.
There are a few camps of preference on the pressure spectrum when discussing massages: the ticklish folk who stay far away from any type of rubdown (can't say we relate); persons who can only stand the soft strokes of a nimble masseuse; those who always, always request that their therapist apply more pressure please; and those who will be happy with nothing less than the admittedly sometimes painful feeling of reflexology therapy.
This ancient holistic therapeutic technique is believed to positively affect both the mind and body, and is the massage of choice for those looking for extra health benefits. Instead of the long deep strokes of the traditional massage, the reflexologist presses on certain pressure points to release tension. It does take some getting used to, but with so many health benefits, who can resist? Here's our guide to some of the best reflexology spas we've tried out in Jakarta.
Meiso by Kenko
There is a Meiso located in just about every single shopping mall in Jakarta, so weary boyfriends and husbands waiting for their girlfriends and wives to finish off their shopping can head into the modern reflexology space to massage out their tired muscles. Need to kill time before your dinner reservations / movie starts / 3-in-1 is over? Pop into a Meiso for an hour or so of awesome reflexology.
Meiso, multiple locations, check website for details.
Kokuo Eastern Reflexology
Kokuo Eastern Reflexology is our favourite reflexology spot in town! We love sinking into their cushy armchairs while the masseurs work their magic. Bonus fact: Kokuo has a VIP room which is essentially a private screening theatre with a movie on in the background.
Kokuo Eastern Reflexology, multiple locations, check website for details.
Cozy Spa
We're regulars at their Bali location, so of course were thrilled when we found out Cozy Spa has a Jakarta outpost in Gandaria (two if you count their BSD location!). Their heavenly head to toe reflexology starts with a soothing foot bath, and they even give you your own personal headphones and an iPod filled with relaxing music of your choice so you don't have to listen to your dozing neighbour's light snores.
Cozy Spa, Jl. Gandaria 1, No. 69C, p. +62 21 725 2853
Nano Health
This glitzy spa is nothing like the soothing traditional massage parlours you're used to in Indonesia. With its neon lit reception area and hi-tech armchairs complete with personal TV screens and noise cancelling headphones, Nano Health is a complete upgrade on your basic reflexology treatment centre. If you're not into dozing off the second your therapist gets his/her hands on you, this is the place to go.
Nano Health, multiple locations, check website for details.
ZEN Family Spa
A quiet sanctuary on the busy street of Gunawarman, ZEN Family Spa seemingly transports you all the way to Bali. The dimly lit aromatherapy scented spa is the perfect spot for unwinding after a long week. Foot reflexologies start at the wonderfully affordable price of IDR 75,000.
ZEN Family Spa, Jl. Gunawarman 43, Senopati, Kebayoran Baru, South Jakarta, p. +62 21 726 2375
Go-Massage
Does anyone even remember a Jakarta before Go-Jek? If you want to treat yourself to a quick reflexology but can't be bothered to face the traffic, Go-Jek's Go-Massage will come to you. Quickly book your session on the G0-Life app, and an expert reflexologist will come over anywhere you are, even at the office if you fancy a cheeky lunchtime pick-me-up.
Go-Massage, order online.