It was a tough job, but we spent an entire day at Manarai Beach House to bring you the lowdown on this brand new day-to-night destination on the powder white sands of Nusa Dua...
If you're a little overwhelmed by Bali's ever-expanding beach club scene, we're about to make things a little easier for you. Manarai Beach House in Nusa Dua is the newest daytime destination to know, and as the only beach club, restaurant and wine shop combo on the island, this one's a real game changer. 
You see, Manarai Beach House is the first Bali-beachfront establishment from the unstoppable ISMAYA Group – the same lifestyle and entertainment superstars who gave us Blowfish, Mr. Fox, Dragonfly and soooo many more Jakarta-nightlife icons. These guys are Indonesia's A-Team in delivering first-class wining and dining destinations, designed to help you live the good life in utmost style. Well, Manarai Beach House is no exception.
In true ISMAYA fashion, Manarai Beach House pushes all boundaries, bringing us a fully-fledged beachfront experience that breaks the Bali beach club mould. For starters, it's not in pumping Seminyak or Canggu, and you won't find any headache-inducing house music here either. Instead, Manarai Beach House is perched on the peaceful and pristine white sands of Nusa Dua, with island vibes aplenty and a laid-back, loungey soundtrack to match. 
It's far away from the hustle and bustle of Bali's "city" streets, and yet it's bringing a sleek and stylish buzz to the Nusa Dua neighbourhood. Not only a place to knock back cocktails and dance the night away, it's a place to kick back while the sun sails from east to west, as breakfast smoothie bowls blur into lunchtime sushi spreads, and afternoon snacks are washed down with Piña Coladas. It's a place to settle in, to soak it all up, and to lose track of time…
Easy breezy summer vibes
Just one step inside this new daytime destination and it's a panoramic palette of paradise in fifty shades of blue: a crystal-clear azure ocean, sleek violet daybeds and an aquamarine glow from two dazzling swimming pools (yes there's more than one!). Overhead, teal Batik prints flutter in the fresh ocean breeze, while mist coolers spritz sun-kissed skin beneath Bali's cobalt skies. Tropical palms seem to sway to the same beat as the world-class playlist, and navy blue towels are draped across beachfront cabanas, with "Hey Gorgeous" and "Wassup Beaches" printed in contrasting bright whites.
It's the perfect blend of modern design with all of Bali's best assets – a seamless tropical landscape of contemporary touches, island vibes and traditional Balinese craftsmanship, from the crisp air-conditioned restaurant and wine cellar, to the al fresco lounge, pools and beachfront bars. All this, and that's before we even get to the cherry-topper: the world-class food and cocktails.
Eat, drink, swim – repeat
Just like the design and breezy island vibes, the food and beverage program at Manarai Beach House has been carefully curated to deliver a seamless mix of both Balinese and western specialities. Quintessential comfort food is the name of the culinary game here, jazzed up to gourmet standards thanks to the nifty work of Manarai's Michelin-trained chefs.
The ingredients, presentation and of course, the flavours, are all right up there with the very best (compliments to ISMAYA's Corporate Chef Philip Mimbimi and Executive Chef Stefan Poyet) masterfully designed to match the laid-back beach club vibes. Think sizzling beef satay using fine Wagyu steak, and colourful platters of sushi, rolled and topped with ocean delicacies like unagi, tobiko and aburi salmon. And if we tell you that we ordered not one, not two, but three plates (each) of the Crispy Tuna Tempe (topped with truffle aioli, caramelised onion and a sprinkling of microgreens) words are futile in describing how epic these creamy, crunchy bites really are.
Add to that the whimsical cocktails, with their delicate Balinese ingredients transformed into glamorous and modern libations, and you'll understand why it's important to stick around all day here. Try the C-Cup (a heady mix of vodka, coconut sorbet and homemade vanilla syrup served inside a whole coconut) and whatever you do, be sure to browse and sip your way through the wine shop, with more grape varieties and bottles of bubbles than we could count…
ISMAYA-style entertainment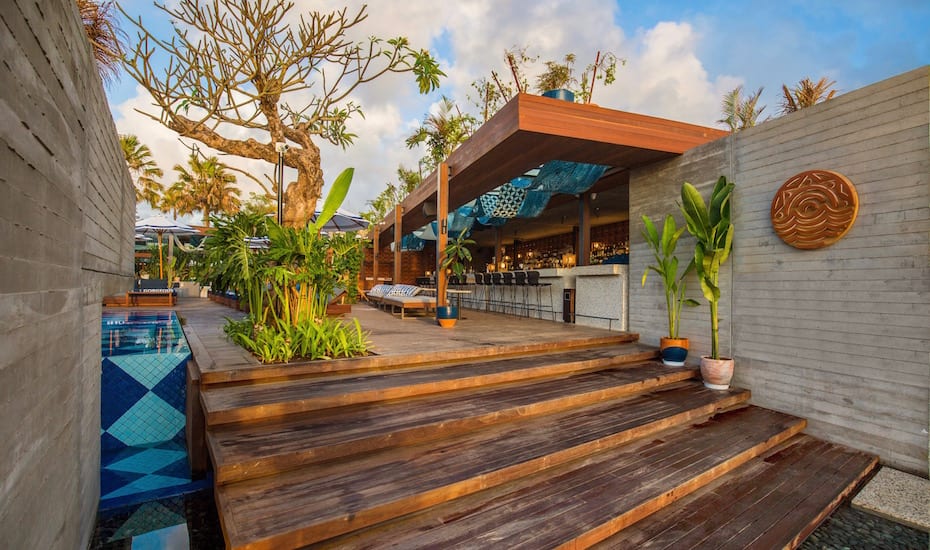 Manarai Beach House wouldn't be a true ISMAYA creation without world-class music and entertainment, so they've gone and ticked every box here too. Captivating live events have already filled up the itinerary, with performances from world-renowned party conceptor Elrow, and superstar DJ and producer, Jonas Blue. Keep your eyes peeled on Manarai's calendar, because if these first few months are anything to go by, Manarai Beach House is where it's at.
Manarai Beach House, Lot N5 Kawasan Pariwisata – ITDC Nusa Dua, p. +62 361 4772 727. Open daily 9am -1am
Like this story? Here's four more we think you'll enjoy!
Bali's 25 best beach clubs
Make a splash! Here's where to do watersports in Bali
21 most breathtaking beaches in Bali
Swanky Nusa Dua: Everything you need to know
Or, sign up to our newsletters for more Bali bucket list ideas!