In this month's edition of Hot New Tables: Mrs Sippy, Paris Cat Jazz Club, Monsieur Spoon, Hujan Locale Bar, Tiffin Bali, 40 Thieves, The Joglo, and 7 Elephant.
From speakeasies, LA-inspired pool bars and Indian-inspired tapas on Petitenget, to a modern take on Batavian cafe culture in Ubud, a wave of new culinary concepts has come to Bali, and you'll certainly want a taste of them…
Mrs Sippy
Possibly one of the most anticipated openings of 2017, Mrs Sippy is finally ready to open its doors right at the end of this month – and we cannot wait. If you haven't heard of Mrs Sippy just yet, you'll want to listen up. This ultra-cool brand is originally from one of Sydney's hottest suburbs [with a seriously suave F&B team behind it] and now it's hitting Bali's shores. We've been lucky enough to peek our heads into the Seminyak location pre-opening, and it's everything the Sydney spot has become known for, and more. Think tropical LA with a party Miami vibe and cool Grecian touches. Then add in an insanely big pool with diving boards, a swanky bar and an open-air restaurant ready to serve some of Seminyak's best bites to-date. Excited? We are too, so lock April 15th into your diaries because that's the date Mrs Sippy will be throwing its first official party. See you there!
Mrs Sippy, Jl Petitenget, Gang Gagak 8, Seminyak, e. [email protected]
Paris Cat Jazz Club
Don't let the name confuse you – this isn't another Japanese-inspired cat cafe for sipping on coffee with a fellow feline. This is a place for music and art lovers, gourmands and cocktail connoisseurs. It's Bali's latest late night live music haunt and it has slunk into the Petitenget 'hood, curled up in a humble side alley, and made itself known only to the who's who of the island. Originally from Australia's hipster capital, Melbourne, Paris Cat Jazz Club shuns the smoky, late night dens of the jazz-loving metropolis and swaps them for a fresh-aired space filled with the sounds of saxophones and seasoned jazz aficionados, served up alongside European tapas, expertly shaken cocktails, and Bali's best live jazz. Make a booking to reserve your place on the nightly guest list, and get ready to let the good times roll – meow!
Paris Cat Jazz Club, Jl. Petitenget No.5, 2nd floor, Bali (across the street from W Bali) p. (+62) 08199 936 8347. Open Wednesday – Saturday, 7pm – 1am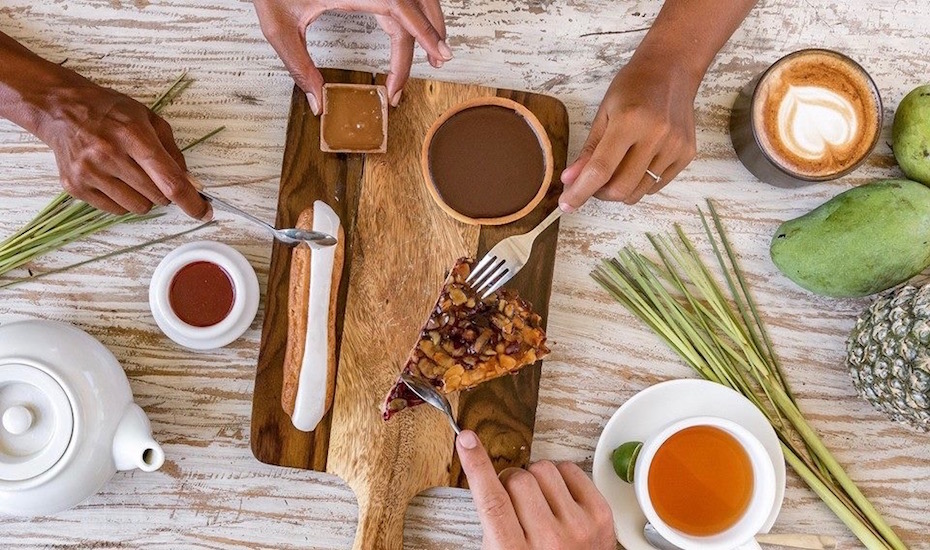 Monsieur Spoon
Just when we thought Bali life couldn't get any sweeter, everyone's favourite French bakery announces the upcoming opening its fifth branch on the island, this time on the Petitenget strip and with a bistro concept attached. That's right, Monsieur Spoon is bringing its oh-so creamy eclairs, velvety salted caramels and freshly baked breads to the centre of Seminyak, and to celebrate, they're throwing one helluva party on 19th March to mark the opening. Expect plenty of tailored treats, pastry masterclasses and sugared goodies, and don't be surprised if you're back again the morning after for your buttery breakfast croissant.
Monsieur Spoon, Jl Petitenget (opposite Metis), Seminyak. p. 087 862 80 8859. Open daily 7am – 9pm.
Hujan Locale Bar
Whenever we take a trip to the 'Bud, we always make time for a stop at Hujan Locale, to tuck into the Indonesian-inspired gourmet munch by everyone's favourite Street Food Chef, Will Meyrick. But now there's another reason to head on down to Hujan. Inspired by Old Jakarta, the Hujan Locale Bar is the latest addition to the restaurant, and it sits street-side to bring back Batavian cafe culture – a hark back to the elegance of the Java Jazz era where daytime bars served fashionable cocktails to sophisticated and fun loving clientele. Hello! And in true Hujan style, the signature cocktails are both innovative and exotic [check them out in our recent Happy Hour of the Week] whilst the tapas-style menu is as gourmet as you'd expect from Chef Will, continuing the sustainable, farm-to-table practice Hujan Locale is best loved for.
Hujan Locale, Jl Sri Wedari 5, Ubud. (+62) 813 3972 0306. Open daily from noon until 11pm.
Tiffin Bali
If you're like us and regularly crave really good Indian food, then you'll be delighted to hear that an Indian-inspired kitchen has just opened in the heart of Seminyak, brought to you by two Indians who live and love Bali. Not your average Indian restaurant, Tiffin offers a small yet curated menu of shared plates and tapas-style fare – no appetisers or bulky mains here. Instead, you pick and choose as you please and order as your tummy demands. Tiffin then makes sure each dish is prepared and served in an order that does each dish the most justice. Top tip: try the gorgeously infused fish curry, the prawn Tadka skewers, and if you like things hot, the Kheema samosas that use Tiffin's own garam masala mixture – a recipe that's been passed down through the generations… just how we like it!
Tiffin Bali, Jl Petitenget 17C (opposite Da Maria) Seminyak. p. (+62) 0811 3865 869. Open Mon – Sat from 5pm – 10.30pm.
40 Thieves
Already slated as the coolest new club in town, 40 Thieves is a New York style speakeasy that's brought to us by award-winning mixologist and entrepreneur Shah Dillon. The concept focuses on craft cocktails and artisanal spirits accompanied by genuine [and a little flamboyant] hospitality to provide a true cocktail experience for the island. It sits on top of Mad Ronin [a cool little spot for Japanese ramen] so as soon as you're done slurping down the soba, head upstairs for some late night sips.
40 Thieves, Jl. Petitenget No.7 Seminyak. p. (+62) 0878 6226 7657. Open daily from 8pm-3am
The Joglo
Only in Bali does a cafe, playground, market and pilates studio open under one roof, and of course, become a massive hit in just one month of opening. A fun and fresh place for both families and fitness lovers to hang out, The Joglo in Brawa is a brand new multifunctional destination for grazing, playing, shopping and stretching. Sit back under the shade of the traditional Joglo, munch on the Mediterranean-inspired dishes and traditional Indonesian cuisine, or take time to chill out with the little ones with a cone of Made Manis Gelato ice cream, cold pressed juices or a healthy breakfast bowl. It's a place for chilling away from the beach and the party crowds, and we can't get enough of it.
The Joglo, Jl. Subak Sari 13 Berawa, Canggu. (+62) 0361 934 7778
7 Elephant
Though the exact details of this spanking new lounge bar are still hush-hush, word on the street is that all shall be revealed on 11th March when 7 Elephant will be opening its doors for a swanky grand opening party. The bar is located next door to Sea Vu Play on Petitenget, so watch this space for more details!
7 Elephant, (+62) 0812 383 564. Open from 9pm – 3am.