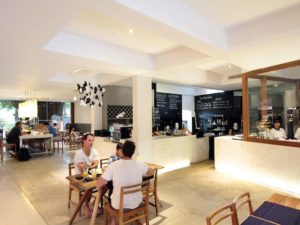 Six New Restaurants in Bali
So you want to know where to get the best Mexican food this side of the border? The hottest new place to sip cocktails whilst watching the sun set in the obligatory blaze of tropical colour? Or where to get a coffee that'll knock you out of your Havaianas?  Your search is over – just click through for Hot New Tables March 2013.
Grocer & Grind
We were pretty ecstatic to hear that Grocer & Grind has opened up a new café in Jimbaran. First of all we love the location in the Jimbaran Corner Shopping Centre because nothing gets us hungry like shopping. The fit-out is light, airy, and ever so comfortable making it a perfect spot to sit for breakfast, lunch, or dinner.
The menu is bistro meets café and but the highlight for us is the breakfast: eggs, pancakes, or muesli all washed down with a latte or two made with house roasted beans. The kids menu is handy if you have young ones in tow and there's wifi available to check those dreaded work emails.
Better yet, there's a deli and grocery attached with a cornucopia of delights to select from and cart back to your villa.
Grocer and Grind, Jl. Bukit Permai, Banjar Pesalakan, p. + 62 361 703 342
Lacalaca
Just try saying that name after a few Margaritas!
This is authentic Mexican food with fabulous décor: think south-of-the-border pastels on washed stone walls – you will feel like you've slipped into a Frieda Kahlo painting.
We love the classic spice chicken taco served on the soft flour tortilla but you can also have it on a lettuce leaf.
We still aren't sure how the burgers sneaked onto the menu, but who can say no to a short rib beach burger? Not us!
Lacalaca is open for lunch and dinner and there's talk of brunch. We'll keep you posted.
Lacalaca, No 1 Drupardi, Seminyak, p. +62 361 736 733. Open daily from 11am until midnight.
Slippery Stone
This new eatery has some seriously impressive architecture. A fabulous water centerpiece runs through the restaurant – think Bellagio's  – and the gorgeous views over verdant rice paddies remind you exactly where you are.
Knock back a few cocktails at the bar, then share some delicious pizzas with Jimbaran seafood and chicken satay – sounds odd but it works! Pizzas are thin, crispy, and irregularly shaped, just how we like them.
The rotisserie does chickens, half or the whole bird, and we're fans of the traditional roast beef which they serve every Sunday.
The rest of the menu is divided into tease – which we cunningly worked out were entrees –  oven, grill, ocean, garden, cheese and dessert.
As for the lemongrass or coconut home-made ice cream, you'll have to let us know just how scrumptious that is.
Slippery Stone, Batu Belig No. 9N, Seminyak, Bali, p. +62 361 846 5999
Beach Club Mozaic
If you don't want to take out a bank loan or remortgage the house to dine at the original Mozaic in Ubud, get ready to get some sand between your toes at the new Beach Club Mozaic on Batu Belig.
Book ahead and grab yourself one of the bales that dot the poolside – you won't regret it – or lounge the afternoon away on a deckchair. If upright is more your position, grab a seat at the bar or at one tables on the deck overlooking the ocean.
Beach Club Moazic is about the most perfect spot you'll find to catch a famous Balinese sunset, so  why not do it with a cocktail? If that's not your speed, there's a great selection of wines.
Graze away from the tapas menu, which feature traditional dishes with a South East Asian twist. Think foie gras with mango and smoked sea bass risotto cakes with kaffir lime reduction.
All-day braised pork belly just drops off the bone, the Mozaic mini wagyu burgers will make you question why they don't come in a maxi size, and the crispy friend tofu with tamarind dressing and lemongrass will have you looking at tofu in a completely different way.
Beach Club Mozaic, Jl. Pantai Batu Belig, Kerobokan, Bali Indonesia, p. +62 361 4735796. Open daily 1130am-1130pm.
Watercress
You've overindulged the night before, and today you feel like you might just need to go down the healthy route. Enter Watercress.
One bite of the breakfast croissant – yes, we know that's not exactly the healthiest of breakfasts but it is made with all natural ingredients – and you're transported to Paris.
Bonus: pastries are made fresh by a Frenchman every morning
These guys take their caffeine very seriously and tried every available bean before settling on illy.  Obviously it has been worth it because the coffee is rich, strong, and smooth.
Lunch is an absolute delight and changes every day. There's a wonderful array of fresh salads and tarts on display – just point and choose. We are particularly fond of the green papaya salad or then again, there's always the greek salad and grilled veggies.
Watercress, Jalan Batu Belig #21a, p. +62 361 780 8030. Open Monday to Saturday 9am-5pm.
Gourmet Cafe at Nusa Dua
We love Gourmet Café on Petitenget and we love Gourmet Café on Dewi Sri but we reckon we've still got some love left for the new Gourmet Café at Nusa Dua. It's actually located at the new BIMC hospital, which boasts a fabulous new CosMedic Centre.
We still can't go past the breakfast burrito but the new Florentine breakfast wrap did catch our eye. Good news, caffeine addicts: the illy coffee is as good as it has always been. If you, like us, are in danger of ticking every box on the make your own sandwich and salad forms, choose from the suggested sandwich options. We think the Le Parisien sounds pretty tres delicieux
Gourmet Café also does the best roast birds in town.
Gourmet Cafe at BIMC Hospital Nusa Dua, BTDC, Nusa Dua, p. +62 361 843 9949