In this month's edition of Hot New Tables: Seasalt, Above Eleven, La Cevicheria, BVLGARI Il Ristorante - Luca Fantin, Shiki Japanese Restaurant, C'ugh House, and more...!
Honeys, we hope you're hungry 'cos it's that time of the month again when we reveal Bali's hottest new spots for your feasting bucket list! Two new restos have jumped on the Japanese craze [sizzling teppanyaki included], and there's a Michelin-starred chef in town that's making all of our gourmet dreams come true. So pull up a chair, bring an appetite and hold onto your hats – here's your culinary road map to Bali's Hot New Tables this June. 
Seasalt
Beachfront vistas? Tick. Swanky interiors with ocean hues? Double tick. Some of the freshest and most fantastic seaside-inspired cuisine direct from the nearby waters? Treble tick! Foodies, Seasalt is Seminyak's latest must-try destination that's bringing a fresh buzz to the Petitenget dining scene, and we're telling you right now, you'll want a taste of it. Some creations to drool over include the White Snapper – Seasalt's signature sea salt baked fish – the Niçoise salad with a dash of Japanese fusion, and the almost-too-pretty-to-eat Blue Swimmer Crab where a crab mayonnaise meets chawanmushi. And of course, the restaurant honours its namesake with enough locally harvested sea salt to shake a fishing rod at, served as a centrepiece on each table for your smashing and sprinkling pleasure.
Seasalt, Alila Seminyak Jalan Taman Ganesha 9, Petitenget, Seminyak, p. +62 361 3021 888, e. [email protected]. Open daily, 7am – 11pm.
Above Eleven
Gourmands rejoice! Above Eleven is one of Bangkok's hottest rooftop restaurants that's now bringing its Peruvian-Japanese fusion cuisine to Bali – on the sprawling and luscious rooftop of Samasta Lifestyle Village in Jimbaran. The concept itself is anchored around the energetic explosion of restaurants, spas, and nightlife that constitute both Bangkok and Bali, while the design is all about greenery, taking inspiration from the great urban parks of the world – like New York's Central Park – to create a "park in the sky" concept. Try the Tiradito Snapper [Peruvian style sashimi] with red chilli, truffle oil and ponzu sauce, and wash it down with the totally tropical and innovative cocktails, like the Sake Spritz or Bali Smash.
Above Eleven at Samasta Lifestyle Village, Jl Wanagiri No.1 Jimbaran, p. +62 811 386 0402 e. [email protected] Open daily from 3pm – midnight.
Mövenpick Cafe at Mövenpick Resort & Spa Jimbaran Bali
A sweet new addition to Mövenpick Resort & Spa Jimbaran Bali, Mövenpick Cafe is the island's brand new cafe-bakery combo that cake connoisseurs will certainly want a taste of. Serving everything from delicate dessert crepes and homemade cakes to a range of baked goods and irresistible ice creams, the cafe is your one-stop-shop for an upscale sugar fix. Did we mention there's create-your-own hotcakes, too?
Mövenpick Cafe at Mövenpick Resort & Spa Jimbaran Bali, Jl Wanagiri No.1, Jimbaran, p. +62 361 4725777. Open daily from from 9am – 10pm.
BVLGARI Il Ristorante – Luca Fantin
If a Michelin-starred rep is your idea of restaurant heaven, then this new venue at the stunning Bulgari Resort in Bali is the one for you. With divinely delicious Italian delicacies, the concept comes from Tokyo, where the flagship restaurant is considered the most sophisticated dining experience in the city. And luckily for us, it's bringing all that it's become loved for in Tokyo, to Bali. The traditionally Italian menu uses local, organic ingredients [think tuna, squid, baby pig, pumpkin, corn, kaffir lime, mango and coconut] with that added Bulgari touch: refined techniques, great creativity and a whole lotta glamour. Expect to see Luca Fantin's most famous dishes, like the squid ink gnocchi with raw cuttlefish, as well as new creations like the Fassone Beef Tagliata with red garlic and grilled vegetables. Oh, and to really help transport you to dining heaven, there's also over 200 wines and an exclusive collection of Champagnes to sup on. Hallelujah!
BVLGARI Il Ristorante – Luca Fantin, Jl Goa Lempeh, Banjar Dinas Kangin, Uluwatu, p. +62 361 847 1000, e. [email protected]
C'ugh House
Cruise past this brand new Berawa hangout and the first thing you'll spot is the line of motorbikes parked out front – a sure fire sign that says this place is already a hit after just one month of opening. You'll hear the sounds of Canggu's creative crowds catching up over a healthy salad, or making their way to the upstairs co-working space with their Macbooks in their backpacks and a long black coffee in hand. That's because C'ugh House is different to Berawa's other cafes. Instead of merging diners with the digital nomads, it's set over three floors with a different concept on each: a cafe and bar downstairs, a co-working spot on the second floor, and a stunning rooftop hideout on the top terrace with epic views over the rice fields. Settle in for the day and enjoy the sugar-free, organic fitness plates and smoothies, or make C'ugh House your second home with the hourly, weekly and monthly co-working memberships. After all, there's showers, lockers, super fast wifi, and, after 5pm this place is hopping with the cocktail crowds, so there's no reason to ever leave, really.
C'ugh House, Jl Raya Pantai Berawa, No. 9090, Berawa, e. [email protected]. Open daily 7.30am – 10pm.
Atlas Pearls Tea Room
We all love a good cuppa tea every now and again, and this new venue from Atlas Pearls [a global leader in eco-pearling] is taking your afternoon sips to dazzling new heights. Pouring one of Asia's best teas – Gryphon Tea – in a simple yet totally elegant setting [furnished with Cerana furniture, no less], this new tea room is so exclusive it's by invite or reservation only, available to enjoy while you browse for your new statement jewellery piece that's graced by Atlas Pearl's iconic silver and white South Sea pearls, commonly known as the Queen of all Gems. The tea here is almost as lovely as the pearls, too – a lovely, aromatic and high quality tea that's earned itself numerous industry awards worldwide. So sit back, relax, admire Atlas Pearls' treasures, and enjoy a gourmet pot of liquid gold.
Atlas Pearls, Jl Raya Seminyak No. 73, Seminyak, p. + 62 361 732769. For invitations and reservations email [email protected]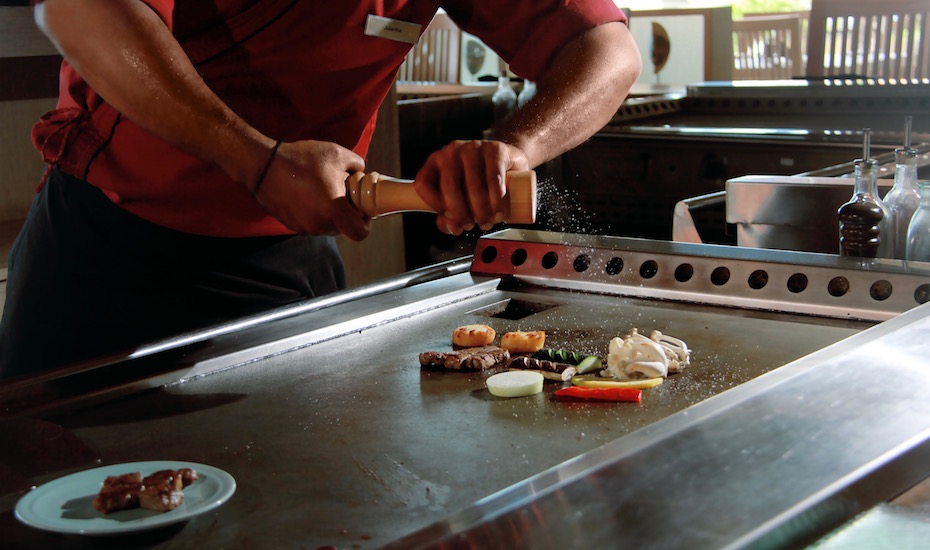 Shiki Japanese Restaurant
Come for the deliciously authentic Japanese cuisine, and stay for the culinary spectacle – Shiki Japanese Restaurant is the latest foodie venue at the Hilton Bali Resort, and when they say it's a "feast for all the senses", they're not lying. You see, it's not only the expertly prepared and immaculately presented Japanese delicacies here that'll have your eyes wide and your jaw to the ground. This stunning new restaurant sits at the hotel lobby with awesome views of the ocean out yonder, and a theatrical Teppanyaki display of fire and sizzling meats inside that'll have you tossing your chopsticks into the air for more. Try the set menu to get a real taste of Shiki's culinary repertoire, featuring whole lobster, beef sirloin, assorted seafood or chicken, with three different sauces, an appetiser, fresh salad, sautéed vegetables, garlic fried rice, miso soup and sliced fruits. And if that wasn't enough, throughout May and June, they're offering up one hour of free flow drinks to wash it all down, too. Wowza!
Shiki Japanese Restaurant at Hilton Bali Resort, Jl Raya Nusa Dua Selatan, Nusa Dua, p. +62 361 773377, e. [email protected]. Open daily 11am – 3pm and 5pm – 11pm.
La Cevicheria
A cute and quirky little spot that's just opened in Ubud, La Cevicheria had us at hello with its irresistible introduction of "fresh ceviche, lots of white wine and good music." The concept was born from a pure passion of seafood from Chef Patron Alejandro, which he calls the "fruit of the sea". Using authentic Latin-American techniques to marinate fresh fish in citrus juices, the ceviche here is some of the best we've tried on the island. The menu is compact [it's quality over quantity] so we tasted a bit of everything. Don't miss the Ceviche Mixto, and whatever you do, don't leave without trying the Tequila Flambe Prawns with a chilled glass of Italian fizz – delicioso!
La Cevicheria, Jalan Penestanan, Kelod 1, Ubud, p. +62 361 90 80 225, e. [email protected]. Open daily 4pm – 11pm.
Bo & Bun
For any foodie well acquainted with Bali's Asian food scene, Bo & Bun is no newbie. It's Seminyak's favourite Vietnamese fusion restaurant that knows exactly how we like our comfort food: Pho that's been brewed for 12 hours? Absolutely. Sticky, slow-cooked pork belly served in a soft pillowy bao bun? You betcha. Well this iconic Asian eatery has just changed addresses. But don't fret, it hasn't moved postal codes – it's just jumped next door! That's right, you can still feast on all of your favourites, they're just now served in a bigger, more beautiful locale. Same delicious food, same awesome service, just more seats!
Bo & Bun, Jl Raya Basangakasa No. 26, Seminyak, p. +62 859 3549 3484, e. [email protected] Open daily 10am – 10:30pm.
Bucu
Tucked away in a quiet residential Umalas nook [after all, Bucu means corner in Balinese] this new little cafe is one for the coffee sipping crowds, the island's yummy mummies or anyone who simply appreciates homecooked cuisine in an atmosphere that feels like your best friends' casa. Dishing up international brekkie dishes in the morning, followed by scrummy Indonesian staples by lunch, Bucu is one of those cafes to add to your regular eats list – one that you can come back to time and time again. Try the Eggs Florentine to start your day the right way, or pile your plate with the Nasi Campur spread for a hearty afternoon feed.
Bucu, Jl Umalas II No.67, Umalas, p. +62 878 5136 6867. Open daily 7am – 6pm.
….Coming Soon!
Following in the fabulous footsteps of June's Hot New Tables, next month is set to be a wining and dining sensation, too! Look out for Will Meyrick's latest venture [a gourmet Thai restaurant in Kerobokan], the new Spice by Chris Salans on Batu Belig, SoulBytes – the latest hip cafe to hit the Petitenget strip – and Cabina Cafe, a pool bar concept that's promising to liven up our island lives…
See you in July, Honeys!