Musubi, we'd cross oceans for you [but thanks for being just a coupla rice fields away]
In this month's edition of Hot New Tables: Musubi, Leroy's Vietnamese, Artotel Beach Club, Timo Bottega Italiana, Lacasita Fonda Mexicana, Pizza Fabbrica & more!
If your New Year's resolution was to cut out any indulgences, look away now. Bali's restaurant and cafe scene just keeps getting better and better, and this month's collection of culinary newbies has set the bar deliciously high for the year to come. 
For starters, the island has welcomed one new Japanese joint to get your chopsticks stuck in to, a modern take on Vietnamese food in Bali's hippest 'hood, an ultra artsy 7000sqm beach club for more of those sunshiny, cocktaily kinda days, and multiple new locations from some of our fave munching names. Yup, if this month is anything to go by, 2018 is looking to be a seriously scrumptious year… Happy chomping Honeys!
Musubi
Two things we'd cross oceans for? Japanese food, and a great brunch. Well, ever since Musubi opened in Canggu, we only have to cross a coupla rice fields to get our fix, because this already-flocked new spot brings a fantasy-like fusion of brunchy goodness with Japanese flavours – and some serious credentials thrown in for good measure. You see, not only is Musubu from the same peeps that brought us Seminyak's Rayjin Teppanyaki, Kajin Sushi Bar and Dahana Restaurant, the chef is no other than ex-Rockpool Sydney chef Rui Yamagishi. And what a combo that creates. This culinary dream team has whipped up a menu that's as creative as it is tasty. And by that we're talking sushi burgers, gyoza-stuffed fried chicken, prawn katsu bao buns, Kogune Scotch eggs, and Miso caramel crumb milkshakes. All. Day. Long. Oishi!
Musubi, Jl Pantai Berawa No. 6/7, Canggu, e. [email protected]. Open daily 9am – 4pm.
Lacasita Fonda Mexicana
First came Lacalaca in Seminyak, then came Lacalita in Canggu, and now, the technicoloured team behind Bali's best Mexican joints is setting up shop in Ubud, replacing patchouli with chilies and kombucha with jalapeño infused margaritas! Expect all of your favourite Laca staples, like the pescado tacos, pollo cacahuete tostaditas and carne asada, and get ready for some additional Ubud-inspired bites to tickle your tortilla. And of course, it wouldn't be the true Laca experience without those too-bueno-to-be-true happy hours, so you can also expect plenty of boozing like there's no manana. Arriba!
Lacasita Fonda Mexicana, Jl Sri Wedari No. 4, Ubud, p. +62 822 4784 7216, e. [email protected]
Leroy's Vietnamese
Seriously, how has it taken this long for an epic Vietnamese restaurant to open in the 'Gu?! Finally, Leroy's Vietnamese has brought us exactly what we've all been waiting for for oh-so long, and it hasn't disappointed, not in the slightest. This new Canggu nook is a relaxed, modern eatery that brings all of our Vietnamese faves [like Pho, Banh Mi and rice paper rolls] in a more modern, downright delicious way. Add to that the chill vibes, hip hop beats, intimate antique decor and daily cocktail deals, and we think we're in love.
Leroy's, Jl Tanah Barak No.43, Canggu, p. +62 812 3836 8100, e. [email protected] Open Tues – Sun 5pm – 11pm.
ABC Artotel Beach Club
Sleepy Sanur? Not anymore. Artotel Beach Club [ABC] is ramping up Sanur's rep with one of the hottest new beach clubs on the island. You might recognise the nifty and internationally acclaimed design of the 7000sqm space – it's the work of the superstar architects behind Nihiwatu [swoon!] and Finns Beach Club, featuring a signature giant bamboo tree house built around a hundred year-old Banyan Tree, a manicured lawn and absolute beachfront views. Lounge poolside with a cocktail in hand from one of four stunning bars, and graze the day away on seaside staples.
Artotel Beach Club, Jl Danau Tamblingan No.35 Sanur, p. +62 361 4491888, e. [email protected]. Open daily.
Timo Bottega Italiana
Three's the magic number for Bottega Italiana, one of Bali's fave Italian names, because they've just added a third address to their ever-growing list of lip-smacking locations on the island, this time on the pumping Petitenget "Eat Street". Each of the three Bottega Italiana's are named after herbs found in Italian cooking, and Timo (thyme) is the moniker for this new address [after Basilico (basil) in Seminyak and Rosmarina (rosemary) in Canggu]. Expect all of Bottega Italiana's best bites that use all-homemade and premium, organic ingredients, like the hand-rolled pasta, minced duck bolognese, and sliced salumi that goes just right with a glass of Italian vino.
Bottega Italiana Bali, ‭Petitenget: Jl. Petitenget No.777,  Seminyak, p. +62 812 36552505,‬ e. [email protected]
 Milk & Madu Ubud
By very popular demand, everyone's fave Canggu cafe has just found itself a new home in the heart of Ubud. Taking those amazing all-day breakfasts, sumptuous lunches and delectable dinners to the Ubud hood, Milk & Madu's latest address means you can now get your hungry mitts on those skillet shakshuka eggs and mammoth burgers in two island locations. And just like its sister spot, the vibes are tropical, cool and cosy with just enough industrial-chic decor to make you #interiorcrush. It's everything we love about Milk & Madu Canggu, now in Bali's cultural hub.
Milk and Madu Ubud, Jl Sweta No 3, Ubud, p. +62 812 3673 6733, e. [email protected]ndmadu.com. Open daily 7.30am – 10pm.
Pizza Fabbrica
As hot as its traditional wood fired ovens, Fabbrica has been heating up the pizza competition in the 'Gu – and we're gunna go as far to say it's right up there with the very best in Bali. As the latest pizza player on the island, Fabbrica needs to bring good game to keep up with the pizza pack, and that it does. The pizzas are thin and crispy with a slight charredness, the toppings are generous and loaded with authentic ingredients that shine in all their Italian glory, and can we just take a moment to appreciate the creamy, almost-explosive burrata? Try the Capricciosa loaded with lashings of tomato sauce, mushroom, ham, black olives, salami and artichokes, or get the best of everything with a Quattro Stagioni. Just don't forget that Burrata.
Pizza Fabbrica, Jl Batu Mejan, p. +62 819 9933 0880, e. [email protected] Open daily 10am – midnight.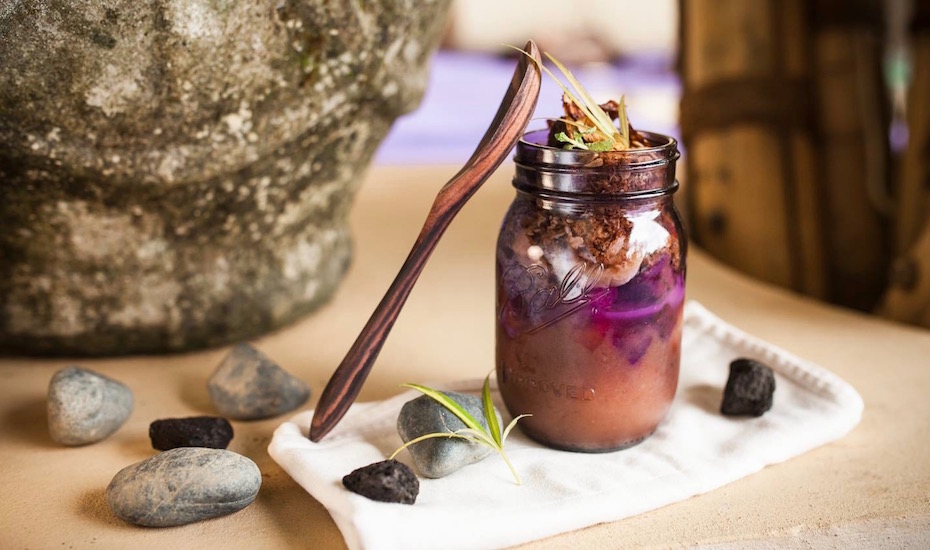 Akasha
Food for the soul? You ain't seen nuthin' yet. Akasha is Ubud's brand new, all-encompassing vegan restaurant-cum-retreat-cum-smoothie bar-cum-shisha lounge-cum-everything else you could imagine all under one roof. And like many of Ubud's other soulful venues, Akasha is also a place for the conscious community to hang out, stretch, dance, catch up over a raw dessert, and even dip in the swimming pool at the adjoining Bio-Resonant Eco-Domes, where you'll find one of the most healing night's sleep around. Whatever you choose to come to Akasha for, don't miss the colourful and healthy brekkie bowls, the garden-to-table salads, and of course, those raw desserts…
Akasha Restaurant, Jl Sinta Tegallalang, Ubud, p. +62 813 3888 5397. Open daily 10am – 10pm.
Happy munching Honeys!
Like what you've read? Then sign up to our newsletter for more Bali bucket list ideas!