Left: The gorgeous collection from Palma Australia and Right: Sally Donald, Founder of our fave fashion blog, On Any Given Day
Shop 'til you drop at these hot new boutiques, including Auguste the Label, Paulina Katarina, Palma Australia, Mrs Sippy Bazaar, Little Island Store, Berawa Luxe, The Tailor & His Lover, and more!
Mixing stylish sophistication with cool island vibes, Bali has well and truly strengthened itself as a real hotspot for shopping in Asia. No matter what your style, whether you're a designer accessories kinda girl or a boho frock fanatic, the boutique boom in Bali has something for everyone, and it's only getting bigger and better.
So to get the goss on the latest labels and hottest new shops on the island, we met up with Sally Donald [a die-hard fashionista and founder of our fave fashion blog, On Any Given Day] ready to update our wardrobes with the season's best. Here's her pick of Bali's newest boutiques that you'll want to be seen in this summer.
Auguste The Label
With the roaring success of this iconic boho brand following the opening of Auguste's first Seminyak store, it was only a matter of time before the floaty frocks and vintage florals hit the relaxed, free-living life of Canggu, right next door to our fave Island Stay, The Slow. And what a perfect fit. The easy wearing dresses, tops and shorts by the Australian label will see you beachside with your feet in the sand, or pounding the festival floor in your best biker boots. The gorgeous cuts and feminine prints here can turn any island chick into a stunning goddess.
Auguste The Label, Jl Batu Bolong No. 97 (at The Slow) p. (+62) 812 9464 0429.
The Tailor & His Lover
Hot off the press, The Tailor & His Lover has just landed on Batu Belig. This divine boutique delivers a curated collection for women who are looking for a stylish edge, with chic garments that take you from Bali life to New York or Cannes before you can say "ruffled shirts and island-chic shorts". Think designer threads in the finest ever cottons, linens, organza, and silks. And as the name suggests, tailored shirts, pants and dresses are as classy as they are appropriately priced.
The Tailor & His Lover, Jl. Batu Belig. No 1 Petitenget Corner, Seminyak, (across from Moose Espresso), p. (+62) 361 9348763.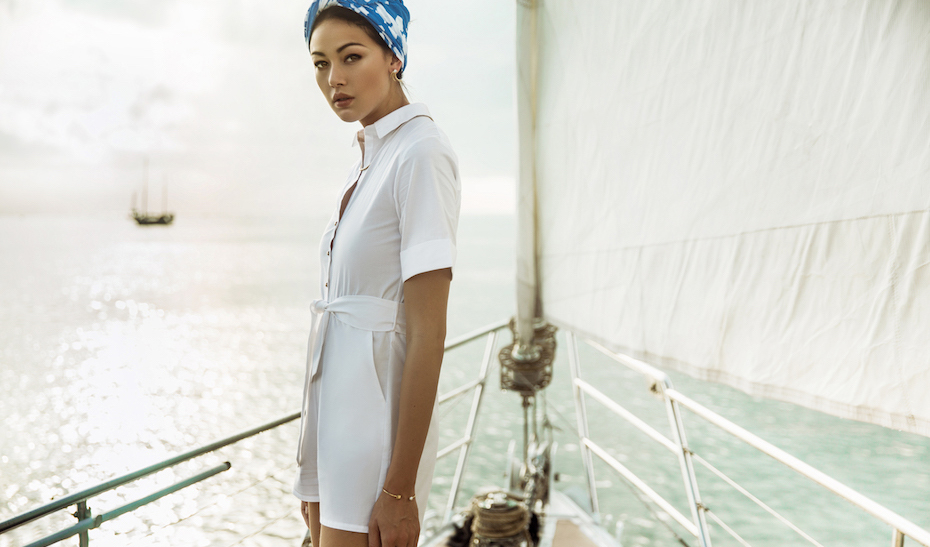 Paulina Katarina
A collaboration of two gorgeous sisters, Surya Paulina and Ratna Katarina, the Paulina Katarina label brings beautiful sophistication to the shopping scene in Bali. Their designs are eclectic, feminine and provide graceful silhouettes for all occasions. Making their mark throughout Southeast Asia, the label has two stand alone boutiques in Bali, with the newest in Seminyak. Alongside the signature collections, Paulina Katarina has also released the "Archipelago Mini Series" and "Wanderlust Premium Resort Wear", both of which are featured in the new Seminyak store for your shopping pleasure!
Paulina Katarina, Jl. Kayu Jati 18x Petitenget, Seminyak (across from Motel Mexicola) p. (+62) 361 756646. 
Mrs Sippy Bazaar
The swanky new pool-bar powerhouse in town, Mrs Sippy Bali brings you the best of what Bali has to offer all in one place – including shopping! The Mrs Sippy Bazaar delivers a one-stop shopping experience within a vibrant venue alongside gourmet bites, cocktails and swimming in the sunshine. Tucked in the corner right at the entrance to the bar, the Bazaar features leisure wear, swimwear, sunglasses and accessories which all fit very nicely with the Mrs Sippy experience and style. Showcasing gorgeous Indonesian and locally produced labels [including, Innika Choo, Sir the Label and Pared Eyewear] it's really hard to walk out empty handed.
Mrs Sippy Bazaar, Jl. Taman Ganesha, Gang Gagak 8, Seminyak, p. (+62) 361 335 1079. 
Palma Australia
Embodied by sophisticated femininity, passion for detail and a love of colour and prints, Natalie Alexander produces unique designs exclusive to Palma Australia stores. Palma Australia delivers ready-to-wear hand printed silks, embroidery, rayon voile, and leather goods that will drop jaws, not your bank balance! From casual beach days, poolside parties and nights under the Bali stars, Palma brings an elegant, fun and feminine touch to any woman. The new Drupadi store is a gorgeous elegant space which captures everything we love about the brand.
Palma Australia, Jl Drupadi No.1, Seminyak, Bali (across from the Corner House) p.(+62) 8214 7430355
Berawa Luxe
One of the newest boutiques on the Island is Berawa Luxe in Canggu. A multi brand concept store offering a diverse shopping experience. With women's and men's clothing, leather sandals and hand-tooled leather bags, the store boasts a distinct bohemian and free spirit vibe, inspired by the Bali and Canggu lifestyle. This is particularly evident with the boho luxe collection by Karmarama available in store. Soy candles, diffusers and jewelry complete the the luxe line up.
Berawa Luxe, Jl Raya Semat No 185, Berawa, Canggu, Bali. P. +62 8173 53586.
Little Island Store
If you are looking for holiday gold or a hidden treasure in the way of fashion or homewares, the new Little Island Store is your hunting ground. With a strong tropical vibe, the store offers an array of fashion, leather, swimwear, homewares, jewellery and gifts. Australian designed and global brand MLM gives a cool and contemporary offering in store, while other brands such as Rays for Days, Metalik, Island Addict, Sheeka and Zie deliver a true local, island style. If your treasure is pre-loved clothing and accessories, Island Vintage is also in store for you – a slice of paradise to take home with you.
Little Island Store, Jl. Kayu Jati, Seminyak, Bali (in between Mexicola and Sisterfields) p.(+62) 821 4515 6040.
Erika Pena
Inspired by Studio 54, decadence and ease, Miami designer Erika Pena, brings her striking label to Bali. Having produced her products in Bali for many years, Erika has opened her own signature boutique in Canggu. Described as a mix of Stevie Nicks Bohemian and Designer Halston vibes, the label boasts a tribal-like range of earrings, necklaces, rings and bracelets – all perfectly fitting with the easy breezy spirit of Canggu. The resort wear and sandals complete the Erika Pena range, including clients such as Kim Kardashian, Paris Hilton and Jessica Alba.
Erika Pena, Jl Padang Linjong, No. 38, Bali (opposite Samadi Yoga) p. (+62) 361 9348763.
Coach
For big brand, high end shoppers, one of the world's greatest has just opened its doors in Bali. America's original house of leather, Coach brings its complete collection of luxe leather handbags, footwear, jewellery, watches and fragrances to the new elegant store. With the goal of becoming "the company that defines global modern luxury", Coach expands its presence in Indonesia with this concept store, situated on Level 1 of the Beachwalk Shopping complex in Kuta. The store covers both the men's and women's lines, and all are rich in heritage, quality and detail.
Coach, Level 1, Beachwalk Shopping Center. Jl. Pantai Kuta, Bali.
Writer: Sally Donald. Check out her fashion blog On Any Given Day here and follow her on instagram @onanygivenday