Magical, spiritual and worthy of a top spot on every Bali bucket list. Check out our favourite Hindu temples on your next island vacay.
Long before Bali became famous for its affordable spas, hopping beach clubs and boutique shopping opportunities, travellers would flock to this enchanting island for its fascinating culture, deep-rooted traditions, and of course, its sacred Hindu temples. And while the island has been somewhat diluted by tourism, Bali's ancient temples have remained pure and unspoilt, adorned with colourful offerings to the Gods, scented by incense, and worshipped daily by Bali's beautiful people.
In fact, there are so many temples in Bali, it is said that there are more shrines across the island than there are homes, so it's easy to see these holy monuments, no matter which island neighbourhood you're in. But to witness Bali's most beautiful and revered temples? You'll want to make a special trip to these sacred gems. From sky-high shrines in the clouds to centuries-old architecture in the ocean, here are our 8 favourite temples in Bali for your bucket list. Om Swastiastu!
 OUR 8 FAVE TEMPLES IN BALI
1. Pura Lempuyang – East Bali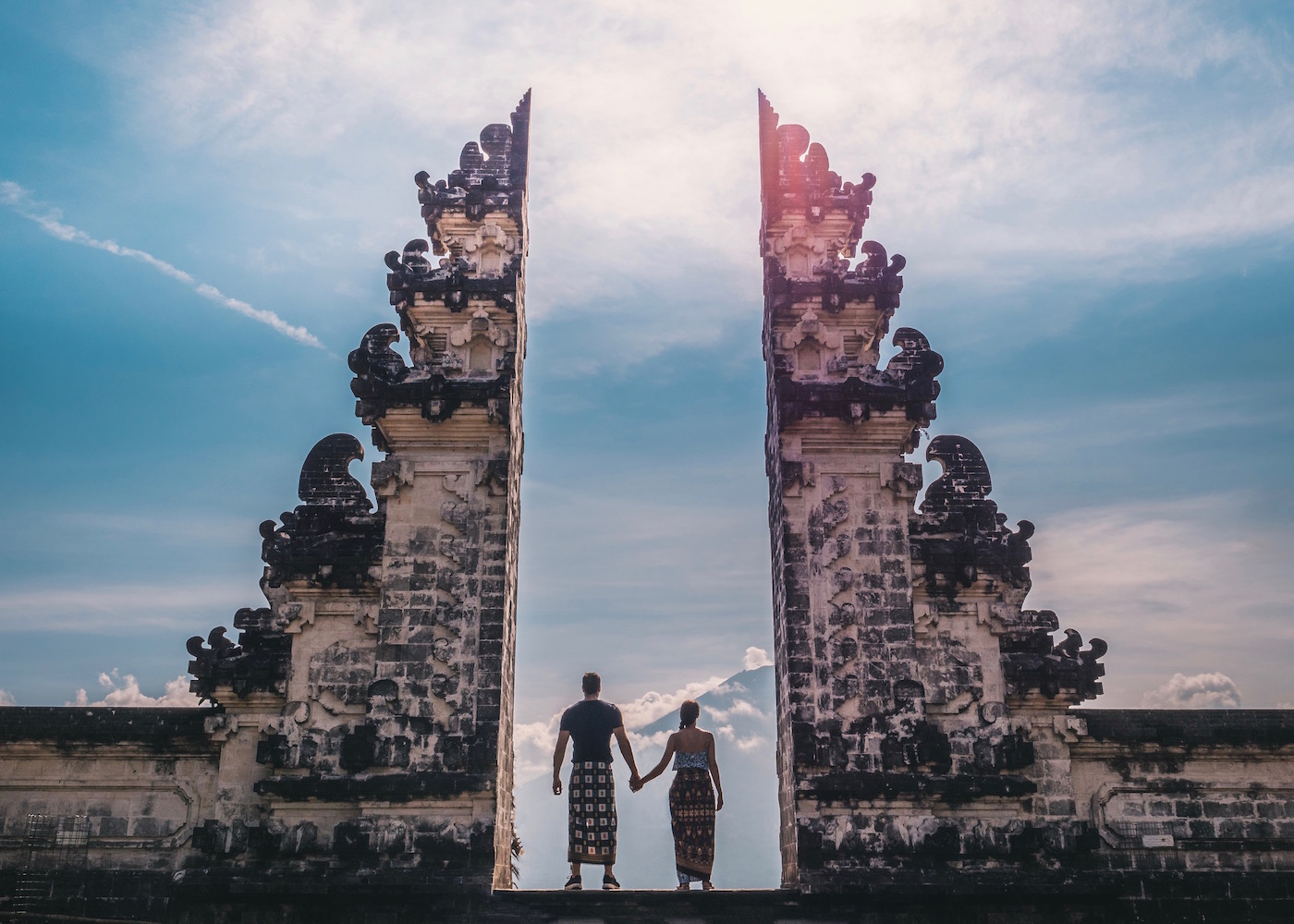 Considered one of the holiest places on the island, Pura Lempuyang is right up there (literally) with Bali's most breathtaking temples. Not only a sacred destination for Balinese Hindus, it's also where you'll find a jaw-dropping vista above the clouds – more than 1500 steps high, no less. Known as the "Gateway to Heaven", the view from Pura Lempuyang is truly divine. You'll want to visit on a clear day, as Mount Agung's majestic peak is framed perfectly by the temples' gates. And make a day of this temple trip, because there are six other temples to explore nearby, plus waterfalls and gorgeous rice terraces too.
2. Pura Ulun Danu Beratan – Central Bali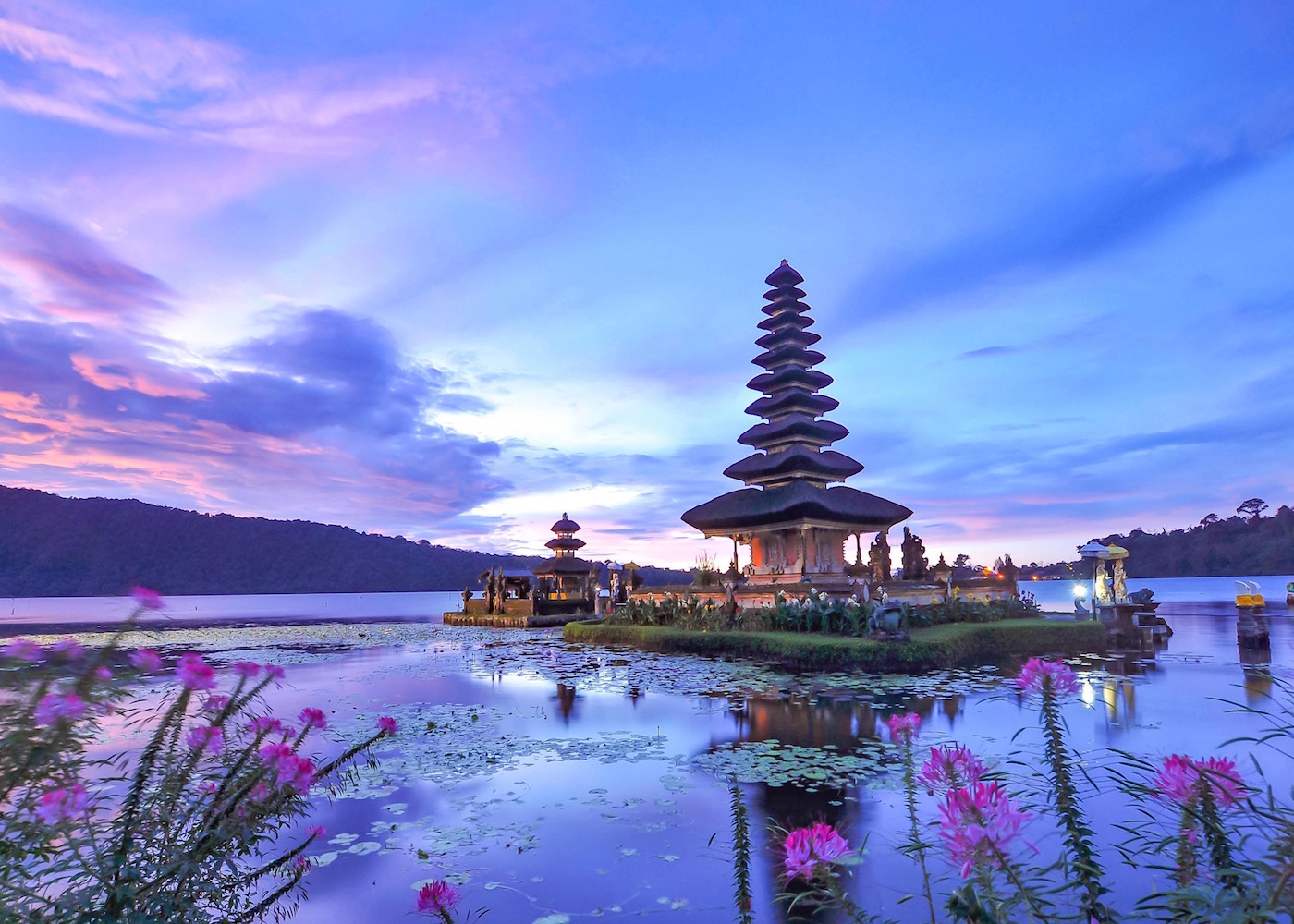 Ulun Danu Beratan in the hills of Bedugul is one of the most photographed temples in Bali, thanks to its magical location in the middle of Lake Beratan. When the early morning or late afternoon mountain fog creeps through, the temple actually looks as if it is floating – it's pure magic. Dedicated to the God of water, you'll often see Balinese people dressed in traditional attire conducting ceremonies here, praying to the Gods to ensure there is always enough water on the island. This temple is high up in Bali's central highlands, so bring an extra layer of clothing as the climate can get quite cool, especially during the afternoon hours when the hazy mountain mist sweeps in.
Ulun Danu Beratan on Google Maps
3. Pura Tanah Lot – South Bali
One of Bali's most visited temples has to be Purah Tanah Lot, thanks to its offshore location that sees jaw-dropping sunsets over the ocean every evening. Majestically perched on an impressive natural rock formation, Pura Tanah Lot is Bali's most revered sea temple, crowned by an ancient shrine that dates back to the 1400s. In fact, this temple is so sacred, parts of it are closed to the public, reserved exclusively for praying pilgrims. That being said, there are still plenty of manicured grounds and pathways to explore, and countless viewing points from both near and far. A word of warning though, this temple is arguably Bali's busiest, particularly around sunset. If you can, you should time your visit according to the holy day of Kuningan, when holy rituals and pilgrimages usually take place throughout the day. Similarly, four days after Kuningan marks the temple's anniversary, where on this day, thousands of Balinese people flock to the site to pray and lay their offerings. It is simply spectacular.
4. Pura Tirta Empul – Central Bali
Also known as Bali's water temple, Pura Tirta Empul is a cultural heritage site, famous for its holy water that gushes from a sacred spring into bathing pools for purification. Said to have magical properties, Pura Tirta Empul is recognised in may ancient myths and local legends, and with its tranquil ponds and lush gardens all around, it is also renowned for being one of the most beautiful temples on the island.
Pura Tirta Empul on Google Maps
5. Pura Luhur Uluwatu – South Bali
Perhaps Bali's most breathtaking temple with its ocean backdrop, Pura Luhur Uluwatu is located high above the clifftops teetering above crashing waves below. An important sacred temple built for the spirits of the sea in the 10th century, Pura Luhur Uluwatu is laced with ancient architecture, intricate sacred sculptures, and…. hundreds of monkeys. Yup, this popular spot is also known as the Monkey Temple, famous for its winding pathways along the cliff's edge that are fringed by families of (sometimes pesky) macaques. Despite their mischievous antics (you'll need to hide your belongings), these monkeys make for one helluva photo opportunity, sitting on the temple walls with an ocean backdrop and the sun setting on the horizon. Unsurprisingly so, this temple has become very popular with tourists, but it's still well worth a look. Try and time your visit to catch the traditional Kecak dance of 100 chanting men, held every evening at sunset.
Pura Luhur Uluwatu on Google Maps
6. Pura Besakih – East Bali
For a temple trip that's a little off the tourist track, Besakih Temple is a must-visit. Often referred to as Bali's 'Mother temple', Pura Besakih is a large, holy site located in the village of Besakih, made up of 23 different temples, many with soaring spires. This huge complex of temples and shrines is so large, it can take an entire day to explore all of its different corners. And you won't want to rush it anyway, because this sacred landmark sits 1,000 metres above sea level on the south-western slopes of Bali's active volcano, Mount Agung, so you're guaranteed great views, too.
7. Pura Taman Ayun – South Bali
We think Pura Taman Ayun is one of the prettiest temples in Bali, which makes sense when you know that this 17th century creation was built for royals. Divided into four main areas, each section of this temple is more sacred and stunning than the last. Surrounded by a moat and only accessible via a beautiful bridge, the lovely manicured gardens, courtyard and rippling lotus ponds and canals add to the serenity of this peaceful spot – a much quieter choice compared to Bali's more popular temples.
Pura Taman Ayun on Google Maps
8. Pura Goa Lawah – East Bali
Translated to mean "bat cave", Pura Goa Lawah is a rather formidable looking temple with its darkened walls, which thousands of (friendly) fruit bats call home. Though it's relatively small, this temple is pivotal in Balinese tradition, protecting the island from evil spirits. There's a ceremony held here almost every day, so the best bit about visiting Pura Goa Lawah is you're likely to catch a traditional and colourful ritual being performed – a truly captivating spectacle.
Before you go: Keep in mind that Bali's temples are sacred sites, so you should dress accordingly. If you're wearing shorts or a skirt, you'll need to bring a sarong, and if you're wearing long pants or an ankle-length skirt or dress, you may need a sash. Sarongs and sashes can be usually hired at the entrance to each temple for the price of a small donation.