Shopping for furniture in Bali is always a good idea, but which stores to scour, we hear you cry? Read on, and get ready to raid...
For furniture fanatics and homewares connoisseurs, there's no Harrods on this island to fuel your furniture shopping obsession. Instead, we have to look to Bali's boutique furniture stores selling beautifully hand-crafted and custom-made pieces to jazz up our homes and villas (that ain't so bad if you ask us!).
So whether you're an expat styling your island villa, an international interior decorator looking for inspiration, or you're simply in the market for a beautiful memento to commemorate your Bali holiday, we've scoured the island's furniture scene to bring you the best sustainable, unique, and surprisingly affordable furniture shops in Bali. You're welcome!
WHERE TO BUY FURNITURE IN BALI
The top 21 furniture stores & showrooms
1. Kim Soo Home  –  Seminyak
Furniture shopping in Bali should always start and end at Kim Soo. This furniture and homewares trailblazer is a design store mecca, with an attached showroom-style destination called "The Space" to help you imagine your own Kim Soo abode. It's a little bit bohemian, a little bit contemporary, a little bit vintage and a whole lot of loveliness. They source products from across the Indonesian archipelago to manufacture and design their own unique styles that feature wood, metal, textiles, stone, grass and paper, producing a lovely long list of fabulous furniture pieces that goes on and on, and (trust us) so will your purchases.
Kim Soo, Jl Kayu Aya No. 21, Seminyak, p. +62 822 4713 0122, e. [email protected]; Open daily 8am – 5pm.
2. Lio Collection  –  Kerobokan
Christos Vassilios Liokouras moved his family furniture business to Bali in 2005, and since then, Lio Collection has become a well-respected indoor and outdoor furniture company that we simply LOVE. The company is most famous for their rattan and bamboo collection, but they offer plenty more home-making pieces to make you swoon, from leather and wood, to lightings and handcrafted paintings.
Lio Collection, Jl Raya Kerobokan No. 2, Kerobokan, p. +62 811 380 950; Open daily 9am – 8pm.
3. Balquisse Living  –  Seminyak
To make furniture shopping in Bali oh-so easy, Balquisse Living is your one-stop shop for your home decorating desires. It houses four different brands: Epyzod (which specialises in outdoor rattan furniture), Shahinaz Collection (for soft furnishings) and Aisha Antiques alongside Balquisse's home brand. The designer herself, Zohra Boukhari, is the brains behind many fashionable venues in Bali like Bisma Eight, DaLa Spa and Balique vintage restaurant. Head to their main showroom on Sunset Road to get inspired.
Balquisse Living, Jl Sunset Road No. 18, Seminyak, p. +62 812 3702 6128; Open daily 9am – 6pm.
4. Warisan Living Furniture Showroom  –  Kerobokan
Warisan is an international brand with showrooms all over the world – but Bali is their home base. They produce a diverse mix of quality rustic and contemporary furniture (including beautiful four-poster beds that we've had our eyes on!). Creating both indoor and outdoor goods, they use Indonesian resources for materials, including wood, rattan, stone, and shells. The result is simply divine!
Warisan Living Furniture Showroom, Jl Raya Kerobokan Br. Taman No. 38, Kerobokan, p.
+62 361 421 752, e. [email protected]
5. Vinoti Living Bali  –  Renon & Kuta
Priding itself on upmarket, individual pieces that you won't be able to find anywhere else, Vinoti Living is where you can shop all sorts of unique furniture pieces, from benches to beds, clocks and cushions, to photo frames, lamps, vases and artwork. Located in South Bali's Galeria shopping mall, this is a 'grown ups' homewares haven. Check out their great range of high end sectional sofas, and their very beautiful one-off mirrors.
Vinoti Living, Bali Galeria shopping mall Jl By Pass Ngurah Rai, Kuta (p. +62 361 752 720 / +62 818 0567 8807) & Jl Moh. Yamin No. 16A, Renon (p. +62 361 474 9779 / +62 812 4657 6440).
6. Ikat Gallery  –  Kerobokan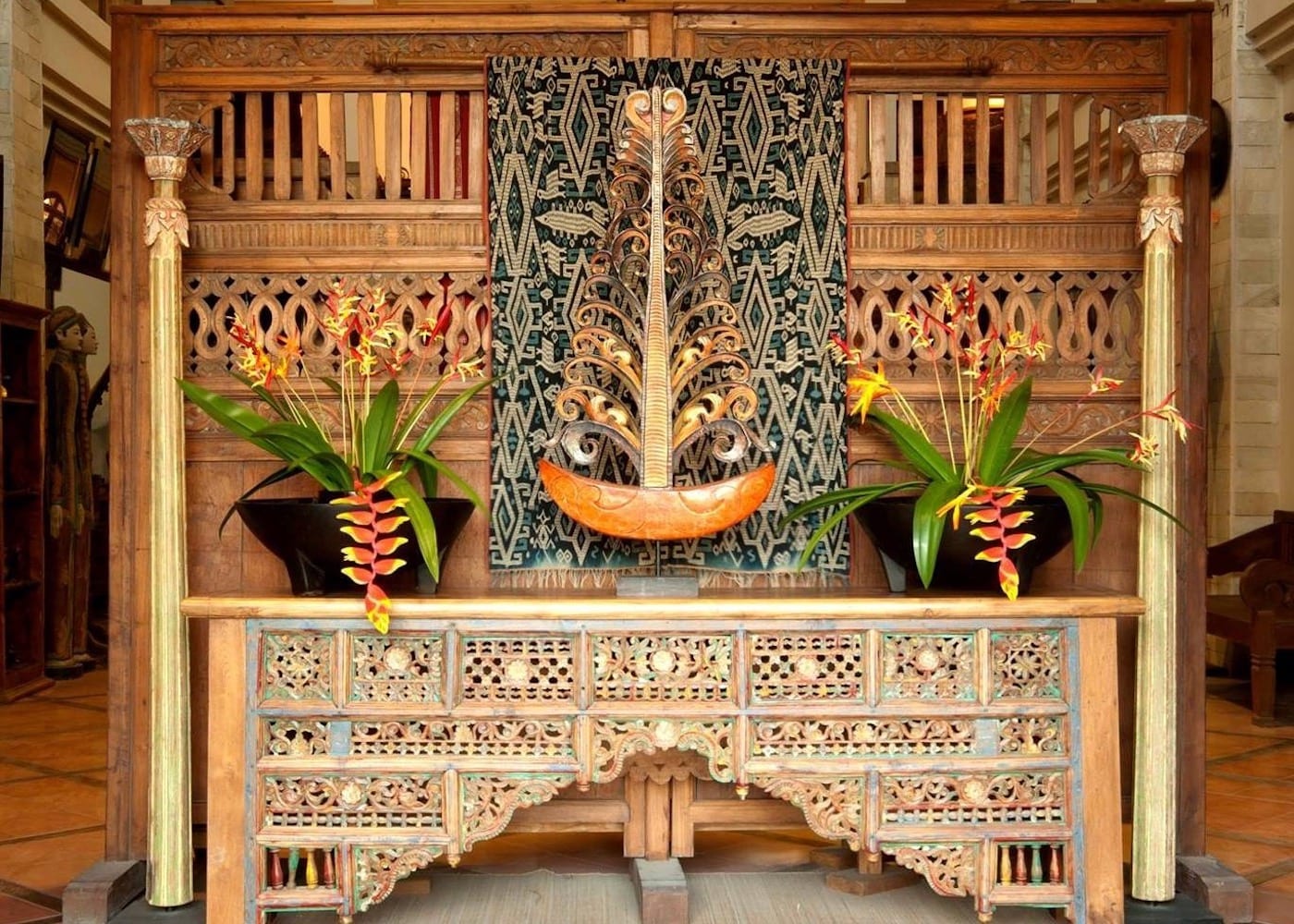 Renowned as Bali's go-to for museum-quality Indonesian art and furniture, a visit to Ikat Gallery is a treat in itself – and that's before you take home their luxurious home furnishings. Specialising in Indonesian antique furniture, home decor, jewellery, and textiles, the fine art and exclusive pieces at Ikat Gallery have been hand-selected from different islands in Indonesia, transformed into luxury home decor that you'll find nowhere else other than at Ikat Gallery (and later within your own home!).
Ikat Gallery, Jl Raya Kerobokan No. 40, Seminyak, p. +62 812 386 8776, e. [email protected]
7. DC Habitat Interiors  –  Kerobokan
An interior design and lifestyle concept store, DC Habitat creates and collates an eclectic range of products for you to develop your own interior style. From refined linen bedding with unique cushions designs and throw blankets, to beds, chairs, lounges and dining tables in different furniture styles. Think coastal, vintage, minimalist, and contemporary, and even Scandinavian and modern industrial.
DC Habitat Interiors, Jl Raya Kerobokan No. 88X, Kerobokan, p. +62 812 3761 3728; Open Mon – Sat 10am – 6pm.
8. Heveya  –  Canggu
When it comes to furniture shopping in Bali, it's easy to hone in on alllll the pretty homewares. But let's talk about the most important piece of furniture for the bedroom: AKA, the mattress. Sure, it's hidden beneath lovely linens and not something you can show off to your guests, but buying the right mattress is one of the best things you can do for your home (and your health!). Here in Bali, we go direct to Heveya – a luxurious bedding store from Singapore & Hong Kong that specialises in eco-friendly mattresses and pillows. The sustainable creations here are not only great for the planet, they're both comfortable and supportive for you too. They come in all different heights and firmness types to suit all ages, sleeping positions and personal preferences, and they're made only with natural latex harvested from organic rubber plantations. That means no synthetic foam, metal springs or glues – only a peaceful and non-toxic sleeping environment that you and your body will love!
Heveya Bali, Jl Pantai Berawa No. 50, Canggu, p. +62 821 4783 6986, e. [email protected]
9. Soo Santai  –  Seminyak
After some furniture that's a little bit different? Something to sit on that isn't wood, iron or metal? How about a big comfy bean bag chair? Soo Santai have the best collection of bean bags in Bali, from purple to orange, water and sun resistant, indoor and outdoor – they even have a floating bean bag chair range for your swimming pool or summer getaway… Sold!
Soo Santai, Jl Sunset Road No. 89, Seminyak, p. +62 361 847 5750 / +62 813 3936 3017, e. [email protected]; Open daily 9.30am – 6pm.
10. Teckococo  –  Denpasar
One of Bali's longest reigning wood furniture manufacturers and exporters, Teckococo is loved for its timeless and contemporary designs that cover outdoor and indoor furniture pieces for your living room, garden terrace, bedroom, and even your office environment. All of their products are made using sustainable tropical plantation wood from Java, and besides having environmental friendliness at the forefront of their business model, they're also dedicated to innovating and customising pieces that improve your own life, through functionality, affordability and timeless designs.
Teckococo, Jl Gunung Salak No. 35A, Denpasar, p. +62 811 388 0111, e. [email protected]; Open Mon – Fri 10am – 5pm.
11. Creative Living Bali  –  Kerobokan
Specialising in custom-made furniture pieces, Creative Living offers everything from loose-piece items to built-in furniture, like kitchen cabinets, bathroom vanities and wardrobes. And if you want to take a look at the quality of their products before you make your custom order, their showroom stocks a selection of items on display and ready for sale for you to check out and build your interior inspiration.
Creative Living Bali, Jl Raya Kerobokan No. 88, Kerobokan, p. +62 816 571 829, e. [email protected]
12. Domi Home Bali  –  Seminyak
Charmingly exotic, French-inspired and downright delightful – just a few ways we describe Domi Home, a lifestyle, furniture and homewares concept store that's at once contemporary and colonial. Inspired by late Baroque-esque styles and contemporary Victorian architecture, Domi Home ain't your typical interiors store. With brass-accent lounges, vintage chandeliers, solid wood dressers and classic carved armchairs, it's a must on any furniture spree.
Domi Home Bali, Jl Raya Seminyak No. 56, Seminyak, p. +62 821 4600 0148
13. InteriorTonic – Umalas
InteriorTonic specialises in iconic masterpieces that fuse elegance and homely vibes, perfect for urban-loving residents living on a tropical island. Here you'll find collections of indoor and outdoor furniture curated to bring life into your home. Think wooden beds with rattan accents, one-of-a-kind coffee tables and an outdoor chaise lounge to bask in Bali's warm sunshine. And psst… since they sell directly to consumers, you can nab beautifully-made furniture at an affordable price too!
InteriorTonic, Bumbak, Umalas, p. +62 857 4531 4576
14. iBalDesigns  –  Kerobokan
Producing high-end designs, iBalDesigns produce everything from stools and tables, to towel racks and mini bars. Hailing from London, owner Charles Orchard knows art and antiques, and is committed to being environmentally conscious. Even though iBalDesigns predominantly supplies furniture to hotels on the island, you can pick up some absolute gems for yourself at The Orchard, their shop and showroom in Kerobokan.
iBalDesigns, Jl Raya Kerobokan No. 79, Kerobokan, p. +62 361 474 0852, e. [email protected]
15. Living Karma Bali  –  Berawa
The brainchild of a Danish designer, Living Karma offers a plethora of chic home furnishings and décor that we're a little bit obsessed with. Using a huge array of products, Living Karma is the place to go to pick up just about anything, from colourful sofas to an outdoor table for BBQ season. The Scandinavian roots can be seen in the clean lines and simplicity of the designs…
Living Karma Bali, Jl Petitenget No. 47, Kerobokan, p. +62 812 384 2211
16. Cempaka Furniture  –  Kuta
Having furnished some of the most stylish hotels on the island (Alila Resorts and Novotel Bali, to name-drop a couple), you know you'll be in safe hands with Cempaka Furniture. They create unique and stylish pieces, which take on a contemporary feel but retain the rich heritage of Indonesia's artists and craftsmen.
Cempaka Furniture, Jl By Pass Ngurah Rai No. 8, Kuta, p. +62 361 766 555 / +62 361 747 4393, e. [email protected]
17. Hatiku Indonesia Design Studio  –  Sanur
This Bali-based brand is all about simplicity. As well as furnishings (and even leather bags), Hatiku Indonesia offers stunning furniture pieces that are made from a combination of natural rough materials sourced throughout the island (like leather, cotton, wood, rope and bamboo) put together using high-quality traditional craftsmanship. All of the products are hand-crafted in Indonesia, and – in their words – have been 'made with love by hand'.
Hatiku Indonesia Design Studio, Jl Batur Sari, Gg. Tunjung Sari Gg. Jempiring No. 1, Sanur, e. [email protected].
18. Alur Natura  –  Jimbaran
If you're heading to Jimbaran, be sure to check out Alur Natura. They specialise in the design and manufacture of custom-made furniture and cabinetry, so if you have a unique idea, they can bring it to life!
Alur Natura, Jl Uluwatu II Gg. Bambu, Jimbaran, p. +62 819 1610 0373, e. [email protected]; Open Mon – Fri 8.30am – 5pm.
19. Latif Living Furniture  –  Sanur & Seminyak
If you're looking for sleek and chic sun lounges or daybeds, check out Latif Living and its swoon-worthy collection of high-end outdoor furniture. The materials range from teak wood and resin fibres, to all-weather UV-protected rope to ensure your new pieces last for years to come. The best part is, the Latif Living factory is FSC-certified, meaning your new furniture is made using eco-friendly materials sourced from sustainably-farmed plantations. They do almost all of their handiwork in-house too: from weaving and braiding, to welding and beyond, covering everything from frames and finishings, all the way to the comfy cushions.
Latif Living Furniture, Jl By Pass Ngurah Rai No. 125x, Sanur (p. +62 811 388 6034) & Jl Raya Kerobokan No. 132, Seminyak (p. +62 813 5252 4114)
20. Carlo Showroom  –  Sanur
With over 25 years of furniture designing and making, Italian designer Carlo Pessina opened his Bali showroom to help beautify homes, villas and hotels all over the island. Known for his use of out-of-the-ordinary materials (like coconut shells, pearls and tree bark) and his avant garde designs, Carlo's team of professional craftsmen and women are experts in creating contemporary and daring furniture fit for the sleekest of spaces. And if you're not sure where to start? They'll guide you through the entire process, from the design conceptualisation, right through to completion.
Carlo Showroom, Jl Danau Poso No. 22, Sanur, p. +62 853 3807 7359, e. [email protected]; Open Mon – Fri 9am – 4pm.
21. ZAPPdesign  –  Kerobokan (currently closed)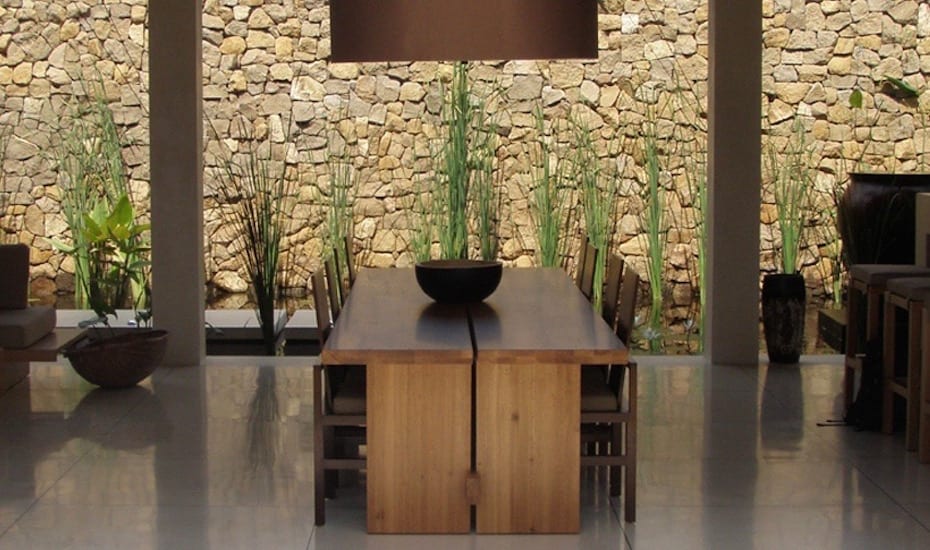 Those who know and love IKEA's sleek and simple aesthetic will love ZAPPdesign. Rio-born founder Reynaldo Maldonado (aka Zapp) fuses his Brazilian flair with contemporary Scandinavian and Asian designs, resulting in luxurious, clean, and modern furnishings. This is modern furniture shopping Bali-style, and we love it.
Want more inspo for furniture shopping in Bali? Try our list of Bali's best homeware stores – if the above didn't tickle your decorating taste buds, these home decor treasures certainly will!