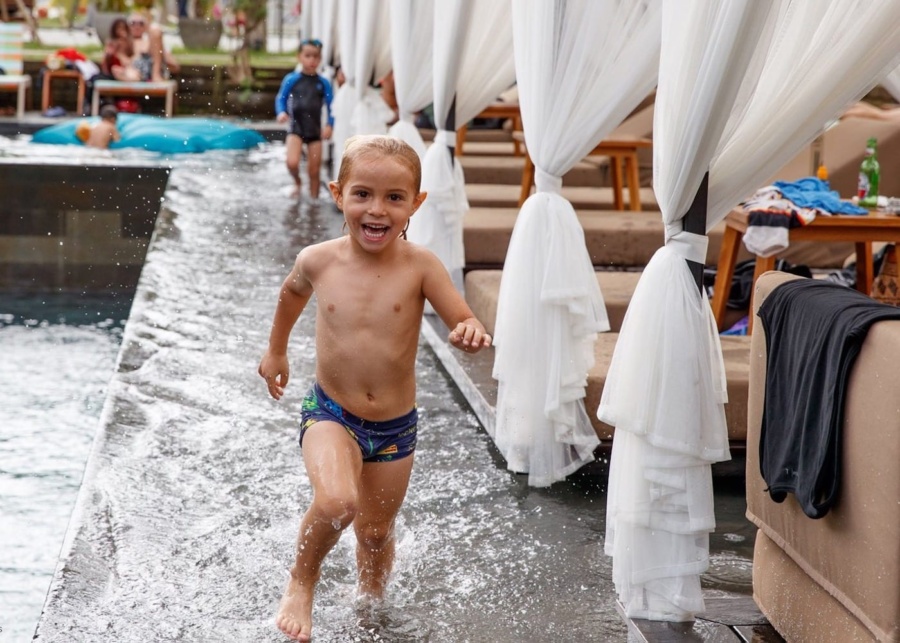 This summer holiday, let the kids burn off all that quarantine energy with a family fun day out - try Ubud's premier Titi Batu club!
Parents, don't let that 'school holiday dread' ruin your summer vibe. Try this list of fun family activities to make this school break a tropical Bali breeze!
There's no doubt 2020 has served up some challenging humdingers for us parents. And now, we've arrived at the school summer holidays, AKA that looooong stretch of time when the kids are constantly looking for something fun to do. But don't hit the panic button just yet…
Luckily, when it comes to family-friendly activities, we really are spoiled for choice here on the Island of the Gods. Add to that the endless number of truly rockin' luxury family villas and kid-friendly hotels to stay in, and you've got yourself a pretty awesome school holiday itinerary.
So, if you're in Bali with the kiddos in tow (and no plane to catch!), then check out this list of awesome things to do with kids over the school holidays – a tried-and-tested hitlist from resident expat and mum-in-the-know, Rebecca Foreman. Read on, and you can thank us later…
THINGS TO DO WITH KIDS IN THE SCHOOL HOLIDAYS
TREK & STAYCATION
School holidays are the perfect opportunity to pack the car full to the brim with kids, dogs, snorkeling gear and boogie boards before taking to the Bali's open roads. Stop off at homestays, glamping sites or any number of off-the-beaten-track family villas while you enjoy all that Bali has to offer. Why not trek up north to Pemuteran, spot dolphins in Lovina, or stop off in Sideman to scale the rice paddies. Wherever you decide to go, there's no shortage of five-star luxury hotels to stay in – some of which are serving up irresistible stay deals right now! Or, why not gather up some mates and book-out a truly luxurious villa staycation. We've compiled a list of Bali's Best Family Villas – 'hood by 'hood – featuring all of our fave island cribs with all the latest gadgets to keep the whole family amused.
ART
For those lazy holidayz when looking at cool art is the only thing on your radar, then look no further than organising a private viewing at Nyaman or Purpa gallery. Here you'll see some super-cool artistic creations, like that of YOKII, Indonesian surrealist L. Fauzi, or French artist and photographer Stephan Kotas. Or perhaps your little Banksy would be better occupied learning their own version of artistic expression? Check out the holiday camps run by ART Land Bali or Umalas-based artist Tonia Kay.
MUSIC & DANCE
Break a leg (not literally!) at Bali's newest talent studio run by renowned singer, Eva Scolaro. Here, kids of all ages can choose from a number of classes including vocals, jazz, hip-hop, ballet and salsa. And just next door is Ensiklomusika, running weekly music and vocals classes as well as, digital music making and even song writing for kids of all ages. Another super-cool dance studio your kids won't want to miss out on is Just Dance. Located in central Canggu, the purpose-built dance studio offers kids and adults a host of holiday classes including ballet, yoga, hip-hop, modern jazz, zumba, salsa, kizomba, bachata and much more to come!
COOKING & FOOD
When it comes to food, kids love getting their hands dirty, so why not sign them up to a cooking school over the holidays and have them create some amazing dishes for the whole family to enjoy after (count us in!). Asmiera Spice cooking school, based in Umalas, is currently enrolling mini-chefs into their hands-on cooking classes to help kiddos (aged 5-12) master cooking fundamentals while having the best fun ever! And while we're talking food, there really is no end to the amount of cool family restaurants to choose from. But for that extra special occasion or birthday with just you and your school holiday shadow, then why not treat yourselves to a totally divine high-tea experience at the coolest dessert chef experience in Canggu, Vincent Nigita.
ACTION PACKED
Let's face it, the kids need to burn off all that energy after being cooped up indoors over the last few months, and summer holidays are all about getting them off the iPad and into the fresh open air. For a superb family fun day, check yourself into Ubud's premier sport and wellness club Titi Batu and enjoy a day poolside with a number of kids activities to choose from, like kids Capoeira, JUMP class, ping-pong, basketball, DJ School – there's even a skate park with all the kit for hire. Otherwise, there's Amplitude Skate & Bike Park in Canggu for kids that know their way around a more advanced circuit.
If your kids are wired to ride the waves, then you can't fault the dedication of Bali's fully ASI certified surfing coaches at ThumbsUp Surf and In Da Surf for the best kids surfing expeditions island-wide. Or perhaps the grommies (under 17) are in the mood for a surfing camp with local legend Tipi Jabrik?
If you hurry, you may still be able to get your mini-Federer into a tennis camp at Liga Tennis Academy, and while all footy tournaments may be off the radar for a little while, parents can still keep kids training with Football & Fitness for one-on-one or two-on-one sessions at Meazza Futsal in Kerobokan. For those little monkeys that need to climb the walls (literally), you really can't go past Bali Climbing for their daily climbing hour, or perhaps a super fun day is more the go among the rice paddies at Parklife – always a good idea to while away those lazy summer days! And for kids and parents that need to think their way out of the box, get yourselves to Sunset Road and check out Escape Room, open and ready for the most mind-bending fun you could fit into 45 minutes.
GREEN CAMPS
If your parental wish-list includes teaching the kids the art of sustainability, then check out one of the many Green Camps on offer at Green School. Set in a stunning tropical jungle location, Green Camps offer programs for children, families and groups that will challenge campers physically, intellectually and emotionally. Designed by experienced facilitators, Green Camp activities will cultivate much-needed survival skills while developing sustainability knowledge and awareness – all the while having the best time ever!
WET & WILD
Some days are best spent in the water and what better place to have fun in the sun than at Bali Wake Park & Aqualand. Let the kiddos climb and slide the inflatable adventure course while you try your hand at a spot of wakeboarding. Or for a much more relaxed affair, perhaps spend a day luxuriating among the tropical surrounds and saltwater pool at Desa Seni. Pre-book sun loungers and order from the onsite restaurant menu for a day of zen, serenity and chill…
SPA DAYS
There really is no better way to chill into supremo holiday mode than a lazy spa day for the whole family. The kids will love being pampered to distraction, perhaps they'll sit still long enough to enjoy a mini mani-pedi, while you indulge in all manner of spa treatments. Because frankly folks, you deserve some indulgent self-care over the school holidays. Try our list of amazing spas that serve up delicious mummy and me spa offerings  – go on, you deserve it!
Looking for more fun things to do with kids in Bali? Check out our ultimate list of 76 awesome things to do with kids in Bali – a wholesome roundup of every fun activity and adventure on the island!