It's all White on the Night - at Nikki Beach's annual White Party
Bali showcases some whizz-bang events each year that are worth a trip to jam your Instafeed alone. Here's your list of what's on from religious Balinese ceremonies, food and culture festivals in Ubud to Seminyak's best summer parties
Planning your next island visit to coincide with any of the best music, food or cultural events and festivals in Bali?  Good thinking.  As well as the joys of sun, sea and surf on this holiday island, Bali also plays host to an annual array of events ranging from traditional local ceremonies to international festivals. Our good friends at The Lost Guide have kindly helped us wrap up a few of the biggies to see (or be been seen at) during Bali's yearly events calendar.  See you there!
March
Nyepi – Day of Silence
The crux of the Balinese New Year celebration is a day dedicated to complete silence. This day is called 'Nyepi', meaning 'to keep silent'. The island comes to a standstill with no flights coming in or out of Ngurah Rai airport, all shops are closed, and everyone needs to stay indoors to be respectful of this sacred day.  Silence is for reflection and meditation for the year ahead, and gratitude to the gods for all the blessings of the year past.  The evening before is a big deal with lots of noise!  Giant, paper mache demonic characters (known as Ogoh Ogoh's) are paraded around the streets to large crowds, then burned in a ceremonial display to banish any bad spirits away.  9 March, 2016.
Air Festival – Gili Air
Air Festival bohemian music festival set on the idyllic island of Gili Air, a boat ride away from the Bali mainland. You'll listen to up and coming independent music acts, as well as having the opportunity to relax on the beach and do a bit of yoga. The festival starts at sunset at the iconic Legends Bar.
Bali Spirit Festival
The Bali Spirit Festival has grown in leaps and bounds from a small yoga and music festival, to becoming an international event where people from all around the world come to experience workshops and performances in heath, yoga, world music and social change, all set in the beautiful surroundings of Ubud. 2016 dates are already set for 29 March – 3rd April.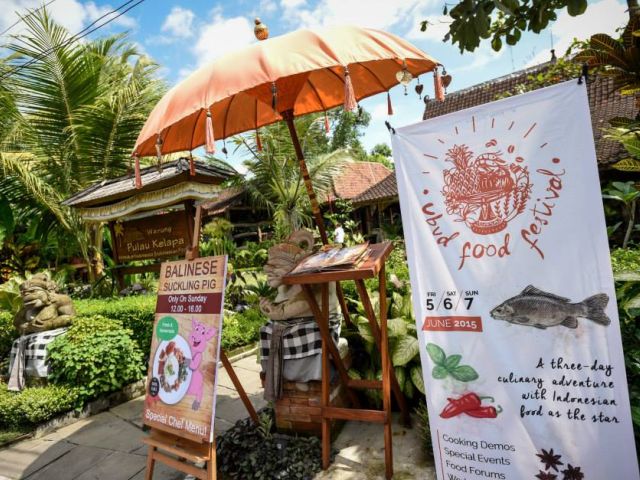 May
Ubud Food Festival
Kicking off its first year with a bang in 2015, the Ubud Food Festival brings together some of the most celebrated and innovative chefs from within Indonesia and across Asia. Over the three days, visitors can take part in workshops, enjoy cooking demonstrations, attend master classes and experience food tours.  Not to mention mixing with the best culinary legends at some of Ubud's iconic foodie establishments such as Hujan Locale, Locavore and Fivelements.
June
White Magic Sunsets (June-October)
Get your Sunday afternoon groove on folks, complete with international playlists, designer cocktails and a chilled out, sundowner vibe. Nu-Disco DJ's are flying in from around the world from 7th June-October, to tune up Bali's weekly Sunday sunset sessions with the annual White Magic Sunset events at Sheraton Bali Kuta Resort.  White Magic Sunsets is Bali's original series of Nu-Disco pool parties, featuring the most talented Nu-Disco DJ's from across the globe, spinning an exploration of nu-disco and funk influences from the 70's and 80's.  You need to get yourself to these sessions, trust us.
For reservations or enquiries, contact Sheraton Bali Kuta Resort, Jalan Pantai Kuta, Kuta Bali 80361, Indonesia. p.+62 361 846555. Sheraton BaliKuta Resort Facebook.   Follow White Magic Sunsets here.
July
Bali Arts Festival
Celebrating the strong cultural heritage that the island has to offer, Bali Arts Festival explores the creative handicrafts, art of music, dance and beauty of its local people. Located at the Taman Werdhi Budaya Arts Centre in Denpasar, the highlight is a cultural parade where people display they eye catching costumes for delighted onlookers.
Bali Kite Festival
Now an international event held annually, the Bali Kite Festival started off as an agricultural festival to thank the Hindu Gods for an abundant harvest. The competition attracts hundreds of young groups from local villages who fly their traditional kites in all shapes and sizes. Located at Padang Galak on Sanur beach, this is a unique cultural scene not to be missed.
August
Ombak Bali International Surf Film Festival
A three-day international festival of fun promotes the best of surf films, music and art held at La Plancha on Seminyak beach. Celebrating its eight event this year, this is Asia's one and only surf film festival, which aims to highlight how surfing can be a force of good to make changes in the world, in terms of social and environmental issues. See visuals of world champions as well as local heroes that all have a passion for the ocean. 6-8 August, 2015.
Sunny Side Up Tropical Festival
Now that's a stage, and that's the venue! This epic, one day, cultural musical festival brings together a selection of cutting edge, international artists and DJs spanning a wide variety of genres, from 2pm into the night.  Held at the island's legendary Potato Head Beach Club, this internationally renowned music event is the stuff tropical festival dreams are made of and the 2015 line up features Kimbra, Jessie Ware, Passion Pit and many more.  7th August 2015.
Ubud Village Jazz Festival
Starting off in 2012 as a local community concert, the Ubud Village Jazz Festival is now an international event featuring a world-class line-up of jazz musicians from both Indonesia and afar. You'll hear sounds from Indra Lesmana, Nial Djuliarso, Dewa Budjana as well Grammy Award winning Oran Etkin from America. 7 & 8 August 2015.
The Fashion Festival Bali
The third installment of Bali's The Fashion Festival in 2015, Indonesian and global designers get together under one roof to inspire and entertain the fashion savvy shoppers from the region. Exhibiting designers include Indonesian label Dimas, Indian label Queenmark and Singaporean Pleatation.  15-23 August 2015.
Ku De Ta White Party
The annual 'White Party' held at Seminyak's original beach club has become internationally renowned, and is now one of the highlights of the August summer party season in Bali. This year the theme is Steampunk, so revelers will need to kit themselves out with neo-Victorian outfits or sci-fi glam for this unmissable event. 15 August 2015.
Dreamfields Festival
Known for its mesmerising stages and display. the Dreamfields Electronic Dance Music Festival from Europe was an instant hit in its first year in Bali with over 25,000 people attending. The line-up of high quality international artists is mixed with new, upcoming acts, with different areas showcasing different styles of EDM music. 15 August 2015.
Nikki Beach Bali's White party
Celebrating their first year anniversary with a bang, Bali's divine Nikki Beach beach club will be throwing their second White Party on their iconic orange sun beds and soft white sands of Nusa Dua. Located at the Sofitel hotel, Nikki Beach is a fun and luxurious beach club where you can come for an evening of music, delicious food and entertainment.  Taking inspiration from Naomi Campbell's private, white-themed birthday at Nikki Beach St Tropez, these events now take place all around the world and it's glamour to the max.  21 August 2015.
September
Ultra Music Festival
A worldwide music event, Ultra Music Festival reaches the shores of Bali for the first time at the end of September 2015 at the party goers favourite 'Potato Head Beach Club'. Bringing in world renowned DJs, the festival is expected to draw thousands of 'Ultranauts' to the island. 24 & 25 September 2015.
Balinale
Now in its eight year, this popular film festival sets out to highlight the country's rich culture, unique stores and diversity. With the aim of promoting the growth of Indonesia's film industry, the festival also shows independent films from Southeast Asia and the rest of the world. 59 award-winning films from 18 countries will be screened this year. 24–30 September 2015.
October
Ubud Writers Festival
A favourite amongst the literary circles from all across the world, visitors flock to what's now considered Southeast Asia's largest and most renowned cultural and literary event. With the aim of amplifying global issues and big ideas, writers from Indonesia and the world gather and connect on this world stage in the heart of Ubud.
Anna Chittenden, Travel Writer, is the founder and explorer behind travel website Lost Guides. When not in a beach hut, you'll find her sipping flat whites in her 'hood Tiong Bahru in Singapore.
Photos:  Pinterest