Photography: Ifan Bima on Unsplash
Take a break from the southern crowds and escape to the remote landscapes of East Bali, from Sidemen to Amed and everywhere in between!
With its less-trodden paths and slightly off-the-grid vibes, East Bali is a beautiful pocket of the island that simply must be explored. And with its quaint sea breezes, diving meccas, quiet village life and untouched landscapes, it's the part of Bali that's often forgotten amidst the glitz and glam of Seminyak or the buzz of Canggu's boho beach clubs. But smart travellers that visit this gorgeous part of Bali (aside from just passing through to get to the Gilis) are rewarded in many ways. So here, to give you a taste of this lesser-known neighbourhood, is our guide to East Bali – all the best things to do and places to visit on the quiet side of the island.
East Bali: Things to do & the best places to visit
From Sidemen to Amed & everywhere in between
1. Take in the view of Bali's highest peak, Mount Agung
True to its name (Agung meaning "holy" in Indonesian), Mount Agung is a wondrous active volcano that marks the highest point on the island of Bali. Standing over 3,000 metres above sea level, climbing Mount Agung offers the chance to lurk above the clouds, viewing neighbouring Mount Rinjani on Lombok island from a whole new angle. Those happy to embark on the trek during night's hours will be greeted by a spectacular sunrise – just be prepared to hike up for about six hours! For the non-adventurous, simply soaking in the beauty of Mount Agung is also a must-see, and luckily, it dominates the horizon as a backdrop for most of east Bali's beaches.
2. Peek through the "Gateway to Heaven" at Pura Lempuyang
A trip to east Bali wouldn't be complete without visiting the island's most famous temples, and our fave for wow-factor is Pura Lempuyang – the oldest Hindu temple in Bali. Known as the "Gateway to Heaven", this temple is perched on top of Mount Lempuyang in Karangasem, with a succession of seven ascending temples along the mountain side. You'll need to climb 1,700 steps to view the breathtaking valleys, volcanoes and ocean views, but it'll be worth it. Other stunning temple destinations include Tanah Lot's ocean temple in the west, or Pura Luhur Uluwatu in the south, which sits high up on a cliff-face overlooking Uluwatu's famous surf breaks.
3. Swim in the natural pools of Tukad Cepung waterfall
Every photographer knows that lighting is everything, and Bali's Tukad Cepung waterfall has got it down pat. Famous for its heavenly streams of light that burst through the rock right when the sun is at a certain point in the sky, Tukad Cepung certainly knows how to work the camera. Set inside this ravine-like cove and you'll spot a wall of water rushing from the divine-like beams above – it's no surprise that Tukad Cepung is becoming a must-visit destination for everyone's Instagram feeds. Top tip: tie it in with a trip to Tibumana Waterfall (just a 30 minute drive away) or check out our full list of Bali's Best Waterfalls here.
4. Go diving and snorkelling in Amed
The coastline of east Bali is home to some of the most diverse marine life and best diving destinations in Indonesia. Divers, snorkelers and free divers alike are spoilt for choice in Amed, from natural coral beds to artificial reefs formed by shipwrecks and colourful walls dropping well over 50 metres. Check out the US Liberty shipwreck in Tulamben – it submerged in 1942 and sits around 20 metres underwater covered in coral life. Or, head a few kilometres south to the smaller Japanese shipwreck…
5. Breathe in nature at Sidemen Valley
Fancy an escape to nature? Head to Sidemen Valley, a verdant, undiscovered landscape of emerald green rice terraces, soaring volcanoes, traditional villages and working farms. It's a little cooler compared to Bali's sun-soaked coastline, making it the perfect temperature to visit mountain-top temples, adventure through jungle-fringed rice fields and trek to the summit of active volcanoes. We say, spend a few nights here and stay at one Sidemen's gorgeous boutique resorts, like the adults-only Samanvaya Luxury Resort & Spa, the eco-friendly bamboo houses at Hideout Bali, or Patal Kikian Villas with one of Bali's best infinity pools overlooking Mount Agung.
6. Flora, flora… & more flora at East Bali's botanical gardens
With its cooler temperatures, the flora in the hills of East Bali is different to the kind you find in the south: we're talking marigolds, dandelions, orchids and lotus, just to give you an idea. It's no surprise then, that you can find fields of flowers and botanical gardens in every neighbourhood of East Bali, with one of the largest gardens being Taman Ujung. Taman Ujung is an ethereal collection of white royal structures floating over three ponds, connected by fairytale bridges. The setting may look delicate, but having survived a volcanic eruption by Mount Agung in 1963 as well as an earthquake in 1979, it's a picture of resilience. If you're after a slightly European vibe, head to Taman Edelweiss Bali at the foot of Mount Agung where you'll find fields of the snow white, delicate flowers…
7. Take a cultural trip to Besakih Village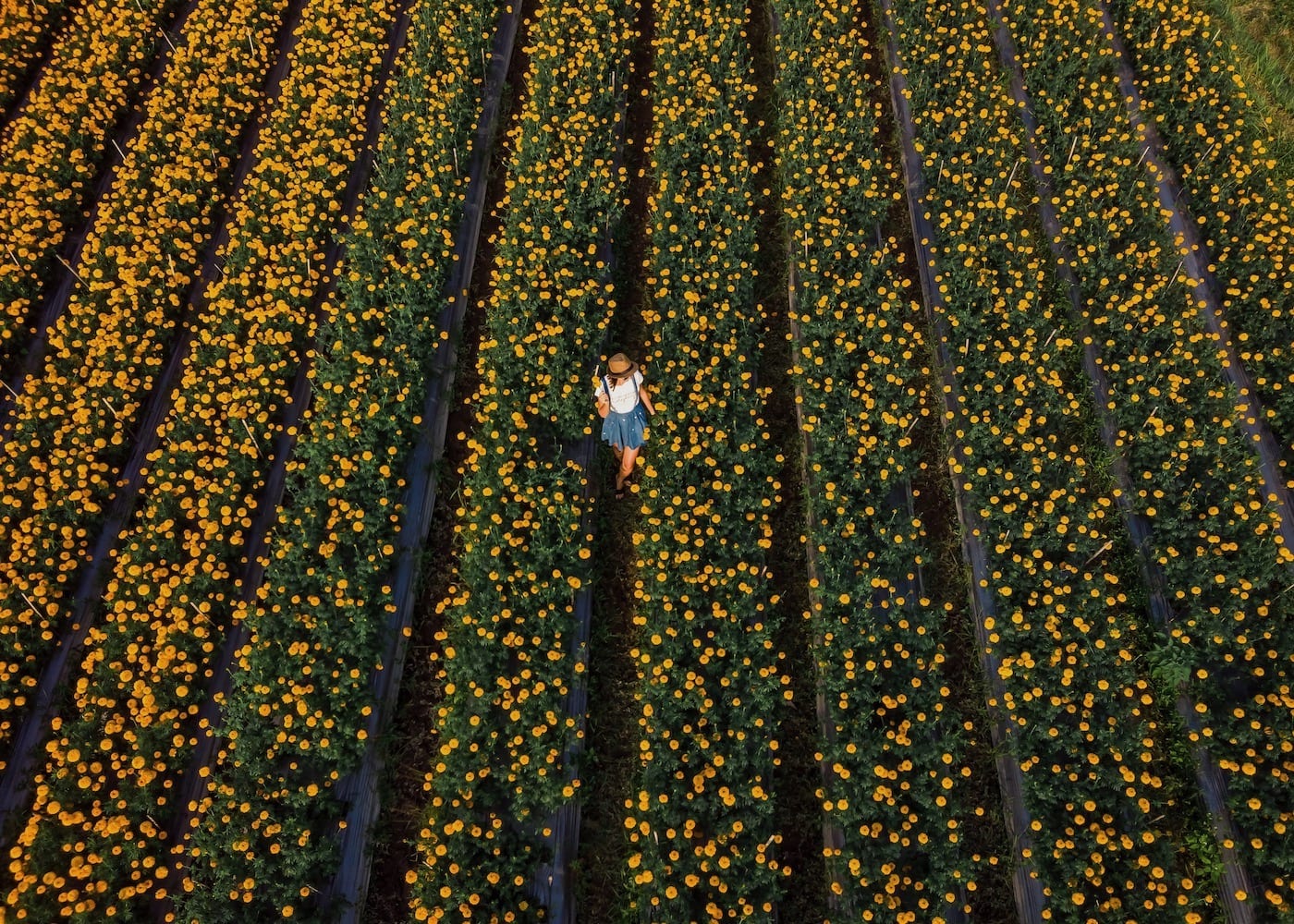 Flower power! Marigolds are pivotal in Balinese culture, and these golden blooms are used during all important Hindu ceremonies. They are therefore grown in many different areas across Bali's highlands, with plenty of small golden fields lining the roadsides. But for the most beautiful place to see marigolds in Bali, head towards Besakih, between Kintamani and Bedugul. The fields here stretch for miles, creating a golden horizon that glimmers in the Bali sunshine. While it's one for the photo album, don't forget to visit one of Bali's holiest Hindu temples, Besakih Temple, and make a cultural trip out of it.
8. Make a stop at Bali's Tirta Gangga water palace
You've probably seen the photos on Instagram: floaty dresses, stone carvings, hundreds of colourful Koi fish. Well, these popular photos are taken at Tirta Gangga, Bali's breathtaking water palace. It's a charming palace named after a river in India to honour Hindu traditions, and definitely a worthy spot to spend an hour or two. The palace has stood the test of time and the volcanic eruption in 1963, which makes it all the more historical. Jump across the stones that dot the water features, or for a small fee, take a dip in the refreshing water that pours from natural springs.
9. Shop 'til you drop at the many traditional markets
East Bali is one of best places on the island to really live and breathe Balinese culture. So it's no surprise that when you're in the area, a trip to a local market is a must. Within the hustle and bustle of these local markets, you'll find little pieces of paradise handcrafted by Bali's many talented local artists and craftsmen, and without a doubt, they are worth every penny. Whether you're looking for unique gifts and keepsakes, or fresh organic produce, stop by the local markets and shop up a storm, or simply watch as the locals hand-weave plenty of canang offerings (pictured above). Who knows, they might show you how to do it too!
10. Hang out and bay watch at Komune Beach Club
Perched smack bang in front of one of Bali's best right-handers, Komune is the go-to spot for the wave riding crew who love a bit of five star après-surf. Pitch up by the pool and kick it on a beanbag or hammock whilst watching all the action going down out front. Meanwhile, the delish menu has got something for everyone, stuffed full of healthy juices, colourful cocktails, delicious seafood, authentic pizzas, fresh salads and plenty more to nibble on between surf and/or chill sessions. Don't wanna go home? Check in to one of the resort's über cool rooms or villas so you can do it all again tomorrow…
11. Explore East Bali's quaint coastal towns
Bali's coastal eastern neighbourhoods (like Sanur, Padang Bai and Candidasa), are well-known for their family-friendly restaurants and all-round quaint and laid back vibes. Whether you're travelling solo or with the kiddos, it's in this area where you can escape the traffic and the crowds to instead soak up a slower pace of island life by the sea. Top tip: you'll want to wake up early, as the east coast is the best spot to catch a breathtaking golden sunrise!
Love this list of things to do in East Bali? Check out our guides to Amed and Sidemen too!