No longer are the world's foodies bee-lining towards London & Paris for the best bites around. They're making a stop in Canggu - Bali's burgeoning culinary capital!
Holy moly, where to start? It's no secret that Canggu is basically the epicentre of Bali's cafe culture, with more epic restaurants around town than you can shake a coconut at. But with even more hot new tables popping up almost weekly in everyone's fave surfing suburb, it can be hard to know which ones are worth a visit. So (trumpets please), to help you on your neighbourhood adventure, here we present you our list of where to eat in Canggu in 2023 – from Berawa and Batu Bolong, to Pererenan and Seseh too. Bring a big appetite (and your Instagram feed!) because Canggu's best restaurants sure know how to dish up a dazzling breakfast, dinner and spectacular date night. And if you're still thirsty for more? Check our our list of Canggu's best bars!
THE BEST RESTAURANTS IN CANGGU
1. Best for brekkie:  The Avocado Factory
If it were up to us, we'd eat avocado all day, every day, smothered on everything. Avocado on toast, avocado in our burgers, avocado in our smoothie bowls and heck, why not add chunks of avocado to our dipping sauces? Well, The Avocado Factory has gone and done exactly that. They're as mad about nature's green gift as we are, giving our go-to the recognition it deserves – all overlooking the rice fields of the 'Gu. It's Bali's first ever avocado bar, and everything on the menu features local avocados (from both Bali and Java) in some form or another. Try the Avo Pancakes for brekkie, the spicy avocado mash on sourdough for lunch (the chilli dust gives it an extra kick!), and finish it all off with an avo-licious chocolate mousse for dessert. It's all avo everything, ripe for the picking!
The Avocado Factory, Jl Batu Mejan Canggu, Canggu, p. +62 813 3738 2521, e. [email protected]; Open daily 7am – 8pm.

2. Best for beach views:  Hippie Fish
Endless ocean views, refined Mediterranean cuisine and breezy vibes by the beach – Hippie Fish in Pererenan is a stylish space to feast and mingle, sea-side. Swing by early for a sunset Aperol Spritz on the rooftop, then tuck into market-fresh fish, fine bites to swap and share, plus lavish pastas with mussels, clams, calamari and plenty of other ocean bounties. Start with the crispy Fritto Misto served with a fermented aioli, or the tuna crudo with stracciatella, capers and basil. Follow it up with the spaghetti vongole, or load up on charred prawns in chilli oil. And while the extensive wine list is certainly worth a look, we can't get enough of Hippie Fish's cocktails, from the all-time classics, to the Prosciutto & Malone or the Honeycomb Old Fashioned…
Hippie Fish, Jl Pantai Pererenan No. 171, Pererenan, Canggu, p. +62 813 3759 6236; Open daily from 7am to midnight.
3. Best for date night:  Sa'Mesa
For one helluva foodie experience, head to Sa'Mesa in Canggu – an innovative Italian dining destination that's dripping in exclusivity; the kind of place that feels like you're eating within the chef's own home. Taking inspiration from La Nonna Carmela – an Italian grandmother who used to invite the entire village for dinner – this theatrical dinner concept brings together a small group of diners for an Italian feast of 18-20 surprise dishes, washed down with wine, cocktails and free-flow limoncello all night long. And with the chef helming the open kitchen, the menu changes every evening, meaning no two dinner experiences are the same. You'll want to book your seat well in advance if you want to secure your spot – it's perfect for big groups or for a date night with a difference.
Sa'Mesa, Jl Tanah Barak No.1e, Canggu, p. +62 813 5303 5411, e. [email protected]
4. Best for sharing:  Sababa
An awesome little eatery serving Middle Eastern cuisine, Sababa in Berawa is where we go to order everything on the menu and share with friends. Dished up in the warm and cosy East Mediterranean-style interiors, you'll get to graze on the region's famous spices, packed nicely into some delicious and authentic dishes. Think classic kefta, falafels and shakshuka, to Cala ganoush (grilled calamari on creamy baba ganoush) and Levantine grilled meats. And since sharing is the name of the game, each dish is served family-style (or on grazing mezze plates), best paired with the list of yummy desserts and cocktails, all given a Middle Eastern twist. It's the perfect pick for a romantic date night, or a cocktail-fuelled feast with friends.
Sababa, Jl Pantai Berawa No.100, Berawa, Canggu, p. +62 811 3891 221, e. [email protected]
5. Best for a mezze feast:  Zali
With its warm vibes, its prime Pererenan address and a lineup of authentic Lebanese cuisine given a modern Levantine touch, there's no place we'd rather laze, feast and watch Bali life go by. A story of love, Zali came about thanks to a Lebanese grandmother's passion for cooking, and her love of gathering friends and family to share good food with great company. As such, all dishes at Zali showcase her very best recipes, all the way from Beirut. Healthy, natural and with plenty of vegetarian and vegan dishes, you'll want to order one of everything. Our faves? The falafel saj, the chicken musakhan, the tabbouleh salad, and alllll of the mezzeh plates (hello hummus, baba ganoush and cauliflower moutabbal!). And psst – trust us when we say you'll definitely want to save space for dessert…
Zali, Jl Pantai Pererenan No. 152, Pererenan, p. +62 8123 900 3100, e. [email protected]; Open daily from 8am.
THE BEST RESTAURANTS IN CANGGU
FOR BREAKFAST & LUNCH
6. Baked.
Head to one of Baked's two locations (one in Berawa, the other in Pererenan) for a brunch and bakery stop complete with creamy poached eggs, fresh-outta-the-oven artisanal sourdough, and oh-so buttery croissants half size of your head. Joining the ranks of Korean honey toasts, chewy bagels and fluffy scrambled eggs, Baked is all about Mediterranean-style brunching plus super sweet treats like Pastel De Nata, cruffins and baklava.
Baked, Jl Pantai Pererenan No. 118, Perenanan, & Jl Raya Semat Gg. Kupu kupu No. 1, Berawa, p. +62 813 3821 3519; Open daily from 7am.
7. Milk & Madu
Everyone loves this absolute jewel of a café, now with two locations in Canggu (one in Berawa and one on Batu Bolong) – and for good reason, too. With its amazing all-day breakfasts, sumptuous lunches and delectable dinners, Milk & Madu is known for its good vibes and great food. Try the pancakes or the poached eggs, perfectly matched with a smoothie or a decent cuppa thanks to those legends at Beans by The Brotherhood. You'll also find a bowls counter here for those who love their mornings extra fruity, and an adorable outdoor playground for the kiddos.
Milk & Madu, Jl Pantai Berawa No. 52, Berawa (p. +62 851 0278 1872), & Jl Batu Bolong No. 92, Canggu (p. +62 813 5389 6153), e. [email protected]; Open daily 7am – 10pm.
8. Crate Café
This rad, hipster coffee joint is always buzzing with Canggu's coolest crowds – a sure fire sign that this one's a winner. Sprawled out across a quiet lane just off Batu Bolong, you'll easily spot this Canggu legend with its iconic industrial-chic interiors, bold murals and a long queue out the door every morning. But fear not, despite its ever-growing popularity, the super fast service here means their smoothie bowls and epic coffees are never a long wait away – and you can always pass the time by browsing their designer boutique.
Crate Café, Jl Canggu Padang Linjong No. 49, Canggu, p. +62 812 3894 3040, e. [email protected]; Open daily 6am – 5pm.
9. Nude
Stepping into Nude is like stopping by an old friend's place. The staff are famously friendly (all smiles – every time) and this quaint and quiet café is just up the road from buzzy Berawa beach. Nude knocks out some fabulous fare to keep everyone happy – veggies, vegans and carnivores alike. It also does great smoothies, wicked cocktails, a killer poke bowl and terrific coffee. We love the fresh fit-out too…
Nude, Jl Raya Pantai Berawa No. 33, p. +62 852 3821 4003; Open daily 7am – 10pm.
10. Honey Kitchen
Laced in white and studded with gold and black accents, Honey Kitchen is a simple but oh-so stylish cafe and restaurant in peaceful Pererenan. And of course, the same can be said about the menu. With a focus on ultra-fresh and organic ingredients, local and imported produce is given the Midas touch, creating standout brunch plates like the salmon and quinoa bowl, the coconut hot cakes, and wholesome sides like charred eggplant with pomegranate and Greek yoghurt. And FYI, their sweet potato fries are some of the best we've ever tried…
Honey Kitchen, Jl Pantai Pererenan No. 132, p. +62 821 4546 4760; Open daily from 7am – 10pm.
11. Ruko Cafe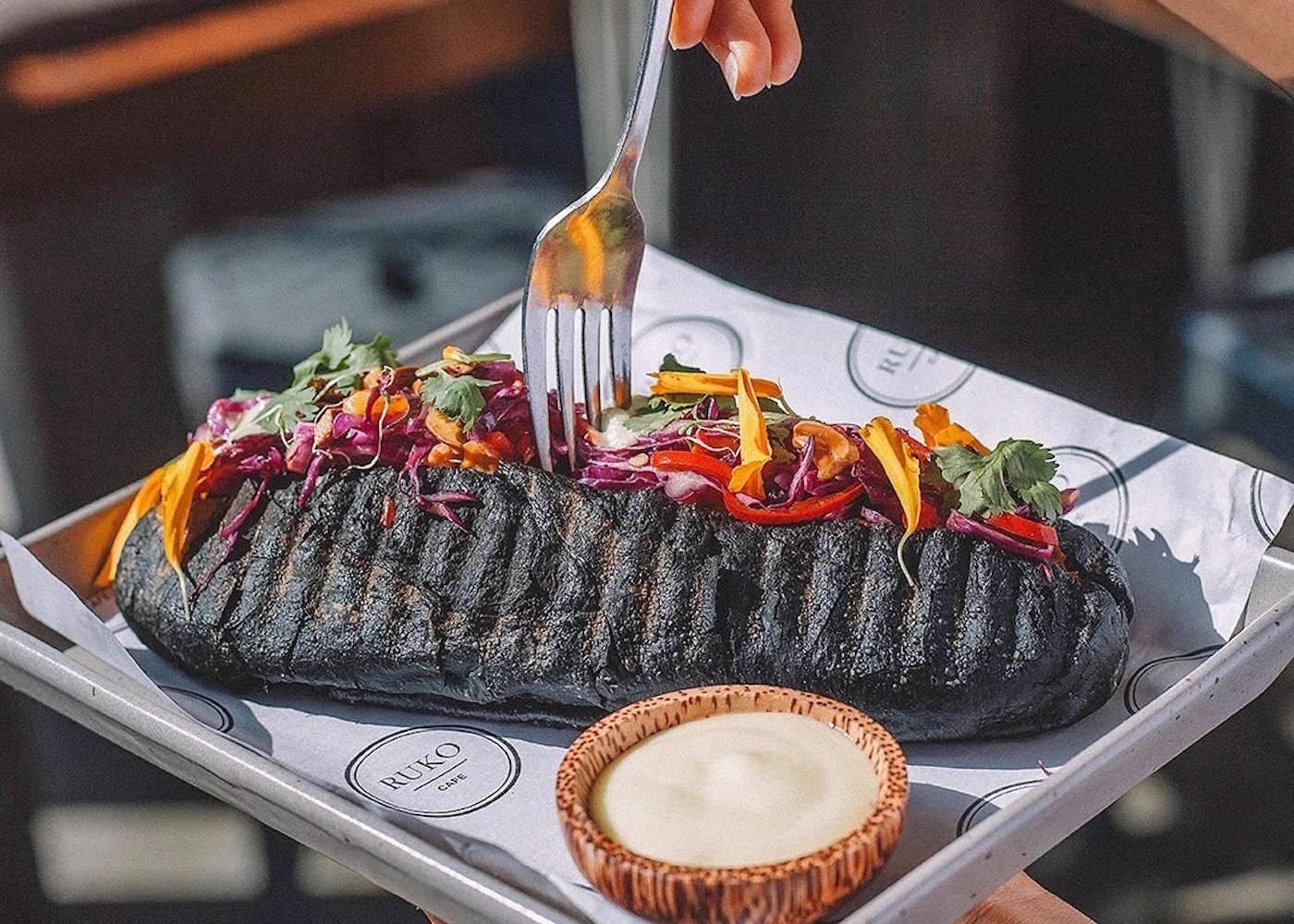 Another fab choice for all your all-day breakfasting/brunching needs, Ruko offers locally-sourced healthy food and their very own special Indonesian coffee blend – all served up with a tropi-cool, industrial edge. Think Melbourne café culture with island vibes aplenty. Ruko is a solid shout for morning grinds, a post-surf feed and all-day people watching.
Ruko Café, Jl Pantai Berawa No. 99, Canggu, p. +62 812 3967 3077; Open daily 7.30am – 4pm.
12. Sensorium Bali
Don't let the minimalistic interiors of Sensorium Bali fool you. Inside this 'elevated brunch restaurant' is a multi-sensory culinary treat that's designed to activate, challenge and satisfy all five senses, not just your taste buds. We won't spoil the full experience for you here, but expect modern Australian cuisine with an Asian twist, and boundary-pushing creations like the Textural of Mushrooms (sautéed and fried wild mushrooms and seaweed paste on rye), a brunch ramen with 62-degree sous vide egg, and the signature Korean-style Bulgogi BBQ Beef Burger, loaded with homemade pickled daikon, spring onion, coriander and charred lime. Yup, this isn't your typical brunch spot…
Sensorium Bali, Jl Pantai Batu Mejan, Canggu, p. +62 851 6143 8812, e. [email protected]; Open daily 9am – 4pm.
13. Touché
You'll feel like you're in Seminyak in this stylish Pererenan cafe, just minutes from the beach. With the dreamiest island-chic interiors that match its urban-style menu, Touché is where you'll find Pererenan's finest sipping on matcha cappuccino over a plate of truffle gnocchi and a crisp tuna tataki salad. From breakfast through to lunch and even tapas too, the menu goes from fluffy soufflé pancakes, to breakfast burrito, before finishing off with Mediterranean-inspired mains and desserts. Top tip: Touché doubles up as a prime perch to watch Pererenan life go by, best enjoyed with an iced double espresso with cocoa and orange-infused milk.
Touché, Jl Pantai Pererenan No. 104, Canggu, p. +62 813 5301 6991; Open daily 7.30am – 10pm.
14. Neighbourhood Food
Dedicated to serving fresh local produce from artisan makers, Neighbourhood is Berawa's cosy cafe and coffee shop with a refined take on Australian-inspired cuisine. Think slow breakfasts, laid-back afternoon nibbles and weekend brunches that are fresh and wholesome. Expect the very best of local produce used wherever possible, and be sure to try the Hood Benedict (with a confit potato hash, soft eggs, jalapeño hollandaise and a choice of smoked salmon, halloumi or bacon), then come back again and again for the lineup of lunch staples. Think sweet potato and lentil fritters, chicken salads and crispy skin barramundi with local greens and tomato compote. YUM.
Neighbourhood Food, Jl Pantai Berawa No. 99BB, Berawa, p. +62 818 0877 4367, e. [email protected]; Open daily 7.30am – 10pm.
BEST RESTAURANTS IN CANGGU
FOR AN EPIC DINNER & DATE NIGHT
15. Shelter
Seminyak's beloved breezy cafe has made it to Pererenan, and this time, it comes with nighttime vibes, jungle surrounds and a brand new menu to boot. Shelter's unique take on Middle Eastern and Mediterranean cuisines come with a contemporary twist, and we can't get enough of the roasted eggplant drizzled in coriander oil, served with labneh and pomegranate molasses. Start off with a flatbread slathered with fluffy whipped chickpeas and smoked paprika oil, then continue your feast with the wood roasted salmon with paprika, raisins, pine nuts and green olives. Or how about the chermoula crusted chicken with herbs, spices, tahini and burnt lemon – best enjoyed with Shelter's signature Shelter Cocktail…
Shelter, Jl Pantai Pererenan No. 133, Pererenan, p. +62 813 5368 1118, e. [email protected]; Open daily from 12pm.
16. Skool Kitchen
Backed by some of Bali's biggest foodie names (and housed above Canggu's coolest oceanfront destination), Skool Kitchen is the hottest new restaurant by Tai Buddha and Adam McAsey, where every dish is touched by fire. A primitive style of cooking meets contemporary culinary excellence here, with its honest modern menu powered by natural wood and charcoal embers. Try the wood-fired bone marrow on toast, or the slow-roasted eggplant with currant relish and cashews. Even the artisanal, house-crafted cocktails get a taste of the flames, like the Burnt Lemon Daiquiri – perfect for watching a fiery Bali sunset overlooking the waves…
Skool Kitchen, Jl Pura Dalem, Canggu, p. +62 361 620 0603 / +62 811 3800 4952; Open daily from 5pm.
17. Luma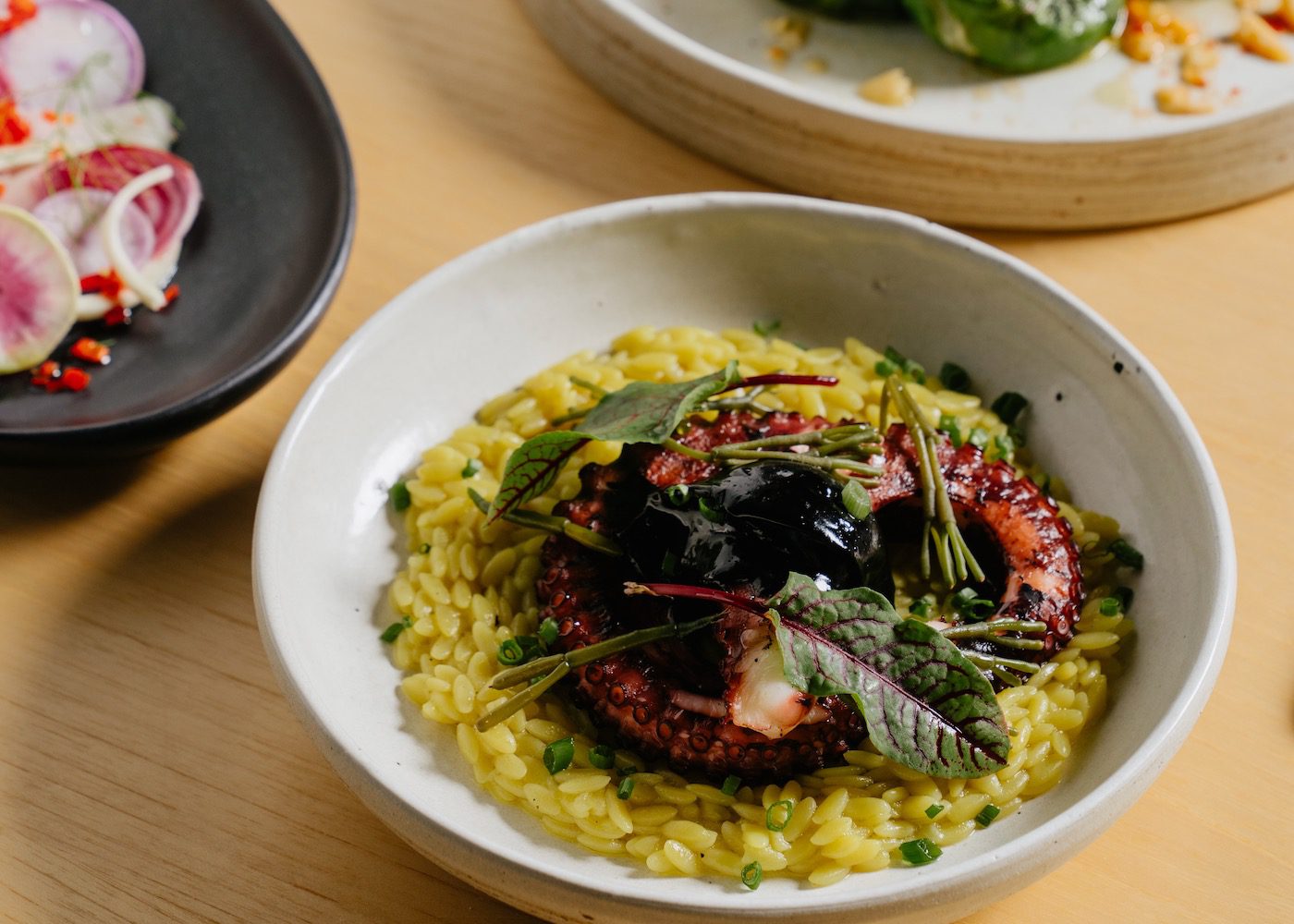 A big-name Mediterranean showstopper, Luma is the collaborative work of two award-winning chefs: Cameron Emirali of 10 Greek Street in London, and Kieran Morland of Sangsaka and Merah Putih in Seminyak. The menu is all about rustic dishes that combine classic elements of Southern Europe's traditions, with indigenous ingredients from Bali and nearby islands. Think yellowfin tuna tartare, squid ink linguine with river prawns, and burrata and peperonata. And the jewel in the crown here is the charcoal grill and the custom-made, see-through wood fire oven, taking centre stage in the dazzling Luma kitchen. Unsurprisingly so, the carefully curated wine list is second-to-none, while the cocktail list follows the menu's lead by using local ingredients for a tropical twist on the classics.
Luma, Jl Pantai Batu Bolong No. 91, Canggu, p. +62 811 3941 4999; Open daily 12pm – 11pm.
18. Lacalita Bar y Cocina
A forever-fave on Canggu's must-try restaurant scene, Lacalita is where it's at for tacos, tequila and some of the best Mexican bites we've ever tried. Bringing a taste of modern Mexicana to the buzzing Batu Bolong strip, Lacalita slings super-fresh Latino-inspired food in a contemporary atmosphere that makes us want to party. Think colourful booths, eclectic local artwork and multiple nods to Mexico's modern cocktail lounges. As for the menu, you'll want to try it all, from the fresh snapper ceviche with a lime and ginger leche de tigre, to the signature Baja fish tacos stuffed with tempura barramundi and a jalapeño-lime aioli. And don't even get us started on the 48-hour wood smoked brisket. Pair it all with the kale salad (trust us on this one), and of course, order multiple rounds of the iconic Lacalaca jalapeño-infused margarita. Muy picante!
Lacalita, Jl Pantai Batu Bolong No.68, Canggu, p. +62 822 4731 2217, e. [email protected]; Open daily from 12pm.
19. Mason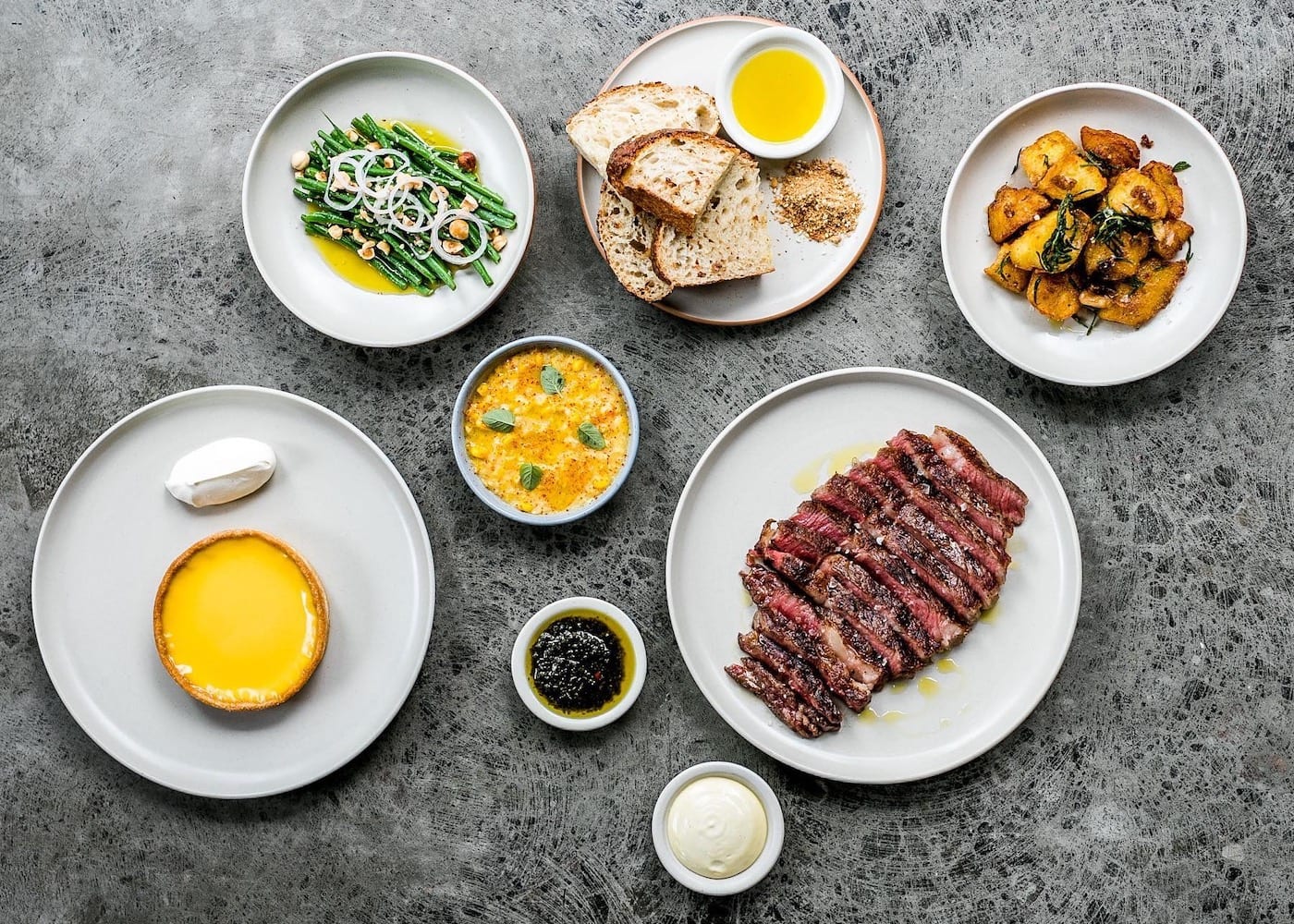 At this uber-cool but oh-so casual dinner spot, it's all about top quality meats, cheeses, gourmet dips and veggies done right – homemade and served simply to let the flavours really shine. True to form, Mason also slings superb cocktails in a stylish, open-air atmo, full to the rafters with Canggu's finest. Graze your way through the share starters to get a taste of everything (the house-made hummus, baba ganoush and smoked tuna dip are on a whole other level!) then tuck into the wood-fired barramundi, barbecued ribeye or crispy fried eggplant. We won't lie, we're here almost every other day of the week…
Mason, Jl Batu Bolong No. 83, Canggu, p. +62 857 9250 5028, e. [email protected]; Open daily from 12pm.
20. Mosto
Mosto is Indonesia's very first natural wine bar, and with it comes a relaxed and unadulterated vibe inspired by the neo-bistros of Paris and Sydney's flourishing wine bar scene. The brains behind Mosto are certainly worth a mention too: a powerhouse collective of six industry superstars from Bali's pioneering Mexicola Group: Da Maria, Luigi's, Uni and Motel Mexicola. Together, these F&B trailblazers bring decades worth of experience to the tabletop, and the result is a forward-thinking food menu (hello BBQ pork collar with burnt sweet potato and carrot mash!) and a drinks list of more than 70 different low-intervention wines and zero-waste cocktails. New releases, rare cuvées, special events and international wine fairs are all part of the Mosto experience.
Mosto, Jl Pantai Berawa No. 99, Canggu, p. +62 811 3980 909, e. [email protected]; Open daily from 5pm.
21. One Eyed Jack
Impress your date at this super trendy Izakaya-style Japanese joint serving up a mix of traditional and modern fusion fare. Kick off with a Japanese whisky cocktail and soak up the stylish minimalist ambiance at this intimate dining spot. Psst – the chef is Nobu trained, so expect big things in the food department, like the spicy tuna bites on crispy rice with rich droplets of eel sauce.
One Eyed Jack, Jl Pantai Berawa No. 89C, Canggu, p. +62 819 9929 1888, e. [email protected]; Open daily from 3pm.
22. Maize
Dishing up contemporary cuisine rooted in Latin flavours, Maize has fast become the place to drink and dine in style in Canggu. From the crispy fried tortillas to the suckling pig, everything on the menu celebrates local and seasonal produce, alongside imported ingredients from Latin America and Asia. There's even a full vegan menu too, catering for Canggu's ever-growing plant-based community. Take a seat on the alfresco patio and start with the Hokkaido scallop tostadas topped with uni mayo, cured egg yolk and pomelo. Move on to the wood-roasted cabbage with salted grapes and roasted almonds to share, or go big with the Chef's Choice menu for a carefully curated foodie degustation. Top tip: you'll want to end your evening with drinks upstairs at Behind The Green Door – the speakeasy-style cocktail bar and lounge that you won't want to miss.
Maize, Jl Subak Sari, No. 90 D&E, Berawa, p. +62 821 4595 1329; Open daily from 11am.
23. Ji Terrace By The Sea
Asian-fusion bites, boho-chic vibes and the crème de la crème of killer ocean views – Ji Terrace By The Sea really has it all when it comes to wining, dining and sunset swooning in the 'Gu. This breezy and beautiful rooftop spot is crammed full of cultural flourishes, colourful design touches, and of course, some of the best Asian fusion food on the island. Try the signature Dragon of Ji sushi roll (a chopstick treat of crispy ebi tempura, slick avocado slices and a creamy, slightly spicy sauce) and the Japanese-style salmon carpaccio. You'll also want to sip on the smokin' Coco Sexo (inspired by the volcanoes of Indonesia) and – our favourite – the Gin & Tea: tea-infused gin with green tea syrup.
Ji Terrace by the Sea, Jl Pantai Batu Bolong, Canggu Beach, p. +62 811 388 9599, e. [email protected]; Open daily 12pm – 11pm.
24. Santanera
Sleek, stylish, and with a menu that spans continents and cultures, Santanera is Canggu's Latin-American fusion restaurant that's dishing up contemporary tapas plates to swap and share. Organic, farm-to-plate produce takes centre stage here, as does the enormous spiral staircase that leads you from the bright and spacious lounges, to the breezy ocean-view rooftop. Graze on smoked, whipped and marinated delicacies by day, and feast on mango ceviche, chargrilled octopus, Black Angus striploin and dry aged duck by night. Sip on a sunset aperitivo, and top it all off with a fine wine from the bountiful cellar.
Santanera, Jl Tanah Barak No. 55 – 57, p. +62 812 4665 8896, e. [email protected]; Open daily from 12pm.
25. Alma Tapas Bar
This neighbourhood Tapas Bar is an epic date night spot to let your hair down and indulge in some grub and booze. Be it wholesome shared plates, wine and artisan cocktail or a refreshing sangria, Alma gives you a million reasons to keep coming back. Get a taste of the Spanish paradise with its impressive mouth-watering menu comprising panceta (pork belly with canarian mojo picon sauce), calamar relleno (squid stuffed with Chorizo, pork belly, apples and onions) and croquetas de setas (mushroom croquettes with truffle aioli) if you're feeling a little conscious. Don't get us started with their house wines!
Alma Tapas Bar, Jl Pantai Berawa No. 88, Canggu, p. +62 819 9910 5888, e. [email protected]; Open daily from 3pm.
26. Smoke
Aptly named, Smoke specialises in all things smokey, barbecued and delicious. Seafood, chicken, pork, beef, and even mushrooms or tempeh, you name it, they've mastered the wonders of low and slow cooking (with some meats cooked for over 18 hours). Dining here is an experience of its own too, with an outdoor tent housing the dining area, and a glowing fire pit taking centre stage. Best shared with friends or family, this barbecue restaurant is set in the rice fields and at sunset, it gleams a golden glow, just like the embers of the piping charcoal grill.
Smoke, Jl Batu Mejan No. 69, Canggu, p. +62 821 4607 4272
27. Penny Lane
Officially the place to see and be seen, Penny Lane is home to jaw-dropping architecture, insanely swish vibes and a delish tapas and cocktail menu. With its breezy interiors dripping in alternative art, indoor palms and vintage chandeliers, it's no surprise that Canggu's finest flock here on the daily to feast on nibbly plates to share, supercharged schnitzels, big burgers and loaded fries. You'll also find superfood salads, gourmet brekkies and some local dishes too. Try the fresh guac on a paprika glazed Turkish bread, the gold-fried calamari with secret spice and hummus to start, and finish with The Infamous Poutine Burger or Chicken Parmigiana. And don't forget those cocktails…
Penny Lane, Jl Munduk Catu, Canggu, p. +62 851 7442 7085, e. [email protected]; Open daily from 8am.
28. Moana Fish Eatery
A Polynesian restaurant, fresh fish market and smoothie & juice bar all rolled into one, Moana is a must-stop for seafood lovers. Think poke bowls, sashimi, carpaccio, tartare and BBQ fish done just like they do it in the Aloha islands. You'll spot it by the growing queue from 7pm, so be sure to call ahead if you don't wanna keep your date waiting…
Moana Fish Eatery, Jl Pantai Batu Bolong No. 28, Canggu, p. +62 812 3815 8373; Open daily 9am – 11pm.
29. Billy Ho
Brought to Canggu by Will Meyrick – Asia's unstoppable Street Food Chef – Billy Ho fuses comfort food from around Asia onto one delish menu. You'll want to begin with a variety of nibbles to share (the sashimi and the catch-of-the-day are our fave) before moving onto the nduja-spiced dry aged tuna tartare served with squid ink sago cracker, miso smoked garlic, ponzu, charred corn and crushed hazelnuts. But don't stop there. The glazed lamb shoulder with charred miso-braised cabbage, mandarin pancakes and wombok kimchi is a must for a main, as is the king prawn with traditional sambal belacan. And going by previous performances when propping up Will's bar-tops, it goes without saying that the cocktails here are top-notch too…
Billy Ho, Jl Pantai Batu Bolong, Canggu, p. +62 877 3552 2232, e. [email protected]; Open daily from 5pm.
THE BEST RESTAURANTS IN CANGGU
FOR VEGANS, VEGGIES & HEALTH NUTS
30. Good Mantra
A wholly plant-based restaurant, Good Mantra dishes up big and bright flavours with easy-breezy community vibes. Slinging wholesome plant-based creations that use fresh ingredients from small local farms, almost everything is made in-house, from the nut-milks to the granolas and even the zingy relishes and sauces. And what a result. Try the fluffy Matahari Pancakes with whipped coconut cream or the avocado and herbed hummus on sourdough for brekkie. Then for lunch, tuck into big-energy salads and stuffed sandwiches with layers of seasonal baked veg and a slather of plant-based mayo. This earth-to-plate ethos trickles over to the bar, too, where cocktails and mocktails are inspired by Bali's landscapes and seasons. We'll take two Surf Spritz, please!
Good Mantra, Jl Subak Sari No. 77, Berawa, p. +62 822 6187 9977; Open daily 8am – 9pm.
31. The Shady Shack
True to its name, you'll find shady seating areas with a shabby chic vibe at this roadside rice field shack. Veggies rejoice! The whole menu is meat-free and super duper healthy to boot – we love the nori bowl, the selection of vegan burgers, and the raw banoffee cheesecake (it's to die for!). Grab a cold coconut, a long black or better yet, boost that immune system with a turmeric latte. Nommmm.
The Shady Shack, Jl Tanah Barak No. 57, Canggu, p. +62 812 3611 6466; Open daily 7.30am – 10.30pm.
32. Pels Supershop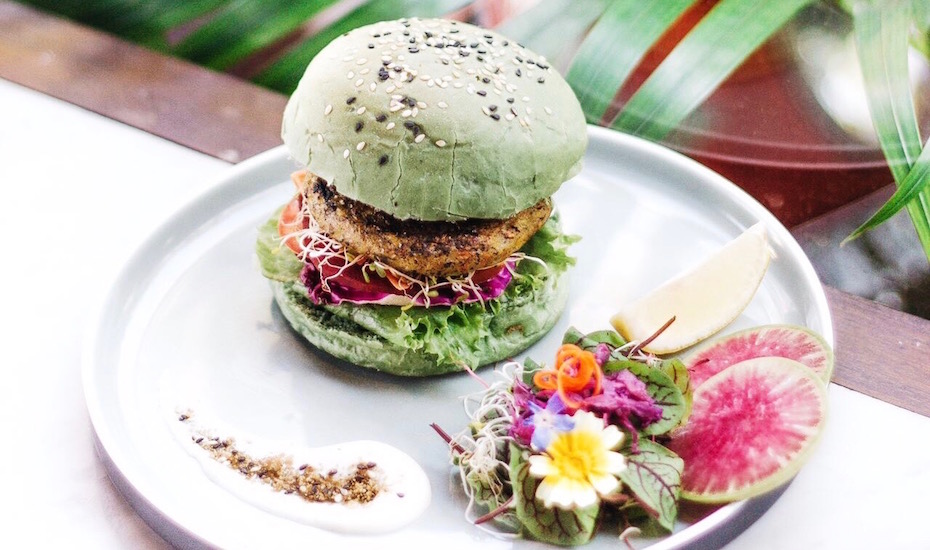 A totally vegan café and emporium of all things pedal-powered, Pels has been a roaring success ever since it opened. The fact that this place is a hit with non-vegans just goes to show how good it is – in particular the fully loaded burrito or the creamy cheesy lasagne. How can something taste so delicious when it's so good for you? Great food in a laid back atmosphere. All thumbs up from us!
Pels Supershop, Jl Raya Pantai Berawa, No. 46, Canggu, p. +62 813 3761 9335; Open daily 10am – 8.30pm.
33. Burgreens
When two plant-based powerhouses collide, you get Burgeens – an all-vegan restaurant in the heart of Canggu described as a "Plant-Based Paradise". This collaborative creation is between Burgreens – a leading plant-based food chain in Indonesia – and Green Rebel, an Indonesian food tech start-up developing all-natural plant-based meats and cheeses with authentic Asian flavours. Think vegan gyoza, and the beefless or the chick'n satay. Or our fave: the Blackpepper Salad Bowl with meaty plant-based "beef", greens, steamed corn and onion, served with black pepper sauce. The kicker? Beautiful breezy interiors overlooking Canggu's iconic rice fields…
Burgeens, Jl Pantai Batu Mejan No. 1, Canggu, p. +62 818 887 028; Open daily 9am – 10.30pm.
34. I Am Vegan Babe
A boundary-pushing, plant-based game-changer, I Am Vegan Babe is so much more than "just" a vegan cafe. There are club sandwiches stuffed with plant "turkey", creamy vegannaise and you-won't-believe-it's-not-bacon fake-on. There's also chunky sandwiches that are impossibly cheesy (the kind that sticks to the roof of your mouth and melts into a delicious gooiness) and burgers that are so big, so juicy and so gluttonous, you could almost call them beefy. The enormous Buffalo Chik Wing Burger is our top pick – not to mention the glass-cabinet of vegan cakes, taking centre stage within the cafe's tropi-chic interiors.
I Am Vegan Babe, Jl Tanah Barak No. 49, Canggu, p. +62 811 3892 205; Open daily 7am – 10pm.
THE BEST RESTAURANTS IN CANGGU
FOR ASIAN FUSION EATS
35. Yuki
Tuna truffle sushi, nori ahi tacos and even vegan yakitori – Yuki is Canggu's modern Japanese izakaya with some of Bali's biggest hospitality names behind it. And it shows. Served up right beside the seaside, Yuki's boundary-pushing menu is a fusion of fine ingredients and contemporary twists, topped off with an impeccable drinks list and a nifty fit-out too. To find this breezy beachfront spot, follow the beautiful Canggu crowds to the Batu Bolong seafront, where classic cocktails, cold beers and hot sake are served up alongside Japanese aesthetics and some of the best Japanese bites this island has ever seen.
Yuki, Batu Bolong Beach, p. +62 811 3960 8556; Open daily from 11am.
36. Uni Restaurant & Bar
From the same trailblazing names of Bali's Mexicola Group, star chef Steven Skelly and drinks gurus Denny Bakiev and Jordy Outra have once again created culinary magic with Uni Restaurant & Bar – an innovative Japanese-inspired showstopper in buzzing Berawa. This sophisticated and design-savvy 'casual fine diner' comes with an amalgamation of Asian inspiration and contemporary techniques on the menu. Expect locally sourced seafood, farm-fresh produce, and standout signatures like the BBQ Snapper with fermented carrot, almond butter, sherry vinegar and saffron. Top tip: graze through the a la carte menu or go all out with the tasting menu, best shared and paired with the experimental cocktails, sake and natural wines.
Uni Restaurant & Bar, Jl Pantai Berawa No. 99, Canggu, p. +62 811 3883 371, e. [email protected]; Open Tue – Sat from 6pm.
37. Chow Chow
Love Ling-Ling's in Seminyak? We have good news: Chow Chow is Ling-Ling's little sister, bringing its contemporary Asian fusion cuisine to Canggu. The quirky kitchen team dishes up everything from Wagyu wasabi tacos and tom yum fried rice, to weird-and-wonderful rolls like the Fist of Unicorn; a magical combo of rendang and tagliatelle. Wash it all down with epic cocktails, like the Japanese pomelo margarita rimmed with chilli lime salt, or the Lemongrass Negroni. We'll take two!
Chow Chow, Jl Batu Bolong Gg. Nyepi No. 22, Canggu, p. + 62 817 606 5633; Open daily from 11am.
38. GOU Bali
If you've ever cruised around the Berawa block, you've no doubt spotted GOU. You can't miss its sleek and stylish wood-panel frontage, or the blazing charcoal grill and steamy hot wok set inside the bustling dining space that's booked out almost every weekend. The big draw? The simmering Peranakan spices and hawker street-style spreads of BBQ duck pancakes, wok-tossed vegan kway teow, Singapore swimmer crab and Malay lamb rendang. Settle in for a long and leisurely nighttime feast with friends, and sip your way through the signature cocktails that add a pan-Asian twist to all-time classics…
GOU Bali, Jl Pantai Berawa No. 101A, Canggu, p. +62 812 3785 6866; Open daily 11am – 11pm.
39. TYGR Sushi
Next-level nori rolls and super-cool sushi plates are top-of-the-bill at this hand-roll bar. Everything is made fresh (there's no questionable sushi train here) just made-to-order, rolled-right-in-front-of-your-eyes hand rolls with still-warm rice, shatteringly crisp nori, and oh-so fresh fillings that'll impress your hot date. All of this is house inside industrial-Japanese interiors, and it goes without saying, a Sake or Sapporo tops it all off.
TYGR Sushi, Jl Pantai Berawa No. 999x, Berawa (p. +62 813 3916 3894) & Jl Pantai Batu Bolong No. 55, Canggu (p. +62 881 196 5635), e. [email protected]; Open daily 11am – 11pm.
40. Ulekan
Another hit from The Good Food Brotherhood (following in the successful footsteps of Milk & Madu and Watercress), Ulekan takes the very best of Indonesian home cooking and serves it up with a finer dining angle. From traditional dishes and stylish interiors to delicious drinks & desserts, you won't want to miss this Canggu treasure. For bonus points, there's an entire sambal menu, and a regular roster of live music and Balinese dancing too!
Ulekan Bali, Jl Tegal Sari – Jl Pantai Berawa No. 34, Tibubeneng, p. +62 821 4594 8624, e. [email protected]; Open daily from 12pm – 10pm.
41. Folie Kitchen & Patisserie
At Folie, Asian flavours are given a French-spin courtesy of chef Stephane Simond to create a superb bistro-style menu. With the philosophy of 'for the love of good food', you can expect delish dishes, bakery treats and everything in between at this new 'Gu hotspot. Top top: swing by in the arvos for their famous High Tea towers.
Folie Kitchen & Patisserie, Jl Subak Sari No. 30A, Canggu, p. +62 811 3927 555; Open daily 12pm – 10pm.
BEST RESTAURANTS IN CANGGU
FOR EUROPEAN TREATS
42. Synkonah
At Synkonah, chef Locki Waddell brings classic Mediterranean cuisine to the tables. He focuses on traditional techniques and presents his creations in a contemporary way. For the late risers, the breakfast menu is available until 12pm, so you can try the vegetarian friendly Shakshuka (gooey eggs cooked in spicy tomato harissa sauce) for brunch! You can also drop by for dinner and graze through the comforting menu: start with spiced green pea falafel, continue with the braised lamb shoulder and finish off with a pavlova.
Synkonah, Jl Pantai Berawa No. 99C, Tibubeneng, p. +62 812 3794 3389, e. [email protected]; Open daily from 9am.
43. Riviera Bistro
From the French Riviera to buzzing Berawa, Riviera Bistro is where you can tuck into French and Mediterranean classics and fresh-from-the-net seafood. And the kicker? This fine destination doubles up as a wine bar too. Try the 100-gram burrata cheese with pickled capsicum, followed by the pumpkin ravioli with parmigiano, sage and pine nuts. Or try the provence seafood soup for a taste of the sea.
Riviera Bistro, Jl Pemelisan Agung No. 27, Canggu, p. +62 817 7413 4586; Open daily from 11.30am.
44. Pizza Fabbrica
As hot as its traditional wood fired ovens, Fabbrica has been heating up the pizza competition in the 'Gu – and we're gunna go as far to say it's right up there with the very best in Bali. The pizzas are thin and crispy with a slight charredness, the toppings are generous and loaded with authentic Italian ingredients, and can we just take a moment to appreciate the creamy, almost-molten burrata? Try the Capricciosa loaded with mushroom, ham, black olives, salami and artichokes, or get the best of everything with a Quattro Stagioni. Just don't forget that Burrata.
Pizza Fabbrica, Jl Batu Mejan, p. +62 819 9933 0880; Open daily from 10am.
45. Milano Restaurant and Bar
For a truly metropolitan ambiance, head to Milano Restaurant and Bar. You'll be whisked away to a buzzy piazza in central Rome, complete with sleek lines and sophisticated decor. And just as you'd expect, Milano is all about the bar and the exceptional mixologist skills on hand, serving up Michelin quality cocktails that put the pizzazz back into happy hour. Choose from light bites, pizza, antipasti cold cuts, nibbles and delish pasta dishes. It's the perfect place to settle in for a delectable lunch or easy breezy evening.
Milano Restaurant and Bar, Jl Pantai Berawa, Berawa, p. +62 813 3797 2998; Open daily from 7am.
46. La Baracca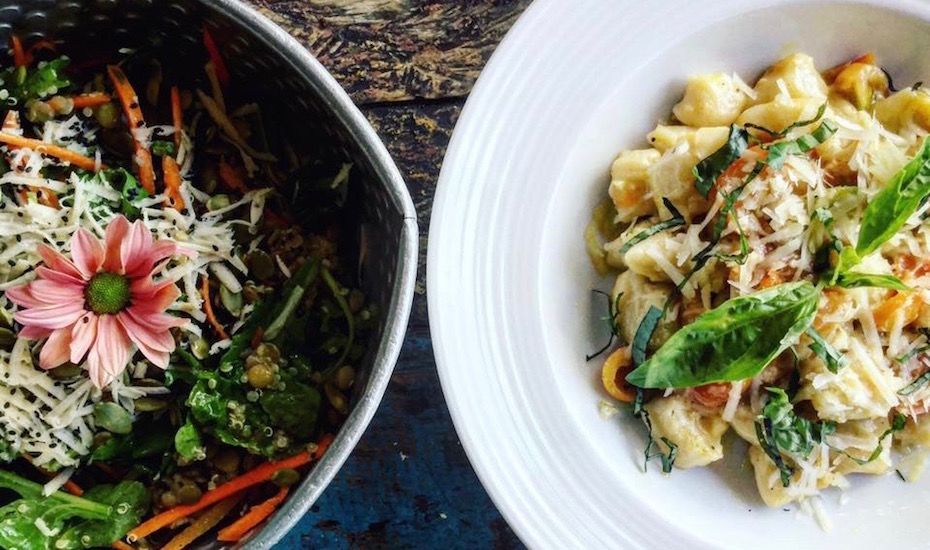 Now with three other locations across Bali (in Seminyak, Ubud and Uluwatu), this rustic Italian trailblazer serves up delicious staples done right, like wood-fired pizzas and proper home-made pastas. Expect authentic flavours that are perfectly complemented by a chilled glass of wine and views of lush green rice fields. Bonus points for their vegan cheese that tastes just like the real deal.
La Baracca, Jl Tanah Barak, Canggu, p. +62 878 9924 2776; Open daily 12pm – 11pm.
47. Luigi's Hot Pizza
After the success of Seminyak's so-hot-right-now Da Maria, the unstoppable duo of Maurice Terzini and Adrian Reed joined forces for another hot hit: Luigi's Hot Pizza. It's Italo dining in the heart of Canggu, this time with a more affordable, low-fi and unpretentious twist. The pizzas are just as epic as they are in the Seminyak restaurant, as are the trendy cocktails and wild, wild party nights. Top tip: get the metre long pizzas, and invite your hungriest friends.
Luigi's Hot Pizza, Jl Batu Mejan, Canggu, p. +62 811 3944 450; Open daily from 4pm.
48. Santorini
Saganaki, tzatziki, baklava, and Moussaka – you'll find all the Big Fat Greek foodie names at Santorini. The authenticity here is thanks to the founders – a Greek family whose age-old recipes bring us the real deal. The pastitsio is baked until creamy, the gyros are made-to-order with the best olive oil around, and the Mousaka is as traditional as it comes, with layer-upon-layer of eggplant, potato, beef and béchamel – wrapped up in splashes of blue and white interiors that are oh-so-Santorini.
Santorini Greek Restaurant Bali, Jl Batu Mejan, Canggu, p. +62 823 4145 1976, e. [email protected]; Open daily from 9am.
THE BEST RESTAURANTS IN CANGGU
FOR BEACH & POOL VIBES
49. The Lawn
With its front-row seats to Canggu's world-famous waves, a shimmering infinity pool nudging the black sands and crowds of beautiful people lounging beneath boho umbrellas, oceanfront grazing doesn't get much better than at The Lawn – and that's before we've even mentioned the food. The menu at this ultra-chill beach club is all about sharing and gourmet nibbling, from the lobster nachos to the Wagyu burger with bone marrow and potato bun, you could happily munch your way through the entire menu here while lapping up the laid-back, island vibes. And with a stylish list of infused cocktails to wash it all down, the grass really is greener at The Lawn – especially when golden hour comes around. Top tip: swing by on a weekend for one of the best beachside parties in town.
The Lawn, Jl Pura Dalem, Canggu, p. +62 811 3800 4951; Open daily from 10am.
50. Times Beach Warung
Toes-in-the-sand vibes meet sublime food and cocktails at Times Beach Warung – Canggu's open-air oceanfront perch by the same peeps who gave us The Lawn. By day, graze on yummy brekkie and brunch staples, and by night, swap and share the beach snacks and bites alongside a few rounds of cold beers and shaken or stirred signatures. Unsurprisingly so, golden hour is when the good times really ramp up at this shabby-chic seaside destination…
Times Beach Warung, Jl Pura Dalem, Canggu, p. +62 811 3800 4953; Open daily 6am – 10pm.
51. La Brisa
From the same family as Laguna, Favela and Plancha, La Brisa is the quirky-yet-cool destination from the "La" family, and the coolest boho-beanbag beach club on Echo Beach in Canggu. Best enjoyed sans sandals and with a long drink in hand, La Brisa is a bohemian hub of rustic Spanish cooking, delish cocktails, multiple swimming pools and a hot soundtrack to top it all off.
La Brisa, Jl Pantai Batu Mejan Gg. La Brisa, Echo Beach, Canggu, p. +62 811 394 6666, e. [email protected]; Open daily 10am – 11pm.
52. COMO Beach Club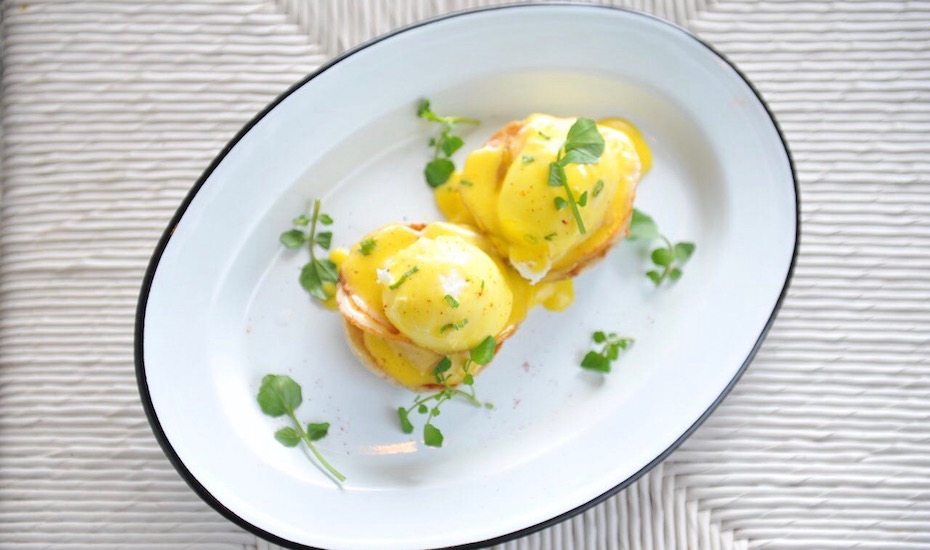 Follow Canggu's A-listers and eco-conscious luxury lovers to COMO Beach Club at COMO Uma Canggu – one of the first five-star destinations to open in the 'Gu. A fabulous beachfront spot for wining, dining and sunshine soaking, expect the freshest, regionally sourced ingredients creatively used in spectacular seaside dishes. Come for the breezy, beachy vibes, and stay for the best Eggs Benedict around.
COMO Beach Club at COMO Uma Canggu, Jl Pantai Batu Mejan, Echo Beach, Canggu, p. +62 811 3820 9418; Open daily 7am – 10pm.
53. Finns Beach Club
Absolute oceanfront looking directly over the famous waves of Berawa, Finns Beach Club is the quintessential beach hangout in Canggu, home to multiple restaurants and nine bars. Laze and graze away the day on single or double day beds, or swim in one of four stunning pools with a cool cocktail (or three) before setting up for the sundowner show. Want to up the lounging luxe factor? Head next door to Finns VIP Beach Club and be treated like the celeb that you are!
Finns Beach Club, Jl Pantai Berawa, Canggu, p. +62 361 844 6327 / +62 811 399 2017, e. [email protected]; Open daily from 10am.
Happy munching Honeys!