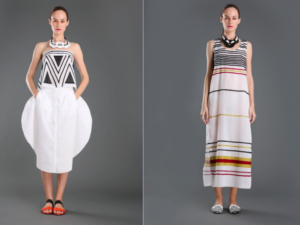 "A stark monochrome elegance, a soft blend of sweet pastels and harvest shades of rustic chic, and stories from cities to shores." That's how Biasa describes their recently dropped Fall 2014/15 collection, and we feel no temptation to dispute their seductive claims.
Twenty years fusing fashion and art has seen Biasa go from strength to strength. Still boasting their much loved natural fibres and hand-stitched details, the recent line has seen their usual floating and feminine looks evolve into a more brave, geometric and uber sophisticated look. Black and white garments drape effortlessly, setting the scene for splashes of peach makeup to be colour blocked by snazzy shoes and a bright bag.
If the wardrobes of Audrey Tautou and Rose Byrne make you green with envy, and you're all for dressing up à la I'm a curator at a gallery of modern art, then a mad dash to Biasa for some "box-cut tailored elegance" will be the best decision you've made in a long time.
Breathable cottons, sheer mousseline and chiffon, special blends of denim and linen – you really can't go wrong. Our personal pièce de résistance? The dinar sequin top matched with the audra circle skirt. But honestly, you could team anything from the collection with chunky, statement coloured jewellery and a pair of leather brogues to appear well versed for a night of Seminyak fine dining.
And boys, Biasa did not leave you off the runway this Fall. Slim cut jackets, smart trousers and masculine pastels – all set for that luxury yacht to Nusa Lembongan, which demands you look dapper.
And our final stamp of approval on Biasa's new range? Knowing that the garments are made ethically on the Island of the Gods under the careful guidance of Susanna Perini's Italian craftsmanship. Perfection.
Biasa, Jl. Raya Basangkasa 47, Kuta, Bali 80361, Indonesia, p. +62 361 735588. Open Monday-Sunday from 9am-9pm.