A trip to Ubud should be on every island itinerary, so here are our fave stays in one of Bali's lushest neighbourhoods...
As much as we love the sand in our toes and sea salt in our hair, the breathtaking rainforests and jade-hued terraces of Ubud mean we're regularly swapping our sunbeds for a lush jungle perch. Dotted with mystical ancient temples and some of Bali's very best restaurants, Ubud is an absolute must for every island itinerary.
A welcome respite from South Bali's urban buzz, Ubud is where you'll find postcard-perfect jungle views, laid-back boho vibes, yoga studios on every jalan and more healthy vegan cafes than we can shake a coconut at – plus plenty of epic Ubud bars and restaurants for good measure. It's also where art, culture and spirituality reign supreme, luring digital nomads, wellness lovers and sybarites alike from all around the world…
So, to help you on your island adventure, we've rounded up the very best places to stay in Ubud. From boutique bohemian hotels to luxurious jungle abodes, here are the best hotels and resorts in Ubud for every budget.
WHERE TO STAY IN UBUD
THE BEST HOTELS & RESORTS FOR EVERY BUDGET
– Top 5 Editor's Picks –
1. Padma Resort Ubud – best for breathtaking jungle vistas
You'll love it because… Padma Resort Ubud is hidden in the highlands of an untouched river valley in Payangan, with lush jungle all around and views of an enchanting bamboo forest below. This sprawling resort soaks up the valley vistas in every direction, with rooms and suites facing the emerald horizon, and an 89-metre heated infinity pool fringed by nature. Spend your days grazing on Mediterranean, Asian and artisan cuisine at the resort's many delicious dining destinations, or keep busy with an itinerary of wholesome resort activities. Think aerial yoga, jungle trekking, cycling, and even Balinese classes for a taste of local culture. Top tip: stay in one of the Club rooms to score Club benefits, or bring the kids to the eco-conscious Wolly Kids Club. It's no wonder Padma Resort Ubud received five prestigious awards in the 2023 TripAdvisor Travellers' Choice Awards…
Padma Resort Ubud, Banjar Carik, Desa Puhu, Payangan, p. +62 361 301 1111, e. [email protected]
2. Amarea Ubud – best value resort
You'll love it because… Amarea Ubud is a hidden gem within Ubud's lush greenery and rice paddies, home to a number of must-visit destinations, like Ubud's brand new yakitori bar, Norii. You can stay in a stylish room, suite or cottage, or go all-out with the one-bedroom villa or two-bedroom loft. Whichever you choose, expect to find lavish furnishings, oh-so comfy beds and state-of-the-art amenities. You'll want to take advantage of aaallll the fabulous facilities on your doorstep, starting with the resort's very own bamboo yoga shala, and the award-winning Svaha Spa Tege (hello morning yoga and daily massages!). Then, take a dip in the two-level pool overlooking the river, or swing by the lobby where you can admire local art and the resort's impeccable architecture.
Amarea Ubud, Jl Sawah Indah Gang Amarea No. 8, Peliatan, Ubud, p. +62 822 1173 8877, e. [email protected]
3. The Westin Resort & Spa Ubud – best wellness hotel
You'll love it because…  The Westin Resort & Spa Ubud is tucked away on the outskirts of Ubud in the healing heart of Bali, wholly designed to empower your wellbeing while integrating Balinese authenticity. From farm-to-table dining to wholesome daily activities and multi-hour rituals at the signature Heavenly Spa – wellness and Balinese culture is thoughtfully weaved into every facet. And it's not only for adults and loved-up couples. This jungle-hugged hotel is also family-friendly, with holistic activities for little adventurers, ensuring that travellers of all ages Eat Well, Sleep Well, Move Well, Play Well, Work Well and Feel Well. To really experience the true essence and serenity of Balinese culture, we say, try the Ubud Retreat Package for two blissful nights of spiritual healing, nourishing breakfasts, immersive spa sessions and so much more…
The Westin Resort and Spa Ubud, Jl Lod Tunduh, Br. Kengetan, Desa Singakerta, Ubud, p. +62 361 3018 989, e. [email protected]
4. Dinara Ubud – best for savvy travellers
You'll love it because… Dinara Ubud is a boutique lifestyle hotel that blends contemporary designs with traditional Balinese accents. A quiet and quaint place to call home, it's designed for savvy travellers who want the very best of both worlds: a cultural island experience with stylish home comforts too. We love the customised furnishings, hand-dyed textiles and the silhouetted scenes of a Balinese village on the walls – these unique features mean you're never far from Bali's artisanship. And to really get a taste of Bali's traditions, the hotel also offers cultural experiences for your Ubud itinerary, like cooking classes, purification rituals and even lessons on making Balinese offerings. Top tip: head to Hotel Dinara's nurturing spa or delicious Melali restaurant to refuel and recharge before another day in paradise…
Dinara Ubud, Jl Sriwedari No. 58, Tegalantang, Ubud, p.+62 361 908 5091 / +62 812 3152 3624, e. [email protected]
5. Kaamala Resort Ubud – best for a romantic staycay
You'll love it because… You'll never know you're in the very heart of Ubud when you look out to the rice fields and verdant jungle at Kaamala Resort. That is, until you realise all of Ubud's best cafes and attractions are just minutes away. This downtown urban resort is designed for couples in mind, with dreamy bathtubs in every room and private pool villas too. It's also home to the revered Wild Air restaurant, which overlooks the resort's infinity pool, where cultural happenings take place throughout the week. We love the sleek and modern design of the resort, which is matched by homely furnishings like hammocks, cosy blankets and shaded daybeds…
Kaamala Resort, Jl Bisma No. 888X, Ubud, p. +62 361 908 7183 / +62 821 2345 9689, e. [email protected]
SPLURGE STAYS
Luxurious hotels & resorts in Ubud that are worth your Rupiah
6. Mandapa, a Ritz Carlton Reserve
You'll love it because… Mandapa, meaning "temple" in Sanskrit, is a shrine-like resort that unites Man with Mother Nature. Hanging atop the breathtaking Ayung River, hugged by the mystical rainforest, this world-class village-like Ritz Carlton Reserve is home to ultra-luxe, river-view suites with private terraces, and spacious pool villas with a garden and outdoor shower. In the hotel's four nature-bound dining spots, you can fine-dine on organic Mediterranean-European cuisine in a bamboo shala by the river, treat yourself to a romantic, tailor-made dining experience by the rice fields, or munch on light bites while gazing out over untouched greenery, dipping your toes into the cool infinity pool as you go. It's tropical indulgence at its very best.
Mandapa – a Ritz Carlton Reserve, Jl Kedewatan, Banjar Kedewatan, Gianyar, Ubud, p. +62 361 4792 777, e. [email protected]
7. COMO Shambhala Estate
You'll love it because… COMO Shambhala Estate isn't just a luxury resort, nor is it simply a top-notch health retreat. Instead, this staggering 23 acre, ultra-luxe holistic sanctuary is a splendid combo of the two. Perched on the steep gorge of the sacred Ayung River, a typical day at COMO Shambhala Estate includes a range of complimentary wellness programmes to shake up your chakras, such as yoga, Pilates, meditation, Qigong and aqua therapy in the 25m-lap hydrotherapy pool. Or, simply zone out in the resort's very own natural springs, or in one of the luxury suites and villas that feature large terraces, some with their own pools…
COMO Shambhala Estate, Banjar Begawan, Desa Melinggih Kelod, Payangan, Gianyar, Ubud, p. +62 361 978 888, e. [email protected]
8. Capella Ubud
You'll love it because… Capella Ubud is a jungle-tangled haven that adds an ultra-luxe twist to the fun and adventure of camping. A stay here begins with a welcome duffle bag containing your camping essentials before crossing a suspension bridge that leads you to your luxurious Dutch-style 'tent'. Hovering above the steep terrains of Ubud's Keliki Valley, there's nothing quite like spending an evening dipping into your own private salt-water plunge pool, sipping on hot chocolate and toasting marshmallows by the campfire – all before retreating to your gorgeous glamping abode. And psst – foodies, you'll love Capella's neck-to-tail signature restaurant, Api Jiwa. It's no surprise that Capella Ubud was once named the Best Resort in Asia…
Capella Ubud, Jl Raya Dalem, Banjar Triwangsa, Desa Keliki, Tegallalang, Gianyar, Ubud, p. +62 361 2091 888, e. [email protected]
9. Four Seasons Resort Bali at Sayan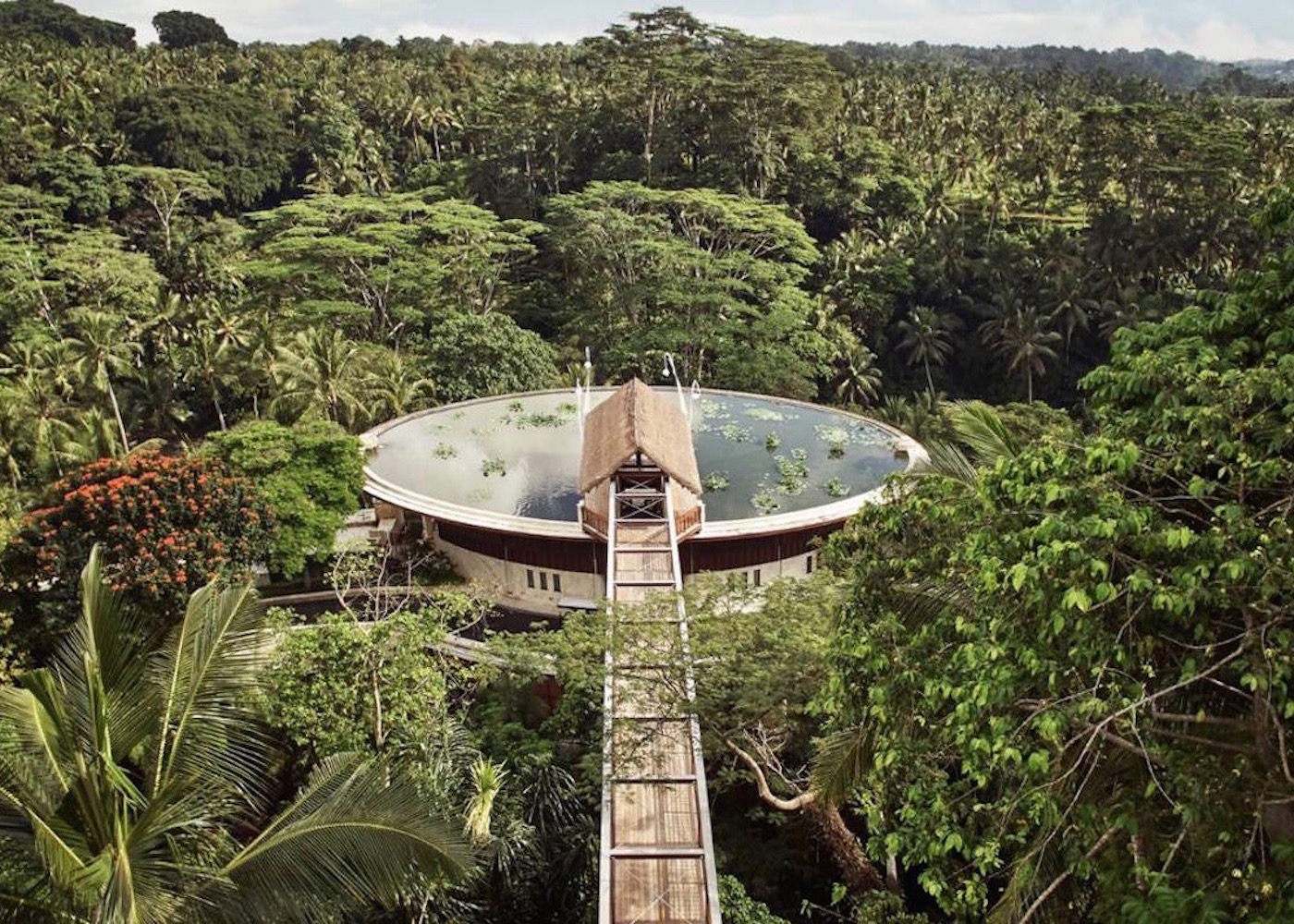 You'll love it because… Four Seasons Sayan was named the No.1 Hotel in the World in 2018 by Travel + Leisure, so you're guaranteed a wow-worthy stay here. It's an oasis of utmost luxury in a lush, jungle setting, nestled between two sacred rivers and hidden behind a jungle canopy. This six-star sanctuary is fronted by a show-stopping footbridge that's fringed by sky-high lily ponds. Wind your way through this enchanting forest, past the jungle-facing restaurant, and you'll find just a limited number of suites and private villas fit for the VIPs (with their own private plunge pools and deep soaking tubs). Unsurprisingly so, the resort's global rep has attracted A-List guests like the Obamas and the Kardashians…
Four Seasons Resort Bali at Sayan, Jl Raya Sayan, Sayan, Gianyar, Ubud, p. +62 361 977 577
10. Hanging Gardens of Bali
You'll love it because… Hanging Gardens is simply picture-perfect. Perched high up on the wild green valley of the legendary Ayung River with a magnificent jungle backdrop, be ready to constantly whip out your iPhone throughout the day. From bright and sunny mornings reflecting over that iconic infinity pool, to misty afternoons, cotton-candy sunsets and clear starlit nights twinkling above the deep dark jungle below – you get to fill your Insta feed with Mother Nature's best bits. All of this, and that's before we've mentioned the resort's spectacular architecture, like the staggering 1000 sq-ft rooms that come with their own private pools…
Hanging Gardens of Bali, Desa Buahan, Payangan, Ubud, p. +62 361 982 700 / +62 811 380 0988
11. Viceroy Bali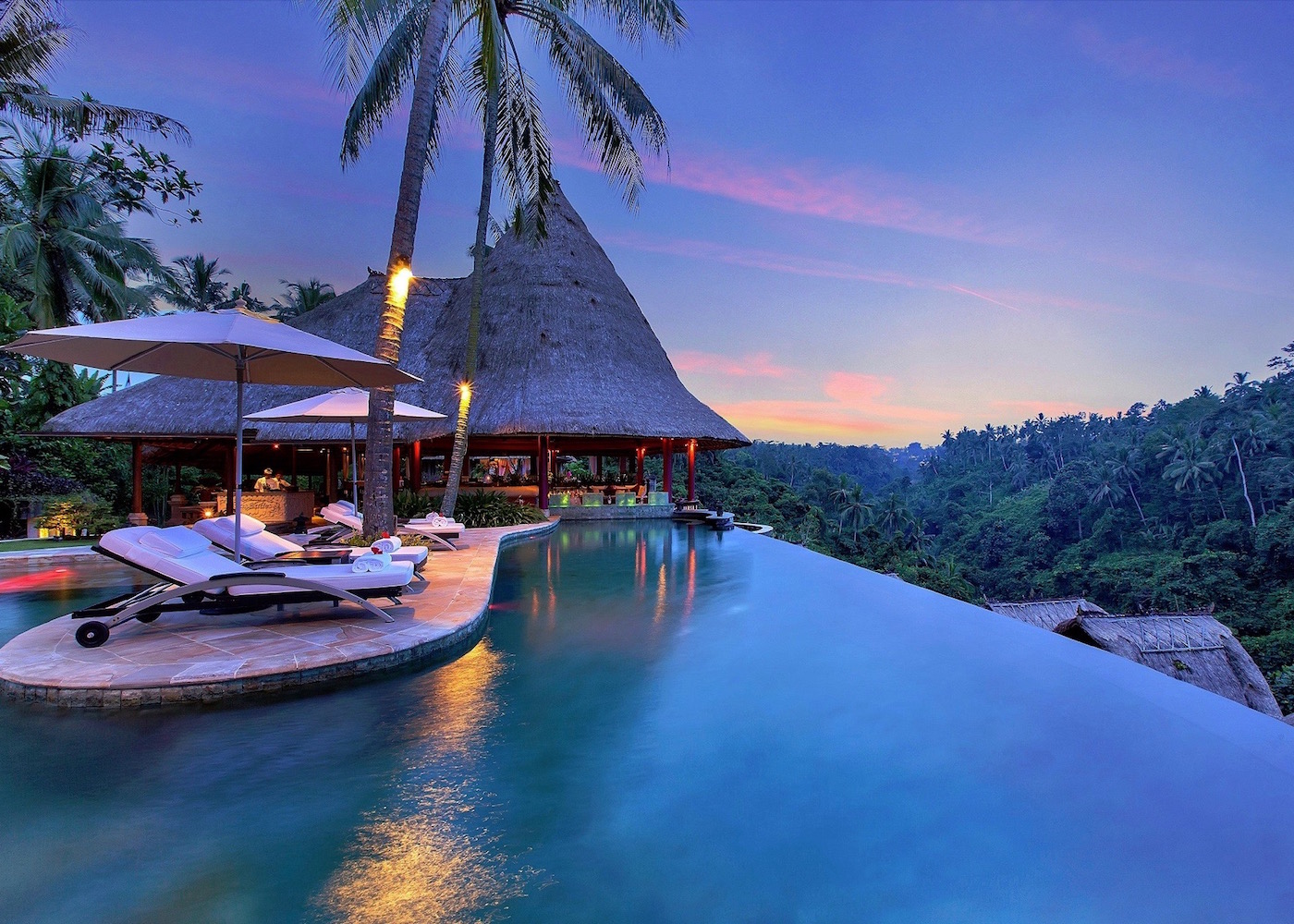 You'll love it because… Viceroy Bali is a family-owned, five-star resort in Ubud's "Valley of the Kings" dedicated to giving you the royal treatment during your stay – starting with its 40 award-winning, sprawling private villas, none smaller than 1,500 sqft. If you pick the Terrace or Viceroy Villas, you get an exceptional private outdoor terrace with an infinity pool and a raised daybed, overlooking the spectacular jungle ravine and the Petanu River gorge – yassss Queen! But don't get too comfortable inside the heated plunge pool of your royal chambers… you'll want to step outside to experience Bali's timeless culture with Viceroy's day tours, or devour some A-grade gourmet meals at Viceroy's two fine dining restos.
Viceroy Bali, Jl Lanyahan, Br Nagi, Ubud, p. +62 361 971 777, e. [email protected]
12. Alila Ubud
You'll love it because… Alila Ubud helps you tick off every box on your Ubud bucket list – all thanks to the personal on-site leisure concierge and Alila's signature collection of tailor-made lifestyle experiences. Spend your days exploring mystical temples and hidden treasures, learning Bali's sacred rituals, or rafting down the energetic Ayung River. You name it, Alila Ubud will tailor it. But for the love of lazin', you can always while away your jungle days inside the hotel's luxe walls – floating in the dreamy sky-high infinity pool amidst treetop canopies, or lolling in your luxurious tree-house-like jungle-view villa.
Alila Ubud, Desa Melinggih Kelod, Payangan, Gianyar, Ubud, p. +62 361 975 963, e. [email protected]
13. Hoshinoya Bali
You'll love it because… Hoshinoya Bali seamlessly fuses Ubud's breathtaking natural backdrops with Japan's distinctive spatial aesthetics. The resort is quite literally built around Bali's ancient 'subak' canals, perched atop a sacred river valley and enveloped by mystical jungle. Winding through the resort's jungle boardwalk, you'll spot geometric Japanese cabanas teetering over the valley's edge, with flowing water all around and private villas woven into the rainforest landscape. These villas are quintessentially Japanese, with minimalistic interiors dotted with traditional Balinese handcrafts. Honouring its island home, you can also join cultural resort activities, like canang making or a batik workshop, before settling into a multi-course Japanese feast at the resort's restaurant.
Hoshinoya Bali, Banjar Pengembungan, Desa Pejeng Kangin, Tampaksiring, Ubud, p. +62 361 849 3080
MID-RANGE STAYS
Our favourite Ubud hotels that are friendlier on the budget
14. Bambu Indah
You'll love it because… Bambu Indah celebrates sustainability and nature in all its glory, making it the perfect eco-friendly destination for the island's earth-lovers. Meaning "beautiful bamboo" in Indonesian, Bambu Indah is an upscale bamboo wonderland of restored antique Javanese bridal homes. Located in Bali's leafy centre, this rustic retreat has taken great care to conserve and blend in with its natural surroundings – from the thatched bamboo reception and lodgings, to the rickety stone paths, soaring black bamboo sculpture and rock-lined natural springs. Nearly every room has breathtaking views over the Sayan Ridge and the scatter of rice fields all around, and you won't find TVs in the rooms either, because who needs television when nature's 24/7 soundtrack provides all the entertainment necessary?
Bambu Indah, Jl Baung, Sayan, Gianyar, Ubud, p. +62 812 3834 3174, e. [email protected]
15. Bisma Eight
You'll love it because… Bisma Eight tastefully combines artisanal Bali with stylish modernism. A mishmash of tradition and contemporary architecture, dramatic blocks of raw-concrete house 38 beautiful suites. Inside, you'll find oversized barrel-like bathtubs, sitting alongside authentic creations from the island's craftsmen. Step outside and the chic infinity pool nudges against Ubud's jungle-drenched valley, where twenty-first century amenities and designer cocktails come face-to-face with the island's untouched landscapes. If you want to experience the best of Bali whilst also lapping up the luxuries of a boutique resort, Bisma Eight has got it all. And psst – you'll want to check out The Villas at Bisma Eight too!
Bisma Eight, Jl Bisma, Gianyar, Ubud, p. +62 811 388 5122, e. [email protected]
16. 11 on Kajeng
You'll love it because… Vintage glamour meets the elegance of Indo-Balinese decor at this boutique hotel. Sitting on a quaint little street just footsteps from Ubud's most famous destinations, 11 on Kajeng is a hidden gem that deserves to be found. Step through the tropical entranceway and into this oasis of calm, where just a handful of luxurious suites and villas fringe a serene pool and intimate bar. Within the private villas, enormous four-poster beds soar high into the lofty ceilings, and rustic-chic chandeliers hang above lava stone floors and soft, silky cotton jacquard linens. We love the regal and sophisticated interiors, which seamlessly flow to the exotic gardens, where a floating breakfast can be served each morning. All of this glamour, and yet it somehow feels like home…
11 on Kajeng, Jl Kajeng No. 40, Ubud, p. +62 813 3829 1991, e. [email protected]
17. Fivelements
You'll love it because… Fivelements is a serene, fully vegetarian eco-resort that has won the hearts of free-spirited luxury travellers everywhere. This boho-chic, sustainable abode of nine bamboo suites – named after the five elements of the Balinese world – sits in tranquil contrast to the frenetic outside world. Ain't nobody killing your vibe here as you get busy with some of the many holistic wellness programs available. There's everything from modern to traditional healing practices, including Chakra balancing, Prana healing, holistic massage, reflexology, sacred arts ceremonies as well as Balinese purification rituals. Zen mode is officially ON.
Fivelements, Puri Ahimsa Banjar Batur Rening, Mambal, Ubud p. +62 361 469 206 / +62 811 3332 0036, e. [email protected]
18. Aksari Resort Ubud
You'll love it because… Aksari Ubud is away from it all, perched on the edge of the jungle where only the sounds of tweeting birds and tropical fauna can be heard. In fact, the entire resort seems to trickle down the valley, with multiple infinity pools (and even a jacuzzi!) alongside a string of private villas that face out to untouched nature and the rushing river below. And to match its natural surroundings? The resort is made from bamboo, wood, alang-alang and local stone, topped off with luxe amenities like free-standing bathtubs, giant squishy beds and Netflix plugged into every TV. Our top tip? Book a Balinese massage at the al fresco jungle spa, before a theatrical dinner at the signature Kojin Teppanyaki restaurant…
Aksari Ubud, Jl Raya Desa Kenderan No. 88x, Ubud, p. +62 361 479 3349 / +62 822 1302 2899, e. [email protected]
19. The Ubud Village Resort & Spa
You'll love it because… The Ubud Village Resort is a haven of tranquility and romance. The 14 acres of lush, hilly land is home to a collection of enchanting villas with private gardens, perfect for quiet evenings in the outdoor bathtubs. Throughout the "village" resort, coconut palms, manicured lawns and lotus ponds frame a central infinity pool, overlooking the emerald green rice terraces all around. Traditionally designed and with sustainability as a focus, The Ubud Village is all about celebrating the beauty of nature and Bali's enchanting culture. This beautiful spot is just 10 minutes from Ubud's centre, making it the perfect base for couples to escape while exploring the local sights.
The Ubud Village Resort, Jl Raya Nyuh Kuning, Pengosekan, Ubud, p. +62 361 978 444 / +62 811 3889 9996, e. [email protected]
20. Uma Kalai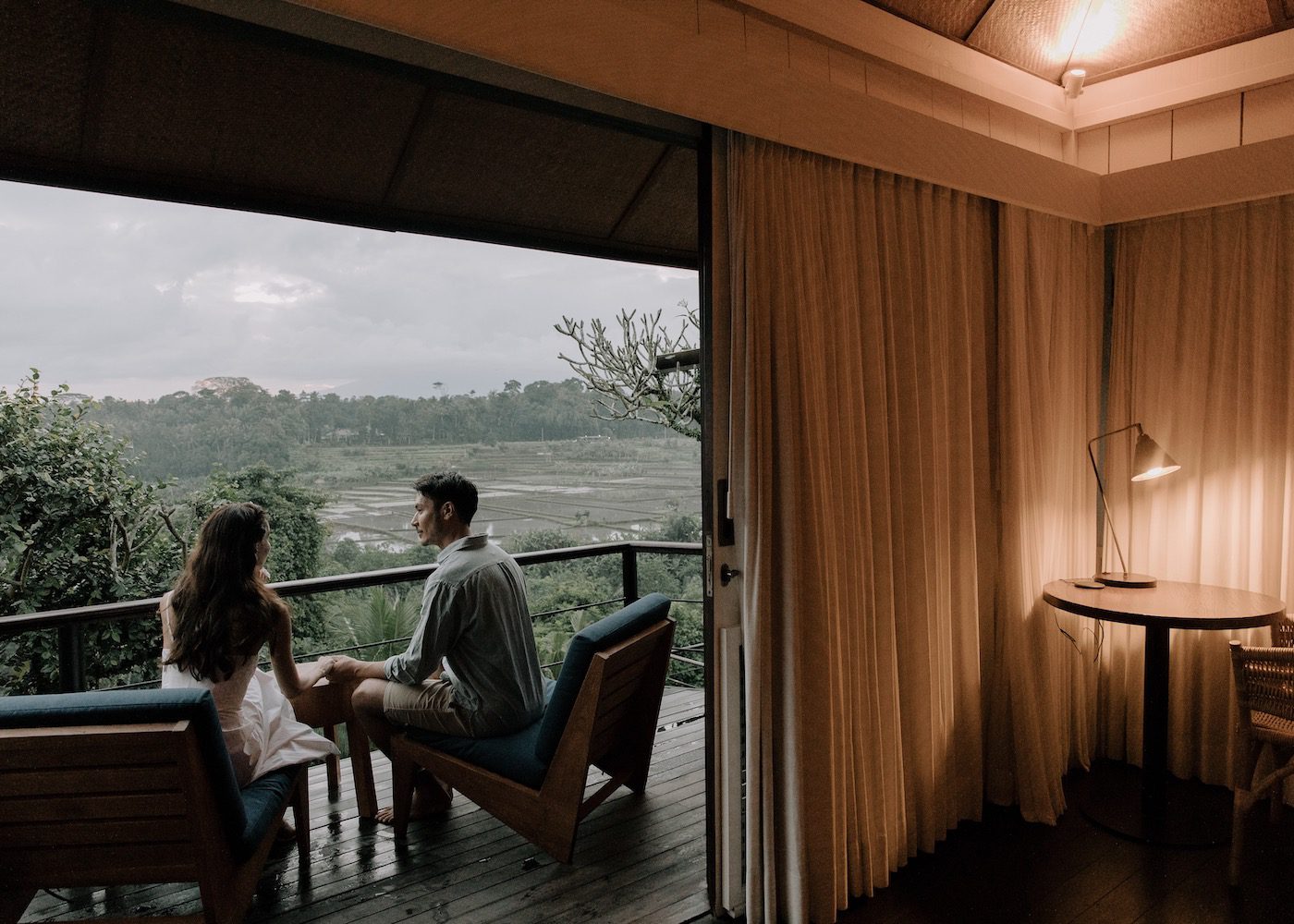 You'll love it because… Uma Kalai is a sweeping estate that fuses Balinese culture, nature and world-class hospitality in an exclusive setting. A flower-lined pathway leads you to the heart of the resort, where your personal butler guides you to your private villa or suite – each one uniquely designed with local art, Hindu deities and bespoke furniture. There's every kind of high-end amenity here, from the sumptuous beds and lavish lounges, to the estate's very own spa, library and tea room featuring the owner's personal collection. Head out to the infinity pool and just a few daybeds frame the view – an unobstructed panorama of verdant rice paddies and mountains. You can also join Uma Kalai's hand-selected local experiences, like a purification ceremony or canyoning down waterfalls. But at such an elite estate, don't be surprised if you become that guest who never, ever wants to leave…
Uma Kalai, Sayan, Ubud, p. +62 813 3947 6363, e. [email protected]
21. Kappa Senses Ubud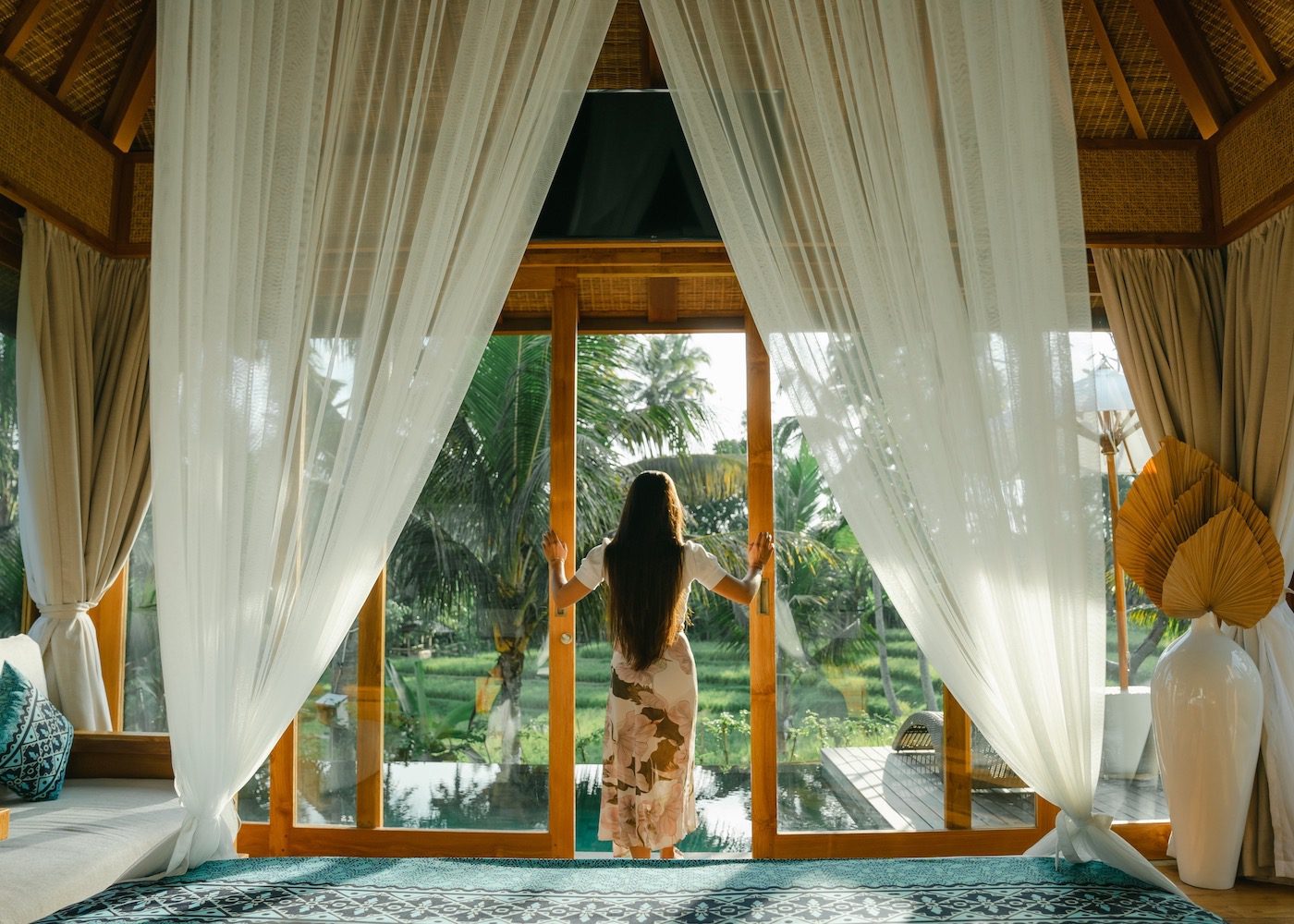 You'll love it because… Kappa Senses Ubud is all about creating experiences amidst an eco-conscious two-hectare retreat. You can stay in the resort's peaceful village of private pool villas, centred by the internationally-acclaimed Spa by Clarins. Or, stay in the lush surrounds of Danu The Jungle, where modern suites are suspended above the river pool. We love how the resort's design seamlessly integrates the great outdoors, and how you can personalise your stay by joining one of the many signature activities. Try the coffee-roasting workshop, take a stroll to nearby villages, or join in on ceremonial offerings at the resort's onsite Hindu temple. As for the food, feast on semi-gastronomic specialities at Kokokan, try Mediterranean-inspired bites at Kelapa, or explore the fascinating cuisines of the Majapahit Empire at Kepuh.
Kappa Senses Ubud, Jl Taman Sari, Banjar Tanggayuda, Kedewatan, Ubud, p. +62 811 3800 1555, e. [email protected]
22. Komaneka at Monkey Forest

You'll love it because… Komaneka at Monkey Forest allows you to experience the best of Ubud's two personalities: the hustle and bustle of the city centre, and the peace and quiet of the jungle. You see, this hotel sits in the heart of Ubud, just a short stroll from the cafes, restaurants, shops, spas, activities and other touristy hotspots, including the ever-popular Monkey Forest. Yet upon entering the tranquil gardens of this hidden gem, you'll feel an entire world away from the buzzing streets beyond, veiled by a wild green rainforest. You can just as easily venture out to downtown Ubud's frenetic buzz, or escape it all with a leisurely stroll…
Komaneka at Monkey Forest, Jl Monkey Forest, Gianyar, Ubud, p. +62 813 3716 0676, e. [email protected]
23. Sandat Glamping Tents
You'll love it because… Sandat Glamping Tents embraces nature through camping, but in a much more comfortable and plush setting (be gone, flyaway tent ropes!). Home to five dazzling safari-style tented suites (with their own private pools) and three eco-luxe cabins AKA lumbung, this dreamy boutique resort also has an infinity-edged main pool for you to swim above the verdant terraced rice fields. And if you're looking to get out of 'camp' and explore Bali's effervescent highlands, Sandat Glamping Tents can arrange your island activities too.
Sandat Glamping Tents, Jl Subak Sala Banjar Sala, Ubud, p. +62 361 9083 222 / +62 821 4408 1998, e. [email protected]
24. Alamdini Resort
You'll love it because… Alamdini Resort has got it just right, offering both rest and play in the heart of Ubud. You can hide away from the busy streets of downtown Ubud in one of Alamdini's spacious suites, breathing the earthy fresh air as you gaze into a dreamy green landscape from your private patio. Or, just a hop, skip and a short stroll away, you can find yourself smack bang in the middle of Ubud's most popular attractions, shops, cafes and spas – all within walking distance from the hotel. Tranquil jungle hangs or urban Ubud vibes? You decide.
Alamdini Resort, Jl Bisma No. 49, Ubud, p. +62 361 972 516, e. [email protected]
25. Outpost Penestanan
You'll love it because… Outpost Penestanan is where digital nomads and jet-set creatives can co-live under one roof. Simply hang by the pool with likeminded talent, or burn the midnight oil exchanging groundbreaking ideas at Outpost's award-winning coworking space. Designed to feel like home, as soon as you step inside this lush and modern sanctuary, you'll find green spaces and earthy tones alongside all of your creature comforts. It's a place where you can start your day with an early morning swim, then grab your laptop and get working on the rooftop deck – or simply graze with fellow co-livers in the communal kitchen, or at any of Ubud's nearby cafes and restaurants.
Outpost Penestanan, Jl Penesteran, Sayan, Ubud, p. +62 361 9080 584, e. [email protected]
26. Haigha House
You'll love it because… Haigha House is more than just a rental villa, it's a home away from home nestled in the midst of Ubud's lush jungles and rice paddies. This private, three-bedroom abode (deemed the Best Villa to Book in Bali 2022 by Conde Nast Traveller) gives you resort-style luxury in a stylish yet comfy industrial-chic home. It's decked out with a fully equipped kitchen, an infinity pool overlooking the greenery (and Mount Batukaru on clear days!), a home spa with on-call massage therapists, and so much more. We say, nab the master bedroom – it's equipped with an en-suite bathroom and vintage-style copper tub, plus your very own sunset-facing balcony. Bliss.
Haigha House, Jl Raya Br. Tunon, Sukawati, Ubud, p. +62 877 5839 9107, e. [email protected]
AFFORDABLE STAYS
Casual, budget-friendly hotels & guesthouses in Ubud
27. Bisma Cottages

You'll love it because… Bisma Cottages is where you can soak up a truly Balinese stay experience, with every home comfort included. With its delightful one- and two-bedroom Balinese Boho Bungalows (all air-conditioned with super comfy beds and mosquito nets), this quaint accommodation has everything you need. Pretty stone pathways wind past the swimming pool and tropical gardens to the traditional-style wooden cottages, where breezy balconies invite you to kick off your shoes and soak up the sounds and surrounds of 'real' Bali. Located along the buzzing Jalan Bisma, you're surrounded by some of Ubud's most affordable cafes and spas, just minutes from downtown Ubud. Our top tip? Stay with a friend and book the connecting Two Bedroom Cottage – all without breaking the bank!
Bisma Cottages, Jl Bisma No. 35, Ubud, p. +62 812 3896 0803, e. [email protected]
28. ARTOTEL Haniman
You'll love it because… Artotel Haniman is a playful, boutique hotel of only 22 artsy rooms. It is simply perfect for solo, quirky travellers looking for an easy, affordable and convenient place to slumber – all the while exploring the wonders of Ubud. Just a short walk away from the town's iconic Monkey Forest, Yoga Barn and Pura Taman Sari, this hotel has become popular with travellers from all walks of life, complete with a charming on-site café and its funky, chilled out vibe.
ARTOTEL Haniman, Jl Jatayu, Desa Padang Tegal, Ubud, p. +62 361 908 3470 / +62 812 4633 2800, e. [email protected]
29. Tegal Sari
You'll love it because… Tegal Sari has managed to land itself a premium address, without the hefty price-tag. While most Ubud guesthouses cosily cram the central streets one after the other, Tegal Sari is blessed with a fresh and open outlook over unspoilt rice paddies. Take advantage of this breathtaking scenery by waking up early to watch Balinese farmers work the fields as the sun begins to rise, while chirping birds and quacking ducks serenade the scene beyond your balcony. While you won't find any fancy frills and upmarket facilities here, there's something so peaceful about having your breakfast and morning Bali coffee at a family-run, humble abode…
Tegal Sari, Jl Raya Pengosekan, Padang Tegal Ubud, p. +62 361 973 318 / +62 812 3781 4866, e. [email protected]
30. Biyukukung Suite & Spa
You'll love it because… Biyukukung Suite & Spa is a simple and traditional stay with thatched rooftops, private outdoor terraces and a bright blue swimming pool at its heart. The rooms here are authentic, village-like abodes, surrounded by sweeping views of lush, green rice fields. It's a well-kept secret amongst Bali's expat crowds, with the bamboo houses being a firm favourite for a staycation, thanks to the floor-to-ceiling windows that peer directly out over the emerald horizon. And the kicker? It's just minutes from the city centre, with its own on-site affordable spa, too.
Biyukukung Suite & Spa, Jl Sugriwa No. 89, Ubud, p. +62 361 978 976 / +62 361 970 529, e. [email protected]
Looking for more awesome hotel guides? Check out these cool Canggu villas!