Think that Ubud is only yoga studios, rice paddies and Balinese temples? Think again (and add an award-winning cocktail bar to your Ubud itinerary!)
Busy by day, peaceful by night, Ubud isn't necessarily known for its raging nightlife. But if you know where to look, which roads to peer down and the best bars to pop your head into, you'll find a growing number of trendy watering holes (and a few old favourites) dotted around town for the after hours crew. So fill up at Ubud's best restaurants before a night on the Ubud town, then whet your whistle at these top spots – the best bars in Ubud for a late-night cocktail or post-temple tipple. Cheers!
THE BEST BARS IN UBUD
1. Room4Dessert
Turns out, there really is always Room4Dessert (and cocktails!), especially when it's at this uber cool dessert and drinks venue helmed by award-winning NYC chef, Will Goldfarb. From the outside, the UFO-industrial exterior may look like it's just crashed down from some galactic junkyard, but don't let the look fool you – this place is the real deal with sublime sweets and some of the best drinks on the island. Shaken, stirred, smashed and swilled, the five-star tipples here make it a must-visit for post-dinner boozing 'til late.
Room4Dessert, Jl Sanggingan, Ubud, Kedewatan, Gianyar, p. +62 813 3705 0539.
2. Night Rooster
Pull up a pew at this super-cool speakeasy on Jl Dewi Sita and enjoy some of the best cocktails you'll find anywhere, thanks to resident alchemist Raka. The upstairs 40-seater bar area is dripping with a cool late-night atmosphere. And being from the same team behind Bali's world-famous Locavore restaurant, the drinks are sensational works of art, both visually and in their subtle, delightful flavours. It's no surprise they won a spot on Asia's 50 best bars list…
Night Rooster, Jl Dewi Sita 10B, Ubud, p. +62 361 977 733.
3. Hujan Locale
Designed to hark back to the traditional Batavian café culture of years gone by, the quietly refined downstairs bar at Hujan Locale – one of Ubud's best eateries (part of the famed Sarong & MamaSan group) – is a great spot to settle into cocktail hour. Lazy jazz spills out of the speakers and perfectly complements the liquid creations that draw heavily on Southeast Asian fruits and spices. Oh, and there's a classic cocktail cart too, so your cleverly crafted tipples can be brought right to your table…
Hujan Locale, Jl Sri Wedari 5, Ubud, p. +62 81 339 720 306, e. [email protected]
4. Apéritif Bar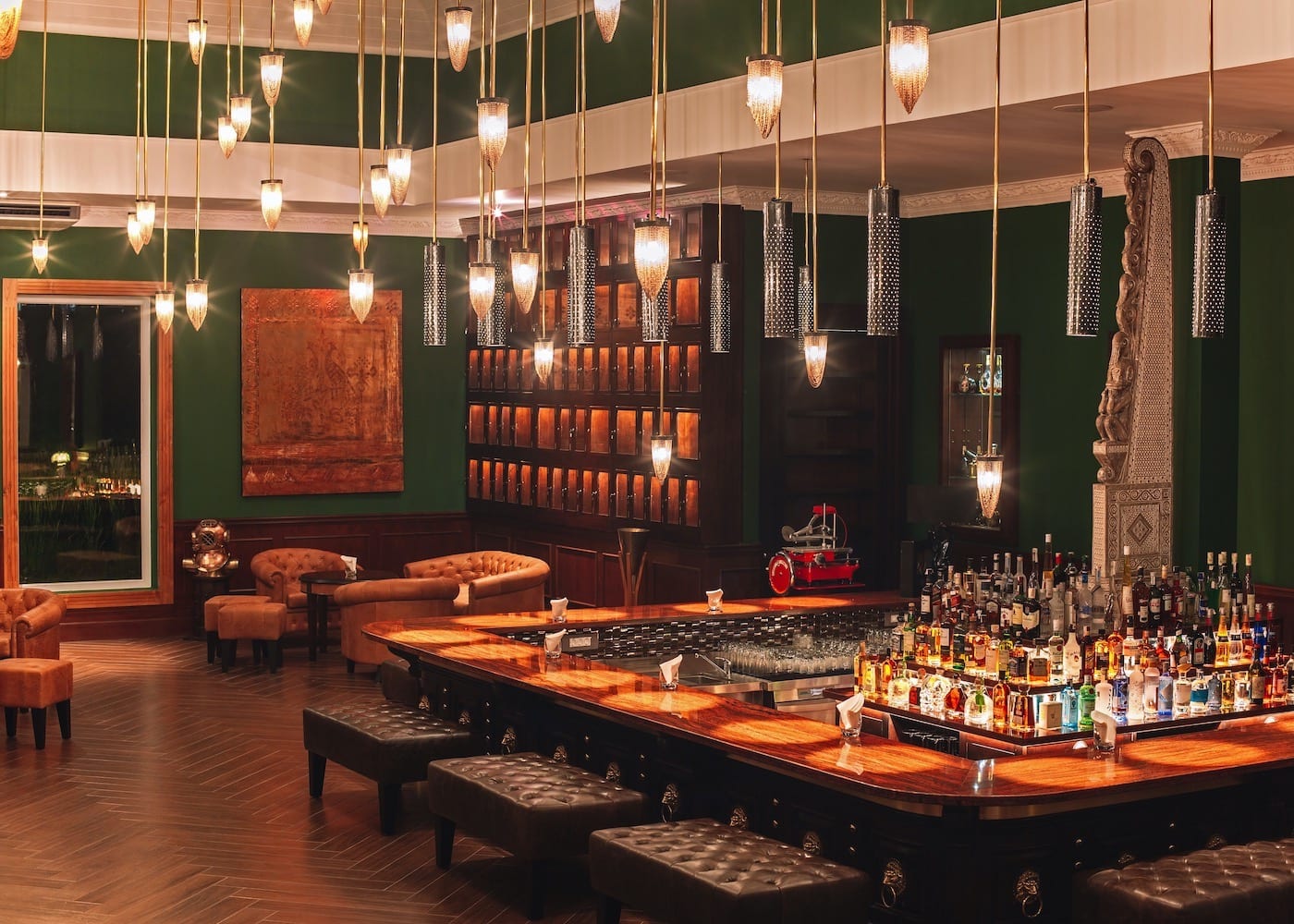 For an extra special tipple, head to the opulent and Colonial-style bar at Apéritif. Here at this fine dining showpiece, you can prop up the mahogany bar and sip on upmarket cocktails inspired by the Roaring Twenties. Each one has been specially created with Bali's tropical climate in mind, while showcasing the best artisanal spirits and in-house infusions. As the name suggests, the aperitifs here are unparalleled (the Tamarillo Negroni is on another level!), as are the unique house cocktails. Our fave is the Trés Limon – a refreshing twist on the classic Gin & Tonic using lemongrass, kafir lime, yuzu, and lemon basil. Yum!
Apéritif Restaurant & Bar, Jl Lanyahan, Banjar Nagi, Ubud, p. +62 361 908 2 777, e. [email protected]
5. Kyoka Japanese Kitchen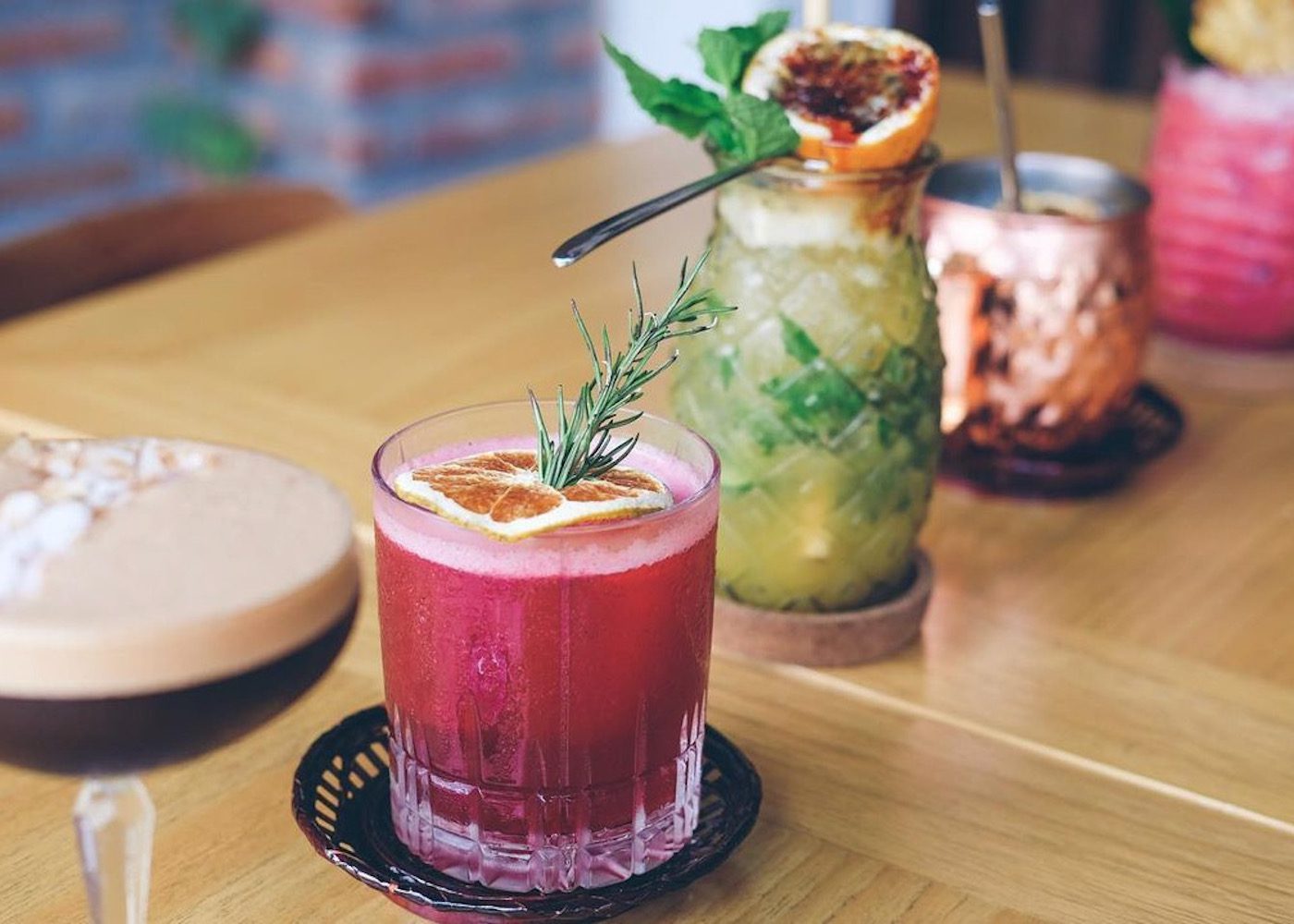 This Ubud underdog may well be small in size, but it makes up for its cosy interiors with its hella-flavourful drinks and big, bold flavours. The food here excels all expectations (modern Japanese dishes done right) but it's the cocktails that have caused the biggest stir. The Nihon Negroni would fit right in at a New York speakeasy; the Coconut Espresso Martini is up there with Bali's very best; and the Your Majes-Tea (from sister restaurant Ibu Susu) is served up in a teapot for both taste and Instagram kudos. Looking for the best bars in Ubud? Add this to your list.
Kyoka Japanese Kitchen, Jl Dewi Sita, Ubud, p. +62 361 971 056, [email protected] 
6. The Blue Door
This brand new Ubud arrival has had tongues wagging across the island, and for good reason, too. The Blue Door is a hedonistic playground for Ubud's social crowds, shimmering in blue neon lights and glitzy vibes from day to night. Step through the blue door and you'll find a spectacular beer garden, a lounge with sky-high ceilings, shimmering marble and HD sports screens for those all-important game days. It's right up there as one of Ubud's most glamorous bars, a place where you can sip on signature cocktails, listen to live bands and DJs, or simply meander in for date night to sip on city-inspired cocktails…
The Blue Door, Jl Monkey Forest, Ubud, p. +62 812 3974 0739, e. [email protected]
7. Copper Kitchen & Bar
Set within the jungle-like surrounds of Bisma Eight, Copper Kitchen has been making waves with its fantastic mix of Indonesian and Western seasonal 'earth-to-table' cuisine. Open all day, the gorgeous bar follows a similar model, with the expert mixologists shaking up a variety of original creations based on what's hot right now. It's soulful, it's crafty, and it pays homage to Ubud's lush surrounds.
Copper Kitchen & Bar at Bisma Eight, Jl Bisma, Ubud, p. +62 361 479 2888
8. Dumbo
On the ground floor of this all-vegetarian restaurant, you'll find a dazzling bar that'll knock your design-loving socks off – and that's before you even get a glimpse of the expertly crafted cocktails. Crunchy polenta chips and seasonal antipasto platters sit alongside house-infusions and homemade bitters and cordials, used to mix up classic cocktails. Try the Thousand Islands Old Fashioned, the Kemangi Gimlet or the Pineapple Sage Martini. Top tip: dine upstairs in the restaurant and your very own mixologist will shake up a stellar sip right at your table-side.
Dumbo, Jl Raya Sanggingan, Ubud, p. +62 812 3838 9993, e. [email protected]
9. Melali Ubud
Melali is one of Ubud's very best restaurants for a Mediterranean-inspired feast, but it also happens to be a top spot for a refreshing tipple or two (or three, or four…). Slinging craft cocktails and house-infused gin and tonics, we love propping up the bar at Melali Ubud to sip on its drinks list. One of our faves? The Nanas Colada. It's a modern take on a traditional Piña Colada that mixes rum, coconut marshmallow, homemade pineapple reduction, coconut water, and fresh lime. Or, the bourbon-based Burnt Peach with almonds, mint, ginger, and a chargrilled peach top. Our top tip? Pair these tropical libations with some of Melali's best bites, like the pan-seared Jimbaran Bay Barramundi, or the colourful and bountiful falafel bowl…
Melali Ubud, Jl Sri Wedari No. 58, Ubud, p. +62 813 3711 6490.
10. Current Social Club & Kitchen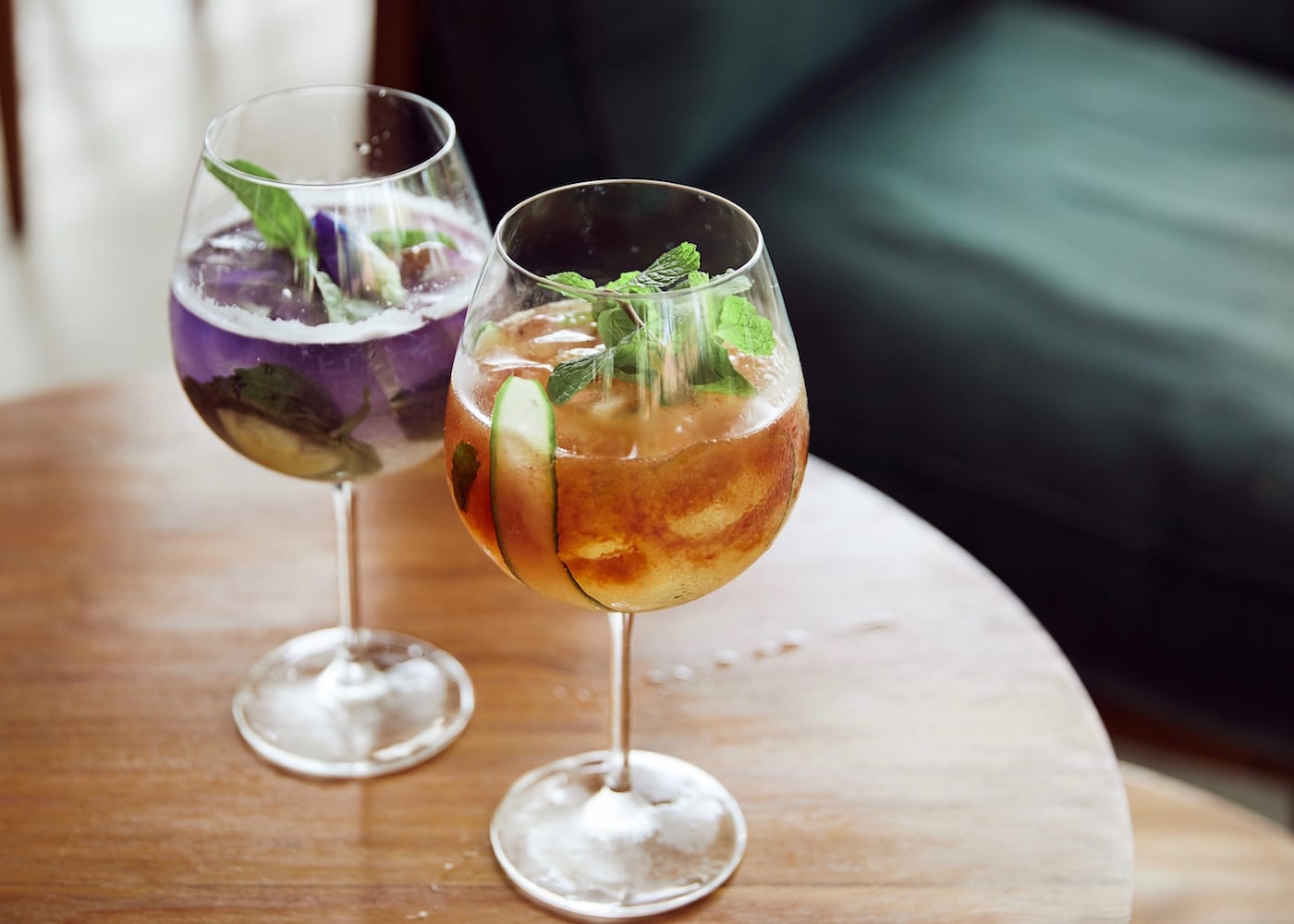 A social club, bar and restaurant in Ubud's trendiest neighbourhood, Current Social Club & Kitchen is electrifying Ubud's bar scene with its high voltage cocktail list that uses local and organic ingredients, alongside cool events and a sleek space that's described as "a place for Ubud to get down with it's casual-sexy self". Try the Bali Mule and the "I Wanna Jamu With You" cocktail that uses Indonesia's famous Jamu elixir, and swing by for its regular jam sessions, live acoustic nights, movie nights and the occasional Bloc Party.
Current Social Club & Kitchen  Jl Nyuh Bojog, Mas, Ubud, p. +62 82144 059 991, e. [email protected]
11. No Más
Toting "easy food, stiff drinks, failed marriages, bad app ideas – your new island sinkhole awaits", No Más is a funky downtown bar doesn't take itself too seriously. Well, apart from the drinks of course, which are a sublime mix of thirst-quenchers designed to get you up and grooving to the music – especially during their Sunday Soul Sessions. You won't want to miss the multi-day happy hours either.
No Mas, Jl Monkey Forest, 80571 Ubud, p. +62 361 908 0800.
12. Lazy Cats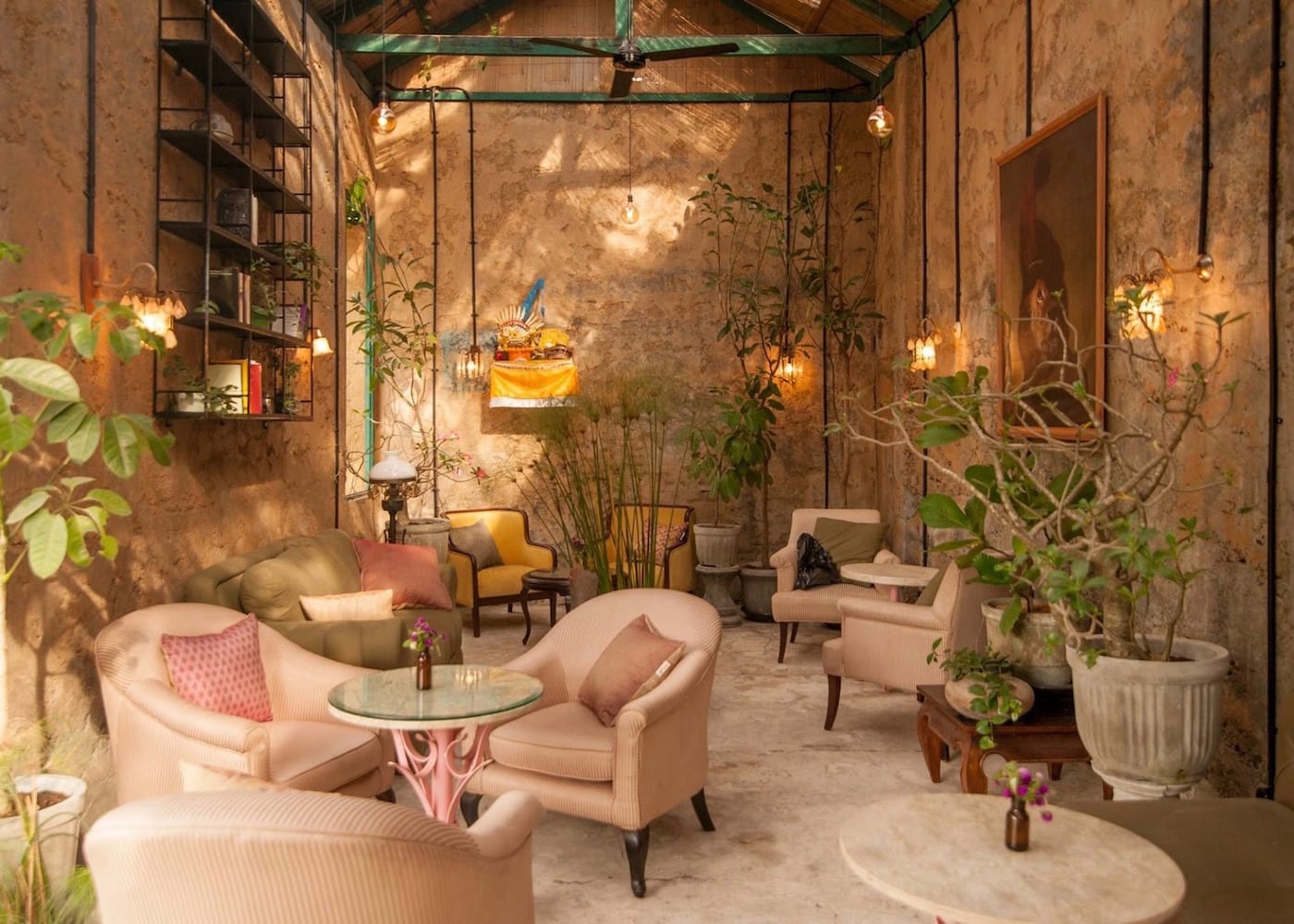 Less of a 'wild party' kinda place and more of a 'sit back in a cushiony armchair with a fabulous cocktail' kind of place, Lazy Cats is an Ubud bar that's designed for soaking up the good times and mingling with great friends – all in industrial-bohemian interiors dotted with art, plants and vintage furniture. Its outstanding drinks list features all the classics and more, from mojitos and piña coladas, to the Drunken Cat or Tipsy Tiger, the latter of which is shaken with tequila gold, cointreau and watermelon. Top tip: arrive early to watch the evening sun filter hazily through the skylights, changing to a blanket of deep blue as the nighttime vibes come alive.
Lazy Cats, Jl. Raya Ubud No.23, Ubud, p. +62 813 3882 2589
13. The Laughing Buddha
The Laughing Buddha is one of the liveliest bars in town – a go-to spot if you're looking for good fun, live music and of course, delish drinks. You can't miss it – it's right on Monkey Forest road, and you'll spot plenty of people inside up and grooving to the live bands who raise the roof almost every single night.
The Laughing Buddha, Jl Monkey Forest, Ubud, p. +62 361 970 928.
14. The Bar at Murni's
One of Ubud's true hidden gems, this atmospheric cocktail bar is hidden down a few flights of stairs below Murni's restaurant – one of the first ever venues to open in the area over 30 years ago. Its magical ambiance harks back to a forgotten era of Bali, and a tried and tested cocktail list ensures you'll end up staying way longer than you expect.
The Bar at Murni's, Jl Raya Campuan, Ubud, p. +62 361 975 233.
15. CP Lounge
A list of bars in Ubud wouldn't be complete without this old classic. While it's not a fancy cocktail bar with infusions and foams, it is open all day for drinking and grazing – all thanks to its cheap eats and drinks, enormous swimming pool, plenty of pool tables and cocktail deals. Situated next to the central football field near downtown Ubud, it's one of the only places in town where you can dance the day and night away into the wee hours, if that's what you're after.
CP Lounge, Monkey Forest Road (Jl Wenara Wana), Ubud, p. +62 361 978 954.
Thirsty yet? Us too! We'll see you at the Ubud bar…
MORE AWESOME BARS IN UBUD (But currently closed)
Hippie Fish (currently closed)
Not only home to awesome Mediterranean fare, Hippie Fish is where you'll find one of Ubud's largest wine cellars alongside a fab selection of drinks for every occasion – all served up in a stunning yet cosy bar that's awash with natural wood, brick and rattan. Laid-back and loungey, the vibe here is relaxed yet alive, vibrating with the sounds of great conversation and easy-going tunes, including live jazz and acoustic sessions. As for the cocktails, you'll want to sip on the "Let Your Hubby Home" that uses rosemary gin, lime, berries and soda. Or the "Kombucha is the New Black" with rum, apples, spices, pineapple and a basil kombucha – this is healthy Ubud after all!
Hippie Fish, Jl Raya Ubud No.14, Ubud, p. +62 812 4641 8938, e. [email protected]
Spice Night Bar (currently closed)
A stylish gastro-bar that's loved for its innovative food and cocktail-paired dinners, after hours, Spice by Chris Salans transforms into a buzzing Night Bar where Ubud's cocktail crew can gather 'til late over locally-inspired concoctions. The drinks here are all dedicated to celebrating the island's flavours and spices, as well as featuring traditional Balinese Arak (a clear spirit distilled from rice) and Brem, a gentle rice wine. These local ingredients are then transformed into dramatic, bespoke cocktails, like the Red Line (made with jackfruit and grape Arak, clarified pineapple and pandan) or the Biu Batu with banana Arak, Brem, caramelised banana and orange bitters. And it goes without saying that you'll want to graze on the lineup of gourmet bar snacks too…
Spice Night Bar,  Jl Raya Ubud No 23, Ubud, p. +62 361 479 2420, e. [email protected]
Lacasita Fonda Mexicana (currently closed)
Lacasita Fonda Mexicana is the third Mexican honcho from Bali's trailblazing Lacalongtime group (the guys who gave us (Lacalaca in Seminyak and Lacalita in Canggu). And while we love the tacos and tostadas at this Ubud address, it's Laca's legendary Jalapeño Margaritas that have us propping up their techni-coloured Ubud bar every evening (what can we say, they have daily happy hours!). For one of the best libations we've found in Bali's hippie heart, order up the new Margarita de la Pasion – a twist on the classic graced with a passionfruit twang!
Lacasita Fonda Mexicana, Jl Sri Wedari No. 4, Ubud
Divine Wine & Cocktail Bar (currently closed)
Part of the sprawling Bridges restaurant and overlooking the beautiful Wos River gorge, Divine Wine & Cocktail Bar is a casual yet sophisticated spot to indulge in a few pre or post dinner drinks. One of the best wine lists around and a selection of small bar bites available complete the picture at this Ubud favourite.
Bridges Bali, Jl Raya Campuhan, Ubud, p. +62 361 970 095