Think that Ubud is only yoga studios, rice paddies and Balinese temples? Think again (and add an award-winning cocktail bar to your Ubud itinerary!)
Busy by day, peaceful by night – Ubud isn't necessarily known for its raging nightlife. But if you know where to look, which roads to peer down and the best bars to pop your head into, you'll find a growing number of trendy watering holes (and a few old favourites) dotted around town for the after hours crew. We're talking speakeasies, bistro-pubs and fabulous wine bars too. So fill up at Ubud's best restaurants before a night on the Ubud town, then whet your whistle at these top spots – the best bars in Ubud for a late-night cocktail or post-temple tipple. Cheers!
THE BEST BARS IN UBUD
1. Dumbo
For a dazzling night out in a bar that'll knock your design-loving socks off, you'll want to raise a glass at Dumbo. Arguably the coolest bar in Ubud, Dumbo is where it's at for expertly crafted cocktails and impressive earth-friendly food straight from the open kitchen. Settle in for a round of Brooklyn-style pizzas from the wood-fired oven, and sip on signature cocktails made with house-infusions and homemade bitters, some of which are shaken up right at your table-side. You'll want to stick around until late, because Dumbo has its very own vinyl collection, and if you're coming in a group, Dumbo does great private party packages too.
Dumbo, Jl Raya Sanggingan, Ubud, p. +62 812 3838 9993, e. [email protected]; Open daily from 5pm.
2. Room4Dessert
For something totally different (yet undeniably awesome) head to Room4Dessert for levelled-up sweets and drinks in an outlandish late-night venue, helmed by famed New Yorker Will Goldfarb. Indoors, embrace gluttony with a degustation menu of avant-garde desserts expertly paired with award-winning (and potent) cocktails, or head out back to the terrace garden to graze on Spanish tapas-style snacks, desserts, and hand held petits fours. Yep, this place is the real deal with some of the best drinks and bites on the island. Shaken, stirred, smashed and swilled, the five-star tipples here make it a must-visit for post-dinner boozing.
Room4Dessert, Jl Raya Sanggingan, Ubud, p. +62 813 3705 0539; Open Tue – Sun 4pm – 10pm.
3. Bacari
So much more than 'just' a sublime wine bar, Bacari is the first bar in Ubud to serve 20 excellent wines by the glass, all thanks to the state-of-the-art Coravin Wine preservation system. In this intimate and chic 22-seater space, you can sip your way through an eclectic wine list, ranging in varietals, blends and vintages from the Old World and the New. And to complement your Bordeaux Blanc or Barolo, a carefully curated small plates menu has been designed to pair with each glass. Think house-made olive tapenade, cured cold cuts, and of course, a selection of locally-made aged cheeses too. Trust us when we say, the chargrilled halloumi is worth a trip to Ubud alone. Before you leave, sip your way through the cocktails too, all of which are crafted using premium spirits (the Negroni was the standout!).
Bacari, Jl Goutama No. 15, Ubud, p. +62 811 3811 7613; Open daily from 5pm.
4. Pasir
Bringing a slice of Bali's beach life to the heart of Ubud, Pasir (meaning sand) is a Mediterranean oasis on the bustling Monkey Forest eat street. Breezy and tropical, we couldn't think of a better setting to sip on artisanal handcrafted cocktails that remind us of where we are: paradise! We especially love how each dish on the menu comes with a recommended cocktail pairing. Try the Endless Summer cocktail (made with vodka, sous-vide soursop, lemon and homemade vanilla syrup) with the zesty octopus carpaccio. Or the Tuscan Sunset (made from gin grappe, cherry liqueur and a red wine float) alongside the grilled snapper with burnt butter. Whatever you choose, expect refreshing, fruity, and zesty cocktails that capture the vibes of beach life in Bali, mixed with the fabulous flavours of the Mediterranean. Perfection!
Pasir, Jl Monkey Forest, Ubud, p. +62 811 2833 838. Open daily, 12pm to midnight.
5. Jati Bar
Thirsty for house-aged cocktails, million-dollar views and an award-winning repertoire? Head to Jati Bar at Four Seasons Resort at Sayan, where top-quality tipples are paired with breathtaking jungle vistas and honourable nods to local culture. We're talking barrel-aged cocktails that use locally-sourced woods and artisan terracotta casks to slow-cook and house-infuse spirits that honour the traditional ways of ageing. The cocktails feature locally-sourced produce too, most of which are grown within the in-house gardens. Try the Gin Martini that undergoes a 42-day ageing process for an earthy twist on the classic. Or the Hanky Panky that revives the now-forgotten tradition of glass-ageing, made with gin, Fernet Branca and sweet vermouth. And if you're not into aged cocktails, you'll also find the classics done right, plus plenty of whiskeys, wines, digestifs and mocktails too.
Jati Bar at Four Seasons Resort Bali at Sayan, Jl Raya Sayan, Sayan, Ubud, p. +62 361 977577.
6. Night Rooster
Pull up a pew at this super-cool speakeasy on Jl Goutama and enjoy some of the best cocktails you'll find anywhere, thanks to resident alchemist Raka. The bar and lounge area is dripping with a cool late-night atmosphere, perfect for an intimate cocktail and a nightcap. And being from the same team behind Bali's world-famous Locavore restaurant, the drinks are sensational works of art both visually and in their subtle, delightful flavours – all inspired by Indonesian folklore. It's no surprise they once won a spot on Asia's 50 best bars list…
Night Rooster, Jl Goutama Selatan No. 5, Ubud, p. +62 819 9917 1882, e. [email protected]; Open Tue – Sun from 5pm.
7. Ambar at Mandapa
Sitting high above the treetops at the breathtaking Mandapa, A Ritz-Carlton Reserve, Ambar is where you can sip on spectacular cocktails overlooking Ubud's verdant river valley. True to its name, Ambar (meaning 'sky') is perched high up on the valley verge to catch a sky-high views of the sunset. Settle in to one of the cosy lounges, sip your way through expertly curated Japanese-Indonesian cocktails, and graze on Japanese-inspired bites like delicate sushi rolls, fine sashimi and pass-around canapés too. Top tip: come for sunset, then make your way to Mandapa's signature bamboo restaurant, Kubu, for a romantic dinner date after dark.
Ambar at Mandapa, Jl Kedewatan, Banjar Kedewatan, Ubud, p. +62 361 479 2777, e. [email protected]; Open daily 2pm – 11pm.
8. Melali Ubud
Melali is one of Ubud's very best restaurants for a Mediterranean-inspired feast, but it also happens to be a top spot for a refreshing tipple or two (or three, or four…). Slinging craft cocktails and house-infused gin and tonics, we love propping up the bar at Melali Ubud to sip on its drinks list. One of our faves? The Melali Espresso. It's a modern take on a traditional Espresso Martini with bar's twist. Our top tip? Pair these tropical libations with some of Melali's best bites, like the pan-seared Jimbaran Bay Barramundi, or the colourful and bountiful falafel bowl…
Melali Ubud, Jl Sri Wedari No. 58, Ubud, p. +62 813 3711 6490; Open daily 7am – 10pm.
9. Donna Ubud
For a night out in one of Ubud's most stylish bars, head to Donna for classic cocktails, al-fresco vibes and dancing beneath the stars. This brand new dining and clubbing experience in Ubud is a lively addition to Ubud's nightlife scene. Start the evening at the sleek bar, sipping on classic and signature cocktails that are served and presented in the most experimental ways imaginable (think smoke, mirrors, and pineapple crowns!). To keep the evening going, graze on Spanish-style tapas plates like calamari, croquettes and empanada, then finish it all off with a Shiraz from the wine cellar. Not ready to go home? Head upstairs for music, smokey hookahs and good vibes 'til late.
Donna Ubud, Jl Monkey Forest No.67, Ubud, p. +62 812 7718 9610, e. [email protected]; Open daily 11.30am – midnight (2am on Fridays).
10. Apéritif Bar
For an extra special tipple, head to the opulent and Colonial-style bar at Apéritif. Here at this fine dining showpiece, you can prop up the mahogany bar and sip on upmarket cocktails inspired by the Roaring Twenties. Each one has been specially created with Bali's tropical climate in mind, while showcasing the best artisanal spirits and in-house infusions. As the name suggests, the aperitifs here are unparalleled (the Nightshade Negroni with tamarillo and Indonesian coffee is on another level!), as are the unique house cocktails. Our fave is the fruity and spicy The Novelist – a combo of tequila and Mezcal, with passionfruit and avocado oil. Yum!
Apéritif Restaurant & Bar, Jl Lanyahan, Banjar Nagi, Ubud, p. +62 361 908 2777 / +62 813 5326 6678, e. [email protected]; Open daily from 4pm.
11. Hujan Locale
Designed to hark back to the traditional Batavian café culture of years gone by, the quietly refined downstairs bar at Hujan Locale – one of Ubud's best eateries (part of the famed Sarong & MamaSan group) – is a great spot to settle into cocktail hour. Lazy jazz spills out of the speakers and perfectly complements the liquid creations that draw heavily on Southeast Asian fruits and spices. Oh, and there's a classic cocktail cart too, so your cleverly crafted tipples can be brought right to your table…
Hujan Locale, Jl Sri Wedari No. 5, Ubud, p. +62 813 5326 0275, e. [email protected]; Open daily from 12pm.
12. The Blue Door
A true Ubud underdog, The Blue Door is a hedonistic playground for Ubud's social crowds, shimmering in blue neon lights and glitzy vibes from day to night. You'll find a spectacular beer garden out front, with cosy lounges and HD sports screens for those all-important game days. Then, later in the evening, step through the blue doors to find the hidden bar and club, with Alice in Wonderland vibes, sultry sofas and speakeasy cocktails too. It's right up there as one of Ubud's most glamorous bars, a place where you can sip on a strong Negroni, dance to live DJs, or simply meander in for date night to sip on city-inspired cocktails…
The Blue Door, Jl Monkey Forest, Ubud, p. +62 812 3974 0739, e. [email protected]; Open daily from 12pm.
13. Ibu Susu Bar & Kitchen
This Ubud underdog may well be small in size, but it's made one helluva big wave on the Ubud bar scene. And while the food here excels all expectations (try the pork belly steamed buns, soft shell crab burgers and crispy lemongrass chicken!) it's the cocktails that keep us coming back on the regular. The Ubud Old Fashioned would fit right in at a New York speakeasy, and the Salted Caramel Espresso Martini is right up there with Bali's very best. Cheers to that.
Ibu Susu Bar & Kitchen, Jl Monkey Forest, Ubud, p. +62 878 5209 6667, e. [email protected]; Open daily 12pm – 11pm.
14. Boliche Bar
If hunting for the best watering holes is your style, you'll want to put Boliche on your hitlist. Follow the red arrow, and you'll find yourself in a hidden den where music meets mixology. Located in the home of Ubud's first bar from the 70s, Boliche continues the legacy by bringing together Ubud's thirsty bunch in a lively, late-night lounge setting. Sip the night away on creative cocktails, and get your groove on with the live DJ and retro atmo. Just be sure to get the password to enter this exclusive speakeasy…
Boliche Bar, Jl Raya Campuan, Ubud, p. +62 812 3657 4086; Open daily from 8pm.
15. Belle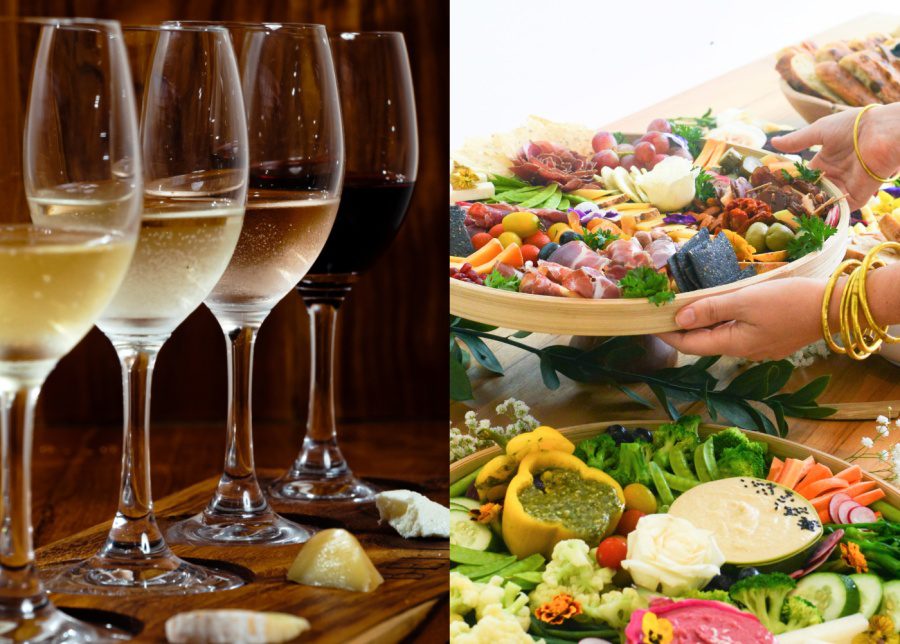 A charming wine bar with warm and welcoming interiors, Belle is all about upgrading your Ubud night out with a seemingly endless selection of premium wines and cheeses. Sip on a glass or bottle of fine wine (there are 25 varieties to choose from!) and pair it with a selection of nibbles from Bali Grazing Boards – colourful platters of organic, seasonal and fresh ingredients, featuring meats, cheeses, dips, olives and freshly baked breads too. It's the perfect blend of Europe's wine bar culture, with the flavours of Bali and beyond. Top tip: go for one of Belle's flights of wine to enjoy four different wines paired with artisan cheeses and chocolate.
Belle, Jl Monkey Forest, Ubud, p. +62 811 385 1310, e. [email protected]; Open Mon – Sat from 4pm.
16. Kyoka Japanese Kitchen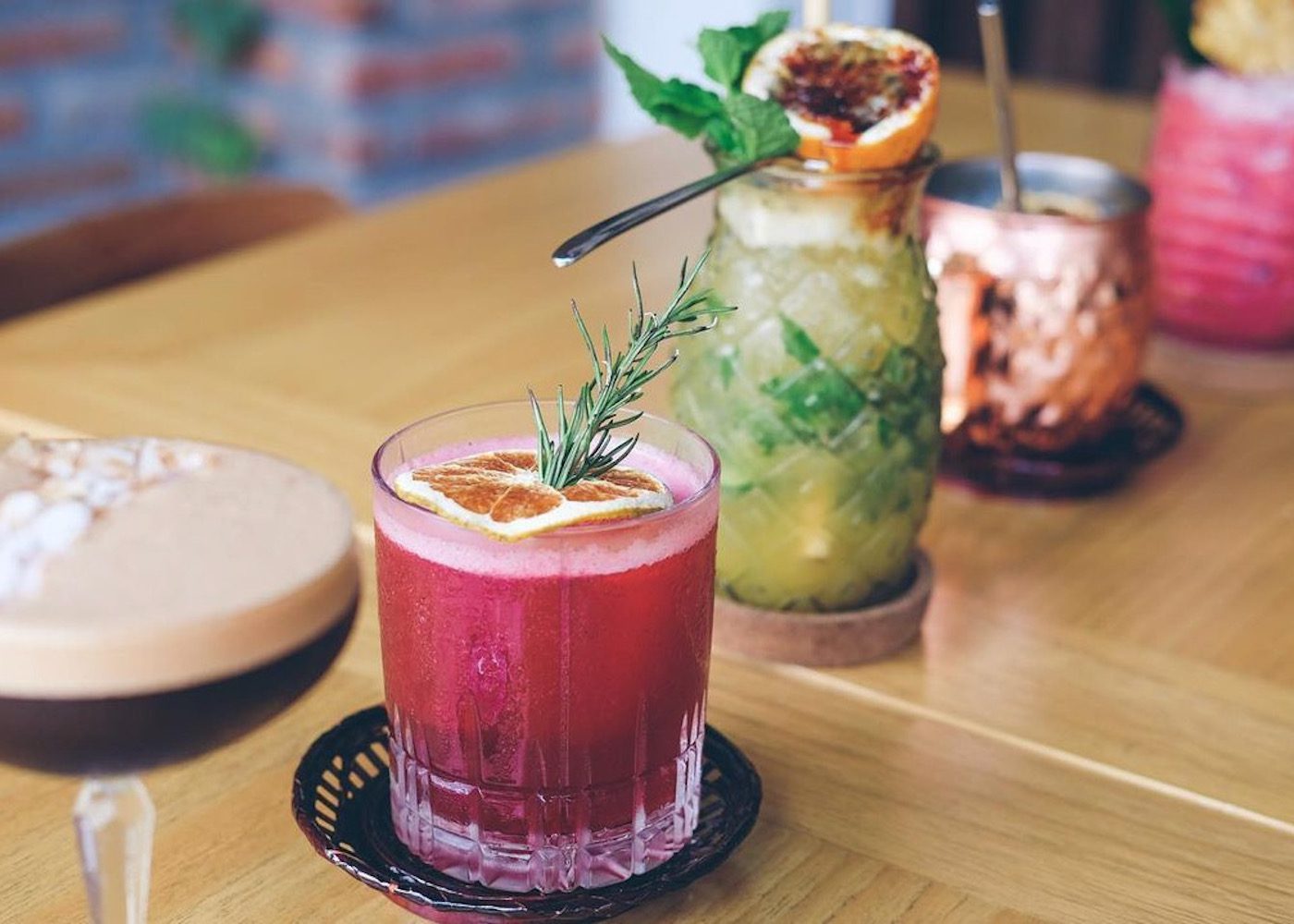 With its cosy interiors, hella-flavourful drinks and big, bold flavours, Kyoka is a mainstay on Ubud's bar circuit. We say, pop in for dinner (think modern Japanese dishes done right) and stick around the colourful cocktails. The Natsu Groni is our top pick, closely followed by the umami Sea Side with nori-infused tequila, served with a side of watermelon sashimi for both taste and Instagram kudos. Looking for the best bars in Ubud? Add this to your list.
Kyoka Japanese Kitchen, Jl Dewi Sita, Ubud, p. +62 361 971 056, e. [email protected]; Open daily 11am – 11pm.
17. Copper Kitchen & Bar
Set within the jungle-like surrounds of Bisma Eight, Copper Kitchen has been making waves with its fantastic mix of Indonesian and Western seasonal 'earth-to-table' cuisine. Open all day, the gorgeous bar follows a similar model, with the expert mixologists shaking up a variety of original creations based on what's hot right now. It's soulful, it's crafty, and it pays homage to Ubud's lush surrounds.
Copper Kitchen & Bar at Bisma Eight, Jl Bisma, Ubud, p. +62 361 479 2888 / +62 813 3951 2571, e. [email protected]; Open daily 7am – 11pm.
18. Current Social Club & Kitchen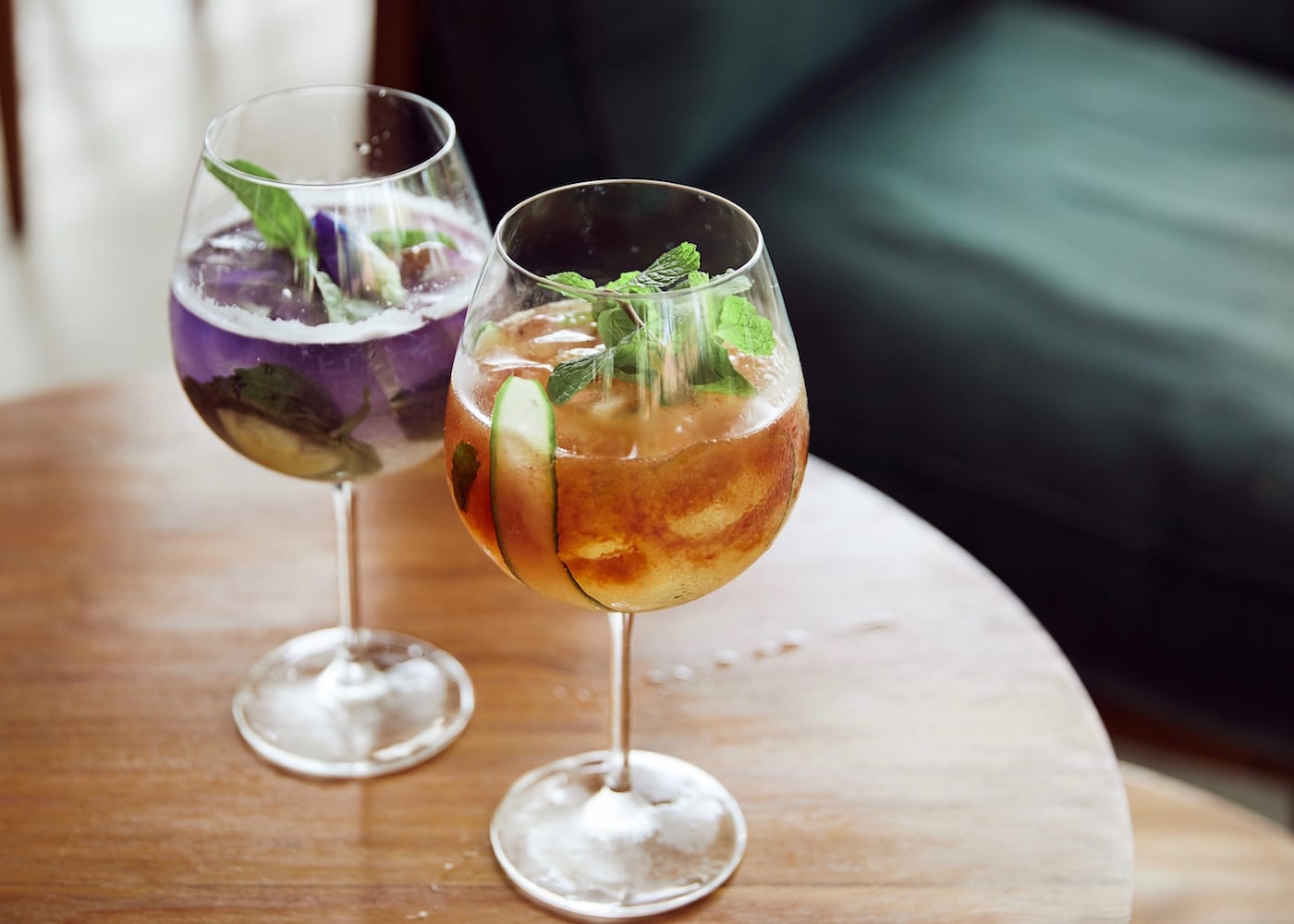 A social club, bar and restaurant in Ubud's trendiest neighbourhood, Current Social Club & Kitchen is electrifying Ubud's bar scene with its high voltage cocktail list that uses local and organic ingredients, alongside cool events and a sleek space that's described as "a place for Ubud to get down with it's casual-sexy self". Try the Outpost Mule and the "I Wanna Jamu With You" cocktail that uses Indonesia's famous Jamu elixir, and swing by for its regular jam sessions and flamenco nights.
Current Social Club & Kitchen  Jl Nyuh Bojog, Mas, Ubud, p. +62 82144 059 991, e. [email protected]; Open daily 7.30am – 11pm.
19. No Más
Toting "easy food, stiff drinks, failed marriages, bad app ideas – your new island sinkhole awaits", No Más is a funky downtown bar doesn't take itself too seriously. Well, apart from the drinks of course, which are a sublime mix of thirst-quenchers designed to get you up and grooving to the music – especially during their daily live band sessions. You won't want to miss the multi-day happy hours either.
No Mas, Jl Monkey Forest, Ubud, p. +62 361 908 0800 / +62 812 3973 6243; Open daily from 5pm.
20. Lazy Cats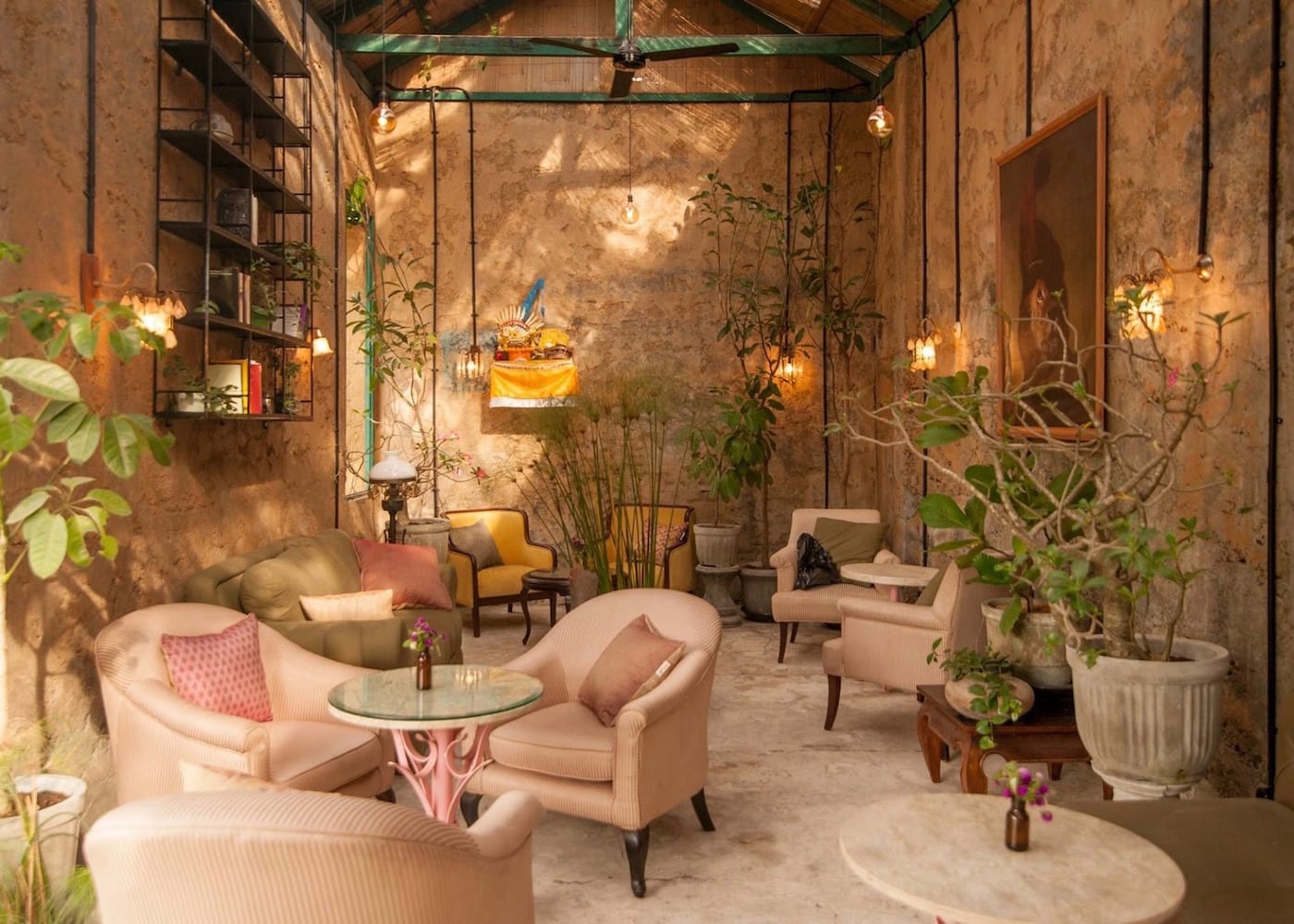 Less of a 'wild party' kinda place and more of a 'sit back in a cushiony armchair with a fabulous cocktail' kind of place, Lazy Cats is an Ubud bar that's designed for soaking up the good times and mingling with great friends – all in industrial-bohemian interiors dotted with art, plants and vintage furniture. Its outstanding drinks list features all the classics and more, from mojitos and margaritas, to the Lazy Pine or Peanut Butter Martini, the latter of which is a combo of rum, triple sec, lime juice, peanut butter, honey and brown sugar. Top tip: arrive early to watch the evening sun filter hazily through the skylights, changing to a blanket of deep blue as the nighttime vibes come alive.
Lazy Cats, Jl Raya Ubud No. 23, Ubud, p. +62 812 4652 4975; Open daily 8am – 9pm.
21. The Laughing Buddha
The Laughing Buddha is one of the liveliest bars in town – a go-to spot if you're looking for good fun, live music and of course, delish drinks. You can't miss it – it's right on Monkey Forest road, and you'll spot plenty of people inside up and grooving to the live bands who raise the roof almost every single night.
The Laughing Buddha, Jl Monkey Forest, Ubud, p. +62 361 970 928 / +62 821 4524 5199, e. [email protected]
22. The Bar at Murni's
One of Ubud's true hidden gems, this atmospheric cocktail bar is hidden down a few flights of stairs below Murni's restaurant – one of the first ever venues to open in the area over 30 years ago. Its magical ambiance harks back to a forgotten era of Bali, and a tried and tested cocktail list ensures you'll end up staying way longer than you expect.
The Bar at Murni's, Jl Raya Campuan, Ubud, p. +62 361 975 233, e. [email protected]; Open daily 9am – 10pm.
23. CP Lounge
A list of bars in Ubud wouldn't be complete without this old classic. While it's not a fancy cocktail bar with infusions and foams, it is open all day for drinking and grazing – all thanks to its cheap eats and drinks, enormous swimming pool, plenty of pool tables and cocktail deals. Situated next to the central football field near downtown Ubud, it's one of the only places in town where you can dance the day and night away into the wee hours, if that's what you're after.
CP Lounge, Jl Monkey Forest (Jl Wenara Wana) No. 15, Ubud, p. +62 361 978 954, e. [email protected]; Open daily from 1pm.
Thirsty yet? Us too! We'll see you at the Ubud bar…