Living it up in Kuta or Legian and need a recharge? Head to these ahh-mazing spas and treat yo'self to some top-to-toe self-care...
With so many hopping bars, boutiques and buzzing restaurants in Kuta and Legian, taking a moment (or three) to de-stress and indulge in some self-care is an absolute must on any itinerary. Luckily for you and your partied-out bods, there's plenty of world-class spas and wellness destinations in these bustling Bali neighbourhoods…
From hot oil massages in boho-luxe interiors, to contemporary facials using avant-garde technology and new-age beauty techniques, here we bring you the very best spas in Kuta and Legian for your pampering pleasure. Sanctuary seekers, this one's for you…
THE BEST SPAS IN KUTA & LEGIAN
1. Glow Spa
Situated within the stunning Bali Mandira Beach Resort & Spa, Glow Spa is where you can bliss out in sophisticated style with a wide range of massages, skin care, body treatments and even holistic therapies – each one carefully choreographed to ensure any stress or tension simply melts away. You see, this all-around wellbeing spa offers a complete mind and body wellness experience, making use of the rich botanical heritage of Indonesia to soothe and satisfy you from the inside-out. Think hand-made natural products with the gentle and comforting scents of nature, and open-air garden spa suites with boho-luxury vibes, where expert therapists guide you through sublime treatments inspired by both Asian and Western traditions. Top tip: try the Mandira Signature Massage – a four-hands massage by two professional therapists that's perfectly synchronised to give you the ultimate indulgence… pure bliss!
Glow Spa at Bali Mandira Beach Resort & Spa, Jl Padma No. 2, Legian, Kuta, p. +62 812 2898 1636
2. Acqua Perla Spa
One name that's always right up there on our must-bliss list is Acqua Perla Spa – the elite beauty and wellness destination at Double-Six Luxury Hotel. This contemporary sanctuary of all things fabulous is set right on the coastline, yet it's a tranquil world away from the buzz of the bustling beachfront. Inspired by the flow, calmness and purity of water (and reminiscent of the sparkling ocean out yonder), Acqua Perla Spa is decked out in fresh, contemporary interiors, wrapped up with a modern and ever-evolving menu of progressive, pampering treatments. Try the one-hour facial using pearl powder and chilled jade stone, and glam things up with some expert mani-pedi to finish – the perfect way to primp and preen before a night at one of Double-Six's delicious dining destinations…
Acqua Perla Spa at Double-Six Luxury Hotel, Double-Six Beach No. 66, Legian, p. +62 361 849 9189, e. [email protected]; Open daily 8am – 8pm.
3. The Canopy Spa
An immersive "Sky Spa" located on the top floor of Lloyd's Inn Bali, The Canopy Spa takes spa-going back to nature. For starters, it's a peaceful hideaway shielded by a canopy of greenery (hence the name) and is wholly inspired by the sights, sounds, and scents of a forest. Then there's the spa menu. Guests can customise their own experience by choosing treatments from three different categories: the roots, the trunk, and the leaves. You can also choose your oils, bath salts, scrub and body wrap (all using natural ingredients, obvs) before submitting to total botanical bliss. Our fave is The Canopy Essence – a signature therapy that uses various massage techniques and long palm strokes to improve circulation and relieve chronic muscle tension. And for loved up Honeys, you'll want to try the multi-hour "Canopy Romance" package that includes a body scrub, body mask, massage, and sky bath. Dreamy!
The Canopy Spa at Lloyd's Inn Bali, Jl Arjuna (Double Six), Legian, p. +62 877 3038 1582, e. [email protected]; Open daily 9am – 9pm.
4. Shine Spa
Nestled within the gorgeous, ocean-facing Sheraton Bali Kuta Resort, the fabulously fresh Shine Spa has won so many awards, we can't begin to count them all (but know that you'll be in great hands here!). It's impressively designed with modern touches and Balinese influences – the perfect blend of East and West. And the best bit? All treatments are designed to help you recharge while travelling, from rejuvenating massages to upscale body and beauty treatments that will truly make you shine.
Shine Spa at Sheraton Kuta Bali Resort, Jl Pantai Kuta, p. +62 361 846 5555; Open daily 10am – 10pm.
5. Jamu Traditional Spa
Low-key luxury beckons at Jamu Traditional Spa – an icon on Bali's OG spa scene. Located within the stunning grounds of AlamKulKul Boutique Resort (which resembles a charming Balinese village) this culture-led spa is all about honouring Indonesia. Using the finest ingredients from across Java and Bali – including the age-old and remedial Jamu recipe – expect indulging spa treatments, healing massages, facials and even take-home products that have been made in-house using (you guessed it) that Jamu super-ingredient.
Jamu Traditional Spa at AlamKulKul Boutique Resort, Jl Pantai Kuta, Legian, p. +62 361 752 520 165 / +62 811 389 9930, e. [email protected]
6. Sakanti Spa
A barefoot oasis in the heart of Kuta, Sakanti Spa is a sanctuary of wellness and beauty rituals inspired by Balinese heritage and traditions. Treat yourself to a blissful spa treatment surrounded by the sounds of the ocean and our favourite scents by Sensatia Botanicals. Sit back and relax, as the spa's professional therapists design a unique ritual of body massages, scrubs, facials, manicures and pedicures, specially for you.
Sakanti Spa at The Anvaya Beach Resort, Jl Kartika Plaza, Kuta, p. +62 361 209 0477, e. [email protected]; Open daily 9am – 9pm.
7. Bhava Spa
At Bhava Spa, mother nature is the key to all its blissful treatments. Located within the Amanaya Resort in Kuta, the spa is home to six customised treatment rooms designed to give you a sensorial and indulgent head-to-toe spa sesh. The spa menu at Bhava (AKA "state of body or mind") is inspired by the time-honoured, holistic wellness traditions of Indonesia, China, Japan, Thailand and India, and designed to engage all five senses. We love "The Infinite Tea" package that pays homage to traditional tea ceremonies. It starts with a fragrant, jasmine tea foot ritual to release muscle tension, then, your whole body will be pampered with a soothing 'dancing silk' body massage and a jasmine black tea scrub, followed by a nourishing honey black tea body wrap. You'll end the treatment with some much-deserved me-time, soaking in a warm bath full of jasmine tea and fresh mint leaves…
Bhava Spa at Amnaya Resort Kuta, Jl Kartika Plaza, Gang Puspa Ayu No. 99, Kuta, p. +62 361 755 380 / +62 8954 1091 2768, e. [email protected]; Open daily.
8. Gamelan Spa
Unwind after a whole day of sunbathing and shopping with spa treatments galore at Gamelan Spa. This sleek spa is located in Four Points by Sheraton Bali, Kuta, using all kinds of natural products and ingredients – think fresh cucumbers, lime, cinnamon sticks, sea salt, and all kinds of spices and herbs. Relax and recharge with full body massages, a body scrub and wrap, or better yet, choose a romantic couples treatment to bliss out with bae!
Gamelan Spa at Four Points by Sheraton Bali, Kuta, Jl Benesari Banjar Pengabetan, Kuta, p. +62 361 849 6606; Open daily 9am – 5pm.
9. The Spa at Padma Resort Legian
For an oh-so luxury spa sesh, head to Padma Resort Legian where traditional Asian spa rituals await. The team of professional spa therapists are ready to soothe any tensed muscles or sunburnt skin, with indulgent traditional massages and very special signature treatments. And if you've just landed on the island, you'll want to try the Jet Lag Revival package. Aimed at reviving your energy levels after hours of travelling, this invigorating ritual starts with a calming body and scalp massage, using the spa's homemade herbal compress. Then, your skin will be rehydrated with an aloe vera wrap, as a therapist gives you a much-needed foot massage.
The Spa at Padma Resort Legian, Jl Padma No. 1, Legian, e. [email protected]; Open daily 9am – 9pm.
10. DaLa Spa
You'll want to make time for a spa treatment (or three) at DaLa Spa, because this enchanting and oh-so elegant Legian destination at the stunning Alaya Dedaun Kuta Resort is a sight for sore eyes and a serious treat for tired bodies. Famous for incorporating age-old Indonesian rituals into its spa sessions, DaLa Spa uses only the freshest local ingredients, all of which are totally edible (that's how natural they really are…!). Try the Warm Stone Detox Massage, the Hydration Strategy Facial by Pevonia Botanica, or go all out with a signature spa package that includes multiple hours of Indonesian-inspired bliss…
DaLa Spa at Alaya Dedaun Kuta Resort, Jl Raya Legian, Kuta, p. +62 361 756 276 / +62 857 9242 1596, e. [email protected]; Open daily 9am – 11pm.
11. Rock Spa
Designed for rock 'n rollers (just like its Hard Rock Hotel home), the Rock Spa invites you to retune your body and soul with a line-up of signature spa treatments. You can't go wrong with any of the fun and quirky musical-inspired treatments, like the two-part Smooth Operator (a body scrub and wrap combo) or the healing Wrap Remix that detoxifies and nourishes your skin, followed by a rhythmic body massage and a cleansing facial mask. Our favourite is the Face The Music facial that brings together the benefits of sound vibration and organic skin products, leave you with the ultimate pre-party glow.
Rock Spa at Hard Rock Hotel Bali, Jl Pantai Kuta, Kuta, p. +62 361 761 869 7325, e. [email protected]; Open daily 8am – 9pm.
12. Celestine Spa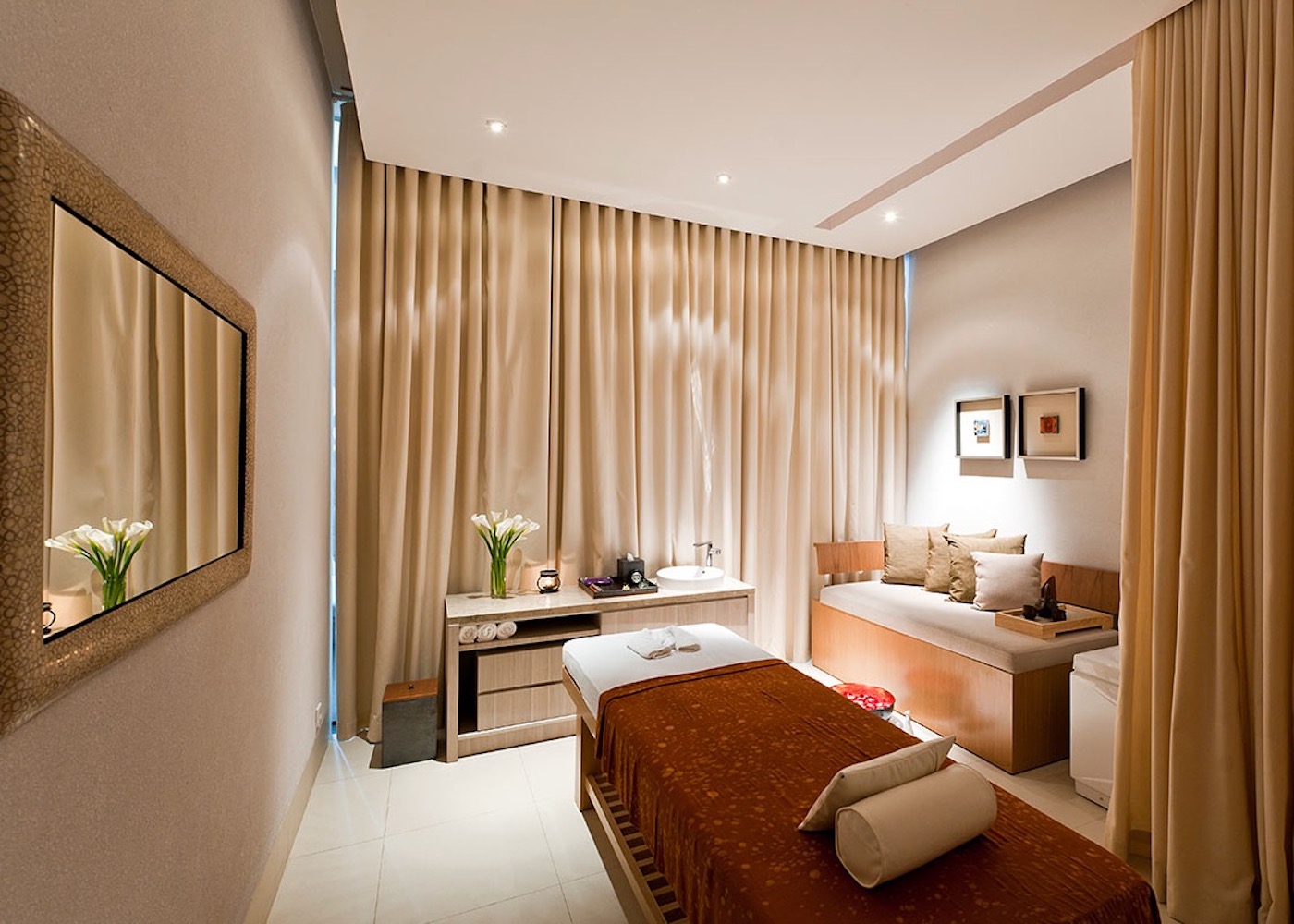 Make the most of your Legian getaway by indulging in the wellness treatments and beauty rituals at Celestine Spa. Tucked away within The Stones Hotel on Kuta Beach, here you'll find couples massages, body wraps, facials, foot therapies – the works, all within a modern, fresh and sophisticated space. Try the signature Celestine Warm Stone Therapy massage that uses warm basalt rock, a purifying body oil and long flowing strokes with various sized stones – it's ninety minutes of bliss you won't want to end!
Celestine Spa at The Stones Hotel, Jl Raya Pantai Kuta, Legian, p. +62 361 300 5888 1073, e. [email protected]; Open daily 10am – 9pm.
Looking for more spa inspo? Check out our round-up of Bali's best spas!