On the hunt for the best new restaurants in Bali? Bookmark this page, because here we bring you the hottest new openings of 2023.
From epic breakfasts and never-ending brunches to cool cafes and ultra-fine dining degustations – you could say we're a little obsessed with food here at Honeycombers. And when it comes to the best new restaurants in Bali? We're all over it. From Seminyak and Canggu to Ubud, Uluwatu and beyond, each month we bring you the best new restaurants, cafes and bars in Bali, keeping you in the loop with all the hottest places to eat across the island.
We don't often blow our own trumpets. But if we're talking food, we can always tell you the best place for a local Balinese feast, a drool-inducing burger, and even where to eat vegan across the island. And as for all the brand new, hot-off-the-press restaurants you absolutely need to try? Well, this is everything you need: our Hot New Tables 2023 roundup.
And psst- if you're still hungry for more, check out all of the best meals we ate in Bali in 2022, 2021, 2020, 2019, and 2018 too… Happy munching, Honeys!
ALL THE BEST NEW RESTAURANTS IN BALI
Hot New Tables: 2023
Syrco BASÈ – Ubud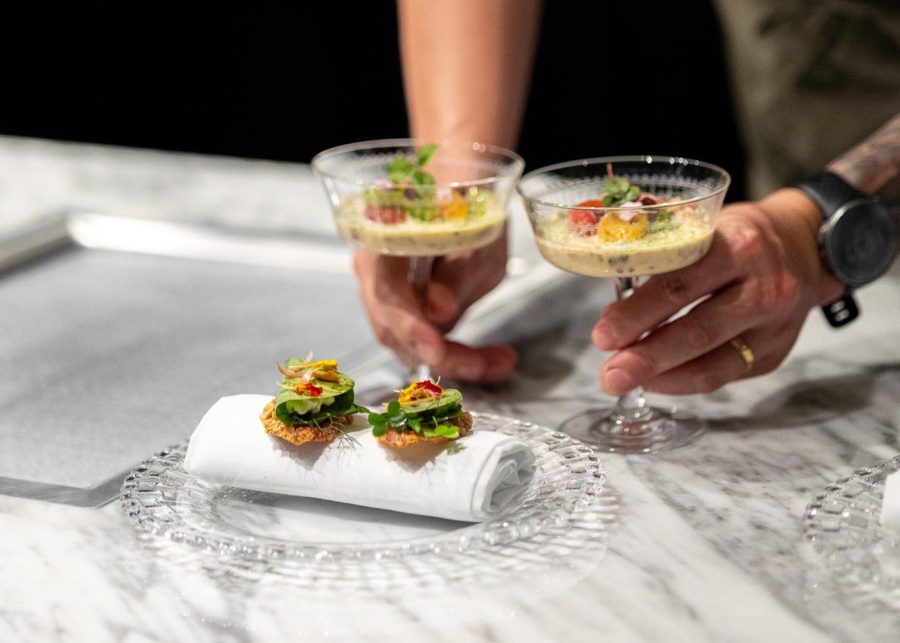 Join Chef Syrco Bakker and his team at Syrco BASÈ, a multi-experience fine dining destination that showcases gastronomy and mixology. Bringing his two Michelin-starred experience from The Netherlands to Ubud, expect a\n innovative take on the island's freshest ingredients and rich culinary culture. The result? An elegant and unique dining experience packed with flavour and aromas, showcasing the best techniques and produce from local communities and farmers.
The Iron Fairies – Seminyak
Following its worldwide success, The Iron Fairies has landed in Bali's trendiest 'hood, Seminyak. At this magical watering hole, you'll find an under-worldly nightlife scene, where live bands, DJs, unique mixology and signature cuisine collide with magical interiors, decked out in hand-cast iron, hand-hewn timber and soft leather. Step inside and you're greeted with a 500 guest-capacity workshop-style room (the largest amongst The Iron Fairies venues) surrounded by delicate fairies, glittering gossamer and eight individual 'casting rooms'. It goes without saying, this new destination promises a night full of fantasy, wonder and wild imagination…
Il Locale – Berawa
Simple dishes done to sumptuous perfection, Il Locale stays true to Italy's authentic home-style cuisine. The brainchild of renowned restaurateur, Mauro Marcucci (the man behind some of the top restaurants in Australia), Il Locale creates everything from scratch and combines comforting Italian flavours with unique Indonesian twists. Swap and share the stone-baked pizzetas and battered zucchini flowers, before tucking in to the hand-rolled spaghetti with Blue Swimmer Crab and a splash of orange wine. And whatever you do, don't leave without trying the Italian-Indo cocktail fusions, like the Canggu al Pompelmo; a concoction of dark rum, Aperol, grapefruit and lime. All of this, served up amidst industrial-meets-elegant interiors…
Sayulita Tacos & Tequila Bar – Uluwatu
An ode to the colourful culture and cuisine of Mexico, Sayulita brings the essence of this coastal town to Bali, with authentic Mexican staples and technicoloured, cantina-style interiors. Using the freshest organic ingredients, tuck into homemade tacos, tapas-style nachos, creamy guacamole and coconut-y ceviche. Our fave? The Baja fish tacos, the veggie-friendly garlic mushroom tacos, and of course, the tequila and mezcal-infused cocktails. Finish it all off with the chewy churros, fried to golden, sugar-coated perfection…
Gajah Putih – Ubud
For a date night with a difference, head to Gajah Putih in Ubud. Taking "dinner and a show" to another level, this fine dining restaurant combines the magic of gastronomy and theatrics. Try the chef-perfected set menu that showcases his years of experience, with each dish meticulously crafted using the finest locally sourced ingredients. And as you tuck into each masterpiece, you can watch as the enchanting theatre show unfolds right in front of your table. This is one for the memory books.
1959 Cocktail Bar & Dance Club – Kerobokan
Taking inspiration from the era when legends were born, 1959 is an iconic bar and dance club in Kerobokan, crafting drinks that pay tribute to the year's most historical events. From Marilyn Monroe's world debut to NASA's space project milestones, this vintage-meets-modern experimental bar creates truly legendary cocktails. Choose from ten signatures and eight local heritage cocktails, like the Marilyn-inspired Incurably Romantic, made with Sierra Antiguo Plata Tequila and a kick of jalapeño. Or celebrate Indonesia's rich heritage with the traditional flavours of Warisan Kecombrang – local East Indies gin with spice, lime and Honje chutney. Cheers!
Lulu Bistrot – Canggu
Just one step inside Lulu Bistrot, and you're transported straight to the streets of Paris, where the sounds of soft live jazz serenade the evening, and fine French wines line the walls of a well-stocked cellar. You'll want to arrive early for apéritifs on the sun-soaked terrace, before stepping through to the sophisticated dining room for an evening of French-inspired cuisine par excellence. Everything on the menu is best shared in great company, using local seasonal ingredients, top-notch global produce and recipes that honour French cooking. Start with the onion tarte tatin or the local clams in a herbed vinaigrette, followed by the hearty lamb neck that's been braised in a rich, red wine gravy. Finish it all off with a fresh tropical fruit sorbet, and of course, a glass of Cabernet Sauvignon. Bon appétit!
Yuki – Uluwatu
By very popular demand, Canggu-born Yuki is now bringing its quirky Japanese fusion cuisine to the Bukit. A modern take on the traditional izakaya, Yuki focuses on simple, innovative dishes whilst honouring traditional Japanese cooking techniques as well as Bali's bountiful ingredients. And yep, all our Canggu faves are here, from the nori ahi tacos with a splash of watermelon ponzu, to the tuna truffle maki roll and the vegan oyster mushroom yakitori. But before you leave, you'll want to wash it all down with Yuki's Japanese-inspired signature cocktails. We love the Off To Tokyo with a hint of wasabi and sprinkles of furikake, and the tangy Yukies 2.0 made with gin, calamansi, goji berry, banana, lime and yuzu…
Motel Mexicola – Canggu
After years of making a big name in Bali's culinary and party scene, the ever famous Motel Mexicola has made a second home in Canggu – complete with the Mexican cantina vibrancy, explosion of flavours and always buzzing vibes you've known and loved from its Seminyak location. A Mexican night here begins with a primero of guacamole verde, before tucking in to the variety of tacos and tostadas. We love the confit duck tacos and the braised lamb tostada that pair perfectly with the dragon fruit and lychee margarita, or the foamy Piñata cocktail with spiced rum and charred pineapple. Whether you're in Seminyak or Canggu, it's always a fiesta at Motel Mexicola!
Le Bajo – Pererenan
Following the footsteps of its Melbourne trailblazer, Le Bajo in Bali is gracing the island with poolside feasts in the heart of Pererenan. Surrounded by acres of rice paddies with a turquoise pool taking centre stage, expect the best of Melbourne's hip cafe culture with modern-Japanese twists. The space itself is inspired by the land of the dragons, Labuan Bajo on Indonesia's Flores island, with its lush vegetation and pristine blue waters. Prop up on a daybed by the 20-metre pool or head up stairs to the open-air rooftop bar, and graze all day on signature Japanese sandos made with organic local ingredients. Wash it all down with the carefully crafted, eco-conscious cocktails and mocktails, and when you're ready to mix things up, float across the pool to another Melbourne import, Tickled Pink, that's also been keeping Canggu's hungry crowds well-fed.
Azure Beach Restaurant – Jimbaran
A taste of the French Riviera in Bali, Azure Beach Restaurant is where the laid-back vibes of Jimbaran Beach meet quintessential French elegance. This chic beachfront venue is blessed by an ever-present ocean breeze, plus gourmet Mediterranean bites and craft cocktails to sample throughout the day. Try the very best of Jimbaran's fresh seafood given a Mediterranean twist, from baked oysters to zesty ceviche, and top-notch ingredients like lobsters, scallops and French sturgeon caviar. Sip on the Azure Daiquiri or the Strawberry Basil Spritz, and spot traditional wooden boats as they sail away into the sunset each evening. Très beau!
Red Gunpowder – Pererenan
Tucked away in a quiet corner of Pererenan, Red Gunpowder celebrates the authentic and vibrant spices of India, dished up with spectacular contemporary twists in a regal and dimly lit space. Using the freshest local ingredients, each recipe pays homage to the nation's culinary traditions, designed to bring people together over flavour-packed dishes to share. Try the Samosa Tartelette to start, followed by the local quail Tikka or the vegetarian paneer and eggplant kebab. If you love spice, try the classic Rogan Josh with butter naan. All of this is best paired with the uber creative modern-Indian cocktails, like the Boozy Lassi or the Curry Mule. This place is packed every night, so reservations are highly recommended.
Norii – Ubud
Fresh ingredients and authentic flavours are the name of the delicious game at Norii – a contemporary yakitori bar in Ubud. You'll want to prop up at the bar here, where the open kitchen and traditional grilling takes centre stage. Watch the chefs masterfully fire up and baste your meal as the skilled mixologists concoct personalised cocktails table-side. We love the Wagyu beef and salmon skewers, alongside the grilled corn furikake and baby romaine. It's artful, interactive and enhanced by warn hospitality – just like its Ubud home.
Shichirin – Canggu & Ubud
Now in both Ubud and Canggu, Shichirin has taken Bali's food scene by storm, bringing us Japanese cuisine at its very best. Shichirin, AKA traditional Japanese grilling, specialises in three culinary experiences you'll want to add to your foodie bucket list: teppanyaki (the art of live-grilling), gyukatsu (breaded beef cutlets deep-fried to perfection) and konro (the art of slow-cooking on a charcoal grill) – all using the finest local and imported ingredients. Start with the teppanyaki edamame, followed by the gyukatsu set or the grilled black pepper tofu steak. Finish off with the tempura matcha ice cream, and wash it all down with the Friends of Hibachi signature cocktail with a hint of wasabi. Itadakimasu!
Paed Thai – Canggu & Sanur
Answering all of our pad Thai prayers, Paed Thai in Canggu and Sanur is slinging authentic Thai cuisine alongside creative Thai-inspired cocktails . Paying homage to the country's culinary scene, the talented chefs perfectly balance sweet, salty, spicy and sour in each dish. Think fresh oysters drenched in a Thai lemon dressing, the peanut-y Pad Thai Goong and a whole steamed fish to share. And we say, finish it off with the Paed Thai Tom Yum – nope, not the soup, but rather the bar's signature cocktail that blends vodka, red chilli, galangal tea, lime juice and lemongrass…
Electric Eel – Canggu
Overlooking the waves of Echo Beach in Canggu, Electric Eel is a laid-back beach house with nostalgic retro vibes. Backed by some of the biggest names in Bali's hospitality scene (we're talking The Lawn and Sisterfields), this neighbourhood restaurant and lounge is a cosy space slinging classic dishes that transport you back in time. Start the day with brekky staples like ricotta pancakes or eggs and ham with golden hash browns, best paired with a healthy juice and signature coffee. Come back again for lunch (think crumbed fish sandwiches or a charcuterie board to share) and stick around for a sunset aperitivo and a sophisticated yet casual dinner. Try the organic grass-fed tenderloin with hand-cut fries, followed by an Aussie fave pavlova with lemon and passionfruit, washed down with frozen drinks and signature cocktails.
Pasir – Ubud
Bringing a slice of Bali's beach life all the way to the heart of Ubud, Pasir is a Mediterranean oasis on the bustling Monkey Forest eat street. Pasir, AKA sand, is a breezy and tropical space decked out with rattan chairs, potted plants and natural lighting. The culinary team pays homage to the flavours of the Mediterranean, all while honouring the abundant fresh ingredients straight from local farms and the nearby ocean. Think freshly caught fish seasoned with sea salt from Kusamba and paired with vegetables from the farms and plantations of Ubud. We love the octopus carpaccio to start, followed by the hanging tomahawk to share. Wash it all down with the fruity and zesty cocktails that remind you of where you are: paradise!
AMICI – Seminyak
With a menu that's expertly crafted by the Michelin-starred Chef Enrico Bartolini, and skilfully executed by Head Chef Alessandro D'amico, AMICI is taking Bali's fine dining scene by storm. This kitchen duo is serving up a delectable tribute to Italy's world-class culinary culture, showcasing authentic recipes with a modern twist, and using the island's very best ingredients. Step inside the stylish dining room and you'll spot the chefs working their magic in the open kitchen. While we love the classic pizzas and pastas, our fave has to be the Ravioli d'Anatra – hand-made duck ravioli cooked to al dente perfection, served with a vibrant saffron sauce and mustard pear, best paired with an Italian wine. Our top tip: come early to catch the sunset on Amici's ever-green veranda…
The Octagon – Uluwatu
Nestled deep within the green grounds of Grün Resort Uluwatu, The Octagon is an East-meets-West fusion with a focus on nature. For starters, the open space is surrounded by barely-touched forestry, far from the hustle and bustle with a serene ambiance that calls for a breezy breakfast, lunch or dinner. Its octagonal shape is not just for show – the structure is designed by the architectural pros at Stilt Studios, built in harmony with its surroundings whilst minimising its ecological footprint. As for the menu, try the signature ravioli stuffed with Bali's famous suckling pig, the Indonesian beef rendang tacos, or the vegetarian tempeh steak. Top it all off with the Cardamom-Tini, finished with a little kick of local spice…
TELU – Jimbaran
Inventive, sustainable and oh-so delicious – TELU is the first-of-its-kind zero waste bar in Bali that's housed within the breathtaking Four Seasons Resort Bali at Jimbaran Bay. SO much more than just a rustic-chic cocktail bar, TELU (meaning "three") refers to the Balinese philosophy of celebrating the connections between people, the environment and the island's soulful heritage, as well as the three local charities it supports: Sungai Watch, Bali Children's Project and Ocean Gardener. As for the cocktails, each creation is concocted using a zero-waste approach – all homegrown or sourced within Indonesia. They even host a workshop on making sustainable, zero-waste cocktails, taking place within the bar that's been wholly designed using upcycled materials. We LOVE!
Ape Club – Uluwatu
Breezy beer garden meets gastropub vibes at Ape Club – the latest brewery in Bali where you can gather your best mates for a round of awesome beers, bites and beats. Located in the surfer's paradise of Uluwatu, this al-fresco destination brings a taste of South American cuisine to the island; fire-forged and carefully curated to match its Bali-brewed craft beers. The result? Mouth-watering pizzas, tender steaks and charred seafood, all served with refreshing IPAs. crisp hazy beers, or fine wines and sophisticated cocktails. The best bit is, it's pet-friendly, meaning your doggo can join in on the fun too!
Nüde – Babakan
A long-time veteran when it comes to feeding Canggu's hungriest crowds, Nüde's unique charm has made its way from Berawa to Babakan, now specialising in everyone's favourite food: pizza! Kneaded and baked to charred perfection, you'll find an impressive selection of scrummy pizzas to share (or not!) at this second Nüde location. We love the vegetarian pizzas, like the pumpkin and blue cheese pizza, or the Lima Formaggi – yep, forget quatro, because lima AKA five cheeses, makes for an ooey-gooey slice that we can't get enough of. Wash it all down with the vegan milkshakes or refreshing cocktails…. We'll take three frozen rosés please!
The Flying Squirrel – Seminyak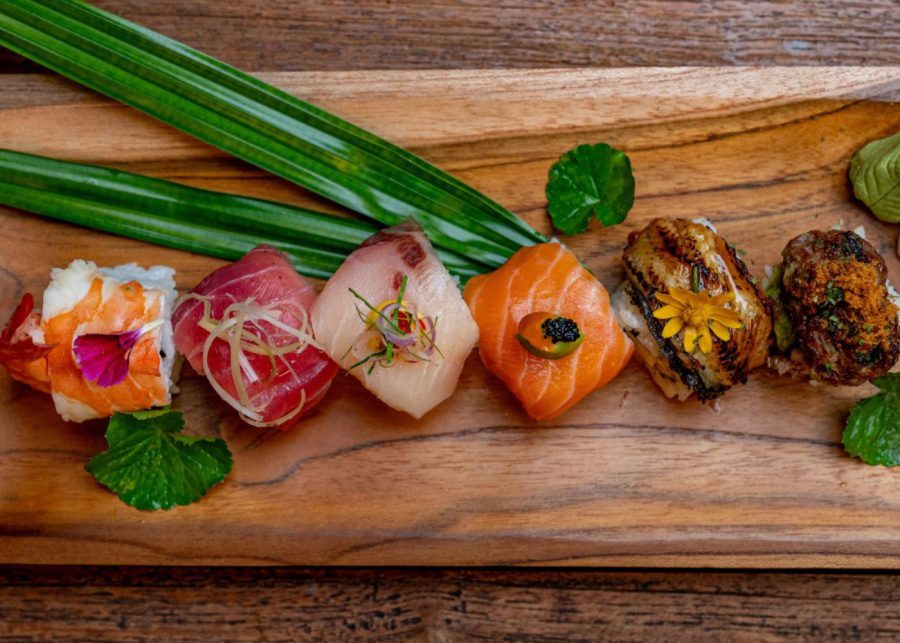 Glide in to The Flying Squirrel for awesome Japanese eats in Seminyak. After taking over Singapore's culinary scene, this new Bali address brings a modern Japanese menu to the streets of Petitenget, inspired by the very best local produce. Make your way to the sushi bar for a taste of the ocean's freshest bounty – from salmon and hamachi, to unagi, ebi and tako. Or to really try it all, load up on the TFS Bali Signature maki with six different fillings, the Sashimi Moriawase with seven kinds of sashimi to share, or the TFS Premium Chirashi – a rice bowl topped with salmon, tuna, white fish, tako, tiger prawns, unagi, tamago and ikura. Of course, a chilled Saketini tops it all off…
Cantina Classe – Canggu
A rustic Pasta e Pizzeria in the heart of Canggu, Cantina Classe brings a taste of Italy to Bali, topped off with interiors reminiscent of a brick pizza oven. The kitchen dishes up handmade Italian faves the way nonna used to make them, with modern twists to finish them off. Think eggplant parmigiana, black ink spaghetti and truffle mushroom pizza. And whatever you do, don't leave without trying the mascarpone tiramisu. You'll also want to try the quirky signature cocktails, like the Liquid Pizza, with vodka, tomato juice, lime juice, basil syrup, salt and pepper, expertly mixed tableside. Buon appetito!
Kulkul Beach House – Nusa Dua
Designed to bring people together over great food and laidback beachfront vibes, Kulkul Beach House is Bali's newest oceanfront venue with dazzling views galore. This chic destination on Nusa Dua's pristine white-sand beach follows a zero-waste dining concept, paired with sustainably sourced ingredients and innovative cooking techniques. From smoked salmon macaroons. to vegetarian flatbreads, plus traditional local favourites too, there's plenty to graze on here, from morning 'til sunset and beyond. Naturally then, the cocktail menu is equally spectacular, with seaside creations like the Negritzer (a classic Negroni with sparkling wine), the Sambal Mary (a spicy take on the Bloody Mary), and the pretty-as-a-pic Swan-tini. All of this, best enjoyed in a stylish cabana beside the adults-only pool…
Tickled Pink – Canggu
From Melbourne to the rice fields of Canggu, Tickled Pink is bringing its Western fusion cuisine to its first international location in Bali. Priding itself on good food, great drinks and nostalgic Melbourne vibes, it's a must-visit to experience Australia's famous culinary culture. For breakfast, head to the outdoor lounge overlooking Canggu's emerald green rice paddies for a flat white and a Florentine Truffled Benedict with homemade Turkish bread. Then, grab a seat on the poolside cabana, and graze all day on loaded bowls and healthy salads. Come nightfall, the indoor restaurant is a cosy spot to wine and dine in a relaxed atmosphere. Start with the paella arancini, before moving on to the sticky lamb ribs. Finish off with an Aussie classic – the lemon meringue pavlova – and a Tommy's Pop Margarita. It's official: we're tickled pink!
MUDA by/Suka – Canggu
Inspired by the bold flavours of Asia, MUDA by/Suka is a casual yet refined restaurant in the heart of Batu Bolong. Chef Robby Tan and his team of kitchen pros serve up street snacks and large plates to share, each one a passport to Asia that tells a story. Journey to Japan, China, South Korea and South East Asia, or go all-out with MUDA's six or seven course menu for a taste of it all. Think cured red snapper with nam jim sauce, Cantonese steamed fish and coffee-rubbed Black Angus served with tare jus, gochujang and kimchi. And don't leave without trying MUDA's Japanese-inspired cocktails, or the signature sharing cocktails. Psst… the modern living room inside this traditional Javanese house, AKA joglo, makes for an intimate date-night destination too!
Tetsushin – Sanur
Hungry for authentic Japanese cuisine made with fresh ingredients, premium meat and seafood? You'll want to book a seat at Tetsushin, a cosy Japanese restaurant and bar in the heart of Sanur. By day, taste the kitchen's homemade recipes, like the cucumber and seaweed salad, or the okonomiyaki, AKA a Japanese savoury pancake, packed with cabbage, meat and seafood, topped with bonito flakes, Japanese mayo and pickled ginger. Dinner is then all about open flames and the chef's sleight of hand! Yep, gather around the fiery Teppan and enjoy the show, kicking back with a chilled sake in hand while you watch as your premium steaks are cooked to perfection.
Ourshome – Uluwatu
The latest creation from the Ours Group (the peeps who gave us OurSpa and Ours restaurant), Ourshome is a place in The Bukit to call home. This healthy cafe is designed for the local and expat communities; a place for mixing and mingling over a menu that nourishes your body, mind and soul. The dishes are made using the freshest ingredients sourced from local farmers, and curated by the in-house nutritionist (whom you can consult with!). But that's not all. By signing up to this exclusive membership club, you'll also get to enjoy all the perks, including discounts to Ours Group's other establishments!
Bar Vera – Canggu
Freshly opened as part of Pererenan's boutique Further Hotel, Bar Vera pays tribute to the neighbourhood bars and bistros of Europe, where stylish patrons unwind over good food, drinks and great company. And with its modern city vibes and Parisian-inspired interiors, it's the perfect place to swap, share and sample each produce-driven dish, carefully curated using classic techniques, modern twists and local flavours. Think charcoal-roasted chicken, steak tartare with sambal and lychee soufflé with coconut gelato. It goes without saying that the drinks list at bar Vera is worth a trip alone, where European wines and cocktails are slung from the low-lit bar. And did we mention, Bar Vera is the latest creation from the unstoppable Mason Group? Need we say more…
KYND – Canggu
From Seminyak to Canggu with love (and a whole lotta vegan deliciousness), the island's favourite plant-based cafe KYND has finally opened a second location in Canggu. Yep, that means you can find all of your favourite KYND signatures, now in the 'Gu. Graze on the Insta-famous Paradise Pancakes served with coconut ice cream for brunch, or the buffalo cauliflower wings and the salad bowls for lunch. Come back and make it a peace-zza night with some of the most unique pizza toppings we've ever seen, like temperoni, smoked vegan ham and Tandoori cheeken, to name a few. All of this, served up in KYND's signature tropical-pink interiors…
Brasserie République – Sanur
An authentic Parisian-style cafe in Bali's laid-back eastern neighbourhood, Brasserie République is a perfect pitstop for a casual yet sophisticated (a la 1920s) dining experience. Located on Sanur's busy food strip, the brasserie is where you can spend your morning with a delicious cup of coffee and a gooey chocolate lava cake with a scoop of ice cream on the side. Or, swing by for lunch and dinner to feast on decadent French favourites. Try France's culinary pride and glory, Coq au Vin (bone-in chicken braised to perfection in rich red wine sauce), or the Steak au Poivre served with green pepper sauce and french fries. And whatever you do, don't leave without sipping on the bar's selection of premium wine… Bon appétit!
The Bakers Bistro – Seminyak
Modern bistro meets artisan bakery at The Bakers Bistro – the latest foodie destination helmed by renowned Chef Nic Philips. Dishing up bistro classics from brekkie through to brunch and lunch, you can't go wrong with the bistro's all-day smashed avocado or freshly baked croissants, perfectly paired with a house-blend coffee, or even an Espresso Martini (brunch cocktails, anyone?). Better yet, go for the big Benny Brunch Deal – a combo featuring The Bakers Bistro's special eggs benny on house focaccia with ham and hollandaise, plus a side of coffee, seasonal fruits, Greek yoghurt and granola. You'll then want to come back for lunch to graze on the homemade pastas, Australian Angus beef burger or steak and fries. And psst – there's plenty of vegan, vegetarian and gluten-free options too!
Cha Ching Clan – Canggu
Slated as the first restaurant in Indonesia to serve Dōngběi cuisine from Northeast China, Cha Ching Clan is an eclectic bistro that pays homage to the region of China where Russia, Korea and Mongolia meet. Helmed by Dōngběi natives, the kitchen blends unique herbs and spices with the freshest locally sourced ingredients. Start your oriental journey with the veggie-friendly spicy soy salad with shiitake mushrooms, soybeans and beancurd sticks. Follow with the Emperor Seafood Platter – a shared bounty featuring the catch-of-the-day – and the stir fried Northern Jade Okra with shimeji mushrooms and tofu. End with a delectable combo of sweet potato and yam, served in a bird's nest made from spun sugar. And since there's nothing like getting kicked by Bruce Lee, try a cocktail inspired by the legendary martial artist himself, or the sweet and tangy One In a Melon, served in (yep, you guessed it) a watermelon!
Takumi – Seminyak
Takumi, AKA master of a craft, is an exclusive, reservation-only restaurant in Seminyak unlike anything you can find on the island (just what we look for when rounding up Bali's best new restaurants!). Specialising in the art of Kaiseki, Chef Daijiro Horikoshi curates an exquisitely presented nine-course menu using ingredients that celebrate each season. The regularly changing menu includes high quality ingredients all the way from Japan, paired perfectly with Bali's freshest produce. Expect the best of the best, from fresh sashimi and nigiri, to organic vegetables, Wagyu beef and foie gras. All of this, best enjoyed with the sake selection and wine pairing to get the complete Takumi dining experience.
Ikan – Nusa Dua
Sitting right on the beachfront of The Westin Resort Nusa Dua, Bali, Ikan is a casual eatery by day and a sophisticated bar and restaurant by night. Within its open-air space, thatched roof and Balinese-inspired designs, you can graze on fresh seafood paired with the best locally sourced ingredients and Indonesian flavours. Try the light and delicious seaweed salad with seared tuna and Indonesian-style dressing, kuah pindang, and wash it down with a cold craft beer. Our top tip: grab a seat by the beach and sip on a sunset aperitif, before making your way to the main dining area for a tapas-style dinner. Start with the crab spring rolls, and follow with the slow-cooked ayam betutu and Jimbaran-style grilled fish. Top off the evening with signature cocktails, like the Gunung Agung inspired by Bali's tallest volcano, and the Italian Job with house-made limoncello.
Meru Ubud – Ubud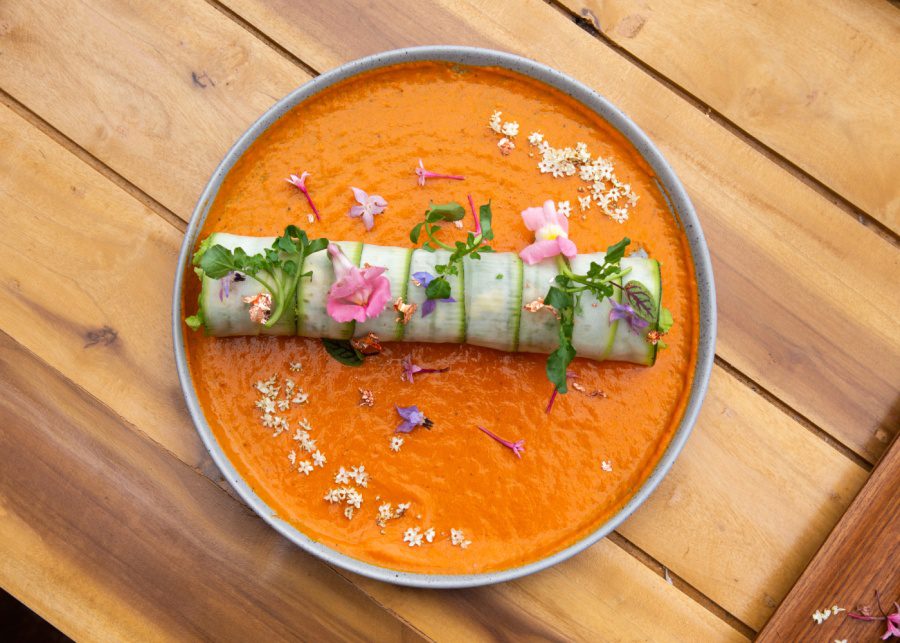 Feast on a sustainable menu of farm-to-table specialities at Meru, where Ubud's lush greenery extends for as far as the eye can see. The dishes are carefully prepared using organically grown ingredients sourced from Meru's own farm. And the result? Beautifully presented sumptuous food that's almost too good to eat. Start the day right with the veggie-packed zucchini pancakes, then swing by for a lunch date and try the sushi rolls sprinkled with colourful edible flowers. Top tip: come back for a lively and laid-back sundowner with a sunset cocktail in hand, best paired with the kitchen's pretty little tapas. Share a bountiful platter of fresh seafood or falafel and veggies, then end your dinner on a sweet note with the Vanilla Panna Cotta, served with caramelised ginger and rose syrup.
WhiteStone Restaurant & Bar – Umalas
From breakfast to brunch and dinner too, WhiteStone Restaurant & Bar is a cosy all-day dining space in Umalas that specialises in signature dishes from Asia to the Mediterranean and beyond. For late risers, the casual Melbourne-style brunch runs until 3pm, with a selection of brunch favourites like waffles, avocado toast and eggs Benedict. Then, as the day moves into dinner, expect flavours from Indonesia and across Asia, before finishing off with the almost-too-pretty-to-eat desserts, like the Matcha Panna Cotta served with macerated strawberries, poached pear, carrot gel, hazelnut, and matcha ice cream. Wash it all down with a Negroni that's been given a Rosella twist, or the signature Smoky Topaz with whisky, orange, lemon juice, coffee liqueur and a crème brulée syrup.
Scusa – Jimbaran
Bringing the flavours, aromas, and laid-back ambiance of the Mediterranean to Jimbaran, Scusa is the latest dining destination to open within the newest hotel on the sprawling AYANA Estate, AYANA Segara. Using fresh local ingredients to honour the quintessential dishes of the Med, Scusa transports you to a Mediterranean island with every bite. Think stuffed calamari with sauce vierge and confit tomato, or mackerel in carpione with garden vegetables and citrus mayo. The chef's favourite? The pappardelle with lamb ragout, topped with pecorino fondue and sage. And the menu isn't Scusa's only impressive trait. The maze-like restaurant (with its arched doorways and terracotta pots) is reminiscent of the winding alleyways of Italy, Spain and Greece, centred by an outdoor piazza, lounge and Italian-style fountain for those all-important alfresco vibes. All of this is then topped off with a wine list featuring the best red and white Mediterranean varietals, and exclusive wines from boutique vineyards throughout Italy and Spain.
Uma Garden – Umalas
Nestled amongst Umalas' rice paddies and surrounded by greenery is Uma Garden – a fire-based restaurant with the humble philosophy of bringing people together around real food and good vibes. Just minutes from both Canggu and Seminyak, Uma Garden is a sanctuary away from the bustle, and with its stylishly rustic ambiance and prime address on one of Umalas' most trendy streets, it's fast become the go-to neighbourhood hangout for both expats and seasoned foodies alike. Start the evening with a pre-dinner aperitivo at the stylish indoor lounge as you watch the open kitchen come to life. Then, make your way to the heart of the restaurant where communal tables set the scene for mixing and mingling over honest recipes and wood-fired flavours. Try the 24-hour slow-cooked pork belly, or the Wagyu beef and juicy prawns ember-grilled to perfection.
Powder Room – Ubud
From the same trailblazing kitchen team as Room4Dessert, Powder Room in Ubud is the latest venture from award-winning Chef Will Goldfarb – this time a creative take on a candy store. In true R4D style, this dessert haven is stocked full of handmade artisanal treats with signature twists that pay homage to Bali's fresh, locally sourced ingredients. Think superfood versions of classic chocolate bars (hellooo healthy Snickers!), rosella-kombucha garden gummies, and our fave, the Botanical Bombolonis – complete with a crunchy sugar crust and gooey vanilla cream that oozes with every bite. Added flavours are courtesy of herbaceous ingredients like galangal and jamu, Indonesia's traditional drink.
CORK Bistro & Wine Bar – Sanur
Adding to Sanur's international food scene, CORK Bistro & Wine Bar is a European bistro where the menu is given a gastronomic twist. The bistro's casual-meets-fine dining concept caters to all foodies, perfect for a night out or special occasion. Drop by in the morning and start the day with an elevated breakfast, like French toast with crispy bacon and a perfectly brewed cappuccino. For lunch or dinner, start with the tuna tartare or beetroot salad, before grazing on the rich duck confit or the classic tenderloin with foie gras. Then, finish it all off with a spekkoek affogato and a glass or two of the fine wines on offer. And psst -CORK doubles up as a wine shop, so you can also take home a bottle of your fave!
Maize – Canggu
Drink and dine in Latin American style at Maize – Canggu's hottest new restaurant that's dishing up contemporary cuisine inspired and rooted in Latin flavours and traditions. From the crispy fried tortillas to the suckling pig, everything on the menu celebrates local and seasonal produce, alongside imported ingredients from Latin America and Asia where necessary. Take a seat on the alfresco outdoor patio and start with the Hokkaido scallop tostadas topped with uni mayo, cured egg yolk and pomelo. Move on to the wood-roasted cabbage with salted grapes and roasted almonds to share, or even create your own tacos. Not sure what to eat? Give the chefs the reins with the Chef's Choice Menu, and whatever you do, you'll want to save space for Maize's desserts…
Bacari – Ubud
So much more than 'just' a sublime spot to drink wine, Bacari is the first wine bar in Ubud where 19 excellent wines are served by the glass using the state-of the art Coravin Wine preservation system. Here you can sip your way through fantastic wines from around the world, ranging in varietals, blends and vintages from the Old and New World. And to complement your French Chardonnay or Argentinian Malbec, a carefully curated 'Small Plates' menu has been designed to pair with each glass (this is a list of Hot New Tables after all!). Think olive tapenade on brioche, cured cold cuts, and of course, a selection of aged cheeses too.
Pho Mo – Berawa
Fear of missing out on Vietnamese noodle soup, AKA pho? Lucky folks in Canggu won't have to, because Pho Mo Berawa is dishing up these iconic bowls of deliciousness, topped with fresh veggies and high quality ingredients. The star of the pho at Pho Mo is the broth – packed full of spices that take you straight to Vietnam. Bonus: it's rich in collagen for extra nourishment. You'll find the classics, like Pho Bo (noodle soup with thinly sliced rib-eye), and Pho Ga (braised chicken) that are perfect for rainy days or to enjoy in the cool air-conditioned interiors. We say, slurp on the rib-eye and 48-hour slow-cooked brisket combo pho… Comfort food at its best!
Honey & Smoke – Ubud (temporarily closed)
A speakeasy-meets-grillery, Honey & Smoke is the latest creation by the culinary legend, Chef Will Meyrick. This unique dining concept celebrates smoky flavours through cooking with charcoal and wood fire. But this new Ubud restaurant isn't a steakhouse – here you'll find creative dishes from all corners of the culinary hemisphere, from grilled scallops topped with chilli butter, dried mint yoghurt and sumac, to wood-fired aged snapper and eight-hour slow roasted lamb neck. You'll want to browse through the smoky cocktail list too (try the mystical Kadiaraimu Smoke), and get comfy amidst the al-fresco 1920s-style interiors and travel-inspired decor.
Lola's Cantina Mexicana – Uluwatu
From Canggu to Uluwatu with love, Lola's Cantina Mexicana brings all your favourite Cali-Mexican fare and killer cocktails to the Bukit. It's always a fiesta here, with late nights of music and dancing, and of course, a spice-packed menu. Start off with the jalapeño poppers and tuna ceviche, or the Birria tacos and empanadas to share. Then, round up your hungriest mates and order one of everything off the menu – we're talking burritos, bowls, taquitos, nachos and fajitas too. Finish off with Lola's selection of dulces – we love the salted caramel dessert cocktail, spiked with Captain Morgan spiced rum…
Sala Bistro – Sanur
Sala Bistro, a neighbourhood fave since 2017, is back with a fresh new look and brand new venue right on Sanur's buzzing eat street. Step through the doors and you'll find two floors' worth of cosy nooks, sofas and wooden furnishings that make you feel right at home. This Aussie brunch spot serves up an international menu full of healthy and wholesome dishes made from the freshest ingredients – best enjoyed with a perfectly brewed coffee courtesy of one of the island's best, Seniman Coffee. Stop by for a sundowner on the rooftop with a glass of wine in hand, before tasting the dinner menu that's packed with special creations like the bistro's modern take on bangers and mash, or the veggie-friendly eggplant parmigiana.
Roots – Pererenan
A cosy plant-focussed cafe in the heart of Pererenan, Roots is where you can feast on vegan and veggie creations from brekkie 'til lunch. Influenced by local flavours and seasonal ingredients, the menu is nutrient rich and wholesome, featuring sandwiches, wraps, salads and sweets, plus daytime cocktails too. Start with the Plant Power Big Breakfast (with BBQ-glazed tofu!), or, if sweet treats are your thang, try the Island Rice Pudding with organic sticky black rice, coconut, mango and mint oil. You'll want to drop by at lunch to try the customised bowls selection – either build your own or try one of the chef's signatures. Our fave is the Roots Bowl, brimming with roasted beetroot and carrots, marinated feta, edamame wasabi hummus and a roasted shallot balsamic dressing, sprinkled with dukkah seeds for extra flavour.
ULU Eat – Uluwatu
For artisan eats and cocktails, head to ULU in Uluwatu. This sleek space has got you covered for a pre-surf feast, a fancy night out and everything in between. Just footsteps away from Uluwatu's famous waves, head here for fresh and wholesome food paired with great cocktails. We say, swing by early to feast on the Piggy Pancakes for breakfast (signature triple-stack fluffy pancakes with crispy bacon and a drizzle of brown butter and maple syrup) and a cappuccino. The daily rotating salad bar is then perfect for lunch, while dinner time calls for beer-battered fish and chips and a Tokusen Wagyu striploin. Got room for dessert? Try the Bedugul strawberry sorbet with meringue, mascarpone and basil, and pair it with a Passionfruit Bellini.
Jalapeño – Canggu
Born in Sanur, now in Canggu, Jalapeño is a Tex-Mex trailblazer that's no stranger to Bali's food scene. Now with a second home in Canggu, you'll find all of your favourite Jalapeño signatures here, from the tacos, bowls and burritos, to the classic al pastor or carne asada. And veggies, you're not forgotten – try the jackfruit carnitas, or the mushroom barbacoa. The tequila-based signature cocktails are not to be missed either – we love the Jamurita for a taste of Indonesia and Mexico all in one glass, or the Los Jalapeño, with roasted jalapeño-infused tequila. End your foodie fiesta with perfectly fried churros and dips. And yep, Senoritas & Tequilas night is a thing…
Tanah Liat – Nusa Dua
A cooking lab by day, a vegetarian and pescetarian restaurant by night – Tanah Liat is the latest addition to Renaissance Bali Nusa Dua Resort's list of experiential dining offerings. Serving up creations inspired by art and crafts, you'll find a menu packed full of seasonal seafood and plant-based dishes. Sit back and relax at the brick-walled indoor area where you'll find pottery and art made by talented local artists, or head outdoors for a breezy dinner in the garden, where the chefs pick the freshest ingredients for your feast. Fancy yourself an artist? Keep your eyes peeled for the daytime pottery class at the restaurant's atelier…
Looking for more of the best new restaurants in Bali? Check out our Hot New Tables roundups for 2022, 2021, 2020, 2019 and 2018 too!