Heading to Bali with hungry kids in tow? Guide your tribe to Bali's boho 'hood and feast at these family-friendly restaurants in Canggu.
When it comes to family-friendly restaurants in Canggu, the options are as endless as the rice paddy horizons. There are open-air restaurants with ocean views, cute cafes with climbing frames to entertain the kids, and to keep mums and dads happy, some even have glittering infinity pools and cocktails too.
So, to help you decide on where to eat with the kids in Canggu, we asked local resident and fellow Mum, Rebecca Foreman, for her pick of the best family-friendly restaurants in Canggu. With everything from vegan eats to messy tacos and big bowls of creamy pasta, even the fussiest of eaters will want to tuck in to this list.
THE BEST FAMILY-FRIENDLY RESTAURANTS IN CANGGU
1. Milk & Madu
Milk & Madu is the primo kiddy hotspot in Canggu with no shortage of families and littlies running around on the lawned garden or getting busy with arts and crafts in the treehouse. Parents can sit back and relax while grazing on breakfast classics, hearty lunches and delicioso pastries, right through to dinner. Top tip: swing by for 2 for 1 pizzas every Tuesday and Sunday, with live music and high chairs supplied.
Milk & Madu, Jl Pantai Berawa No. 52 (p. +62 851 0278 1872) & Jl Batu Bolong No. 92 (p. +62 813 5389 6153), e. [email protected]; Open daily 7am – 10pm.
2. Sprout Cafe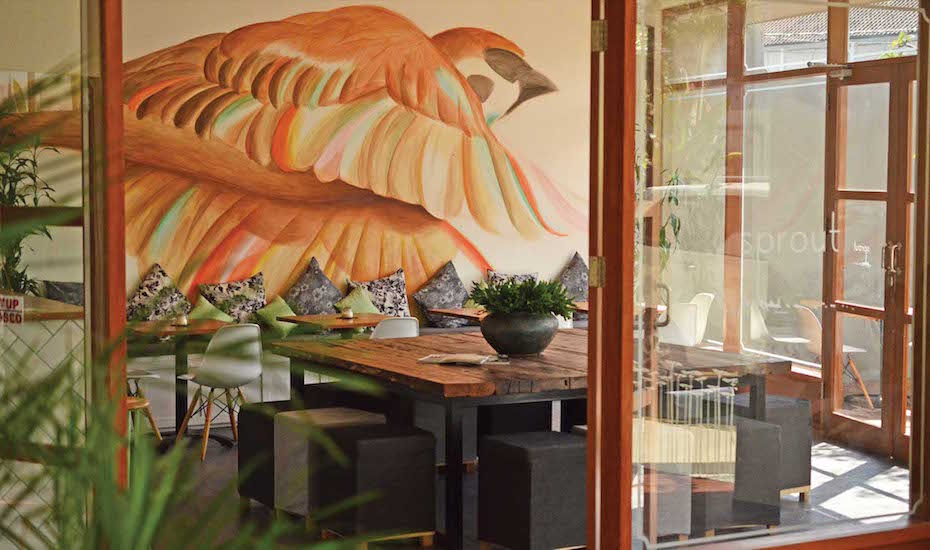 Head to Sprout Cafe for their famous cream of the crop coffees, healthy breakfast bowls and yummy lunch options. This cafe is an ideal place to meet up for a chinwag and you'll always find other Mums and Dads doing the same after drop-off to The Garden Early Learning Centre – a spacious and casual drop-in learning centre perfectly positioned right next door to the cafe for children aged 2 to 12 years. As for the food, it's at once uncomplicated and wholesome – a super cool spot for the whole family to find something fresh to feast on. Kids, you'll want to check out the Little Sprouts menu!
Sprout Cafe, Jl Raya Semat No. 18A, Canggu, p. +62 812 3665 3165, e. [email protected]; Open daily 7am – 5pm.
3. Lacalita Bar y Cocina
Cheesy quesadillas, loaded tacos and big burritos anyone? Make sure you check out the bright and breezy colourful vibes of Lacalita, where the kids can choose from awesome Mexican fare that's fresh and wholesome in either full or half sizes. There's indoor and outdoor seating available, and on Taco Tuesdays, parents and kids can have a taste of all the tacos for a fraction of the price! This is undoubtedly a great place to bring the whole family for a fun and affordable feed in an awesome atmo.
Lacalita Bar y Cocina, Jl Pantai Batu Bolong No. 68, Canggu, p. +62 822 4731 2217, e. [email protected]; Open daily from 12pm.
4. Made's Warung
The kids will love Made's Warung in Berawa for its no-fuss and relaxed approach to authentic Indonesian fare. You'll find a good mix of international and Asian cuisine here plus a playground and tonnes of kids activities available throughout the week. Let them climb, swing, jump and slide while parents can take their time to chill in the cafe knowing their littlies are enjoying the socially interactive equipment that will keep even the most active of kids amused for hours.
Made's Warung Berawa, Jl Subak Sari 13 No. 8, Berawa, Canggu, p. +62 361 934 7778 / +62 812 3938 4754, e. [email protected]; Open daily 11am – 9pm.
5. Finns VIP Beach Club
Mums and Dads, grab a sun lounger, lather up and relax at Finns VIP Beach Club while the kids work up an appetite in the gazebo pool. Kids can choose from grilled chicken and mash, fish and chips, cheeseburgers or spaghetti bolognese followed by a selection of healthy juices and milkshake. There's also the "Grazing on The Green" experience, where families can have a picnic on the spacious green lawn, and tuck into scrummy Mediterranean fare. All that's left to do is relax and take in the stunning sea views…
Finns VIP Beach Club, Jl Pantai Berawa, Canggu. p. +62 811 399 2017, e. [email protected]; Open daily from 10am.
6. Bistro C
With a focus on fresh, quality produce, the extensive menu at Bistro C caters for a range of dining and dietary options from breakfast right through to dinner. Choose from multiple seating options, from cool air-con indoors, to feasting alfresco overlooking the iconic green playing fields of Finns Rec Club. High chairs are provided, as is a menu that the kids will love. And if you feel the need for a little break, drop the kids off at Finns' Cubby House Kids Club.
Bistro C at Finns Recreation Club, Jl Raya Pantai Berawa, Canggu, p. +62 361 848 3939 / +62 811 388 2015, e. [email protected]; Open daily from 7am – 9pm. 
7. Parklife
Parklife is Canggu's hottest kid-friendly pit stop, made up of a playground, park and restaurant. Here you'll find a bunch of kids options to keep the littlies happy and amused for hours on end (think kiddie caves, a giant inflatable to bounce on and the indoor "Mad House" to name a few) while the cafe offers a beautiful, green rice paddie backdrop from which to enjoy awesome coffee (or something stronger) to watch the sunset at the end of another perfect Bali day. Stick around for the kids movie nights at the outdoor cinema.
Parklife, Jl Uma Buluh No. 15, Canggu, p. +62 818 0511 3200; Open daily. 
8. I Am Vegan Babe
Perhaps one of the best plant-based family-friendly restaurants in Canggu, at I Am Vegan Babe, you'll find plenty of green bowls and sandwiches stuffed with vegan cashew cheese, creamy vegannaise and strips of "bacon", plus hearty wraps and burgers that are so big and so juicy, you could almost call them beefy. All of this is followed by a selection of vegan cakes, waffles, pancakes and smoothies bowls that will you and the kids will LOVE.
I Am Vegan Babe, Jl Tanah Barak No. 49, p. +62 811 389 2205; Open daily 7am – 10pm.
9. TYGR Sushi
Universally loved by kids of all ages for its easy breezy simplistic menu (fresh hand-rolled sushi, anyone?) and a no fuss Japanese comfort food vibe, TYGR is where you and your hungry squad can tuck into all your faves. The service is quick and you can be sure to eat the best chicken or jackfruit katsu in town, not to mention the legendary poke bowls, tuna nachos and karaage fried chicken.
TYGR Sushi, Jl Pantai Berawa No. 999X, p. +62 813 3916 3894; Open daily 11am – 11pm.
10. La Brisa
This bohemian beach club in Canggu is a gorgeously casual tropical treat for all the senses, expertly hand-decorated and curated using reclaimed wood from more than 500 old fisherman boats. It's island living at its very best, and all of what we love about Bali all in one place. Add to that the rustic Spanish cooking, swaying palm trees and a hot soundtrack to top it all off, there are few better places for the kids to rock the pool while parents recline in paradise. We can't get enough.
La Brisa, Jl Pantai Batu Mejan Gg. La Brisa, Echo Beach, p. +62 811 394 6666; Open daily 10am – 11pm.
11. MILU by NOOK
A breezy eatery that the whole family can enjoy, MILU by NOOK serves a full selection of Balinese and Western dishes. Make sure you arrive in plenty of time to take in the sweeping rice paddy views while sipping on your favourite tipple. The kids menu is always consistent and includes something for everyone, including lemony fish bites, chicken dippers, mac and cheese, or a honey-soy noodle chicken stir fry – all priced incredibly reasonably. There's absolutely nothing here that's not to love!
MILU by NOOK, Jl Pantai Berawa No. 99x, p. +62 822 4711 4441; Open daily 8am – 11pm.
THE BEST FAMILY-FRIENDLY RESTAURANTS IN CANGGU: CURRENTLY CLOSED
The Greenhouse Cafe
Open, airy, cool and groovy, The Greenhouse Cafe is the perfect place to sit back on a bean bag and take in the rice paddy views while the kids can splosh away in the pool or run around on the back lawn. Everyone can find something to nourish on here, as the extensive menu offers all day brekkie bowls, Tuesdays 3 for 2 pizza deals, super healthy salads and subs. Their famous gelato and sundae desserts are not to be ignored either…
The Greenhouse Cafe, Jl Pantai Berawa No.101x, Canggu. p. +62 812 3715 3733
INK
This firm favourite at Tamora Gallery is another on-point joint for active kids because right outside its groovy circular door you'll find a playground with slides, a grassy knoll and a climbing frame that keeps them busy for hours. Serving up Japanese eats, expect yummy plates of sushi, gyoza, popcorn chicken, tempura and so much more. And psst – at set times, kids eat free, and on Wednesdays, it's all you can eat sushi! You'll also want to check out the nightly kids movies, skate ramp and virtual reality hang-out next door!
INK, Jl Pantai Berawa No.99, Canggu, p. +62 878 0012 9888, e. [email protected].
Looking for more kid-friendly cafes? Check out this list of Bali's best family-friendly restaurants for every budget!