Need a dentist in Bali? From crowns to root canals and even cosmetic dentistry, these Bali professionals will make your next trip to the dental clinic stress-free
With so many sweet cocktails to sip on and indulgent brunch spreads to feast through, we all have to make a trip to the dentist at some point. Love it or hate it, finding the right dental professional makes all the difference, and here in Bali, we're blessed with some of the very best dentists in Asia.
In fact, many of Bali's dentists are so advanced, they even offer cosmetic dentistry too, from teeth whitening and straightening, to you'll-never-believe-they're-not-real porcelain veneers. So, to make sure you never skip a check-up again, we tried-and-tested the most talked-about dentist clinics in Bali. Whether you need a filling, a root canal, or just a routine check-up, here's our list of the best dentists in Bali – the top spots to have your teeth tended to.
THE BEST DENTISTS IN BALI
1. Fidelity Dental
Trustworthiness is the name of the game at Fidelity Dental. Backed by highly-skilled professionals with years of experience, this clinic provides the most exceptional and reliable dental care for its patients. Whether you're coming in for a routine checkup, teeth cleaning or whitening, or you're having an aesthetic procedure like implants or full mouth rehabilitation, the Fidelity Dental team makes it their priority to create a calming atmosphere, with personalised care and beautiful interiors for utmost comfort. After all, any visit to the dentist can feel stressful at times. And since building loyalty is important to them, you'll be sure to receive transparent communication with the team from start to finish. Yep, this is one dentist you can truly trust.
Best for: Cosmetic dentistry such as dental implants, crowns and full mouth rehabilitation.
Fidelity Dental Bali, Jl Sunset Road 50x, Seminyak, p. +62 858 9191 6188, e. [email protected]; Open Mon to Fri 10am – 6pm, and Sat 10am – 3pm.
2. Bali Family Dental Care (BFDC) – Denpasar
Whether you need a routine check-up or a complete smile makeover, Bali Family Dental Care (BFDC) is a one-stop-shop for beautiful, healthy teeth. Located in the heart of Denpasar, the practice is backed by a team of highly skilled dentists who care about oral health and every patient's comfort, from personalising the treatment plans, to offering flexible scheduling and ensuring every visit is friendly and welcoming. Yes, BFDC makes it a priority to create a warm environment for patients of all ages, so you can sit back, relax and let the pros do what they do best! You can book in for routine treatments like cleaning and scaling, or go all-out with cosmetic dentistry, like aesthetic fillings, braces and more. Best bit is, it all comes at an affordable price, without sacrificing on quality.
Best for: Dental implants, orthodontic braces, crowns and root canals.
Bali Family Dental Care, Jl Gunung Soputan No. 9xx Blok VB, Denpasar, p. +62 8777 567 6161, e. [email protected]; Open Mon to Fri 9am – 9pm, Sat & Sun 10am – 5pm
3. Lumina Aesthetics Dental Centre – Kuta
If you ever thought visiting the dentist was a mundane experience, you've never been to Lumina Aesthetics Dental Centre. Their treatments are described as "where dental expertise meets art". This super suave aesthetics clinic doubles up as a dental centre, and it's just as swanky as it sounds. They offer everything from routine checkups to teeth bleaching and porcelain veneers too. They can even carry out oral surgeries. We've sat in the Lumina dentist chair ourselves, and we've never had such a thorough scaling. Forget cookie-cutter 30-minute appointments: the professional Lumina dentists worked on us for over an hour, making sure no tooth was overlooked nor any plaque left uncovered. Our gnashers have never felt so clean (and yes, we finished off with whitening, too)!
Best for: Preventive and cosmetic dentistry.
Lumina Aesthetics Dental Centre, Jl Dewi Sri No. 88E, Legian, p. +62 8122 8888 837, e. [email protected]
4. Sunset Dental – Seminyak & Ubud
A fave among the expat crowds for its affordability, reliability and utmost professionalism, Sunset Dental is a go-to for routine check-ups and general dental concerns. Modern, high-tech and equipped with an extremely talented team of friendly dentists and specialists, this clinic really does have it all, including an in-house digital lab, imported top-quality materials, and even a Trios 3shape scanner for Invisalign braces.
Best for: General check-ups, braces and affordable porcelain veneers.
Sunset Dental, Seminyak: Jl Sunset Road No. 88H, p. +62 821 4411 7373, e. [email protected] | Ubud: Jl Raya Sanggingan No. 88X, p. +62 812 3766 9966, e. ubud@sunsetdental.com; Open daily from 9am.
5. ARC Dental Clinic – Kuta
Conveniently located on Sunset Road, Arc Dental Clinic is a multi-specialty and state-of-the-art dental practice that offers a wide range of dental health services and cosmetic treatments at sensible prices – all the while maintaining the highest standards of hygiene, technology and excellence in patient care. They're the place to go for full porcelain teeth restorations, teeth whitening & bleaching, as well as periodontics and endodontics (that's a root canal, FYI). Their Internationally-trained dentists make the entire experience an easy-breezy one too, personable and on-hand to tend to whatever dental problems you have, with the option of customisable treatment plans to suit your individual requirements. Visiting the dentist has never been so comforting…
Best for: Cosmetic dentistry and root canals.
ARC Dental Clinic, Jl Sunset Road No. 819, Kuta, p. +62 361 4727 824 / +62 819 9902 0777, e. [email protected]; Open Mon to Fri 9am – 6pm & Saturday 9am – 3pm.
6. BIMC Dental Centre – Nusa Dua
As Bali's premium dental experience (in terms of price and procedures available) BIMC Dental Centre offers only the highest standard of dental treatment for tourists and residents alike, ranging from regular check-ups and standard restorative treatments (like fillings, crowns and bridges) to other complex procedures and cosmetic dentistry that require a specialist and state-of-the-art equipment. If you're just visiting Bali and require lab work (which can take upwards of a week) you can return to your hotel and enjoy your holiday while the lab staff prepares artificial replacements – just one of the many five-star services you'll receive here.
Best for: A premium dental experience that covers all bases.
BIMC Dental Centre, Kawasan ITDC Blok D, Nusa Dua, p. +62 361 3000 911 / +62 811 3896 113, e. [email protected]; Open Mon to Fri 8am – 5pm & Sat to Sun 9am – 3pm.
7. Rejuvie Dental Clinic – Kuta & Sanur
Offering a full range of dental treatments and procedures, Rejuvie Dental Clinic is where you'll find friendly and professional staff ready to give you the best and most honest advice as to what dental procedure is best for you. Whether it's a routine clean from a hygienist or a more complex treatment, both the speciality and general dentists here treat you gently and painlessly, alongside high-tech dental equipment and panoramic X-rays to make everything easier.
Best for: Quality dental implants and other aesthetic treatments.
Rejuvie Dental Clinic, Legian: Jl Dewi Sri VIII No. B3 – 4, p. +62 812 3633 2000 | Sanur: Jl Danau Tamblingan No. 19, p. +62 812 2260 6088 | e. [email protected]; Open Mon to Sat from 10am.
8. Rata Clinic – Umalas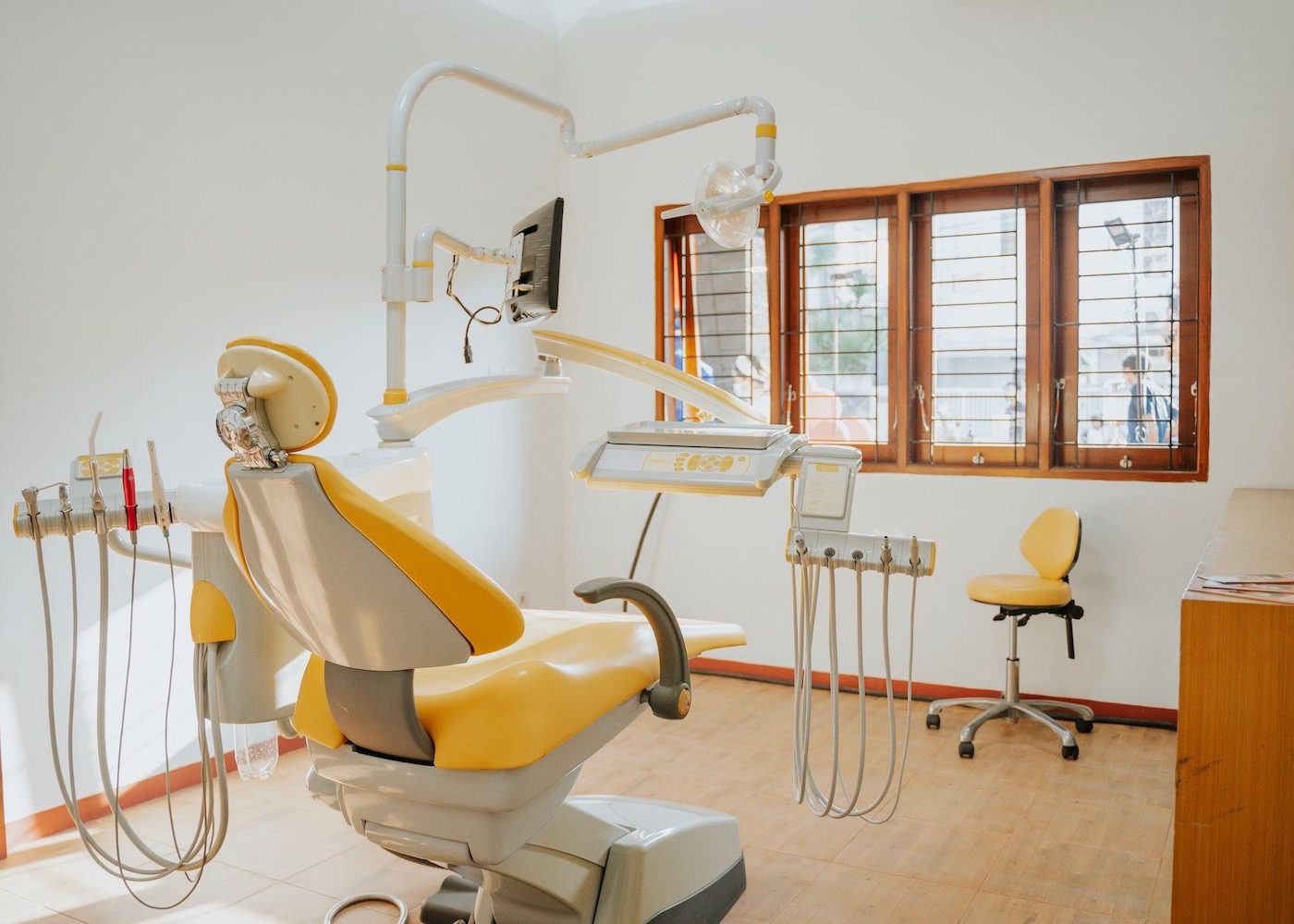 Born in Jakarta, Rata Clinic pioneered teeth-straightening treatments in Indonesia by using clear aligners designed by top orthodontists, with monitoring from state-of-the-art technologies. Having cared for over 40,000 smiley patients, it's no wonder that Rata's aligner was voted the most popular in Indonesia. Aside from the clear aligners, Rata also offers general dental treatments, from root canal treatments and extractions, to removing braces and providing dental X-rays. The best bit is, your dental consultation can be done in-clinic or online for your convenience.
Best for: Clear aligners, dental veneers and implants.
Rata Clinic, Jl Bumbak Dauh No. 88 D-E, Kerobokan, p. +62 821 1590 5822; Open Mon to Sat 9am – 4pm.
9. Sayan Aesthetic Institute – Ubud
Sitting on the outskirts of Ubud in stunning Sayan, this anti-aging and rejuvenation medi-spa is also home to a renowned cosmetic dentist clinic, adding to patients' overall spruce-up by providing healthy, even and sparkling-white smiles too. Able to brighten, whiten and repair your teeth, come here for a healthy and confident smile, made to last and designed to suit you. Most procedures can be completed in just one visit and are surprisingly affordable, from crowns, veneers, fillings and orthodontics, to whitening, smile design and general dentistry
Best for: Cosmetic dentistry, particularly whitening, crowns and bridges.
Sayan Aesthetic Institute, Jl Penestanan No. 9A, Sayan, Ubud, p. +62 361 972 648, e. [email protected]
10. Bali International Dental Centre – Denpasar
While BIDC in Denpasar is lesser known amongst the tourist crowds, for locals and expats, it's the bee's knees when it comes to more complicated procedures. With its international standards and the latest innovative technology in dental equipment (like 3D scanners, lasers and an in-house computerised teeth-making laboratory), BIDC is focused on more specialised treatments, supported by a team of incredibly experienced dental specialists. And the kicker? They offer gas and even oral anti-anxiety sedatives alongside injectable anaesthetics for pain management, making extractions (especially wisdom teeth) much more bearable.
Best for: Specialist procedures like implants and extractions, including wisdom tooth removal.
Bali International Dental Centre, Jl Diponegoro No. 150, Pertokoan Genteng Biru Blok A No. 32, Denpasar, p. +62 895 7014 57555, e. [email protected]
Love this list of Bali's Best Dentists? Check out these tried-and-tested medi spas too!