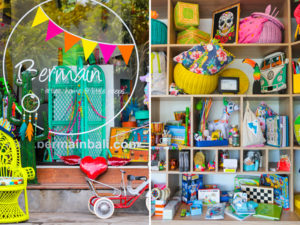 Our latest obsession
Every once in a while you discover "that" store.  One that just, well, brings a little bit more sunshine into your life. Bermain is that store and it's now open in Canggu. Here's a little snapshot one one of the best Bali shops we've found.
Kristel is owner and curator at this friendly and colourful retail space just north of Seminyak.  She is a Mum of two, originally from Melbourne, bringing her positive vibes and gifted eye to the island.
The shop is full of party supplies, homewares and stuff for "little peeps" (as she calls them) – cushions, stationery, retro tricycles, and we're loving everything it's about.
From gorgeous peacock chairs to beaded baskets, not only does Bermain Bali have the "best of" in Bali and beyond, but they've also got seasonal art classes (for kids too!) that started this month.
Follow Bermain Bali's instagram for inspiration, gorgeous sunsets and incredible art Kristel stumbles upon and is gracious enough to share. All images taken by Radhika Rao. After 15 years of running a successful photography business in Hong Kong, Radhika now calls Bali home. Contact: [email protected]