With its paradisal surroundings & magical vibes, Bali is one of the most beautiful places in the world. Here are the must-see hotspots!
Pristine beaches, candy-coloured sunsets, dense jungle and colourful traditions – Bali really is a picture-perfect paradise. Home to some of the most beautiful places in the entire world, we're spoilt for choice when it comes to exploring Bali's best bits.
By day, we can visit clifftop temples, forests filled with monkeys, beach clubs with gravity-defying infinity pools and hidden waterfalls off the beaten path. By night, we can catch the sunset from world-class bars and eat at architecturally spectacular restaurants, before returning to our designer digs with interiors to die for.
But where to start on a quest to find the most beautiful places to visit in Bali? Right here. We've rounded up some of our favourite spots to ogle at across the island – from Bali's most Instagrammable places in swanky Seminyak and cool Canggu, to the natural wonders in the jungle that'll simply take your breath away. Happy viewing, Honeys!
THE MOST BEAUTIFUL PLACES TO VISIT IN BALI: NORTH-EAST BALI
1. The temple in the clouds – Karangasem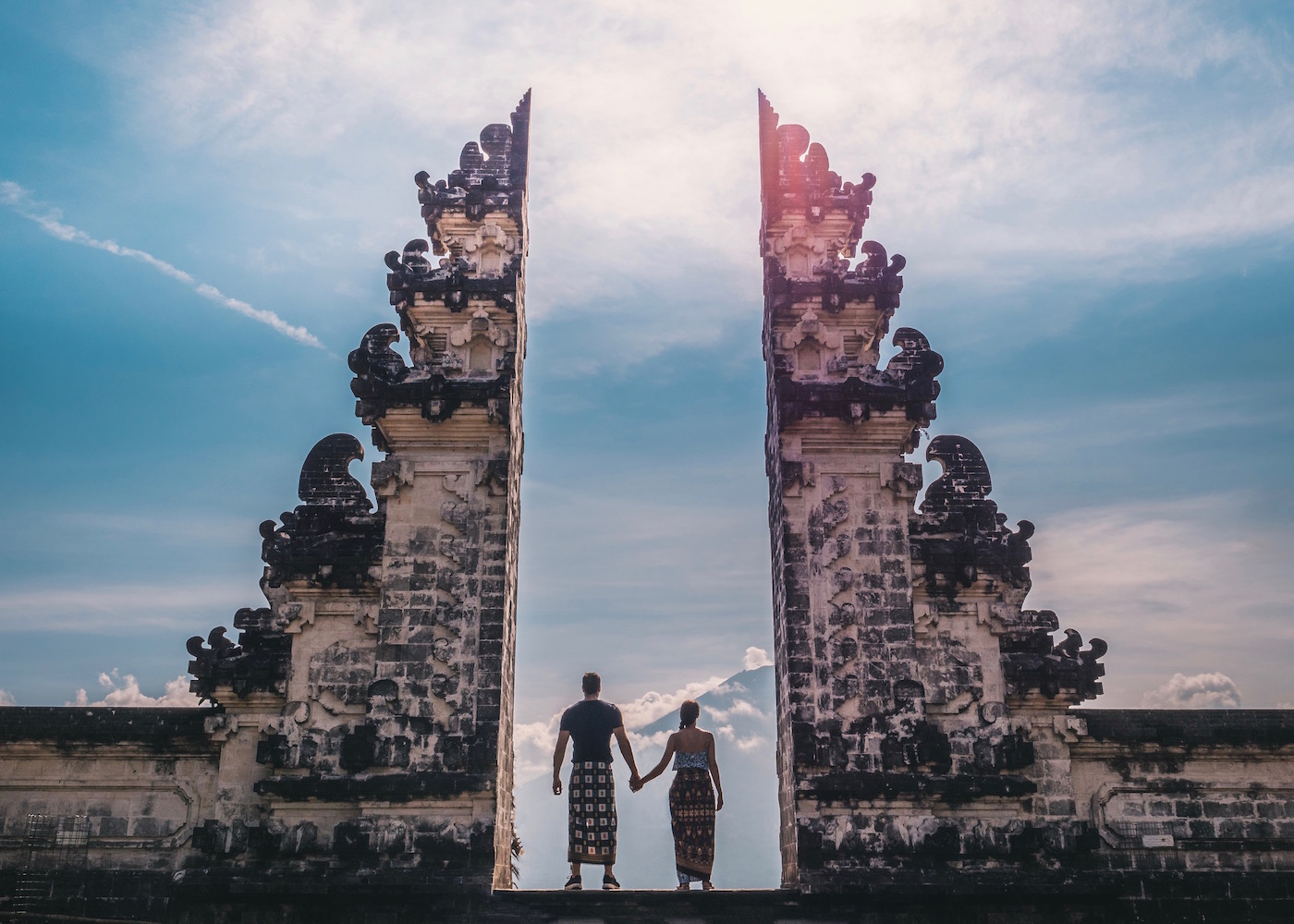 A holiday to Bali wouldn't be complete without visiting the island's most famous temples, and our fave for ultimate wow-factor is Pura Lempuyang – the oldest Hindu temple in Bali. Known as the "Gateway to Heaven", this temple is perched on top of Mount Lempuyang in Karangasem, with a succession of seven ascending temples along the mountain side. You'll need to climb 1,700 steps to view the breathtaking valleys, volcanoes and ocean views, but it'll be oh-so worth it. Other stunning temple destinations around Bali include Tanah Lot's ocean temple, or Pura Luhur Uluwatu which sits high up on a cliff-face overlooking Uluwatu's famous surf breaks.
2. The sea of golden marigolds – Besakih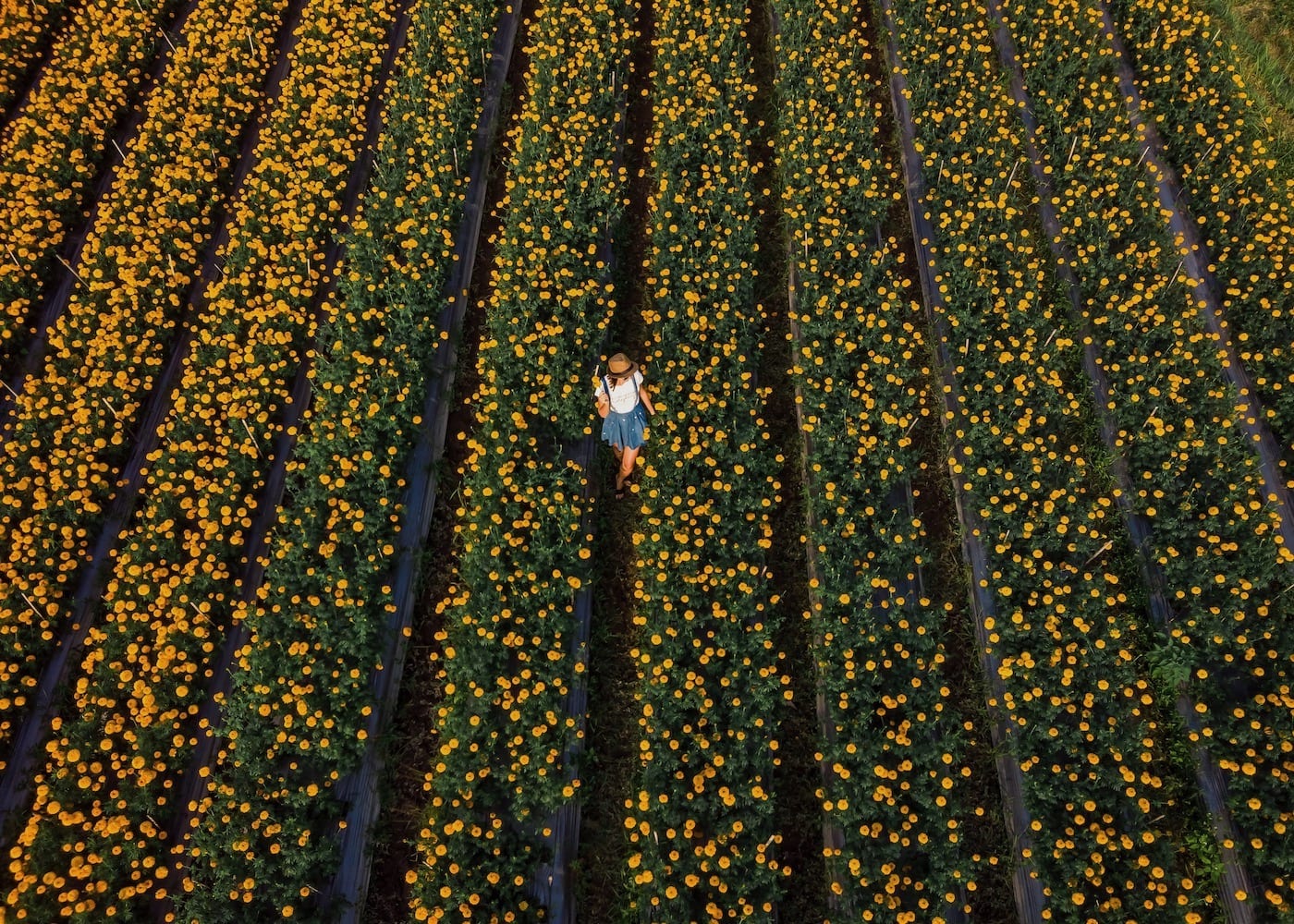 Flower power! Marigolds are pivotal in Balinese culture, and these golden blooms are used during all important Hindu ceremonies. They are therefore grown in many different areas across Bali's highlands, with plenty of small golden fields lining the roadsides. But for the most beautiful place to see marigolds in Bali, head towards Besakih, between Kintamani and Bedugul. The fields here stretch for miles, creating a golden horizon that glimmers in the Bali sunshine, with untouched landscapes all around. This is one for the photo album…
3. The sunrise views atop Mount Batur – Kintamani
Mount Batur is just one of many spectacular active volcanoes in Bali, and it is easily the most popular day trip for a sunrise hike. The trip begins early at around 3am, where you'll be picked up and whisked to the base of Batur for a hike in the dark. By the time you reach the highest peak and crater, the sun will just be rising, which is when the beauty of this island adventure really unfolds. You'll realise you're right above the clouds, with Bali's volcanic landscapes glimmering a golden hue below. Our top tip? Stay in Sidemen Valley and take a tour from there – it's around one hour from Mount Batur's base.
4. The rolling hillside of Sidemen Valley – Sidemen
A far cry from the hustle and bustle of South Bali's beach clubs and bars, Sidemen Valley is a relatively undiscovered landscape and traditional village located in Bali's eastern region. It's decorated with emerald green rice terraces, jungle-fringed working farms and a view of soaring volcanoes – yep, it makes for a pretty incredible photo op. And despite the off-the-grid address, this charming neighbourhood is certainly worth the trip, with boutique hotels and world-class spas that mean you can easily spend a night or two here.
THE MOST BEAUTIFUL PLACES TO VISIT IN BALI: NORTH-WEST BALI
5. The emerald green rice terraces – Jatiluwih
Bali is home to countless breathtaking rice fields, and you only need to drive out of the main tourist areas to find them. Some of the most famous and equally stunning are the Tegallalang Rice Terraces in Ubud, loved for their beautiful valleys of stair-like rice fields that stretch for miles, dotted by hard-working farmers tending to their treasured crops. It can get busy here though, so if you want to avoid the tourist crowds, head to Jatiluwih instead – an emerald, untouched horizon in the Tabanan Regency that turns to gold at sunset.
6. The sacred Bali lakes – Bedugul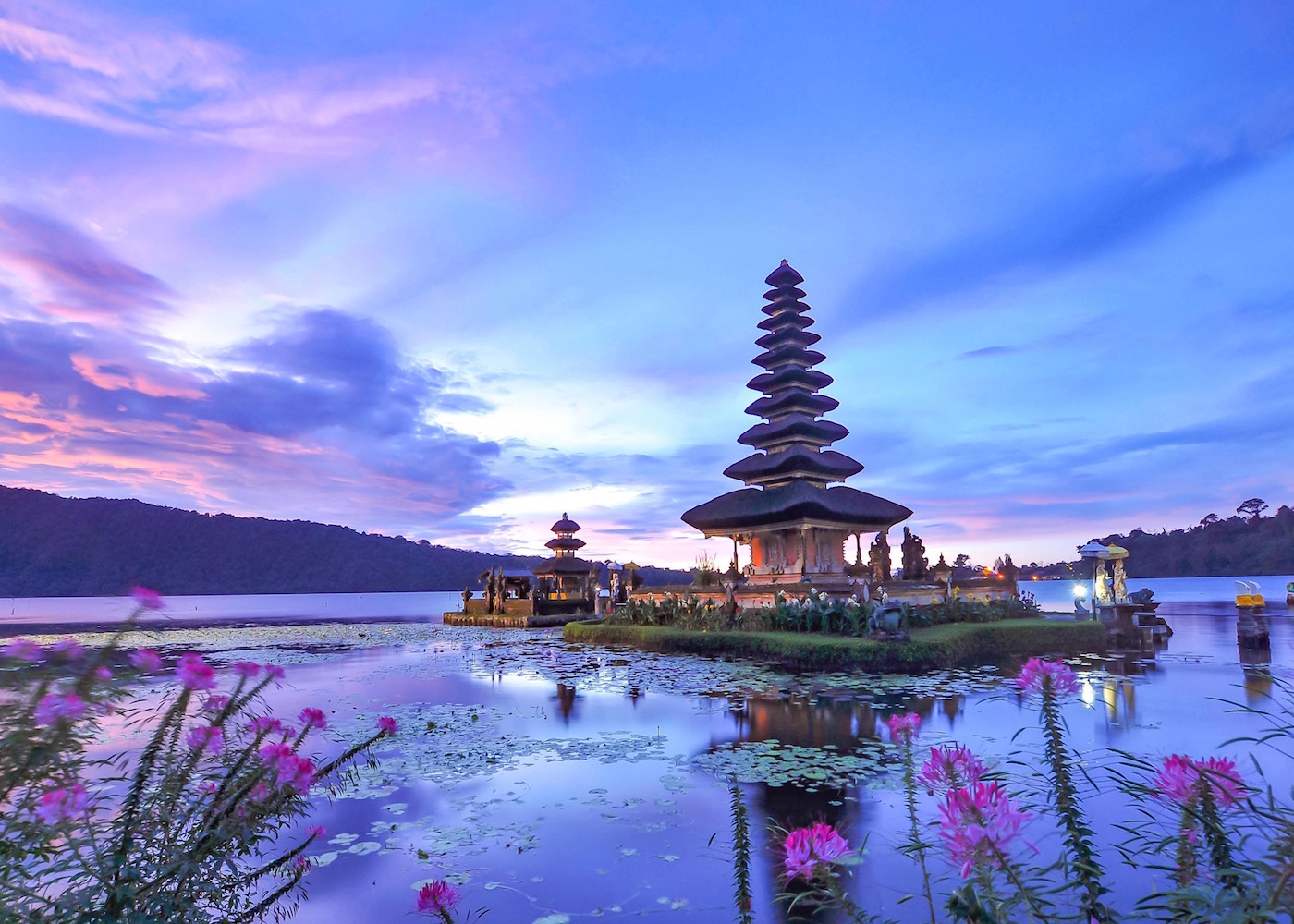 The lakes in Bali are simply magical – dead still and with breathtaking landscapes all around, which makes for some stunning reflections over the water. Our fave lake in Bali has to be Danau Beratan in Bedugul. It is the second largest lake on the island, and sits beside Mount Beratan and Mount Catur. But the main highlight here is the Pura Ulun Danu Beratan temple in the centre of the lake. When the early morning or late afternoon mountain fog creeps through, this sacred and spectacular temple looks as if it's floating – it's pure magic.
7. The blooming beautiful Bali Botanic Gardens – Bedugul
Fresh mountain air, wide open spaces and manicured gardens for as far as the eye can see… That's just the beginning of a day trip to Bali's Botanic Gardens. This protected park is filled with flora galore, plus plenty of spots to colour up your Instagram feed. Take a leisurely stroll around the gardens and you'll find a tropical rainforest trail, a bamboo jungle, a horizon of colourful orchids and even greenhouses growing medicinal plants, cacti and more. The cherry on the cake is the views of the Bratan crater, and the lines of strawberry vendors selling their freshly picked delicacies. Want even more green garden inspo? Journey just 10 minutes away to The Blooms Garden – a recreation park with outdoor adventures, a giant peacock, Dutch windmills, a miniature Marina Bay Sands, a gorgeous swing with ropes wrapped in vines, and so much more.
8. The grazing wildlife in the West Bali National Park – Buleleng
Get away from the hustle and bustle of South Bali and head up north to the Taman Nasional Bali Barat, AKA the West Bali National Park. It's an enormous 77,000-hectare expanse of untouched nature, home to hundreds of species and native flora and fauna. Stroll through the park and you'll spot mountains, jungle, mangroves and the area's local residents, the rare Jalak Bali birds. You'll also be able to take a trip to the nearby Menjangan Island, where you can dive into the deep and spot Nemo amidst the vibrant corals.
THE MOST BEAUTIFUL PLACES TO VISIT IN BALI: CENTRAL BALI
9. The Campuhan Ridge Walk (pictured top!) – Ubud
Accessible walking trails are few and far between in Bali, but one of our favourites (which also happens to be one of the most beautiful places we've been in Bali) is the Campuhan Ridge Walk. Unlike most trails that require hours of driving and hiking through dense jungle to reach, this ridge walk sits right in the heart of Ubud, with a paved trail that takes you through breathtaking valleys and charming local villages. Top tip: start your walk early at sunrise when it's less busy and not so hot.
10. The infinity pool at Hanging Gardens of Bali – Ubud
Crowned the 'world's best swimming pool' multiple years running, Hanging Gardens of Bali is the epicentre of awesome Instagram feeds. This iconic infinity pool seems to defy all laws of gravity, with sky-high trickles above the treetop canopies, cascading down sheer drops across multiple levels. Once you've soaked up this beauty, head east to find the iconic three-storey infinity pool inspired by the Tegallalang Rice Terraces at Wanna Jungle Pool & Bar, or head south to Uluwatu to hang out at the gravity-defying, glass-bottom cliffhanger at Oneeighty cliff-club… dip if you dare!
11. The ray of light at Tukad Cepung waterfall – Bangli
Every photographer knows that lighting is everything, and at Tukad Cepung, this waterfall has got it down pat. Famous for its heavenly streams of light that burst through the rock when the sun is at a certain point in the sky, Tukad Cepung certainly knows how to work the camera. Set inside a ravine-like cove with a wall of water that rushes from the divine-like beams above – it's no surprise that Tukad Cepung is becoming a must-visit destination for everyone's Instagram feeds. Top tip: tie it in with a trip to Tibumana Waterfall (just a 30 minute drive away) or check out our full list of Bali's Best Waterfalls.
12. The Insta-famous Bali swing – Ubud
Probably one of the most popular tourist attractions in Bali, flying high through the jungle on a giant swing is a must for every island adventurer (and every Instagram feed). The most famous is Alas Harum, overlooking the Tegallalang Rice Terraces. But there are plenty of other swings popping up all over Ubud and throughout the rest of the island. While there are often queues and plenty of photoshoots happening on a daily basis, once you're swinging above the treetops, it's definitely worth the hustle and bustle of the tourist crowds.
13. The holy water temple at Pura Tirta Empul – Tampaksiring
Perhaps the most popular water temple in Bali, Tirta Empul is a sacred place for the Hindu community, located just footsteps away from the Presidential Palace of Tampaksiring. This temple is famous for its holy springs, where both residents and tourists can take part in a water purification ceremony (AKA melukat) – the ritual of bathing within the holy water to rid you of negative energy. Within Tirta Empul's grounds, you'll also find shrines dedicated to several Hindu Gods: Vishnu, Brahma, Shiva and Indra, as well as one for Mount Batur. Top tip: since this is a place of prayer, be sure to cover up or rent a sarong at the temple's entrance.
14. The colourful artwork at Ubud Art Market – Ubud
At the always-colourful Ubud Art Market, not only can you feast your eyes on intricate craftsmanship, you can also shop your way through all-things Bali to take home a little piece of paradise. This local market is decked out with boho souvenirs and cute keepsakes, like wooden decor and hand-carved knick knacks, rattan bags, handmade dreamcatchers, floaty beachwear and so much more. Browse through the stalls, and once you've seen it all, stroll a little further down Ubud's backstreets to find other Instagram hotspots, like the famous pottery and terracotta workshop, Serayu Pot.
15. The cave-like jacuzzi at Tjampuhan Hotel & Spa – Ubud
Like something out of a movie, the breathtaking Tjampuhan Spa ticks all the boxes when it comes to an epic day out. This cave-like spa is located just a stone's throw away from the river, so while you're treating your bod to a traditional Balinese massage in the semi-open treatment pavilions, you're serenaded by the sounds of flowing water. Surrounded by stunning jungle views, the centrepiece here is the unique, cave-like jacuzzi shaped by perfectly carved stones, courtesy of talented local artists. You can book a day pass here to use the jacuzzi alone, but we say sign up to entire itinerary of blissful treatments.
16. The bamboo wonderland at Bambu Indah – Ubud
Sustainable, eco-friendly and made almost entirely of natural materials, Bambu Indah in Ubud is a sight to be seen indeed. If you're not staying at this earth-conscious boutique hotel, you can visit with a day pass and immerse in utmost nature. Ride the bamboo elevator down through the centre of the gorge and emerge to a wonderland of wild greenery and natural springs, fringed by luxurious lolling spots, a riverside restaurant and plenty of wildlife. Wash buffalo in the river, meet the local Balinese black pigs, and finish it all off with lunch suspended over rushing rapids.
THE MOST BEAUTIFUL PLACES TO VISIT IN BALI: EAST BALI & NUSA ISLANDS
17. The view over Kelingking Beach – Nusa Penida
There's no question that Bali boasts some of the world's most stunning beaches. Pristine white sands, clear sparkling water – all of those paradise must-haves. But there's one beach in particular that's garnered global fame – the ever-stunning Kelingking Beach. We've all seen that iconic bird's eye view of the emerald green cliff-line soaring into the sky from the turquoise waters below. Well, this Insta-famous spot is located on Nusa Penida, the neighbouring island to Nusa Lembongan and just a 40 minute boat ride from mainland Bali. Head to Kelingking Beach to get that all-important shot, but make time to explore the rest of the island too.
18. The romantic "Tarzan & Jane"-esque tree house – Nusa Penida
Another icon on Nusa Penida is the Insta-famous tree house (AKA Rumah Pohon), overlooking the rocky coastline of Diamond Beach. Not only is this dreamy wooden tree house adorned with alang-alang thatched roofs, it's set on a vantage point where you can see the entire coastline and endless ocean views. And while it's in a relatively secluded area, you have some of the best Nusa Penida destinations nearby, like the Thousand Islands viewpoint, Diamond Beach, and Atuh Beach – all just minutes away.
19. The yellow "Bridge of Love" – Nusa Lembongan
Head on over to the glorious island of Nusa Lembongan (just 40 minutes from mainland Bali), and you'll spot the famous Yellow Bridge (AKA The Bridge of Love) that connects Lembongan its little island sister, Nusa Ceningan. A must-visit on any island itinerary and seen on almost every Insta-feed worldwide, the Yellow Bridge is a truly stunning sight, with its vibrant sunshine hues suspended over turquoise seas beneath. By nightfall, this legendary landmark lights up, so come back after dark to capture a totally different vista.
20. The less crowded boho beach clubs – Nusa Lembongan and Nusa Ceningan
If you've ticked off all of Bali's Best Beach Clubs, head over to Nusa Lembongan and Nusa Ceningan for some quieter beachside lounging. You have a handful of beachside destinations to choose from here, including Sandy Bay Beach Club, Ohana's Beach Club, and Agung Beach Club. And one of our faves – Le Pirate Beach Club – is located on Nusa Ceningan, just across the famous yellow bridge from Lembongan. It's one of Bali's best-kept secrets, complete with boho beach shacks, huge umbrellas and nautical vibes. Lounge by the pool surrounded by turquoise ocean and swaying coconut trees, then settle in for another spectacular sunset across the lagoon. No adventure around the island is complete without stopping at Le Pirate.
21. The haunting graffiti art at Taman Festival Bali – Sanur
With Sanur's traditional and family-friendly vibes, the last thing you'd expect to find in this 'hood is a haunted spot. But trust us when we say it's worth a visit. Located in Padang Galak, this abandoned amusement park is not for the faint hearted, but once you get past the eeriness, you'll see all the charm that Taman Festival Bali has to offer (and it's just IDR 10,000 to enter!). For one, it's decked out with top-notch graffiti for you to feast your eyes on, from super artistic pieces to the fun and quirky, decorated with overgrown vines. We dare you to find the skeleton hidden inside – but beware, if you venture too far in, you might encounter the reptilian residents of the park, or hear singing from behind the trees…
THE MOST BEAUTIFUL PLACES TO VISIT IN BALI: SOUTH BALI
22. The sunsets on the south-west coast – Kuta, Seminyak & Canggu
Bali sunsets are famous around the world, with their fiery red hues merging with multi-coloured fluffy clouds. There are so many great spots to catch the perfect sunset, but of course, Bali's south-western coastline gives you front row seats to the nightly show. Prop up at one of Bali's best sunset bars, or meander along the oceanfront and watch the deep blue waves turn pastel pink.
23. The interiors at almost every Canggu cafe & restaurant – Canggu
Canggu is the epicentre of #Instalife in Bali, with tonnes of cool little cafes, restaurants, boho beach clubs and bars, with out-of-this-island interiors. And while it's not only the unique decor you'll want to snap here, the food itself is so impressive, it's almost too pretty to eat too (almost). But back to those interiors. Check out the bohemian-chic vista at The Lawn, the architecture at Penny Lane that's dripping in alternative art, indoor palms and vintage chandeliers, or the castaway vibes of La Brisa that's made from reclaimed wood from more than 500 old fisherman boats. All of this, best enjoyed with a sunset backdrop, naturally.
24. The blissful vibes of Seminyak's best spas – Seminyak
Swanky Seminyak is all about glitz and glam, with classy boutiques, fine dining restaurants and razzle-dazzle resorts – not to mention oasis-like luxury spas. There are so many to choose from, but it's like that the Insta-famous Bodyworks will be right at the top of your list. You'll want to visit for the spa treatments of course, but the spa's architectural delights are not to be missed either – think Moroccan-inspired interiors with earthy tones, large hanging beds and the serene pool taking centre stage like a Moroccan riad. Note: to snap a photo here, you must have a spa reservation, or book a photo session.
25. The Bukit's secluded beaches and dramatic cliffs – Uluwatu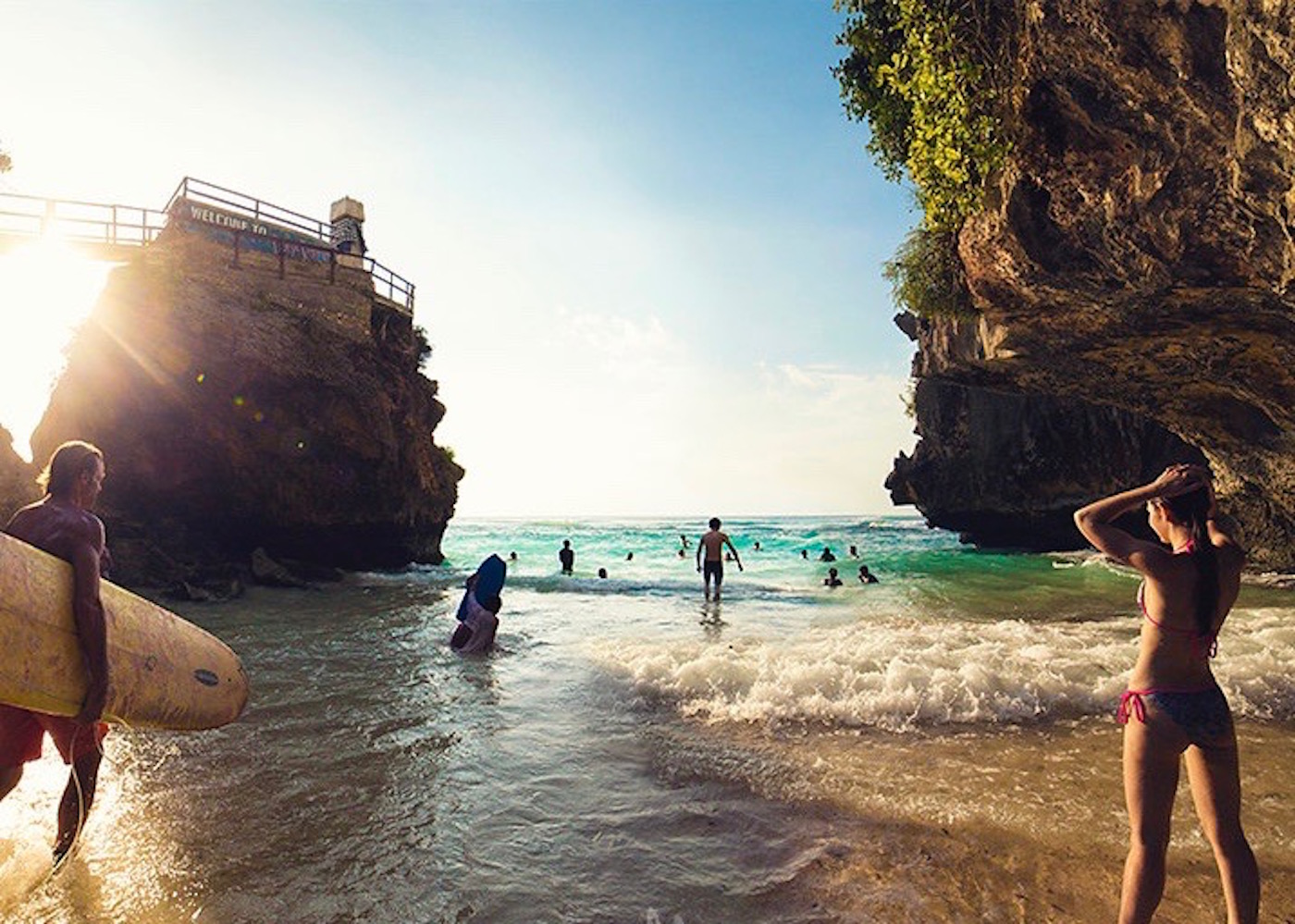 Let's face it, a trip to Bali simply isn't complete without hitting the beach, and you get extra Instagram points if you find hidden bays away from the crowds. To give you an idea, the dreamy Suluban beach sits directly below the famous Single Fin bar, and it's also the main access point to the world-renowned Uluwatu surf break. But come low tide, this spot is a true hidden treasure, and the best spot for a secret swim. Set against stunning dramatic cliffs, the water here is as turquoise as it gets. To access this little piece of paradise, you'll need to walk down the steps at Uluwatu, through the caves and onto the sand. Remember, when it's high tide, this swimming spot is inaccessible, so you'll need to check the tide times for your trip, and don't forget to pack your bathers.
26. The abandoned aircraft on the clifftops – Pecatu
Where else can you find abandoned aeroplanes sitting right on the cliff's edge? We're pretty sure only in Bali! This large Boeing 737-200 sits 150 metres above Nyang Nyang beach, on the southern edge of the island. This aircraft was abandoned in Pandawa village, and given a new life when it was rebuilt in its current location in 2021. If you're brave enough, you can go up and sit on the wing at sunset, and soon, you'll be able to book a night here – it's being transformed into a villa!
27. The Garuda Wisnu Kencana cultural park – Ungasan
One of Bali's most cultural spots, the Garuda Wisnu Kencana (GWK) Cultural Park is truly a sight to be seen for fans of Balinese craftsmanship. Here you'll find the sky-scraping GWK statue (one of the tallest monumental statues in the world) which depicts Wisnu riding Garuda. Throughout the day, you can also walk around the park and admire stone carvings, catch cultural events like the nightly Kecak dance, and the first ever collaboration between Kecak and Ogoh-Ogoh – a cultural parade featuring a gigantic Garuda puppet. Get your cameras ready for this one!
Looking for more beautiful places in Bali? Check out our list of awesome things to do in Bali for extra inspo!