Photography: Morgan R on Unsplash
Culture vultures, this one's for you! From ancient temples and age-old rituals, to traditional recipes and local flea markets - this is the best of Bali's culture...
From ancient and epic works of art, architecture and cuisine, to the mesmerising spirituality and religion on the island, we've put together all of the fab things to see and do in this tropical paradise that'll give you some insight into the day-to-day life of the Balinese. Whether you want to dig a little deeper into Bali's wonderful history, values and beliefs, or you want to learn a thing or two about Balinese food, dance and art – culture vultures, this one's for you. Welcome to the Island of the Gods!
Things to do in Bali: Experience the very best of Balinese culture
1. Visit a sacred temple
Bali is home to an endless array of ancient temples, with several of them being the island's most iconic landmarks thanks to their magnificent centuries-old architecture set against exotic backdrops. Though you'll find temples all over Bali and on every street corner, with a few stand-out and must-visit temples that'll really give you a taste of the island's fascinating religious beliefs and dedication to the Hindu Gods.
One of the most visited has to be Tanah Lot Temple, thanks to its offshore location that sees jaw-dropping sunsets every evening. The best time to visit is during the holy day of Kuningan, when pilgrimages usually take place, and on the temple's anniversary four days after Kuningan when thousands of Balinese flock to the site to pray and lay their offerings.
Another stunning temple is Pura Luhur Uluwatu, set on top of the Uluwatu cliffs with the surfing beaches below. Cultural performances such as the Ramayana ballet or the fiery Kecak dance take place here, in a specially designated amphitheater during the golden sunset hours for a totally awesome vista.
For a temple visit that's a little off the tourist track, there is the Besakih Temple, often referred to as Bali's 'mother temple', located in the village of Besakih. Here, a huge complex of temples and shrines await, with Besakih Temple sitting 1,000 metres above sea level on the south-western slopes of Mount Agung, Bali's active volcano.
Last but certainly not least, Ulun Danu Temple in the hills of Bedugul is one of the most photographed, thanks to its magical location in the middle of Lake Bratan. When the early morning or late afternoon mountain fog creeps through, the temple actually looks as if it is floating – it's pure magic!
2. Try a Balinese cooking class
Food is a big part of the Balinese lifestyle, so luckily for us sambal-aholics, the local communities are more than happy to welcome visitors into their homes to get a taste of authentic village cooking. There are now countless culinary adventures on the island that help to unlock the secrets to Bali's totally addictive flavours, guiding you through local markets to find traditional herbs, spices and farm-fresh ingredients, before demonstrating the lengthy preparation and cooking methods that sometimes take days to complete.
Get ready to get your hands dirty, because if you want to try the ever-succulent Ayam Betutu staple, you'll soon find yourself rubbing and massaging a whole plucked chicken in basa gede (Bali's signature base paste) before wrapping it in palm leaves and cooking it over coconut husks for hours until smokey and tender! With plenty of time to wait before you get to sample your delicious Balinese creation, the cooking classes often offer the chance to chat to the locals, make simple offerings, speak to the rice farmers and learn about authentic coconut-oil processing – until it's time to dig in!
3. Scale the island's iconic landscapes
Few places on earth are as diverse as Bali. Where else in the world can you climb a volcano at sunrise, scuba dive by lunchtime, gaze at emerald green rice paddies in the afternoon and dine beachfront by sunset? So to make the most of the island's iconic landscapes, sign up to a tour or find yourself a guide to explore Bali's most sacred spots. You'll want to scale one of Bali's majestic active volcanos, like Mount Batur for a sunrise vista above the clouds, or for avid hikers, take on Mount Agung – the most sacred of Bali's peaks – for a 10-12 hour trek.
You can't visit Bali without seeing the famous lush green rice paddies either, and the Tegallalang rice paddies in Ubud are by far the most splendid! Stop at the top of the valley on the road for a panoramic emerald vista for miles. A farmer who owns the land is usually there to invite you to sample his green coconut drink, and you can buy Balinese woven hats that he hand-makes from coconut leaves. This ancient valley is a wonderful insight into the traditional Balinese cooperative irrigation system (named subak).
Aside from the iconic emerald rice paddies, Bali is home to a number of agro-tourism destinations where you get to learn about the plants, and the processes involved in getting them to the market. The northern regions are blessed with robust lands and a suitable climate for growing coffee beans. Stop by the coffee plantations, and you'll get to tour the plantations, and taste the coffee and unique infusions with ingredients like coconut, avocado, mangosteen and more. We recommend going to one of the largest coffee plantations in the area, Segara Windhu Coffee Plantation, for a taste of local Arabica and Robusta coffee. You can also find a few strawberry farms around North Bali, where you can go strawberry-picking with the whole fam (and of course, taste the freshest strawberries the island has to offer).
Got a sweet tooth? You'll want to visit some of the cocoa plantations. A popular one is the Chocolate Village, AKA Desa Coklat. You get to learn about the cocoa trees grown right here on the island, and take part in processing the organic cocoa beans to make your own cup of cocoa.
4. Watch a traditional dance performance
For the Balinese people, dance is more than just an ancient tradition, but an integral part of religious and artistic expression that brings together the community. There are many different types of Balinese dances, and most involve the Balinese version of the Hindu Ramayana epic. If you are heading to the Pura Luhur Uluwatu Temple, you'll get to check out the Kecak Dance in the amphitheater, where one hundred men (wearing only a loin-cloth each) form rows of circles around a coconut oil lamp in the centre. First, they move their bodies rhythmically, chanting the words cak ke-cak ke-cak ke-cak continuously, in perfect harmony. Gradually the rhythm speeds up and in turn, they each lift their hands, trembling, into the air. You won't forget this experience in a hurry – it's quite a spectacle!
For a less dramatic but equally breathtaking performance, take a trip to Ubud for the traditional dances at the Ubud Palace. Here, beautiful Balinese girls in ceremonial attire dance hypnotically, contorting their eyes and fingers to tell age-old chronicles through movement. These dances can be seen all over Bali, but are mostly found in and around Ubud where they are put on regularly for travellers. Fancy getting involved yourself? Head to Denpasar where several cultural centres and dance schools will teach you the tricks of the trade.
5. Shop 'til you drop at a traditional market
There are tonnes of markets all over Bali selling all sorts of goodies and traditional tidbits – and each one is worth a visit to get an insight into local Balinese life, as well as grabbing yourself a bargain! From late night snacks to traditional homewares, religious ritual items and art pieces – there's a market for everything. Try the Badung Market in Denpasar for the real deal – Bali's biggest market that is like an enormous Garage Sale of island goods, from sarongs and sunglasses (that'll later be trebled in price and sold on Kuta Beach), to fruit and vegetables, art pieces and kitchenware – this market hums almost 24/7.
For something a little less chaotic, try the Sanur Night Market for hot-off-the-grill street food, the Ubud Traditional Art Market for artisan paintings and sculptures, the Jimbaran Fish Market for fresh-from-the-net delicacies, or the Flea Market in Seminyak for gifts and that all-important Bintang singlet… Check out all the deets and more in our guide to local markets in Bali.
6. Pamper yourself with age-old beauty treatments
The traditional beauty rituals of Indonesian women date back thousands of centuries, passed down through the generations for their miraculous beautifying properties (have you seen how youthful the Balinese always look?!). In fact, these rituals are so respected, many are now used widely in modern spas. You can't come to Bali without sampling a traditional Balinese massage, and in local culture, it is considered a routine staple of everyday life – massages everyday sounds pretty sweet to us! A Balinese-style massage incorporates traditional techniques from India and China to relax pressure points, stimulate nerve endings, and rejuvenate tired muscles with long pressure strokes.
Another everyday treatment most Indonesian women swear by is a hair cream bath, which is what the locals use for their long, shiny, healthy hair! It starts with a head, neck and shoulder massage and is followed by a homemade mask made from avocado, ginseng and other natural ingredients that are gently rubbed into the hair and scalp. It's left on for 30 minutes under a steamer while you continue to be pampered. There are many traditional treatments to choose from, and most spas in Bali will offer them. Check out our roundup of the best spas and locally-inspired treatments, and take your pick!
7. Discover the power of Balinese healing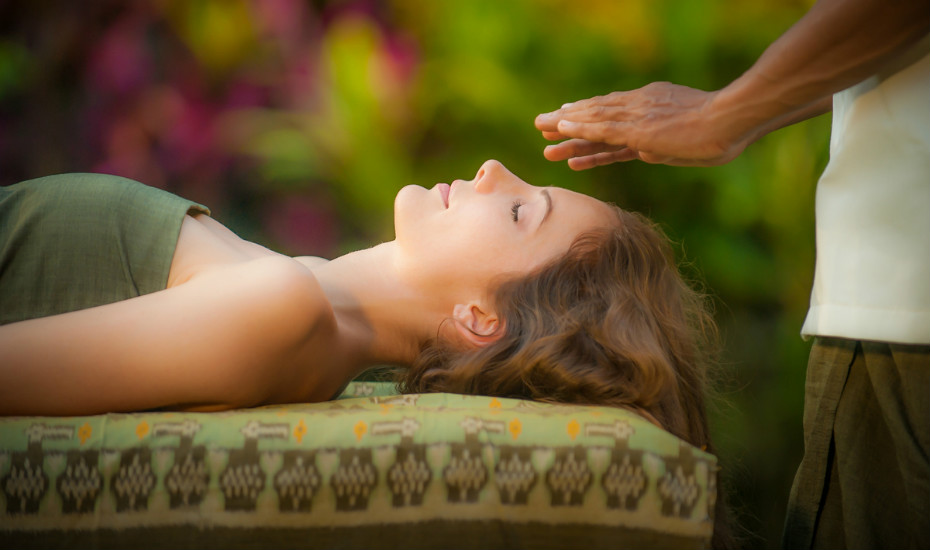 'Eat, Pray, Love' turned the spotlight on Balinese traditional healing, but these practices, blending natural herbs and spices, holistic therapies and ancient wisdom to cure physical and mental illnesses, have been a long tradition in Bali. The Balinese live equally in two worlds: the seen (or conscious) world called sekala, and the unseen (or psychic) world, called niskala. If someone falls ill, both of these worlds must be addressed in order to heal them. A Balian (traditional Balinese healer who works with divine energy) will be consulted, and they will use jamu (herbal medicines derived from the lush Bali landscape), massage and energy healing to help cure the sick. If you are wanting to visit a traditional Balinese healer, check out our roundup of Bali's best healers, and say goodbye to depression, stress, and physical pains.
8. Stick around for a ceremony
Bali's ceremonies are vital to the Balinese for maintaining peace on the island, so understandably, these celebrations and rituals are taken very seriously. Whether it's a wedding, cremation, teeth-cutting ceremony, or the most prominent celebration, Nyepi, entire Balinese communities will put their year's savings into following tradition and spending big bucks on extravagant temples, offerings and processions. Perhaps the most costly is Nyepi, also known as Bali's Day of Silence, and the New Year according to the Balinese calendar. On Nyepi Day, everyone on the island must stay indoors in silence with no electricity or lights, yet the night before is arguably the wildest of all the Balinese ceremonies, where large, oversized demon structures (called Ogoh Ogoh) are paraded through the streets to keep evil spirits away for the year ahead. Communities spend a fortune on these structures and celebrations, and there's even competitions to judge the best Ogoh Ogoh creation. Like all of Bali's unique ceremonies, it's a sight to see that you won't want to miss.
Other major holy days in Balinese culture are Galungan and Kuningan. Galungan, which takes place on a Wednesday, is the day when the Balinese believe that their ancestors return to earth for 10 full days to spend time with their loved ones. Imagine if your ancestors were popping home for a visit, what would you do? Make the place look spic and span, of course! So for days on end, the Balinese tirelessly decorate their homes, temples and even the streets with traditional offerings and "penjor", to welcome ancestors back to the island. On day 10, AKA Kuningan day, the ancestors would then return to heaven.
9. Try a water purification ritual
If you're looking for general rejuvenation or an improvement in health (all while experiencing Bali's unique culture), head to one of Bali's natural springs for a water healing ritual. Known locally as Melukat, a Balinese water purification ritual uses holy water from natural springs, which typically takes place within the grounds of certain temples (like Tirta Empul Temple in Gianyar). It is believed that washing the body with holy water can rid you of negative thoughts, nightmares and even illness. Taking a dip in sacred natural hot springs is also great for any skin concerns, and it's an experience in itself – one that we highly recommend trying!
10. Learn the secrets behind Bali's stunning arts
When you arrive in Bali, you might have spotted the gorgeous mix of flowers and leaves placed all over the streets and in temples – these pretty packages are called canang, which translates to "good intentions". Canang are handmade offerings for the Hindu Gods, used in daily prayers and religious ceremonies. And lucky for Bali's visitors, you can join canang making classes all over the island, to learn more about the tradition and make some of your own.
The skills of handcrafting have been passed down from generation to generation in Balinese families, and here on the island you can visit a number of workshops to witness art in the making, and maybe take some home! Ubud is the island's capital of arts, where you can find plenty of art galleries and studios. You'll find wood-carvings and sculpture shops all around the neighbourhood and on your way from the south. Let your inner designer loose and try your hand at crafting ceramics, natural-dyeing textiles, or even making your own jewellery at the John Hardy Workshop & Kapal Bamboo Boutique (psst… this one is worth a visit, if you're also an architecture enthusiast!). Another unique must-try is traditional leaf-weaving, and Make A Scene runs leaf-weaving workshops where you can make art using coconut leaves.
11. Visit the spookily unique Trunyan Village
For something totally different and authentic, a boat trip to Trunyan Village is a must – home to the native Bali Aga tribesmen with a unique tradition of laying out corpses underneath a sacred tree, the Taru Menyan. This tree is believed to mask any 'unwanted scents' – once upon a time, you could even smell the tree's lovely aroma all the way in Java. According to the villagers, the former king created the rule to lay out the corpses around the tree to dampen its strong aroma. This way, no one from outside the village could find the sacred tree. Our top tip when visiting Trunyan Village: you'll want to visit with a guide, to get the full rundown of this unique tradition that you can't find anywhere else on the island.
12. Get a taste of Balinese traditions at a Cultural Evening
With its wild, wonderful and otherworldly traditions, Balinese culture might seem a little daunting to a first-timer. So to ease you into this magical world, get a taster of Balinese culture at a Cultural events and excursions, where music, art, food and dance collide. Our fave is the curated programme by Hotel Tugu – one of Bali's first and only wholly Indonesian luxury hotels that's dedicated to showcasing local culture. The cultural experiences feature awesome activities, like traditional excursions and eco-tours, dance classes and cooking and jamu-making workshops! It's a fun experience presenting genuine Balinese culture at its best, wrapped up in an authentic Balinese atmosphere.
Enjoy The Island of the Gods, Honeys!