If you love to run and push your limit whilst helping others in need, then read on - Bali Hope Ultra has partnered with Bali Children Foundation for a marathon that will change the lives of many...
Bali Hope Ultra marathon isn't for the faint hearted, being a gruelling 84km overnight race that starts at The Lovina resort and finishes at Old Man's in Canggu. It's little wonder why a small number of candidates are selected for the run each year, even though thousands often apply! The marathon calls for meticulous preparation in the lead up, and has raised over half a million dollars so far for the partner charity, Bali Children Foundation.
We chatted to the founder of Bali Hope Ultra, Tom Hickman, about the highs and lows of this extreme sporting event that pushes its participants to the limits, while positively changing the lives of thousands of Balinese children.
How did the Bali Hope Ultra marathon come about?
I'd been living in Bali for a number of years and wanted to find a way to give back to the locals. I'd gotten back into my running after some personal challenges and I decided to do a 30km run from Ubud to Canggu to raise money for someone who had broken their neck. When I finished the run in Old Man's I spoke to Duncan Ward from Classroom of Hope about running across the island for a greater cause. He was working with Margaret Barry, from Bali Children Foundation, and that was the inception of the idea.
What was your first Ultra marathon like?
Looking back I was a bit naive as I only gave myself 10 weeks to train. I stopped 30km into the run with a knee injury in the south of Kintamani. I had to take my shoes off to stretch and eat, but when I went to put my shoes back on, only one was there. My support car driver and the nurse suspected that a bad spirit had stolen the shoe, but I'm pretty sure it was a dog that had run off with it! The nurse gave me a pair of her Nike trainers, two sizes too small, but I was able to cut the tip off which allowed me to limp along for a further 15km. I was unable to complete the run, but thankfully raised AUD 10,000.
What made you decide to partner with Bali Children Foundation?
Maybe it was because I wasn't able to finish that run, that I decided I would like to do it again with a team of proper runners. That was when I conceived the event as a big fundraising opportunity for Bali Children Foundation, who I could see were making a difference to children in Bali. I respect the work Margaret Barry does and the way she runs the foundation.
What was the driving force that started the fundraising for Balinese children?
I wanted to give back while doing something that was personally challenging for me. Something like an ultra-marathon that would lift me up while also lifting others up. The event is a huge amount of work but it resonates with a lot of people and actually helps the local community.
Why do you think the marathon has been so successful?
It resonates with a lot of people. I also think the toughness of the event attracts great people who bring their A-game to the platform, and as a result, great things happen. It's supportive, it's challenging, and there's magic to it. The participants can see first-hand the people they're helping and doing the marathon for. The money raised goes toward educating Balinese children so that they can find employment, and improve their lives and the life of their community. It really raises the vibration of people. We all need more of that.
People want to do something for themselves while helping those less fortunate.
Tell us something unique about yourself?
I'm the only person to have attempted the Bali Hope Ultra marathon without finishing it… to date!
When did you first come to Bali?
I first came in July 2014 for two months but ended up staying until 2017. I've been bouncing in and out since then, on behalf of the Ultra marathon and the Swimrun which is another event we run in September.
How do you find participants and promote it to the world?
Social media and word of mouth. People follow the event on social media and it seems to have reached the point where it promotes itself. We had over 1,000 enquiries for this ultra marathon, but we whittle it down to just 26 completely committed individuals to raise money for the charity. They are often friends of past participants, or people returning. The runners and participants love sharing their journey on social media. It's great content!
What kind of participants does the marathon attract?
A third are first time ultra-runners and may have only done one marathon before. Another third have decent levels of fitness, or triathletes who want to do something more meaningful with a sense of community around them. And finally, a third of the participants are serious ultra-runners and this is a challenge to tick off their list. People often come back to do it again, like Ben Seymour, a professional rugby player and entrepreneur, and athlete Sean Bell.
What do participants get out of the event?
A lot. There's a real sense of family and teamwork, because they prepare together for a whole week, then take part in the marathon before celebrating the achievement after the run. It's an intense experience running for 80km and they all fundraise together. It's a very different experience than just turning up for a marathon, putting on a bib and running on your own. The Bali Hope Ultra marathon is an experience that you are totally immersed in, with everyone involved. And ultimately, people crave connection. This type of experience gives them exactly that. Plus, it benefits other people in the end, and that's what it's all about.
Some people have had to overcome very difficult things to do this run.
Talk to us through the logistics of the event
We have three different start times for different levels of runners. We start at The Lovina in the north of Bali and end at Old Man's in Canggu, and we run overnight.
What do people need to consider before entering the event?
It's a big commitment on many different levels. For starters, it's not the cheapest ultra in the world, and you have to fundraise and train. The cost of entry is USD 3,500, which covers everything across the week: accommodation, meals, transport and logistics. Plus, you need to fundraise on top of that, and we aim for at least USD 2,500 from each runner. Last year we had an incredible runner, Angus Tinworth, who raised an amazing AUD 23,000!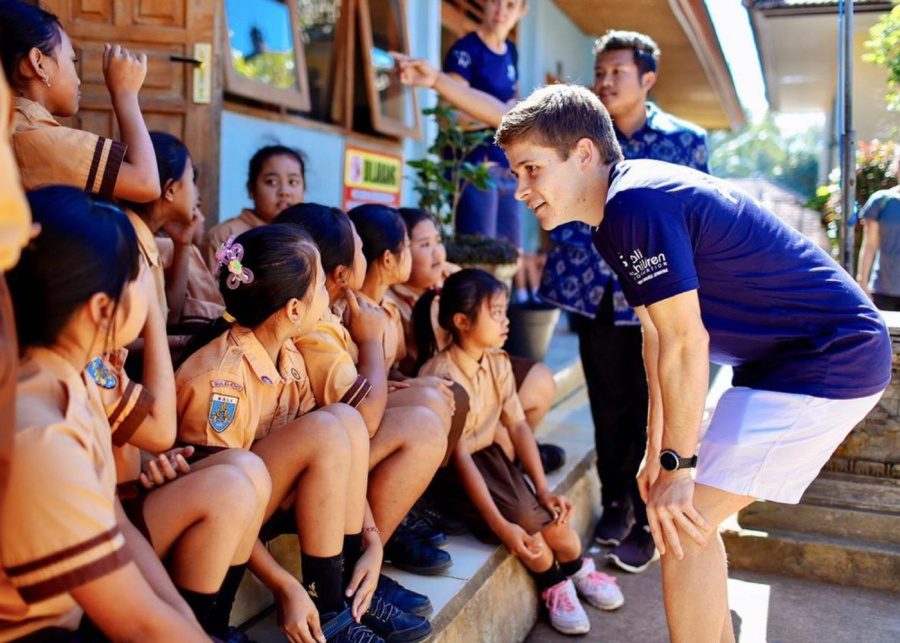 Why do people take part in the Bali Hope Ultra event?
All sorts of different reasons, but I think mainly because they want to reconnect with themselves. Perhaps they are redefining themselves, or wanting to overcome a personal challenge. People seem to do this because they want to do something bigger, more meaningful, more challenging than what they can do on their own.
People do this run because of the personal challenge and the impact it will have on others.

What has surprised you most about the event?
The way that people become so close to one another throughout the experience – the friendships and bonds that have formed from the event are extraordinary, to the point where we keep in touch with each other after the event. For some, this run truly is life-changing!
The Bali Hope Ultra marathon will be held from 24th to 30th May 2023, and 22nd to 28th May 2024. If you are interested in supporting or participating, please email [email protected]