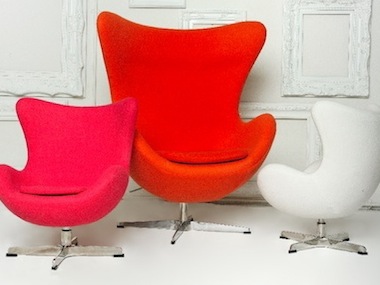 There's a new kid on the furniture block and we're looking to be his BFF. He's in with the right (designer) crowd, has a beautiful showroom, only stocks the coolest pieces, and even takes customizable orders.
Meet Fred Lives Here, a super funky furniture store we found on the quaint Emerald Hill. Fred finds quality reproductions of modern-classic furniture and sells them two-ways: in their original untouched exterior, or mods them into grunge-cool pieces. Tapping on the potential of his creative artist friends, Fred's pieces go through graffiting, studding, and even dripping acrylic paint all over them to become a total cult-status product.
If you're a designer chair junkie, you'll recognize some of the greats here: from the iconic Eames to the Egg Chair to the Bubble Chair to Philippe Starck's Ghost Chair. Fred's even teamed up with one of our faves, Korla, to reupholster these great structural chairs. Here's one for the Christmas wishlist… forward to the hubby now.
Modern-classics not up your alley? Then browse Fred's original antiques and vintage-style wares sourced from all over the world. They make the perfect accents to any room – choose from vintage typewriters, wartime cameras, and even antique telephones.
Antique hunter, streetsmart shopper or classic collector – Fred's got your back.
Fred Lives Here, 108 Emerald Hill Road, Singapore 229385, p. 9641 7727